Following an epic photo-shoot by talented photographer Matt Hind of "Men's File" paper magazine, it became obvious to the editors that there were just too much goodness captured on that two-day session around 29 Palms, California.
Inspired by John Huston 1961 movie "The Misfits", Matt directed the shoot, coordinating it all. Two real cowboys (Douglas Brown & Anthony Panzarella), three horses (Dusty, Tank and Trigger), trailers, cow girls, burlesque extraordinaire Miss Banbury Cross, props, wardrobe… were involved, relegating Ben-Hur to vacation movie status.
Dinner on location was not a sad affair either. But there are thankfully no photos of that.
Mister Freedom® provided most of the outfits for the guys. A keen eye will spot Ranch Blouse, Californian Lot.44, Blouse Chaparral, Buckaroos, Wool Dover Blouse… and some vintage items from the store.
Some of Matt's photos were featured in Men's File #8, a special 'Denim' issue with forewords by famed Nick Clements, founder/writer/photographer of the UK publication.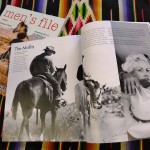 I have previously posted some behind-the-scene shots of that photo session. However, the REAL DEAL is now unveiled in this new box set publication, the latest from Men's File Archives. Many of Matt Hind's photos could not make it in the original Men's File #8 due to space limitation. Now they are, in this box set…
What's in the box you ask me? Well i'll tell you Jack.
Two soft cover books, "The Westerners" (format 9½" x 7½", 100 pages) and "Miss Banbury Cross: A burlesque Performance" (format 9½" x 7½", 38 pages)
And just like that wasn't enough, a Mister Freedom® printed silk scarf.
Did I hear someone say "NO MORE, please NO MORE"?
Fine.
We have some of these limited edition sets available on www.misterfreedom.com
They are also available from Nick Clements' The Curator website.
Warm thanks again to Nick and Matt for involving us in that fun desert adventure!
It's not everyday that I get to ride a horse for work.
DISCLAIMER: The box sets DO NOT include the hat, boots and denim jacket.
Don't laugh, you'd be surprised…
Comments
comments