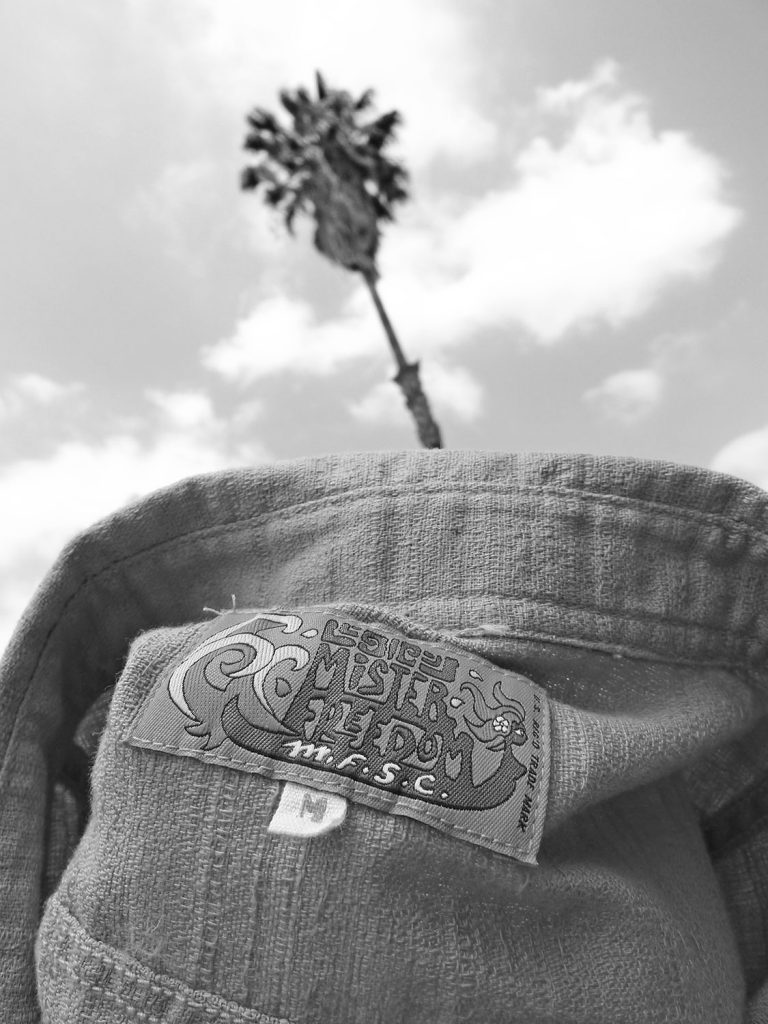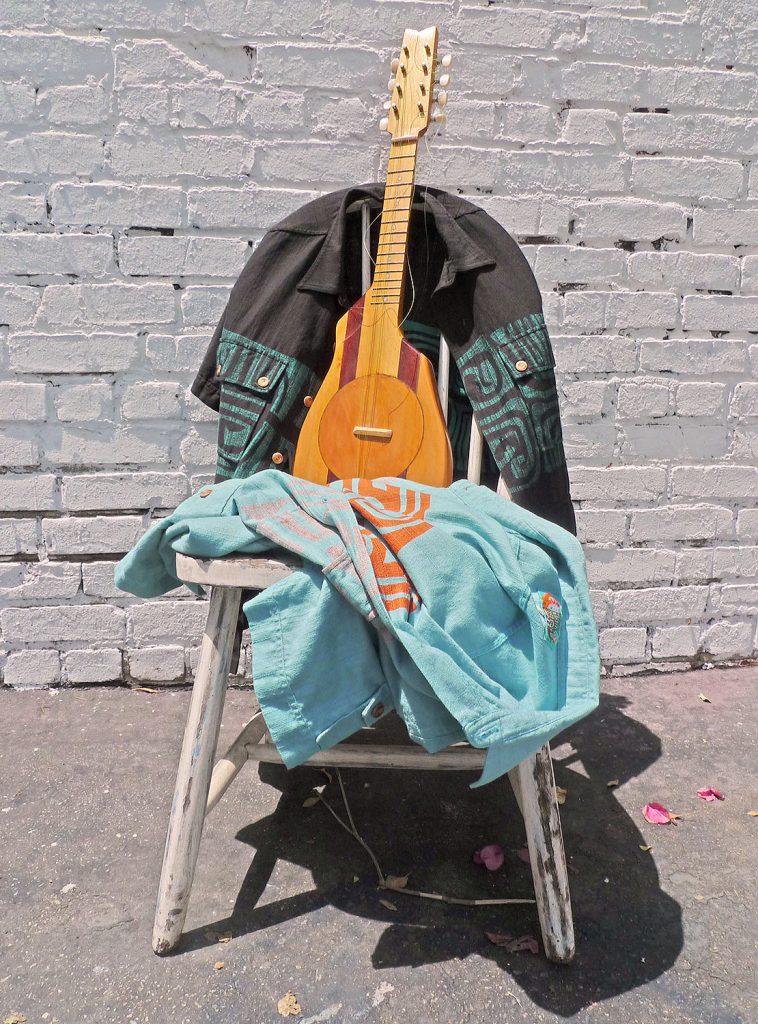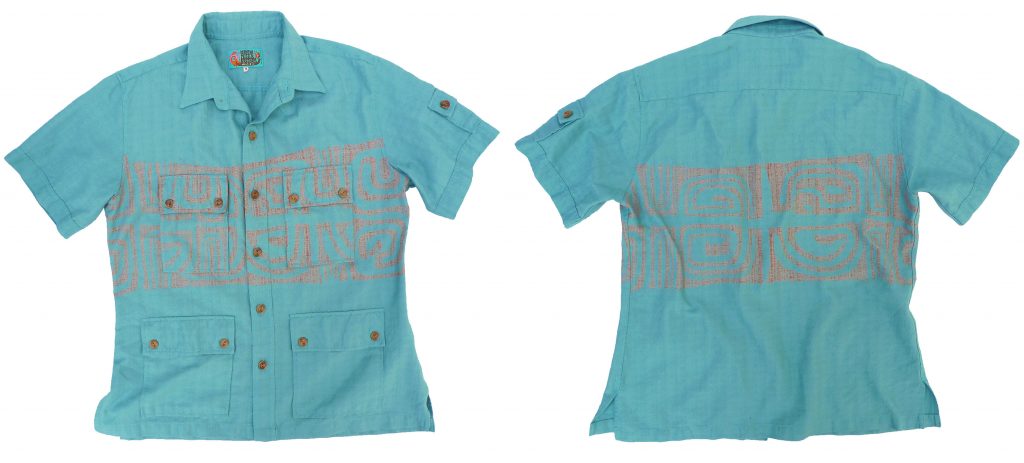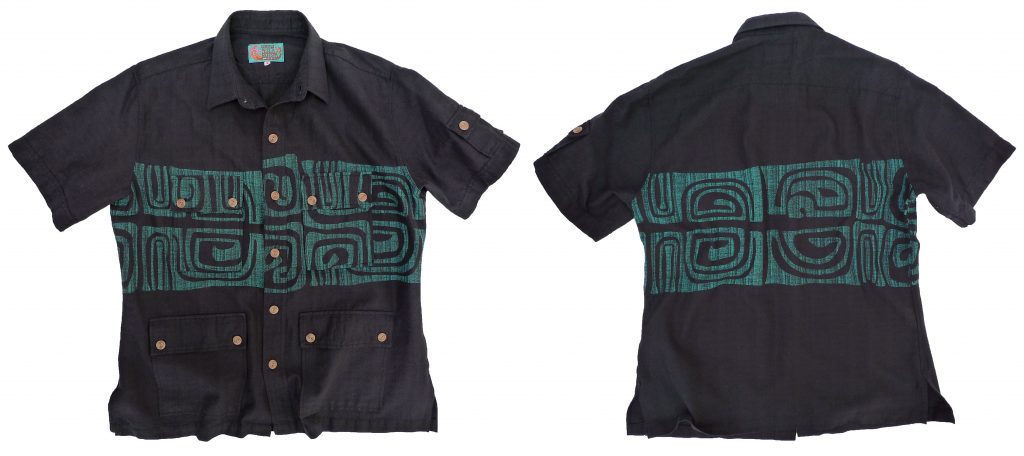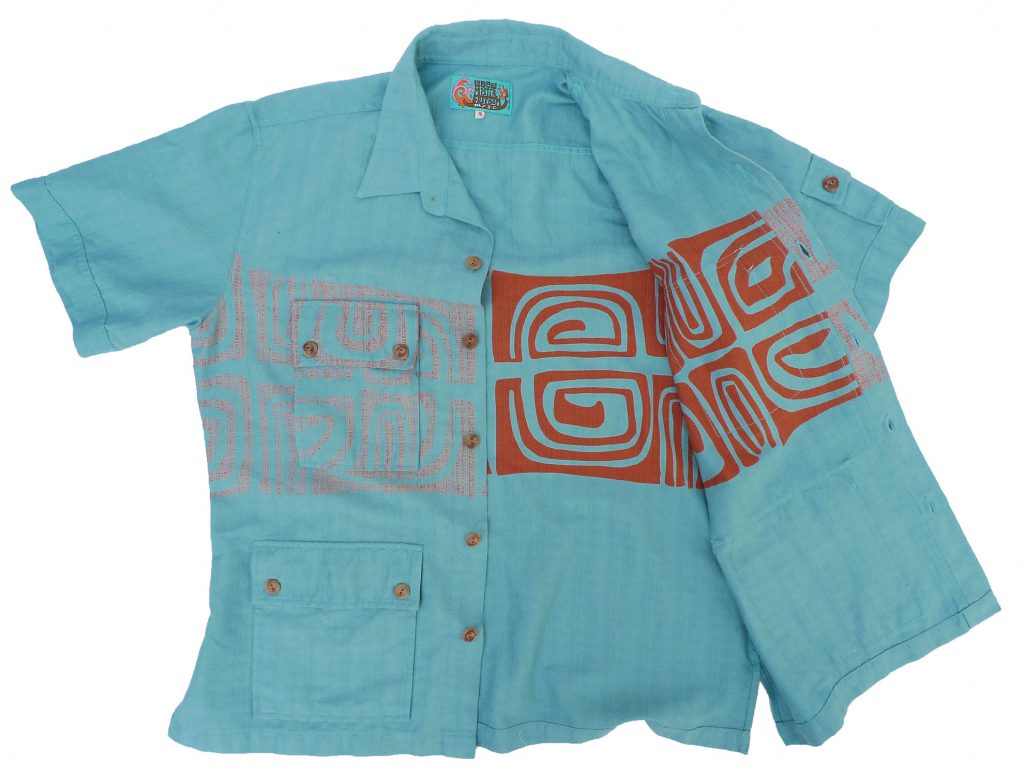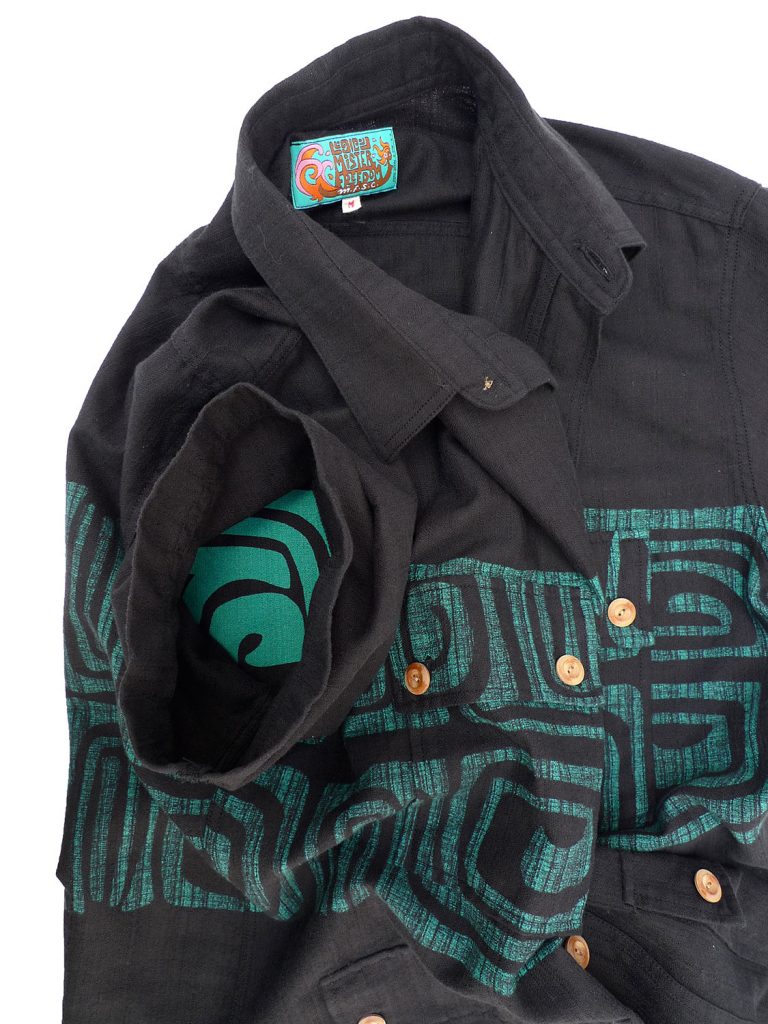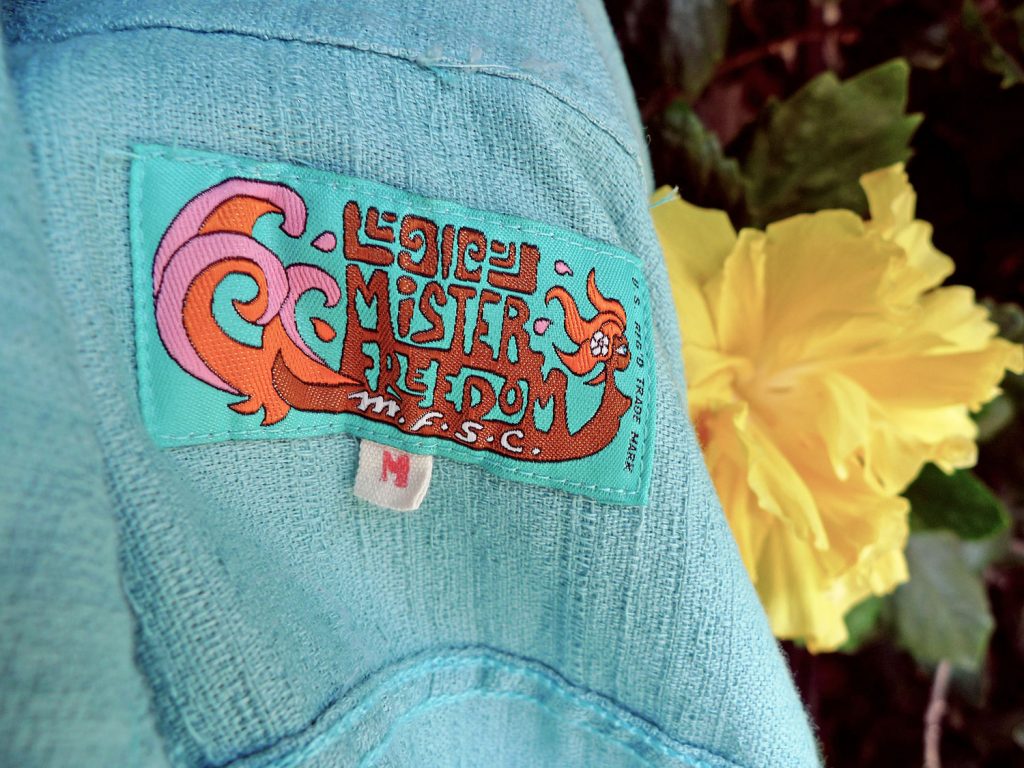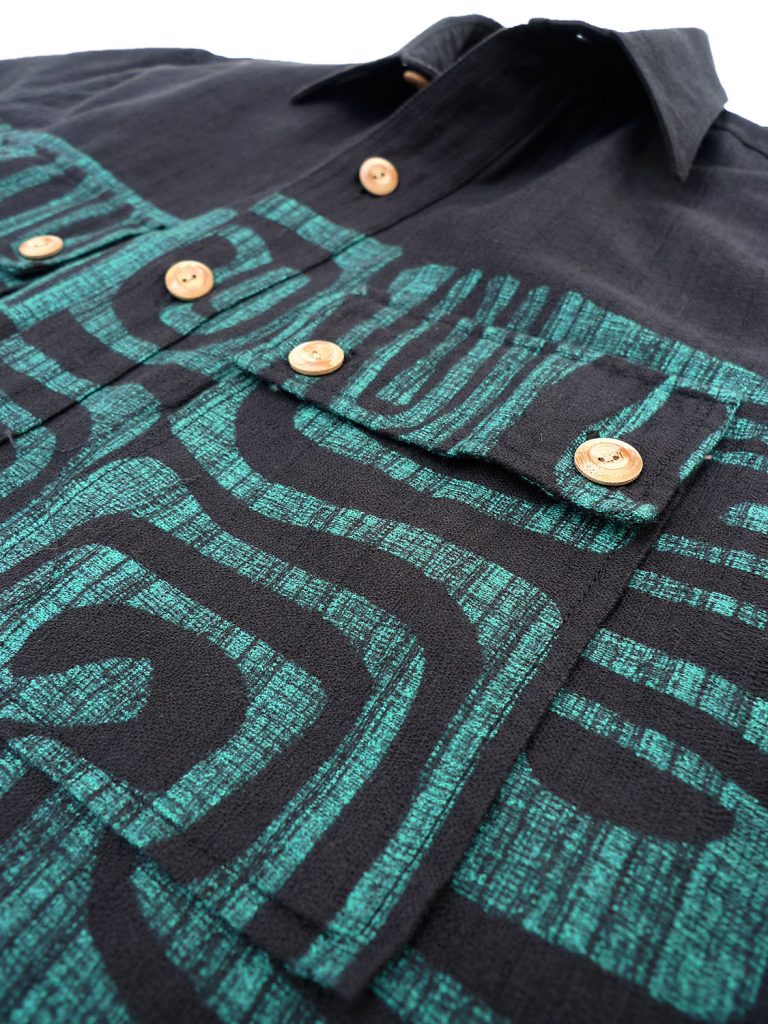 The "Upa Upa" Shirt
Reverse print bark cloth
Skipper Spring 2016
Throughout History, public display of gyrating hips has often been frowned upon by the righteous pious elite.
In 1957, a 22 year-old Rock'n'Roll singer had to be filmed above the waist, to accommodate the Church Lady and her friends. Elvis' third TV appearance on the Ed Sullivan Show was apparently a threat to morality and order at the time, and the cameras stayed away from questionable lower-body activity. It is not known whether Colonel Parker set it all up to boost record sales, or whether Ms Enid Strict's ancestors had actively participated in the banning of the Upa Upa dance some 150 years earlier in Tahiti, but this raises one question… Today, could a well-organized public twerking event suffice to inflict massive cardiac arrests in the ranks of isis?
Let's leave this one to psywar specialists and stay on course, as we introduce the latest addition to our peaceful Skipper collection.
It is well documented that the Age of Discovery saw many a missionaries anxious to spread the Gospel in the New World. After concertation, a zealous bunch decided to go cruising in the middle of the South Pacific Ocean, destination the pristine sandy beaches of the Society Islands. On March 05, 1797, upon arrival in Tahiti at Pointe Vénus, fine men of the cloth noticed a-hunka-hunka-burning-love type of dance, and concluded that the half-naked locals could definitely use some retenue in the entertainment department. The Upa Upa dance was 86'd, and the depraved suggestive moves that had originally lured whalers and mutineers were relegated to the rank of savage activities, unfit for civilized people. The pernicious concept of Sin, a powerful control tool introduced by early missionaries, did wonders with the islanders' joie de vivre and frivolous traditions. Interestingly, the English word taboo is borrowed from the Tongan word tabū (or tapū), meaning sacred/forbiden…
With a bit of convincing, Mother Hubbard dresses eventually replaced tapa cloth skirts, and most of the estimated 40,000 heathen souls populating Tahiti at the time European invaders first landed, were saved. These desperate descendants of Taiwanese migrants had been trapped in a sun-drenched and turquoise-lagooned purgatory for generations, and those who had not succumbed to eighteenth century VD imported by colonizers could finally enjoy the bliss of salvation. Alleluia and Maururu.
If Elvis ultimately generated millions of dollars from the savant swiveling of his pelvis, the original Upa Upa dance has somewhat fallen into oblivion. Still, its modern legacy lives in the 'ote'a, and other Heiva activities connecting Polynesians with their original ancestors' culture.
For the anthropology-inclined, glimpses of Upa Upa influences can also be spotted on the occasional dance instruction video clips we share, concerned as we are in perpetuating the Art of both body expression and living-room rug-cutting.
Disclaimer: I trust that the acute reader accustomed to these posts, who has just wasted five minutes of an otherwise fine day reading the above, will assume that it is not my intent to make light of anyone's religious inclination, nor to promote atheism or a specific faith. To me, everyone's wild guess on what to spiritually believe in is respectable, but, at times, some might benefit from others' conviction staying an altruistic yet private and intimate personal opinion.
Now, without any further ado, our chemise du jour, the Mister Freedom® Upa Upa shirt!
The vibe of this garment is clearly more related to a 1969 steamy New-Year's eve at the Bar Léa in Papeete, than to a traditional 1788 wedding under Pōmare I. So, just like our Bora Bora shirt or MF Paréo, the Upa Upa Shirt won't necessarily work for reenacting 'Mutiny on the Bounty', but will make you ridiculously handsome, successful in business and happy in love.
The general pattern is inspired by 1960's-70's lounge attire with a touch of dune buggy escapade. The Upa Upa shirt features five pockets with double button closure flaps, in a (surf) safari jacket detail with a definite sixties accent. Not that anyone does anymore, but this is a non tuck-in shirt.
The most striking part of our Upa Upa shirt however is the unconventional use of the printed fabric. Not a ground-breaking event in itself, but reverse prints are a first in our Mister Freedom® x Sugar Cane decade-long collaboration.
A popular island fashion in the mid 1960's, reverse-print fabrics gradually became the cloth of choice for both Kamaʻāina and long-established haole folks. It appears that contemporary islanders have a more subtle approach to sporting printed motifs than continental visitors have. Preferring their outfits a bit toned-down, they seem to leave the louder prints to sunburned tourists. Rumor has it that reverse prints were a way to emulate the faded shirts worn by legit surfers. If Reyn Spooner® allegedly pioneered the technique, surf-related brands such as Ocean Pacific® or Lightning Bolt® widely used the reverse print gimmick on their gear in the 1970's and early 1980's.
In the Hawaiian islands today, reverse prints are considered proper business attire, a thought that suddenly makes corporate board meetings almost sound appealing.
The base fabric we chose for our Upa Upa Shirt is a handsome slubby bark cloth-type woven textile, with more slub than our Saigon Cowboy "Tahiti" Shirt, but from a similar weave family. Here is a quote about that fabric, dug out from our original post, which you might want to double-check the historical accuracy of, before engaging on reddit:
"The base textile (…) is reminiscent, in texture, of those vintage kitschy 1960's/70's cotton Hawaiian shirts sometimes referred to as 'bark cloth'. In the 1940's/50's, a thick and heavy version of that dobby weave cotton cloth had become a standard feature in most American households, in the form of printed curtains and upholstery fabric.
All those vintage iterations were modern renditions of the ancient Hawaiian kapa (or tapa in Tahitian, meaning 'the beaten thing'), the natural wood pulp bark cloth of early traditional Polynesian attire that so impressed Captain James Cook back in 1769. "This stuff is awesome! Where to cop?" he reportedly said on his final voyage to the Pacific Islands, before being clubbed on the beach."
Anyhow, the chest horizontal band graphic of our Upa Upa Shirt is typical of Tahitian vibe shirts and T-shirts popular in the beach communities in the mid sixties, swinging their hips to the ocean swell during the day, and to Dick Dale at night. Many ads in vintage issues of Surfer Magazine corroborate. This traditional Polynesian Art-inspired graphic we used is similar to that on the MF® Paréo, a mighty garment that has quickly taken over beaches around the World!
We know because social media don't lie.
(Instagram action shots courtesy of our friends Markues, and Jay & Amber. Thanks for being good sports and for showing us how it's done on location! Please note that this is by no means an endorsement on their part of the above ramblings.)
So, if you ran out of fishing wire after busting all your ukulélé strings, spin a Barefoot Boys record (this one), slap on three coats of monoï, tie-up your paréo, slip on the Upa Upa… Time to show the world your best tamouré moves.
And once your partner has hopelessly implored you not to share a clip of that on Instagram, do tag us (#MisterFreedom) for a chance to win a gallon of warm yak milk, or a limited edition printed "Skipper" bandana.
The Upa Upa Shirt is designed in California by Mister Freedom® and manufactured in Japan in collaboration with Sugar Cane Co.
Vintage photography references courtesy of Museum of New Zealand, x, and the interwebs.
SPECS:
Inspired by traditional Tahitian culture, 1960's-70's Polynesian attire, lounge wear for the marina playboy, and vintage beachcomber accoutrement.
FABRIC:
100% cotton slubby weave bark cloth-type textile, displaying the reverse side of the print due to partial bleed-through of the ink, for a subtle motif effect. Woven and printed in Japan.
Two attractive color options:
A) Upa Upa Aqua: Aqua blue base fabric with coral pink printed chest band graphic.
B) Upa Upa Lava: Black base fabric with aqua blue chest band printed graphic.
DETAILS:
* 1960's surf safari type shirt pattern.
* Five-pocket style: Four large patch pockets with flaps with extra small arm pocket.
* Sixties-style double button flap closure.
* Genuine coconut shell buttons.
* Side slits.
* 100% cotton thread.
* Narrow caballo chainstitch construction.
* Made and printed in Japan.
SIZING/FIT:
The Mister Freedom® Upa Upa Shirt comes raw/unrinsed.
We recommend the usual initial 30mn cold soak/occasional hand agitation/spin dry/hang dry process. The shirt in both options will shrink to tagged size. The Mister Freedom® Upa Upa Shirt is true-to-size. I opted for a medium, my usual size in mfsc shirting.
For general instructions on how we size Mister Freedom® garments, see here. Please refer to sizing chart to figure out what works for you, depending on your own body requirements and silhouette preferences.
The fit pix are featuring the MF® Malibu Sea Denim, and a pair of PF-Flyers (Center Hi model, made in USA).

CARE:
Launder when hygiene dictates and common sense prevails, like after a particularly competitive beach twerking contest.
Machine wash. Cold water, gentle cycle, eco-friendly mild detergent and line dry.
Available RAW/unwashed.
SIZES:
14½ (Small)
15½ (Medium)
16½ (Large)
17½ (X-Large)
18½ (XX-Large)
RETAIL $259.95
Soon available from www.misterfreedom.com, our Los Angeles brick & mortar store, and fine retailers around the World.
Email sales@misterfreedom.com or call 323-653-2014 with any questions unanswered above, such as "Should I wash the shirt inside out?" or "Where to cop that sea shell thingy?"…
Thank you for your support,
Christophe Loiron
Mister Freedom® 2016
Comments
comments