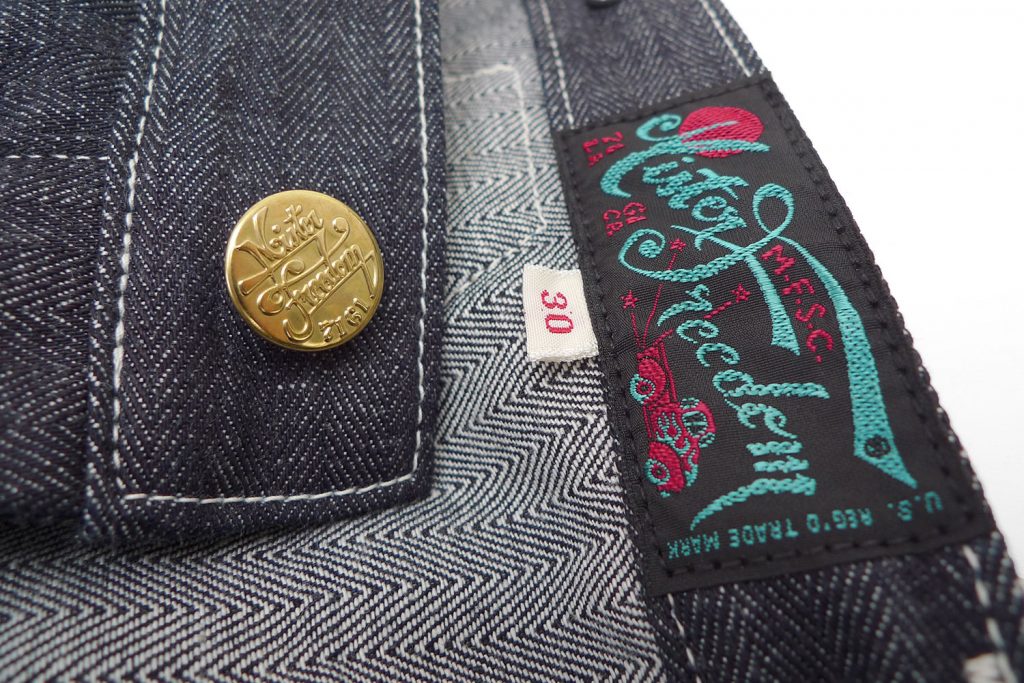 Mister Freedom® "McKARSTEN" Trousers, indigo métis & HBT denim.
SS2019 mfsc SURPLUS catalog.
Made in Japan.
We are adding another set of "might-have-beens" to the Mister Freedom® x Sugar Cane Co mfsc Surplus catalog, our on-going collection of made-in Japan classics á la MF®. Matching companion to the recently-released McKarsten Jacket, here are the "McKARSTEN" TROUSERS.
The moniker is a reference to our beloved Peter Karsten, and workwear label Lakin & McKey's early days (founded in 1908, known today as Key Apparel.)
The vintage garment that inspired our McKarsten Trousers pattern is an original pair of work dungarees produced by "Lakin & McKey" in the 1930's. This vintage goodie was purchased by Peter on behalf of the MF® archives. The pants were scored with a 1930's "Test" jacket, and came as a workwear extravaganza top & bottom denim highly-collectible set. This "suit" initially belonged to a railroad worker, who lived somewhere in the American Midwest… Both of these specimen of workwear history can be seen at the MF® HQ, hanging as rag-hunting trophies amongst other bygone eye candy that inspire us.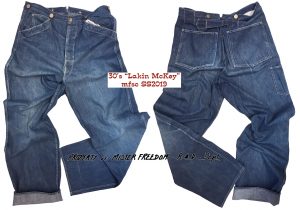 Inevitably, these old denim pants featured a dreadful period fit, even for our "Heritage Style" esthetics. We thoroughly tweaked the pattern and turned them into a contemporary wearable, yet keeping the early workwear full leg-high rise style. Our interpretation is otherwise fairly literal to the original's period details: utilitarian dungaree pattern without back yoke, early tailoring split waistband open back gusset, buckle-back, branded tack brass buttons, full top front pockets with fancy stitching, utilitarian "carpenter" style rear patch pockets… We removed the side tool pocket to tone down the contractor vibe.
Our trousers' hardware features fancy mfsc original workwear-style brass tack buttons, a new toy for us this Spring 2019, a design introduced with the McKarsten Jacket. These metal buttons will naturally age and acquire an attractive patina overtime.
We are releasing the McKartsen Trousers in two distinctive fabrics.
The first one is a 10 Oz. HBT indigo denim. This fabric is what happens when you weave the components of traditional denim fabric (indigo-dyed warp yarns and natural color weft yarns) into an Herringbone Twill (HBT) pattern. If the fabric face only subtly displays the HBT pattern, the geometric eye-dazzling weave is very obvious on the reverse. The HBT pattern should yield interesting fading specifics. For the Jailhouse Rock look, we opted for contrast stitching on this fabric.
The second fabric option is a 7 Oz. blend of 75% linen and 25% cotton (referred to as métis in French), plain weave, indigo and black yarns. This fabric was inspired by a 1920's pair of French work pants, and milled with similar specs. Our version is very "breathy" and not tightly-woven, making it a great summer-weight fabric, with a somewhat see-through quality not uncommon on vintage tropical garb. Tonal stitching conveys elegance making this option less workwear-ish. The fabric drape and wrinkly dry hand is typical of high-content linen métis.
The mfsc "McKARSTEN" TROUSERS are designed in California by Mister Freedom® and manufactured in Japan by Sugar Cane Co.
FABRIC:
Two distinct fabric options:
a) A sturdy 10 Oz. HBT dark indigo denim, 100% cotton, milled in Japan. (Option featuring contrast stitching.)
b) An elegant 7 Oz. plain weave dark indigo métis, blend of 75% linen and 25% cotton, indigo warp and black weft yarns, solid white selvedge ID, milled in Japan. (Option featuring tonal stitching.)
Pocket bags: cut from mfsc double-sided calico print twills, "NOS" from the Trade Shirt and Nixon Shirt.
SPECS:
* An original mfsc pattern, inspired by 1920's-1940's work dungarees.
* Vintage 1930's silhouette, full leg/trim high waisted top block.
*  Early tailoring split waistband, open back gusset.
* Cinch back, no back yoke pattern.
* MF® mfsc branded tack brass buttons.
* Fancy full top front pocket design and stitching (with selvedge facing for the indigo métis fabric option)
* Utilitarian "carpenter" style rear patch pockets.
* Brass donut fly buttons.
* Thin & wide belt loops (accommodates 2'' wide belts)
* Coin/watch pocket.
* Pocket bags cut from mfsc "NOS" double-sided calico print twills.
* Felled seam leg chainstitch construction.
* Contrast stitching for the HBT denim option, tonal stitching for the indigo métis.
* Single needle bottom hem.
* Original mfsc SURPLUS woven label.
* Made in Japan.
SIZING/FIT:
Both options come raw/unwashed.
We recommend the usual initial 30mn cold soak/occasional hand agitation/spin dry/hang dry process. The tagged size reflects the size of the garment after going through this process.
Although the drape of each fabric is very distinct, both fit the same, and the same sizing advice applies to HBT denim and indigo métis.
Our target image was a vintage 1930's silhouette, full leg/trim high waisted top block. These trousers feature a wide leg and high rise, an acquired taste by today's menswear fashion standards.
Due to the split-waistband pattern, the waist is quite generous and the open gusset allows about one inch play. I could fit a snug Waist 30 but opted for a very comfortable Waist 32, and cinched the waist with the back strap.
The original bottom hem is single needle, an easy alteration, with enough length to accommodate all types of cuffing preferences for most.
Please refer to chart for approximate raw/soaked measurements. This explains how we size our garments.
Soaked = 30mn cold soak, spin dry and line dry.
CARE:
When needed, machine wash the MF® McKARSTEN Trousers on DELICATE, cold water, mild eco-friendly detergent. Hang dry.
Wash separately to avoid color transfer to light-color garments. Turn the pants inside-out to avoid potential marbling of the indigo fabric. Using hot water wash will result in unnecessary color loss and excessive shrinkage.
Full wash cycle and heat dryer are not recommended and could damage the garment. 
Available RAW/unwashed.
Sizes
W 28
W 30
W 32
W 34
W 36
W 38
Available from www.misterfreedom.com, our Los Angeles brick & mortar store, and fine retailers around the World.
Email sales@misterfreedom.com or call 323-653-2014 with any questions unanswered above.
Thank you for your support.
Christophe Loiron
Mister Freedom®
©2019