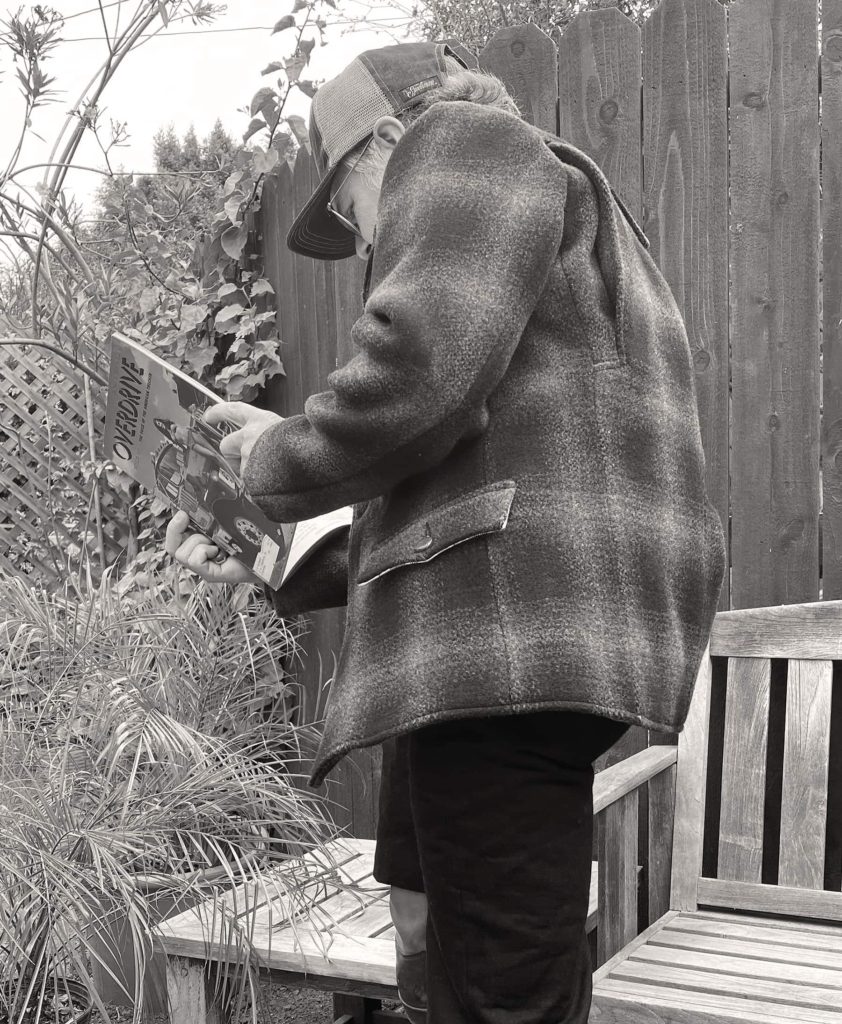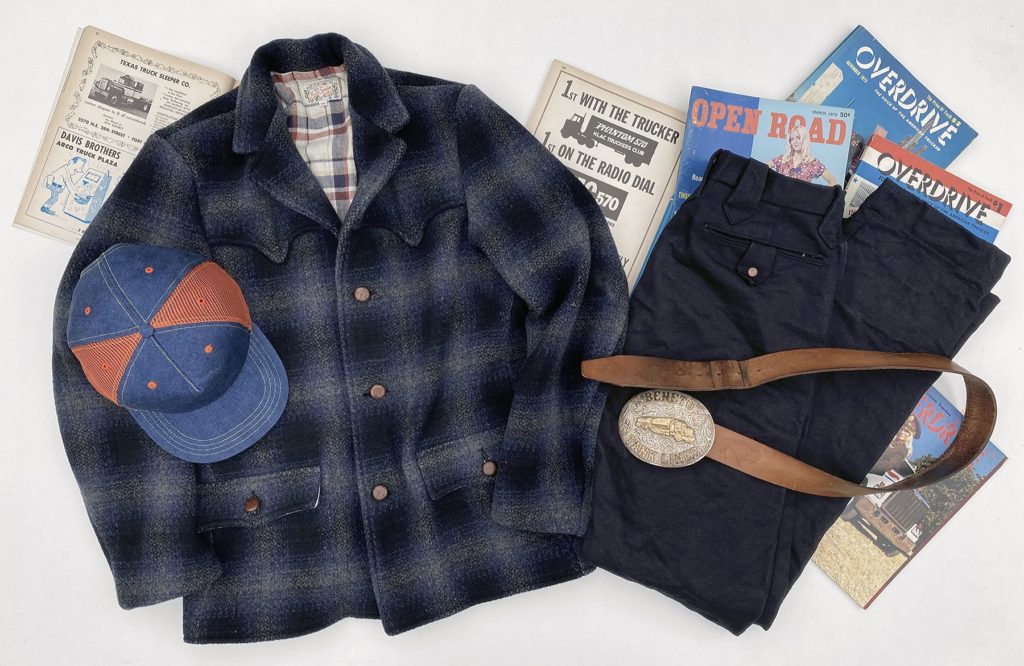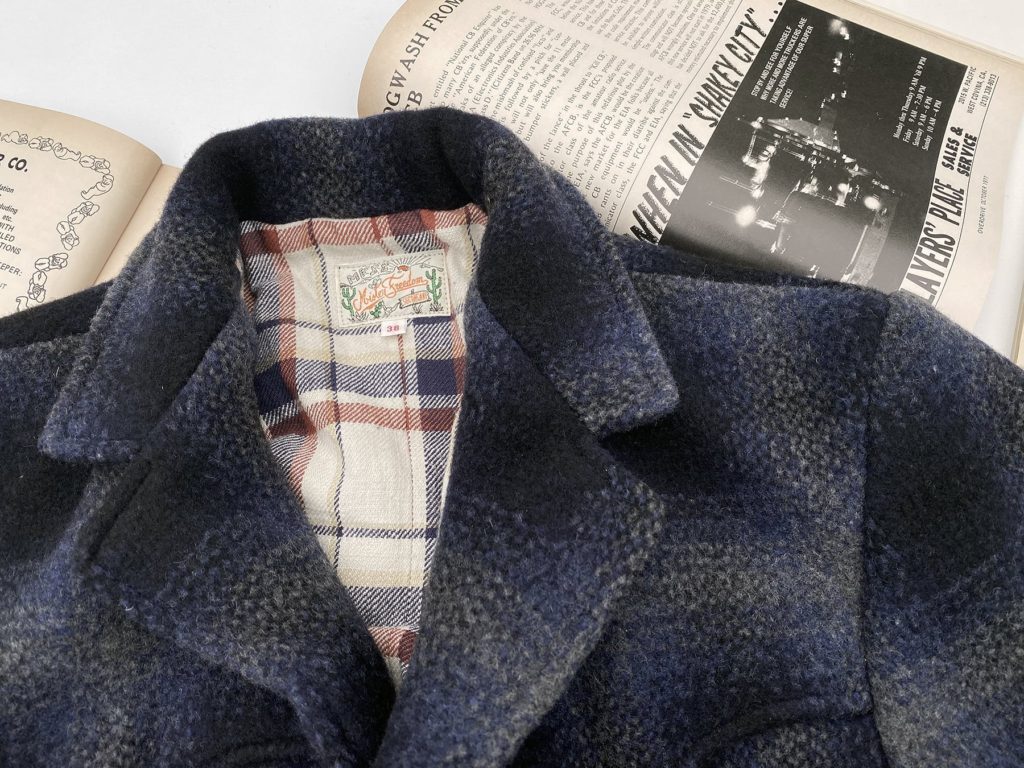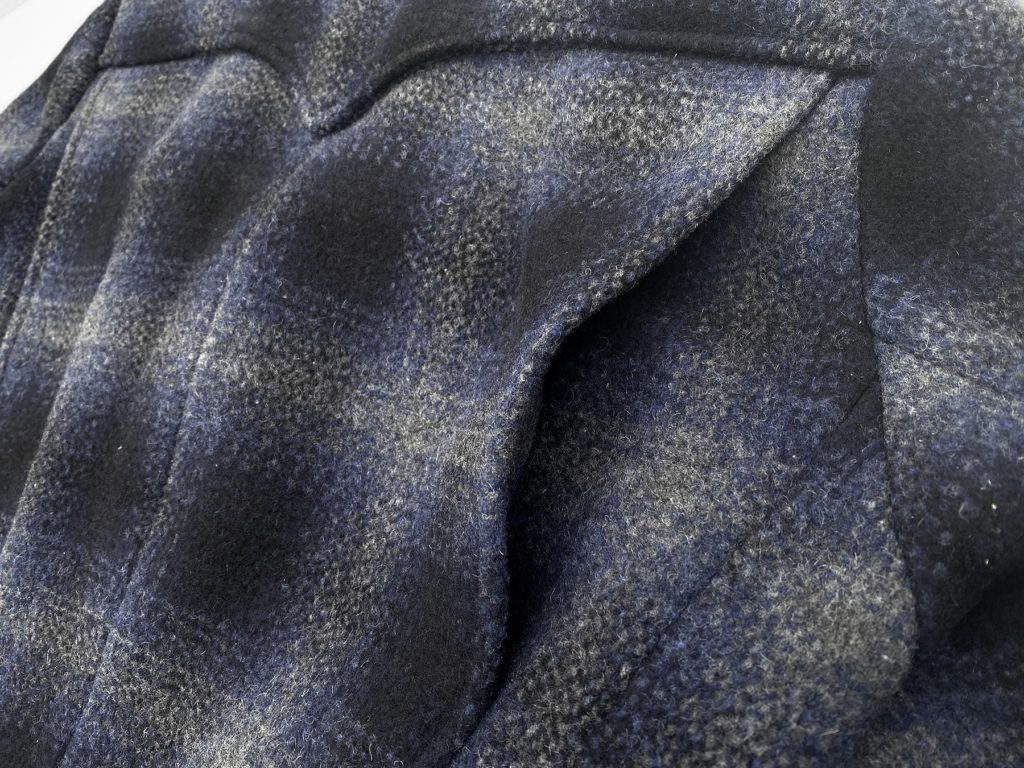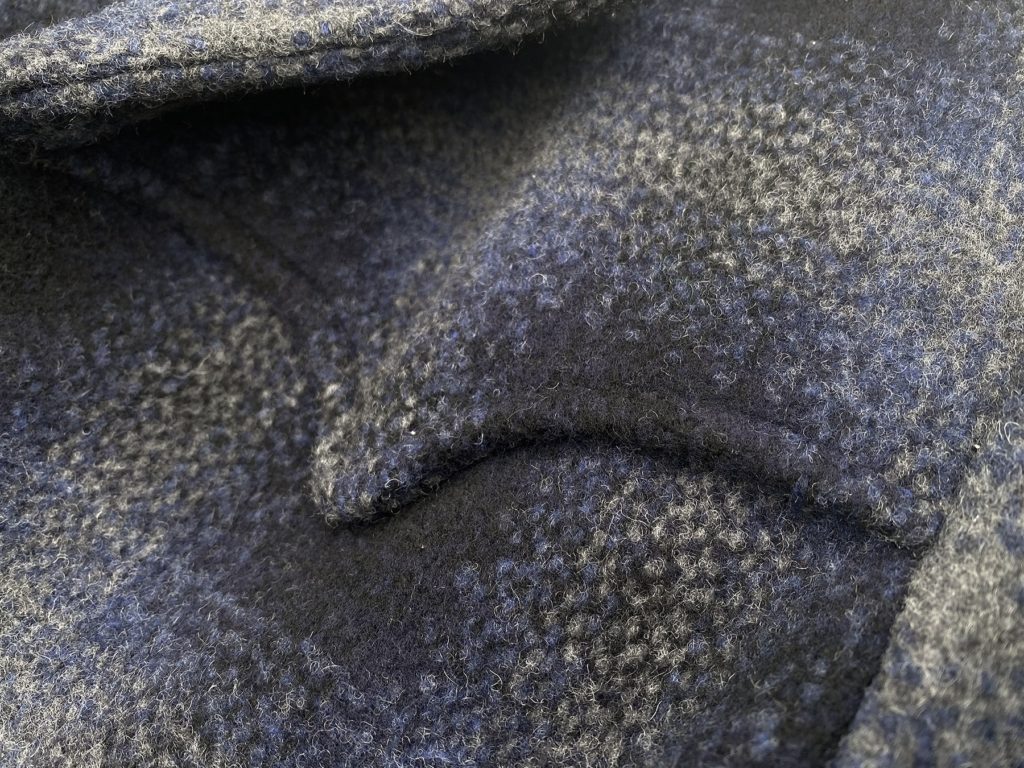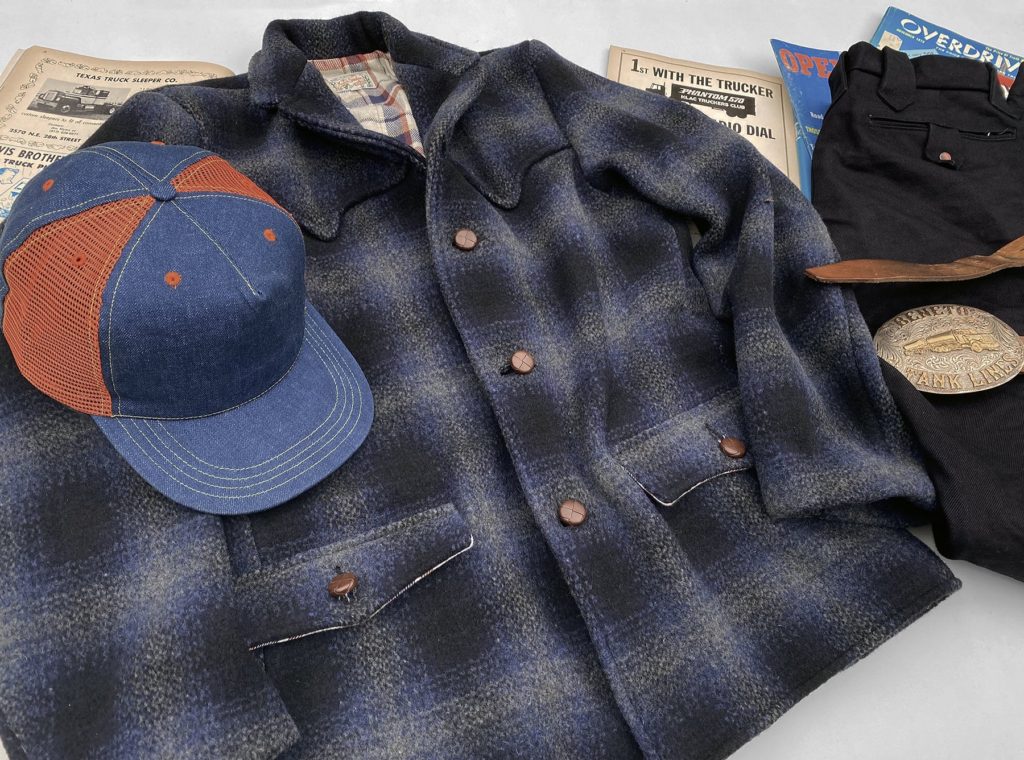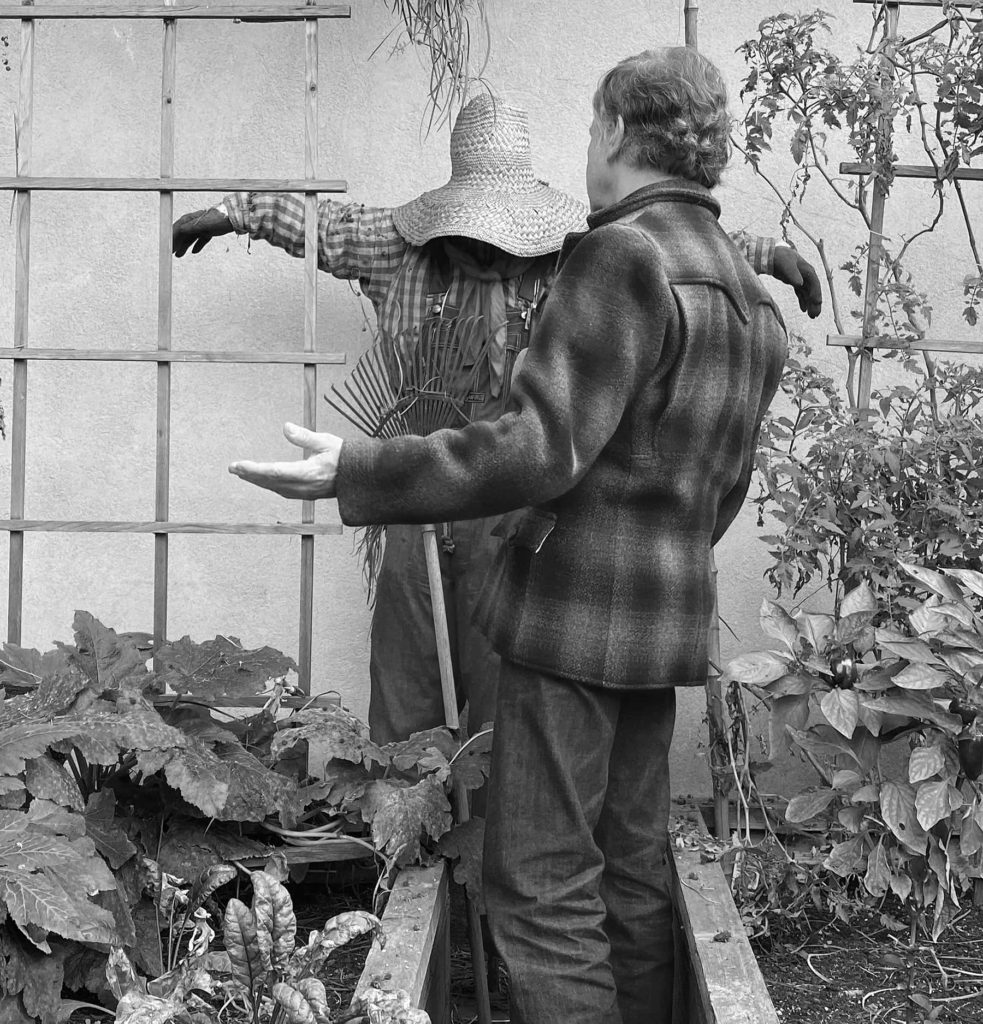 Mister Freedom® PIONEER Jacket, 21¼ Oz. wool shadow plaid edition.
FW2020 mfsc TRUCK STOP collection.
Made in Japan.
The Mister Freedom® PIONEER Jacket is our take on classic westernwear men's jackets, a style popular in the 1950s-60s.
Labels such as "Pioneer Wear", "Lasso", "Trego's Westwear", "Land-N-Lakes" and others, all produced models with a similar design, feeding the demand for the "urban cowboy" look.
The fashionable western jacket style basically merged two worlds, the classic tailored menswear high lapel roll single-breasted blazer with the iconic western yoke design. The jackets reconciled rugged Wild West/dude ranch with city slicker fashions, without falling into Grand Ole Opry flashy stage garb. The commun thread was the appeal of the vanished "open range" in American psyche, still glamorized by Hollywood at the time.
The outdoor vibe of those western blazers was enhanced by the choice of fabrics, preferably a trade blanket type, woodsman style wool plaid, or other "frontier days" textile references. The functional expansion pleats "sport back" construction of 1950s models added to the utilitarian vibe.
By the 1970s, popular culture viewed truckers as "the last of the cowboys", and many wildcatters donned their own mix of western fashion.
We put all those influences in the MF® blender, and came up with our hybrid, the PIONEER Jacket. We settled on a specific top block western yoke arcuate, scalloped pocket flaps and swing-back pattern combination. We opted for no padding for a deconstructed silhouette.
This version of the PIONEER features a vintage-inspired shadow plaid heavy wool fabric with a soft hand recently-developed by our friends at Sugar Cane, who know a thing or two about timeless textiles. The lining also highlights SC's expertise at re-milling Americana classics, and consists of a 100% cotton woven plaid typical of vintage workwear heavy flannel shirts.
The jacket is complimented by classic woven (genuine) leather shank buttons, for an extra layer of westerner out-on-the-town goodness.
The Mister Freedom ® PIONEER jacket is designed in California by Mister Freedom® and manufactured in Japan in collaboration with Sugar Cane Co.
SPECS:
FABRIC:
Shell: Heavy 21.25 Oz. soft-hand wool fabric, shadow plaid with dominant black/blue/grey. Milled in Japan.
Lining: 100% cotton woven plaid heavy flannel, natural/navy/red dominant. Milled in Japan.
DETAILS:
* An original pattern inspired by vintage westernwear jackets designed for the 1950s-60s urban cowboy.
* Deconstructed silhouette.
* High lapel roll.
* Western arcuate yoke on front/back top block.
* Swing-back expansion pleats construction.
* Scalloped pocket flaps with plaid flannel facing accents.
* Woven (genuine) leather shank buttons.
* Original mfsc "Truck Stop" woven label.
* Designed in California.
* Made in Japan.
SIZING/FIT:
The PIONEER Jacket comes ready-to-wear and does not require any pre-treatment or soaking.
This jacket is considered true-to-size. We recommend getting your usual size in mfsc jackets. If you are a 38 in our Ranch Blouse or Campus pattern (granted they are pears and apples), you are most-likely a 38 in the PIONEER.
Note that the vertical mechanical stretch of this specific heavy wool woven plaid fabric is quite noticeable when you pull down on the jacket's front & back panels, giving about an inch play with an average "natural recovery" (= the fabric's ability to return to its initial size after being stretched.)
I opted for a medium, for a comfortable fit.  I am 5.7'' approx. 150 Lbs.
Please refer to sizing chart for approximate measurements. Do consider the thickness of the shell/lining combo and mechanical stretch when comparing these measurements to those of a jacket of a similar style that fits you well.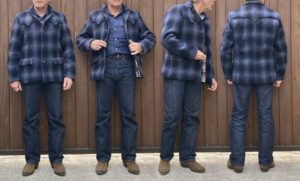 CARE:
Professional dry clean ONLY, from your local eco-friendly facility.
Available Sizes:
Small (36)
Medium (38)
Large (40)
X-Large (42)
XX-Large (44)
Available from www.misterfreedom.com, our Los Angeles brick & mortar store, and fine retailers around the World.
Email sales@misterfreedom.com or call 323-653-2014 with any questions unanswered above.
Thank you for your support.
Christophe Loiron
Mister Freedom®
©2020