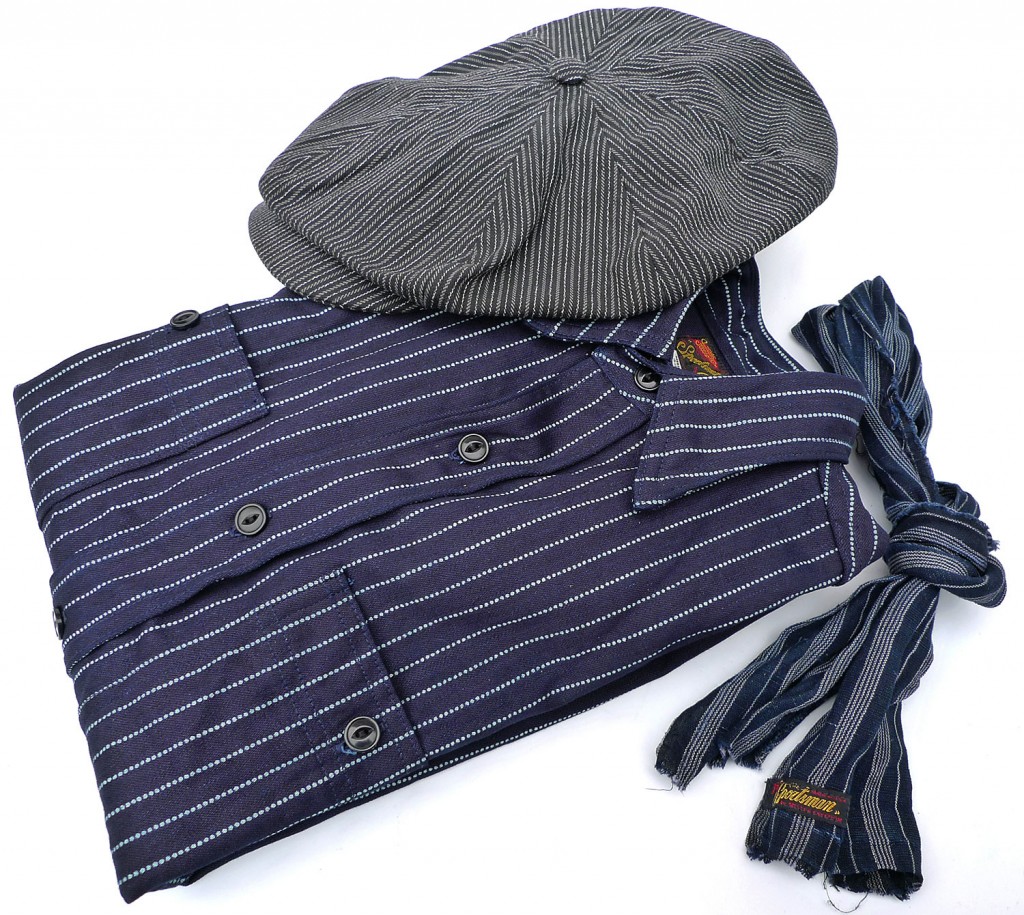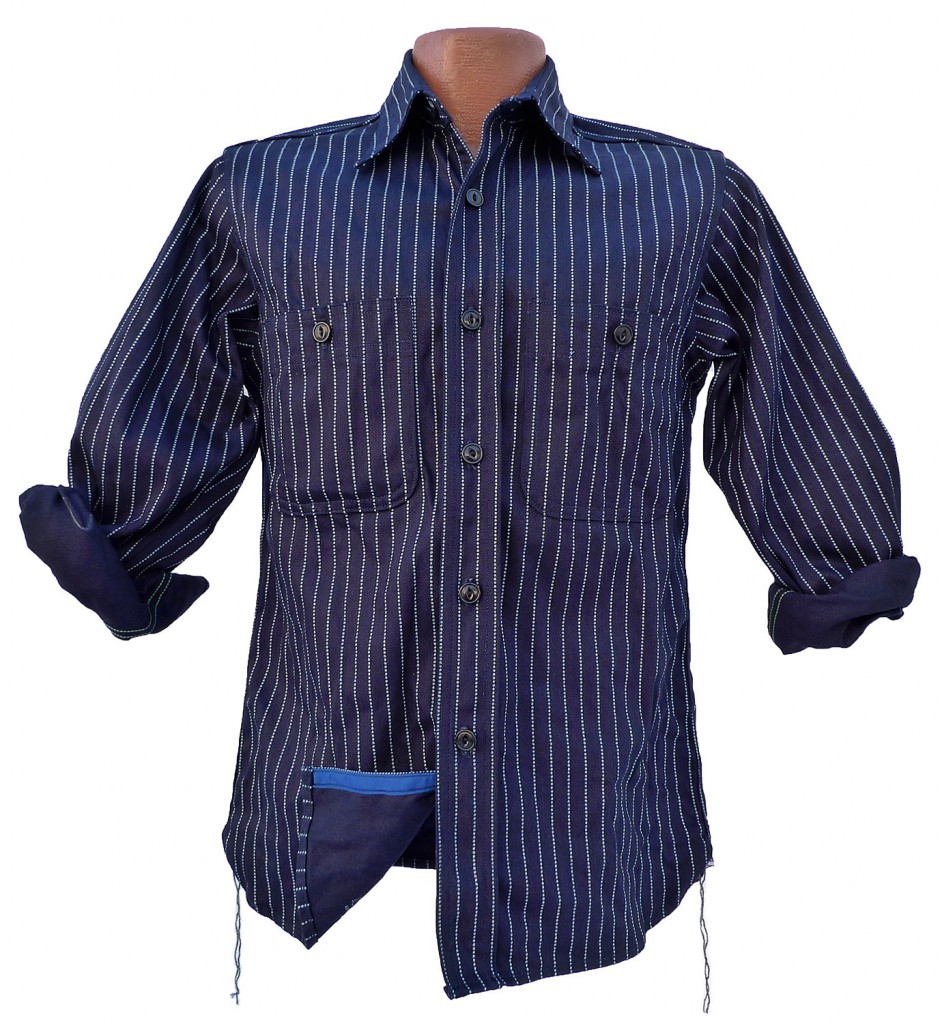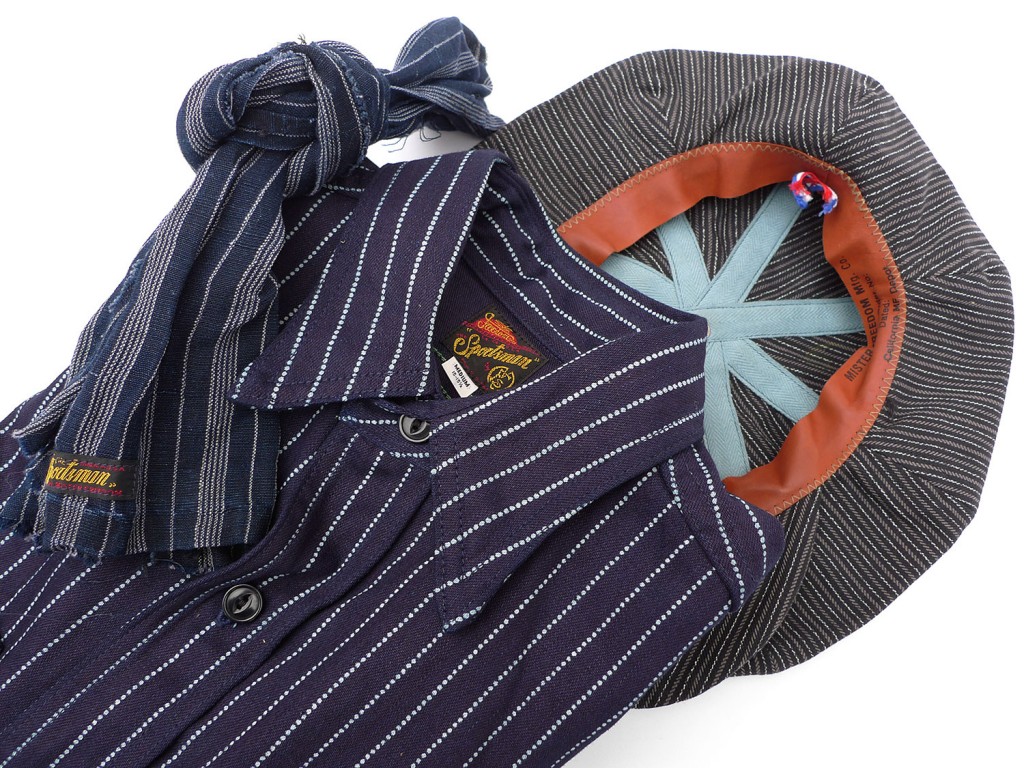 The "Workman Shirt", SC Indigo Wabash
Sportsman catalog, Spring 2016
Made in USA
Here is a new iteration of our 'heritage workwear' shirt pattern called "The Workman". Truly one of our most innovative christening achievement, the "Workman" is already available in several options. Originally released in the Sportsman catalog during Spring 2015 in New Old Stock Indigo Pincheck and NOS HBT Denim, a Fall 2015 version was also issued in NOS 2×1 Denim soon after.
Never late to milk a good cow, Mister Freedom® is introducing a Spring 2016 Choo Choo Charlie Workman shirt special, a Wabash Indigo Stripe version á la J.L. Stifel & Sons.
Now, brace yourselves for an accurate historical background:
Following a recent discovery in an Indiana barn, the travel journals of a dry goods trader by the name of Kiya Babzani confirmed that he had several encounters with Wabash Confederacy tribes during his days hauling wares burro-back across the American Mid-West of the 1800's. Some of the American Natives he met had taken-up decorating textiles as a good way to entertain relentless waves of invading railroad workers and homesteaders. While bartering his Men Of The Frontier goods, Kiya recalls several tribe members chanting "A few dots a day keep the white man away", as skilled elders adorned solid indigo cloth with rows of white glass beads imported from Venice, Italy. The white man really took a liking to decorated workwear. The Wabash cloth legend was born, bead work eventually evolving into fabric print patterns, as Choo Choo Charlie grew tired of picking up his beaded uniform off the caboose floor.
By the early 1900's indigo discharge printing had become the trademark of the fashion-conscious railroad worker, aka the original hipster.
The exact whereabouts of Kiya Babzani are mostly lost to the prairie winds, but legend has it that he kidnaped a young mysterious Princess on a Greek island, and both went on to open a thriving trading post in Mexico…
And that, my friends, is, to the best of my knowledge, the truest facts about Wabash fabric available on the interwebs at the moment.
The Sportsman "Workman" shirt is designed and manufactured in California by Mister Freedom®, in collaboration with Sugar Cane Co.
SPECS:
PATTERN:
Original MFSC pattern, inspired by 1940's-50's classic workwear shirting.
FABRIC:
8 Oz. "Wabash stripe" selvedge 100% cotton indigo x indigo twill, discharge-printed with a dotted stripe pattern on the face. The reverse side of the fabric is mostly solid with no discharge bleed through but features a sparse Sugar Cane Co logo print, lifted from the classic Stifel-style boot logo. Fabric milled and printed in Japan exclusively for Sugar Cane Co.
DETAILS:
* No chin strap, sorry Charlie.
* Black corrozo wood cat-eye buttons.
* Indigo blue cotton popeline button placket facing.
* Traditional double chest matching pocketing.
* Tonal stitching, 100% cotton
* Selvedge side gussets.
* Chainstich construction, "Sportsman" green color on the inside.
* Made in USA.
SIZING/FIT:
This shirt comes raw/un-rinsed and will shrink to tagged size after a rinse/dry process.
We recommend an initial cold soak, spin dry and line dry.
The "Workman" shirts are true-to-size with a quite attractive fairly trim 'uniform' silhouette. If you are generally a Medium in mfsc shirts, you are a Medium in the Workman.
Please refer to sizing chart for measurements.
CARE:
Launder when hygiene dictates and common sense prevails, like after shoveling coal for 9 hours.
Machine wash. Cold water, gentle cycle, eco-friendly mild detergent and line dry. We recommend turning indigo blue/denim garments inside out to avoid marbling from the washing cycles.
Patina will develop according to activities and frequency of wear.
Available RAW/unwashed.
SIZES:
14½ (Small)
15½ (Medium)
16½ (Large)
17½ (X-Large)
18½ (XX-Large)
RETAIL $279.95
Soon available from www.misterfreedom.com, our Los Angeles brick & mortar store, and fine retailers around the World.
Email sales@misterfreedom.com or call 323-653-2014 with any questions unanswered above.
Thank you for your support,
Christophe Loiron
Mister Freedom® 2016
(We thank our friends Kiya and Demitra for their crucial yet involuntary cooperation to the story.)