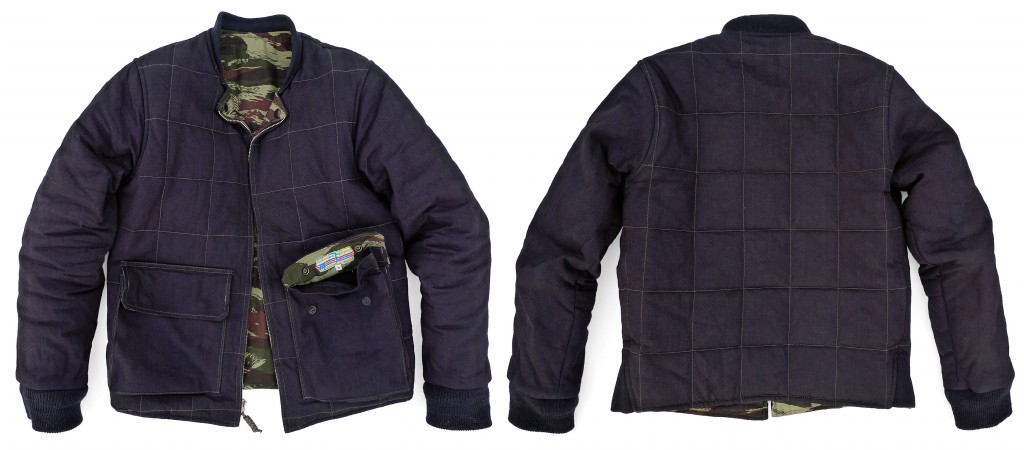 TAP Lézard "Vanden" Jacket, reversible quilted indigo twill x lizard camouflage.
SAIGON COWBOY Fall 2015
Following the release of the Mister Freedom® CDO Jacket, and in a similar Hmongs meets Commando vibe, here is the "Vanden" Jacket. This number will be the final addition to our "Saigon Cowboy" collection, wrapping our Spring and Winter 2015 South East Asia adventure.
Some quick semantics first…
If TAP stands for Troupes Aéroportées (Airborne troops, notorious for their tenue bariolée 'lézard'), the name "Vanden" is a reference to Roger Vandenberghe. A French military legend, Vanden, as his peers called him, lead the famed Commando N°24 known as the Tigres Noirs (Black Tigers), one of the 45 units making-up the 5,400 men-strong Commando Nord Viet-Nam (1951-1954). Adjudant-Chef 'Vanden' would become one of the most decorated non-commissioned officer of the French Army, with most of his decorations earned during the Indochina conflict.
Strategic precursors of the CIA-devised CIDG paramilitary groups that would later take over with the US involvement in Vietnam, these French commando units consisted of men recruited amongst ethnic minorities of mountainous regions of Southeast Asia (Hmong, Nùng… of North Vietnam, Laos). Many defecting Viêt Minh personnel also joined the ranks. For either cultural, economic, ideological or territorial reasons, these Vietnamese nationals volunteered to fight alongside the French colonial troops,  against the Ho Chi Minh-lead communists.
Routinely infiltrating enemy-controlled territory, these commandos often opted for uniforms incorporating NVA (North Vietnamese Army) gear, 'black pajamas', Chinese military quilted vest, headscarves, dark indigo-dyed garments and other un-conventional local favorites… as can be seen on period photography.
After flirting with death on countless perilous ops, Vanden was to meet his fate in his sleep, assassinated in 1952 by one of his own, a Viêt Minh gone-rogue recruit of the N°24 commando…
For more on that, francophones can refer to "Vandenberghe – Le Commando Des Tigres Noirs – Indochine 1947-1952" by Charles-Henry De Pirey (ISBN:9782914086059).
Photos of Vanden's Black Tigers courtesy of "PR" on this blog.
Photo of Viet Minh prisoners courtesy of this site.
Photo of night river patrol ©Raoul Coutard, as featured in the book "Guerre Morte" (1954) (ISBN: B00WL1YZIE)
Now comes our loose interpretation of all this…
The Mister Freedom® 'Vanden' jacket is by no means a replica of authentic Indochina period uniform, but rather a respectful attempt to link History with contemporary wearables, acknowledging a not-so-distant past, lest we forget. This jacket is an original garment that blends vintage aesthetics and references, not an endorsement of bygone imperialistic foreign policies, nor a glamorization of warfare.
The usual MF® spin was put on a 1950's French Army Type 1 veste matelassée (often seen rolled up atop the rucksack during the French Army Algerian campaign, 1954-1962), an NVA black-dyed vest,… and vintage sportswear field gear. The result is an hybrid jacket featuring double indigo twill on one side, and our version of the traditional camouflage lézard introduced with the Garrison Trousers and Caban Peacoat on the other.
This jacket is fully reversible, featuring a "TYE Tokyo" metal zipper with double-sided pull courtesy of Toyo Tailor, the skilled Sukajan makers of the Mister Freedom® Party Jacket, our special Spring 2015 illiterate keyboard cowboy stimulator.
The "Vanden" can be worn and zipped-up montagnard side out, or jungle side out. Please note that we left it up too you to customize the pull with your own scoubidou or Paracord tab, as the jacket comes without one.
The "Vanden" features 6 pockets altogether, lower expandable snap flap pockets inspired by French military TAP field jackets, and two camo side chest pockets, quite convenient to store sunglasses or iPhone.
The wool knit cuffs and collar band are mil-specs, courtesy of Buzz Rickson's.
On a somewhat insignificant note, I have come to like the old stretched-out cuffs of vintage jackets that have been through the wringer, and an easy way to achieve that look is to roll-up the knit cuff on the arm part when the weather permits. Once pulled back down, the cuffs will look 'sloppily perfect'. This defeats the purpose of keeping the wrist section air-tight, triggering the usual slave-to-style issue, be cool or stay warm, for those of us blessed with such First World dilemmas.
The bottom of the jacket features side expansion wool knit gussets, a vintage-inspired detail we already used on the Chiller Vest, an old Mister Freedom® garment from our 2010 "Speed Safe" collection. This features comes handy when the jacket is fully zipped-up and you are at the wheel.
For the inner padding, we opted for a 100% polyester fiber thermal fill, great for warmth but not too bulky to avoid the Michelin Man look. The square-shape quilted pattern is only featured on the indigo side of the body. The arms are not quilted but still feature a thin thermal padding.
The TAP Lézard 'Vanden' Jacket is designed in California by Mister Freedom® and manufactured in Japan by Sugar Cane Co.
SPECS:
FABRIC:
Montagnard side: "Double indigo twill", a very dark (almost black) indigo warp and indigo weft 100% cotton denim twill, 12.4 Oz., white selvedge ID. Milled in Japan.
Jungle side: 100% cotton HBT 'lizard' camouflage fabric, milled and printed in Japan.
Inner padding: 100% polyester fiber thermal fill.
DETAILS:
* Inspired by 1950's Indochina War military gear and vintage outdoor garments.
* Fully reversible.
* 4 bottom expanding pockets with snap flap, with two extra chest pockets on the lizard side.
* 1950's sukajan style reversible "TYE Tokyo" metal zipper with double pull tabs.
* 100% polyester fiber filling with minimal 'puffiness'.
* Mil-specs wool knit cuffs, collar band and side expansion gussets.
* Square-shape quilting pattern on the indigo side.
* Olive green 100% cotton thread.
* Snap down collar lapels.
* Concealed woven Saigon Cowboy label stitched inside pocket flap.
* Made in Japan.
SIZING/FIT:
The "Vanden" Jacket comes raw/unwashed and we recommend an initial cold soak (~30mn) with occasional hand-agitation to insure total immersion. Spin cycle and line dry. This jacket is quite bulky and heavy when wet, so do not attempt a full washing cycle as this might damage both your jacket and your washing machine.
This jacket is true to size, and a Medium (38) fits like a snug Medium by mfsc standards. I wear a Medium with enough room for a sweatshirt or denim jacket underneath. This is a rather fitted jacket, depending of course on your build, proportions and choice of size.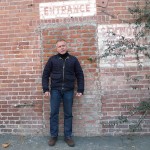 Please refer to sizing chart for cold rinse/line dry approximate measurements.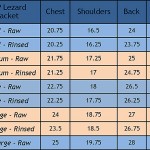 CARE:
Launder when hygiene dictates and common sense prevails.
We recommend professional cleaning in your local eco-friendly facility. If not practical, hand wash or machine wash on DELICATE in large capacity washer to avoid damaging both jacket and machine. Cold water, delicate cycle, eco-friendly mild detergent and line dry. We recommend turning indigo blue/denim garments inside out to avoid marbling when washing. Un-zip jacket before washing.
Patina will develop according to activities and frequency of wear.
WARNING: The double indigo twill will naturally bleed, and minimal color transfer to light color garments or furniture is to be expected. Indigo transfer will wash-off overtime.
Available RAW/unwashed
SIZES:
Small (36)
Medium (38)
Large (40)
X-Large (42)
XX-Large (44)
RETAIL $699.95
Soon available from www.misterfreedom.com, fine retailers around the World, and our Los Angeles brick & mortar store.
Email sales@misterfreedom.com or call 323-653-2014 with any questions unanswered above.
Thank you for reading and for your support,
Christophe Loiron
Mister Freedom® 2015