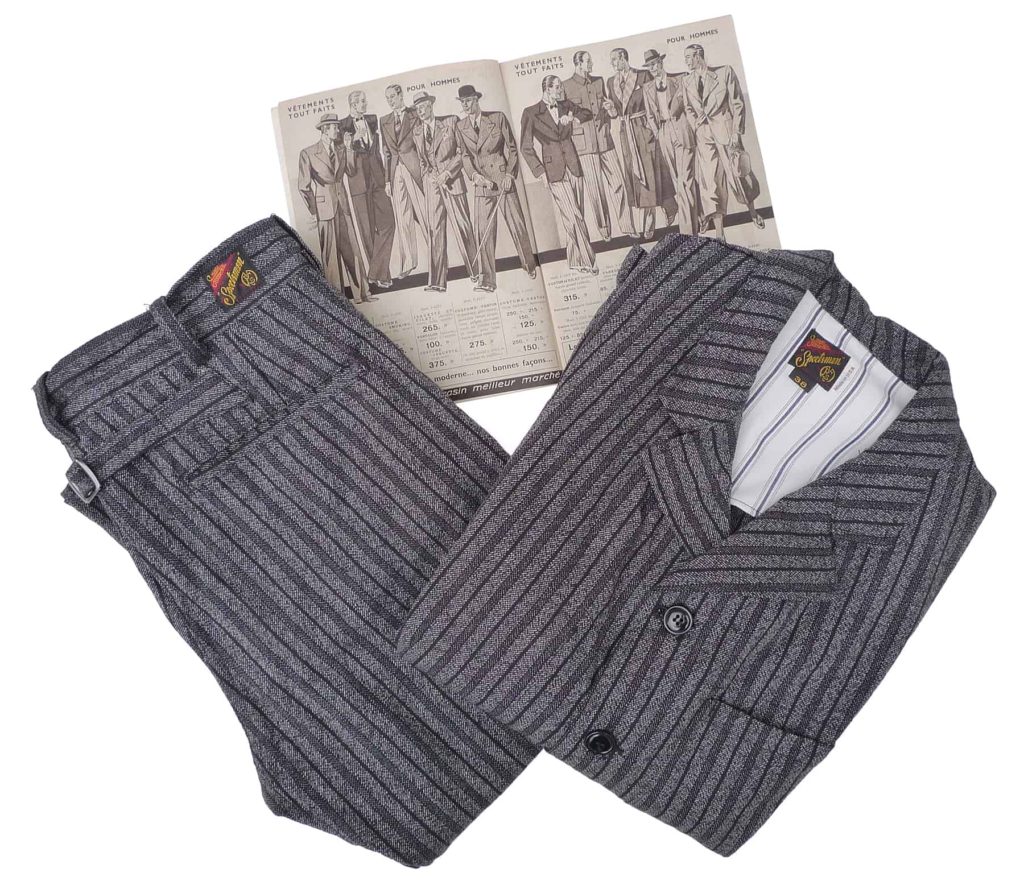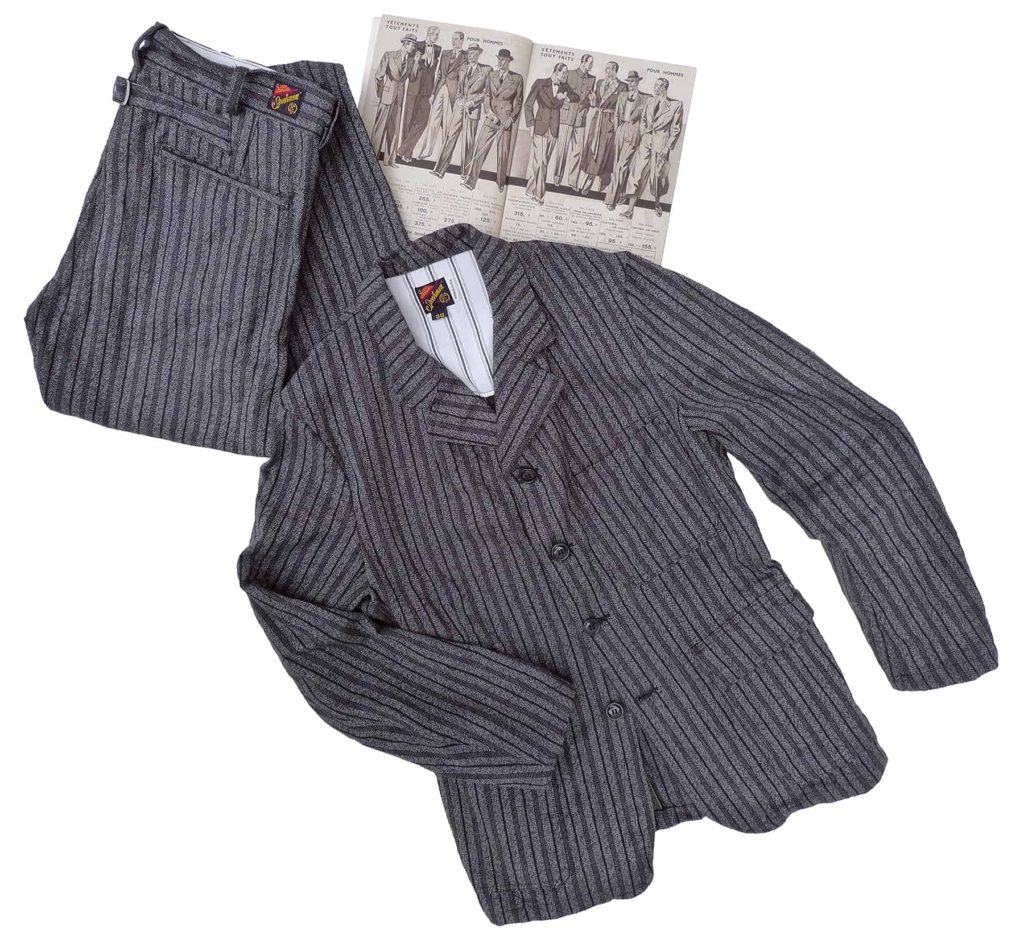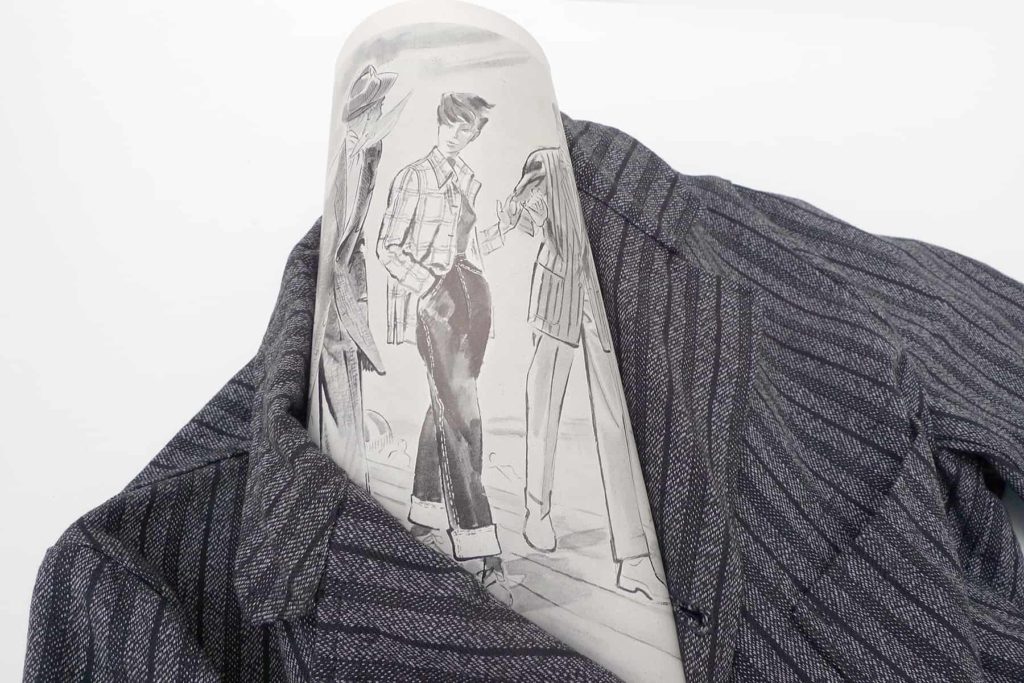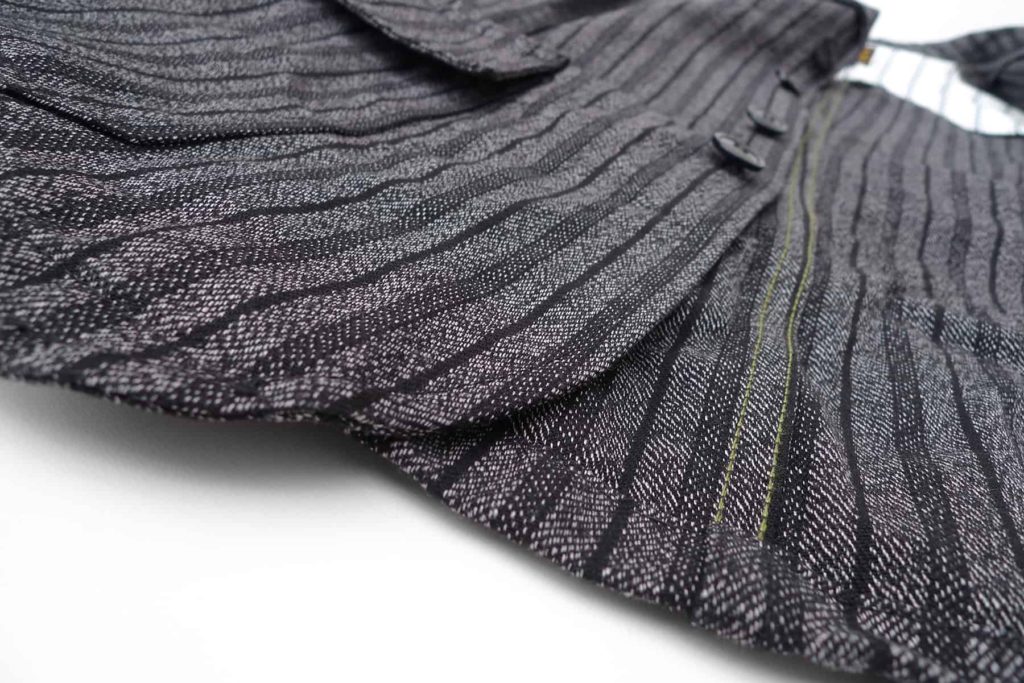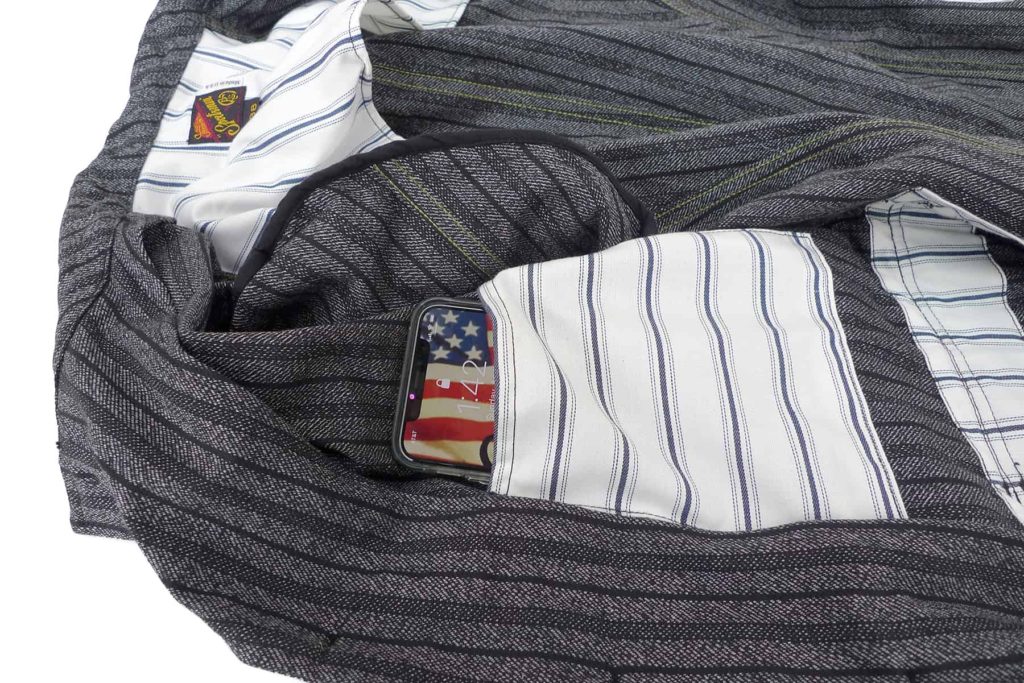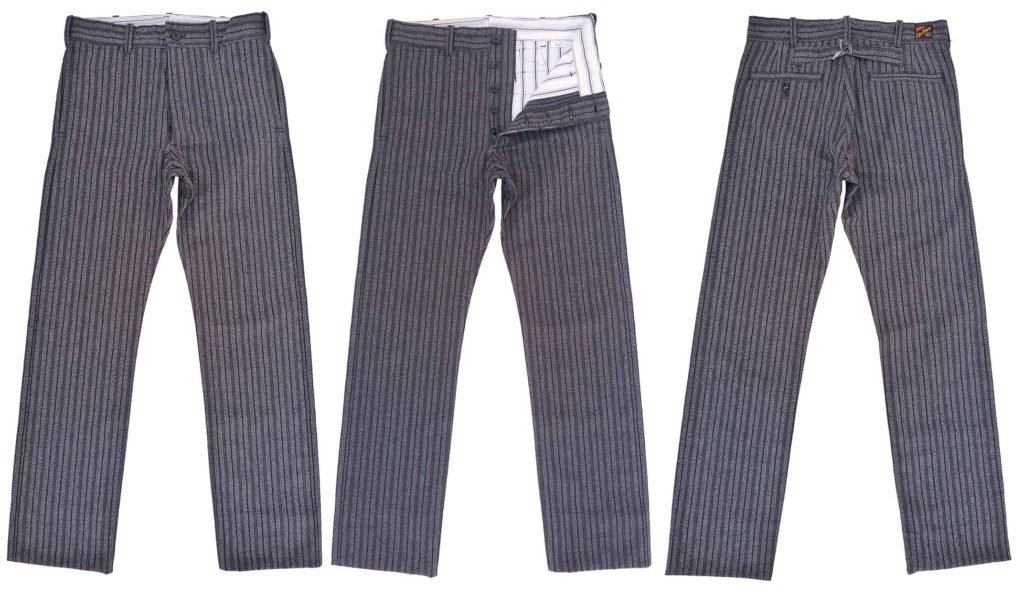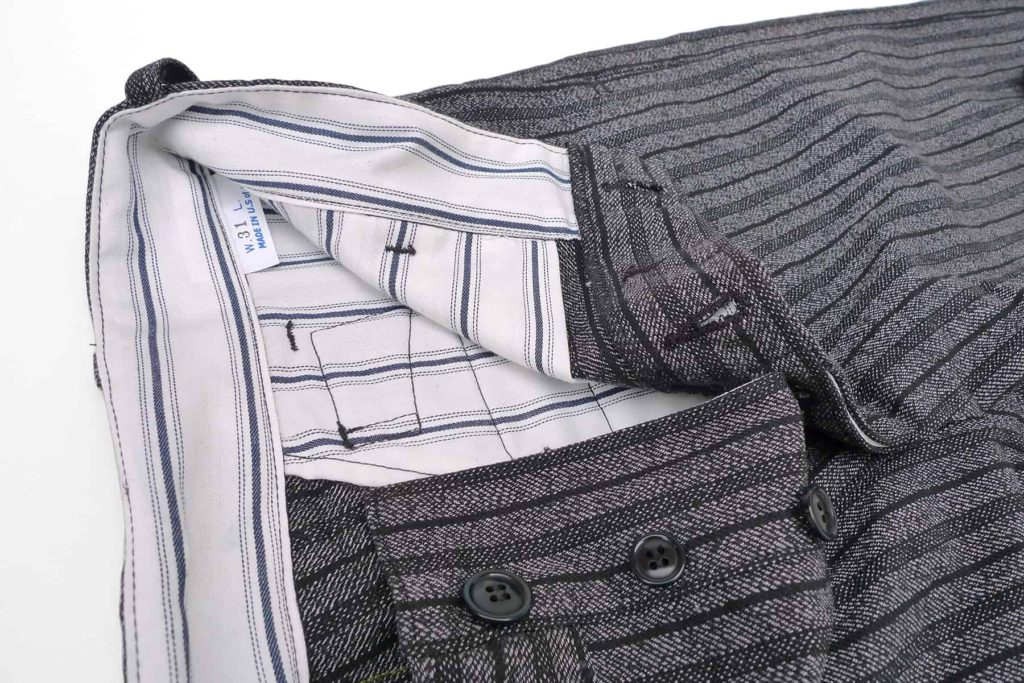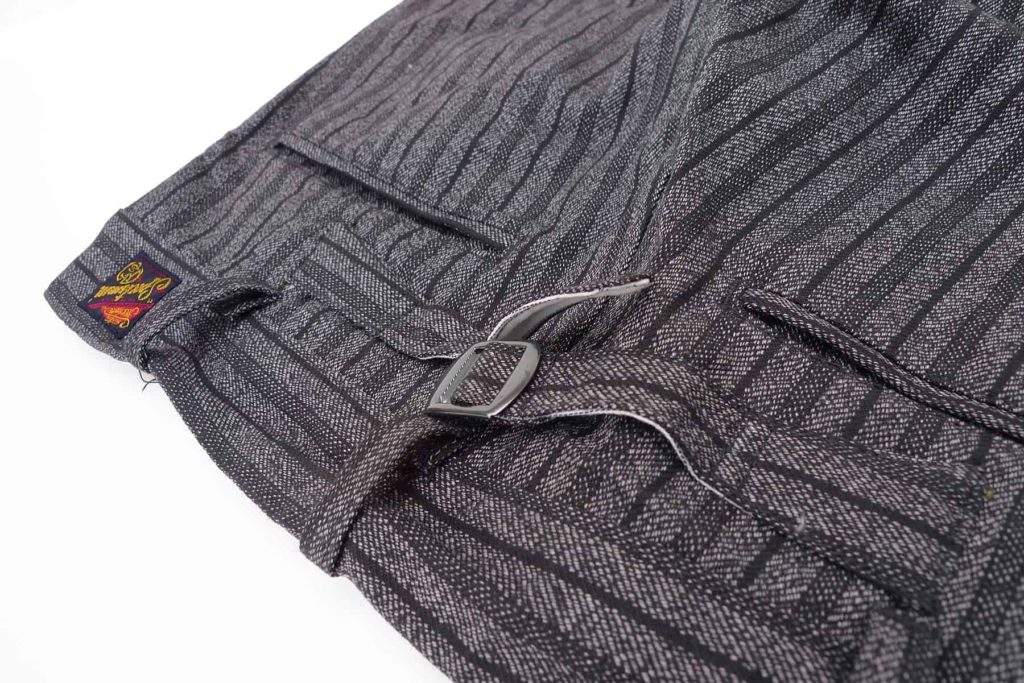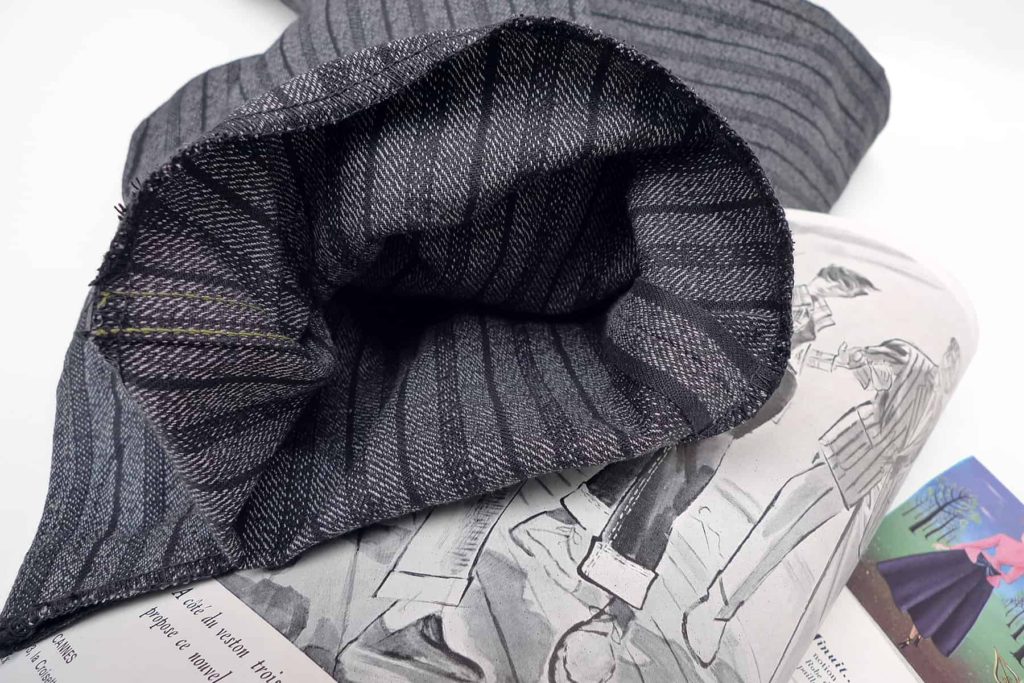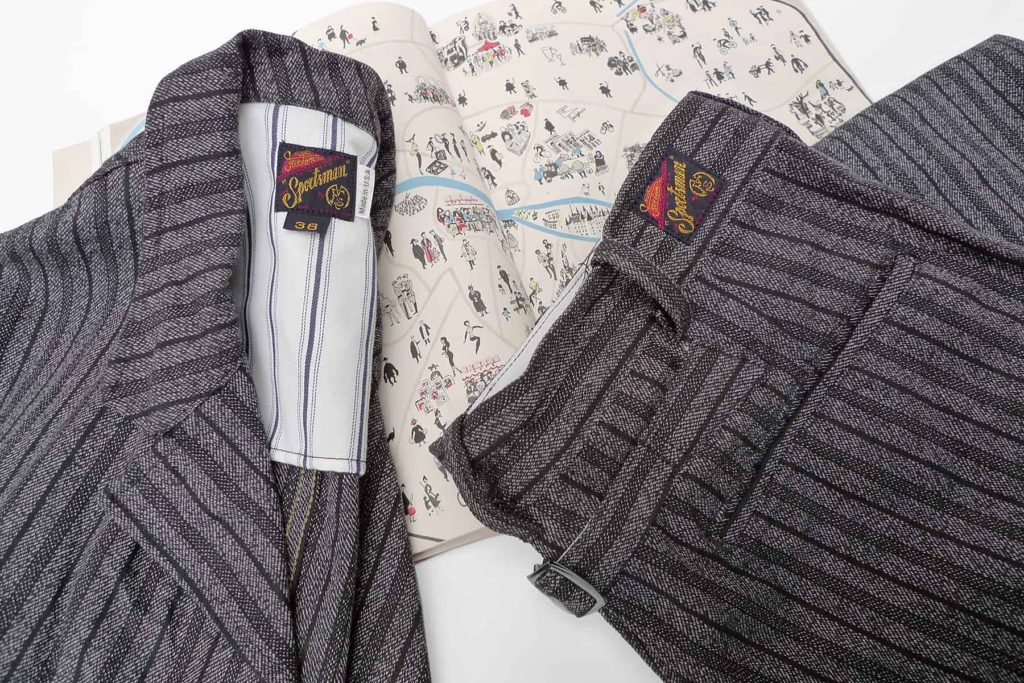 Mister Freedom® "Le Parisien" Continental two-piece suit (Sportcoat & Trousers)
Mock Twist stripe twill edition.
SS2020 mfsc "Sportsman" catalog.
Made in USA.
Sometime in 2019, we reached out to our friends and classics' replica specialists at Toyo Enterprises and submitted a vintage fabric swatch cut from a 1920's-30's pair of French work trousers. After studying each yarn of the intricate weave under a microscope (textile expert Arai San literally does that), instructions and tech-pack were given to a Japanese fabric mill to replicate the challenging textile…
The result is the magnifique selvedge Mock-Twist stripe twill of our "Le Parisien"!
Mock twist refers to the twisted white and black yarns giving the "salt & pepper" (or covert) aspect to the twill, with its specific vintage French workwear characteristics. Fancy striped patterns were quite typical of 1920's-40's French utilitarian clothing, maybe an attempt to add a bit of "chic" to blue collar outfits, and a touch of "mode de la ville" (city fashion) to rural dwellers? Period menswear catalogs and vintage swatch books document the wide variety of stripe woven fabric patterns available at the time, eye candy for the textile collector.
Today, these bold stripes may be more associated with "The Godfather" than with hard-working farmers, but the versatility of these washable cotton fabrics – suitable for both field work and as Sunday attire – , along with their sturdiness, might have been the reason of their popularity with the working class.
Significant amounts of new-old-stock workwear were still sitting on store shelves in France up until fairly recently. The old guard of French vintage pickers and theater costumers will remember a specific Army-Navy surplus store on the docks in Bordeaux, France, with stacks and stacks of NOS workwear, in all kinds of stripe twills or black/blue moleskine, just sitting there and gathering dust… My Dad had taken me to that specific store in the 1970's-80's, to stock-up on new blue jeans and old useful military gear, and I, of course, have been back and raided the place several times since. There were surprisingly still piles of dead-stock oldies and random goodies as-of my last visit in 2017. The lady still running the shop remembered my Dad. He was a charmer…
This original trousers/sportcoat set is the latest addition to the Mister Freedom® Continental family, an all made-in-USA concept of vintage-inspired glad rags for discerning adults.
Our "Le Parisien" Two-Piece Suit consists of two of our popular classic patterns, the MF® Continental Sportcoat and Continental Trousers.
The unstructured blazer pattern has been previously made available in an array of fine NOS fabrics, an indigo crosshatch twill, two grey cotton-linen twills, a light indigo "Player" denim, and an elegant tropical "Congo Gabardine" cotton-linen twill.
The Trousers have been released in brown Cacao Chambray, indigo Crosshatch Denim Twill, and light indigo "Player" Denim. All these are available as individual garments for a mix & match look.
This SS2020 Mock-Twist "Le Parisien" release is a perfect option for a matching Sportcoat/Trousers set, just as its popular 2018 black-coated denim two-piece "JC" suit predecessor.
The mfsc Continental "Le Parisien" Two-Piece Suit (Continental Sportcoat & Continental Trousers) in Mock-Twist stripe twill is designed in California by Mister Freedom® and manufactured in the USA in collaboration with Sugar Cane Co.
SPECS:
FABRIC:
Sturdy 100% cotton Mock-Twist stripe twill, solid black selvedge, milled in Japan.
Pocketing & half lining/facing:  NOS fancy woven stripe 100% cotton plain weave (ivory white with navy blue stripes), milled in Europe.
Continental "Le Parisien" SPORTCOAT:
* Unstructured silhouette.
* Lightweight and easily folded, perfect traveling companion.
* Vintage-vibe high button front.
* Corozo wood butons.
* Half shoulder floating lining, 100% cotton NOS fancy woven stripe twill.
* Side hip pockets with flaps.
* Pocket openings reinforced on the inside with facing fabric.
* Tonal 100% cotton stitching, all clean caballo (chainstitch) flat-felled seam construction, green color "Sportsman" signature chainstitch on the inside. No open edges or overlock.
* Made in USA.
Continental "Le Parisien" TROUSERS:
* Elegant late 1950′s early 1960's type silhouette and fit, straight leg.
* Corozo wood fly and waist buttons.
* Selvedge leg out seam.
* Rear welt pockets.
* Trousers-style belt loops.
* Adjustable back cinch strap, with vintage NOS metal slide buckles.
* 100% cotton NOS fancy woven stripe twill pocket bags, waist band.
* Watch pocket.
* Tonal stitching, 100% cotton thread construction, with inside green chainstich MF® signature.
* Original "The SPORTSMAN" woven rayon label on rear waistband, concealed when wearing a belt.
* Tailor shop-style unfinished overlocked leg bottom, to suit your cuffing preferences.
* Made in USA.
SIZING/FIT
This explains how we size our garments.
The Continental Sportcoat and trousers come raw/unwashed. We recommend the usual initial 30mn cold soak/occasional hand agitation/spin dry/hang dry process.
The tagged size reflects the size of the garment after going through this process. The subtle variation of shrinkage between body fabric/lining fabric/cotton thread will result in puckering and roping, slightly altering the fit and drape. This Mock-Twist twill specific weave tends to slightly loosen up (stretch) after a rinse.
I personally opted for a snug Size 38 (Medium) in the Continental sportcoat and comfortable W32 trousers. These are my usual sizes in the Continental series and most mfsc garments.
Sportcoat sizing:
This Mock-Twist Sportcoat release is cut very trim compared to previous versions, and sizing-up might be an option for some, especially if one plans to layer with a sweater or thick shirt, or just wants a more relaxed/unstructured look. I actually could have gone with a Size 40, but decided to stick to Size 38 and only pair the jacket with a light dress shirt.
Trousers sizing:
The Continental "Le Parisien" Trousers are true to size. If you are a measured waist 32 inches, you are most-likely a stamped W32 in these. The waist is quite generous and I could fit into a W31, but preferred the leg silhouette of the W32, allowing wear with both dress shoes and Road Champs.
To accommodate fine tuning for the silhouette of your choice, we are releasing these in  a few select odd sizes too (W29, W31 and W33).
Please note that the Continental Trousers pattern might not be a good option for all body types. Proportion-wise, those with Ronaldo-style muscular legs will probably look better in our regular Sportsman Chino models.
Trousers hemming:
After the initial soak/hang dry process, we recommend settling down on the final length of the bottom hem after gently wearing the trousers around the house a bit. The cotton fabric tends to naturally bunch/wrinkle and pull the leg up slightly. Letting this specific fabric react to your own body for an hour or so will allow you to decide on a proper classic leg break that works for you. I will opt for a classic 1 1/4 fold, and minimal break (photos only show a hem folded under.)
For a classic and more period look, we do not recommend bulky rolls, hand cuffing or contemporary "accordéon" stacking with these slacks.
Please refer to sizing chart for approximate raw/soaked measurements. Soaked = 30mn cold soak, spin dry and line dry.
(Fit pic wearing a size 38 jacket and W32 trousers.)
CARE:
Wash with care. Cold water, delicate cycle only, minimal eco-friendly detergent. Turn garment inside-out to minimize potential unsightly marbling of the fabric. Hang dry.
Warning: Full wash cycle on regular cycle/hot water/heat dryer are not recommended and might cause damage to the seams and structure of the garment, also resulting in irreversible excessive shrinkage.
Sportcoat and trousers available separately or as a two-piece suit for substantial saving.
Continental "Le Parisien" SPORTCOAT:
Sizes:
Small (36)
Medium (38)
Large (40)
X-Large (42)
XX-Large (44)
Continental "Le Parisien" TROUSERS:
Sizes (inseam length about 36'', left un-cuffed):
W 28
W 29
W 30
W 31
W 32
W 33
W 34
W 36
W 38
Continental "Le Parisien" Two-Piece Suit (Sportcoat + Trousers): Any size combination available, rebate issued at PayPal check out.
Available from www.misterfreedom.com, our Los Angeles brick & mortar store, and fine retailers around the World.
Email sales@misterfreedom.com or call 323-653-2014 with any questions unanswered above.
Thank you for your support, and be safe.
Christophe Loiron
Mister Freedom®
©2020