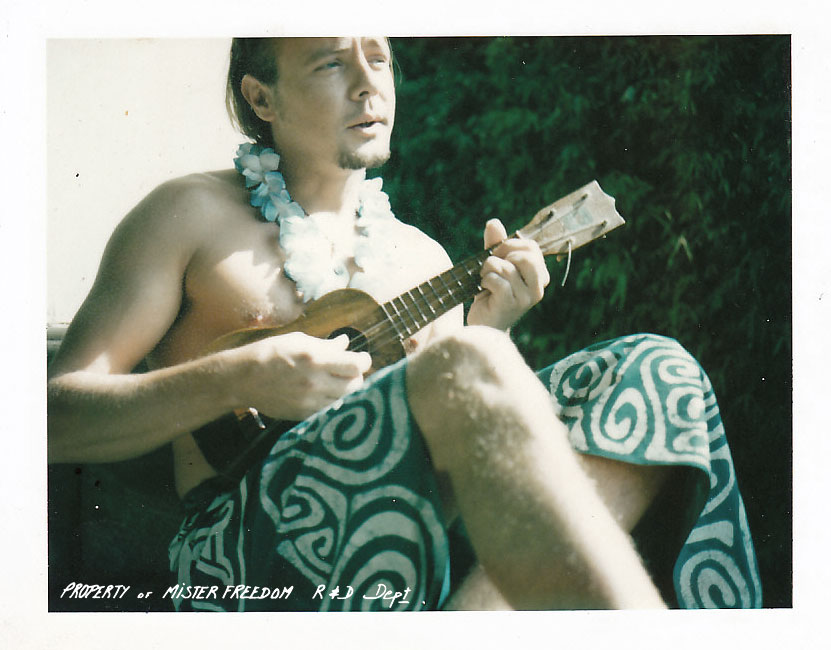 Le Pareo MF®
Indigo poplin, discharge print.
"Skipper" Collection mfsc Spring 2016
Bringing you yet-another ray of sunshine, whiff of tiare and flash of bougainvillea with this latest installment of the Mister Freedom® Skipper Spring 2016 mfsc collection!
But not before spinning some yarn…
For guaranteed success on job interviews, may we kindly recommend sporting le pareo MF®. Now, don't over-accessorize Depp-style, you can leave the lei and uke at home. However, done properly, wearing a colorful wrap cloth shirtless and barefoot in front of the hiring committee should instantly secure you a top-ranking position, while envious co-workers watch and brood. If anything, you will leave behind that coveted indelible first impression of self-confidence.
Please email sales@misterfreedom.com to let us know how your interview went.
Since you asked, my family lived in Abidjan, Côte d'Ivoire in the mid 1960's. I was too young to remember , but I was told we lived in Marcory (not Cocody), and my Dad worked at a major oil company in Plateau, right across the laguna. I had a nanny by the name of Josephine, and spoke better bambara than French. Every morning, my Dad would fire up his Johnson outboard motor to get to the office, the Shell building. Some commute. Sure beat traffic. I do remember from later memories that he really loved wearing pagnes (that's how we called pareos/sarongs in Africa) around the house, but it appears that he also showed up to work that way on occasion during our Ivory Coast days. Gonna have to try it at 7161 sometime…
Now, the pareo as business attire might be an acquired taste for westerners, and a challenging option for Minnesota residents, but the minimalistic approach of a single wrap cloth as a daily outfit has always sounded very tempting to me. Definitely perfect retirement gear for old skippers.
If the fascinating Kon-Tiki raft expedition of 1947 led by explorer Thor Heyerdahl was an attempt at proving that the first settlers of Oceania sailed west from South America to populate the remote Pacific islands of Polynesia, archeological discoveries are now pointing in the opposite direction, i.e. eastward voyages originating in South East Asia.
Indeed, pottery found in 1952 in New Caledonia have linked the ancient Asian Lapita culture with the later Polynesian culture. Most experts now favor seafaring theories with an east-to-west expansion. Apparently, the ancestors of Polynesian people originally came from Taiwan, of course gradually, starting some 5,000+ years ago. Those early adventurers had beat the challenge of sailing into the wind on ancient catamarans, surviving the thousand and one perils of what would through generations add-up to a 7,000 miles voyage bound for terra incognita in unchartered waters…
For the anecdote, the word Lapita, coined by the two archeologists responsible for discovering the ground-breaking pottery, was merely a phonetic understanding of an expression locals used to describe the digging site foreigners and their team excavated from. Canak folks would point at the spot and say "xapeta'a". Assuming that exotic-sounding sound referred to New Caledonian's ancestors in the local tongue, the American scientists named that newly-discovered ancient culture Lapita. Turned out the expression actually literally translated to… 'the place where one digs'.
Not many iPhone selfies of Lapita people sporting paréo survived the island-hoping journey in the Pacific around 800BCE, but it doesn't hurt to imagine that, upon arrival in uninhabited present-day Tahiti, some of the descendants of the original navigators wore woven loin cloth in the style of the Malayan sarong. Just don't go quoting me on that during your next Oceania Anthropology convention.
Un-related to the Lapita is the fact that our handsome MF pareo is made of 100% cotton indigo-dyed selvedge popeline, discharge-printed. The print is a combination of bits of vintage graphics with a 1960's Tiki vibe that we put together for your visual entertainment. I'm pretty sure that the swirling shapes represent waves in traditional Polynesian art. The monstera leaves are inspired by a vintage Tahiti shirt form the Mister Freedom® archives.
Because of the bleed-through effect typical of discharge-type prints, the reverse side of the fabric also distinctly shows the graphic.
The indigo color is light-sensitive and your pareo should fade with repeat beach-session exposure and with each Upa-Upa dancing contest involvement.
The cloth dimensions are about 69'' by 41'' after an initial rinse, one-size-wraps-all. Please note that although le Pareo MF® is intended to be used as a sarong-type waist wrap, for both man and woman, the versatile little bugger will adapt to your imagination and serve as a beach blanket, a scarf, a luau dress, a baby carriage, a turban, a mook, an escape rope, a back pack, a furoshiki, a superhero cape, etc…
This collectible item from our Spring 2016 SKIPPER collection comes in a fancy cardboard box featuring an original MF® watercolor doodle. How 'bout that as a present suggestion for a loved-one, for a clambake-inclined colleague or a beach-blanket bingo partner?
The MF® pareo is designed under the California sun -and obviously too much of it- by Mister Freedom® and manufactured in Japan in collaboration with Sugar Cane Co.
SPECS:
A collectible mfsc original, inspired by elegant vintage island fashion, traditional Polynesian wear, and business formal attire.
FABRIC:
100% cotton light-weight poplin, selvedge, indigo-dyed and discharge printed. Milled and printed in Japan.
Dimensions: Approx. 69 inches x 41 inches.
SIZING/CARE:
We recommend an original cold soak and line dry, but this item definitely qualifies as low maintenance.
One size wraps-all.
Further washing in cold water with minimal eco-friendly detergent.
Available Raw/Unwashed.
One size wraps all.

Available from www.misterfreedom.com, and our Los Angeles brick & mortar store.
Email sales@misterfreedom.com or call 323-653-2014 with any questions unanswered above.
Thank you for your support,
Christophe Loiron
Mister Freedom® 2016