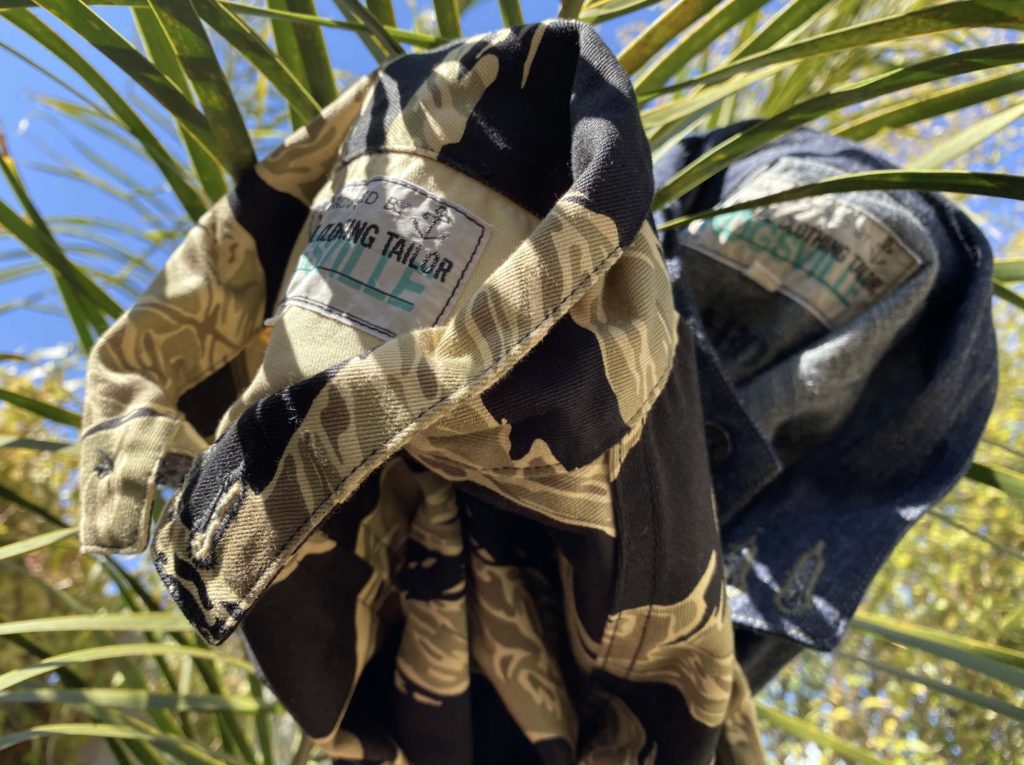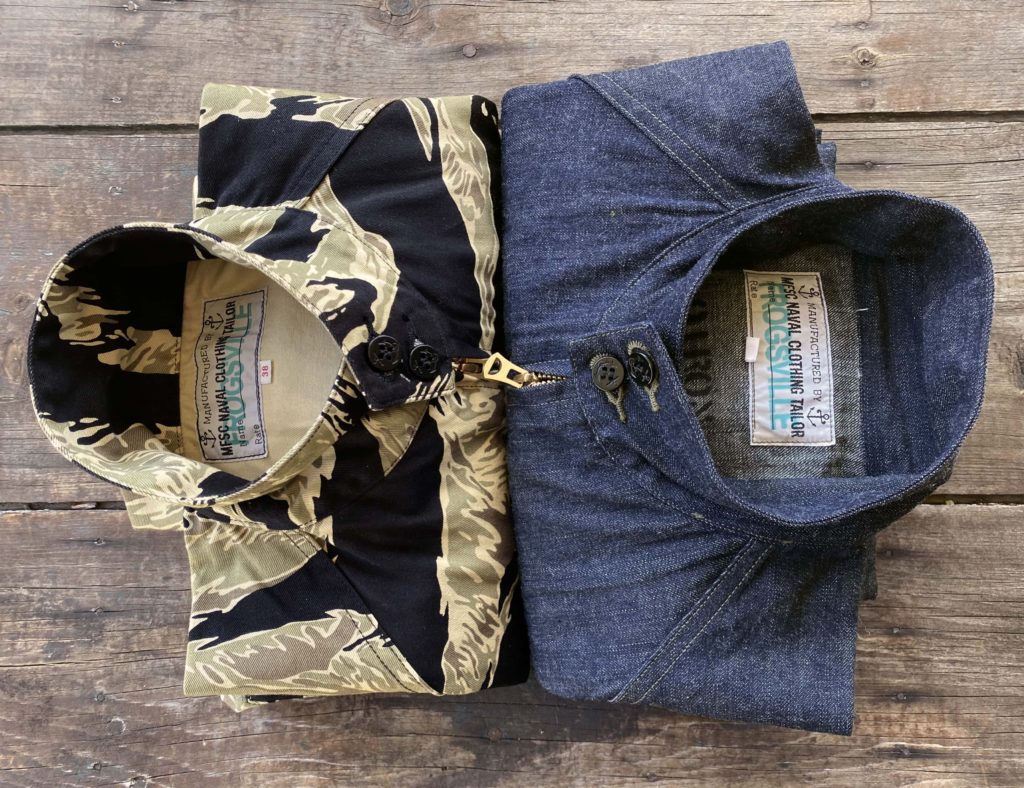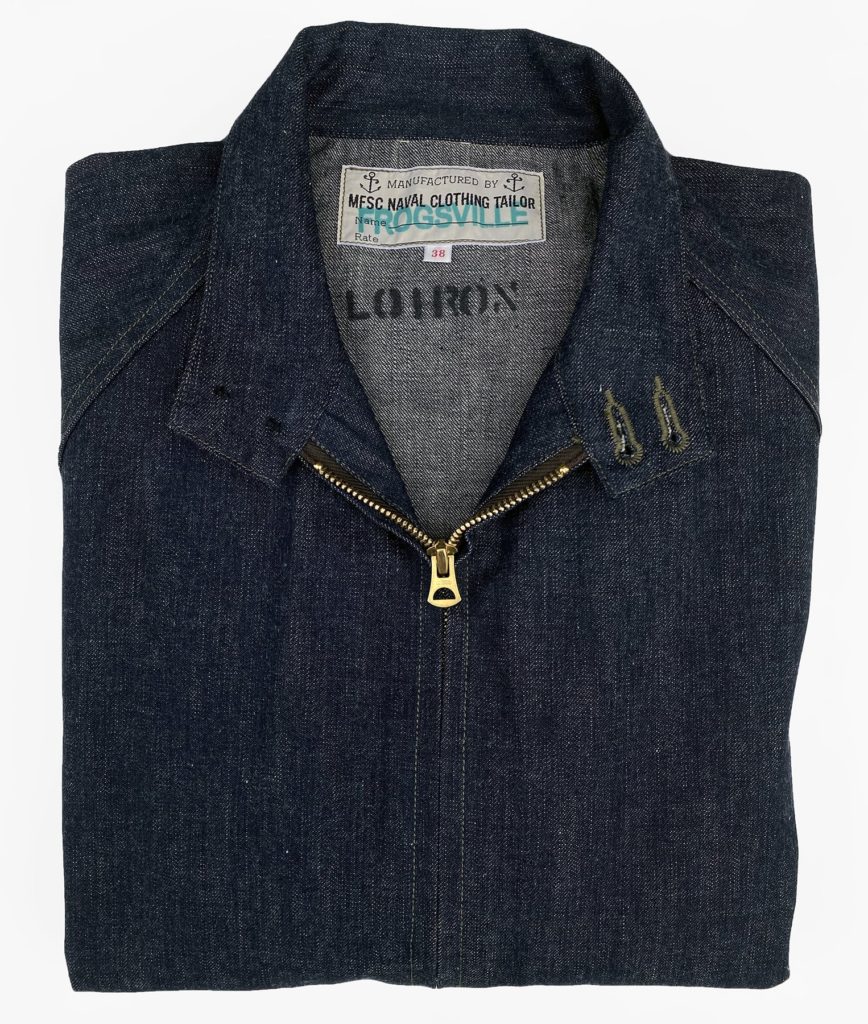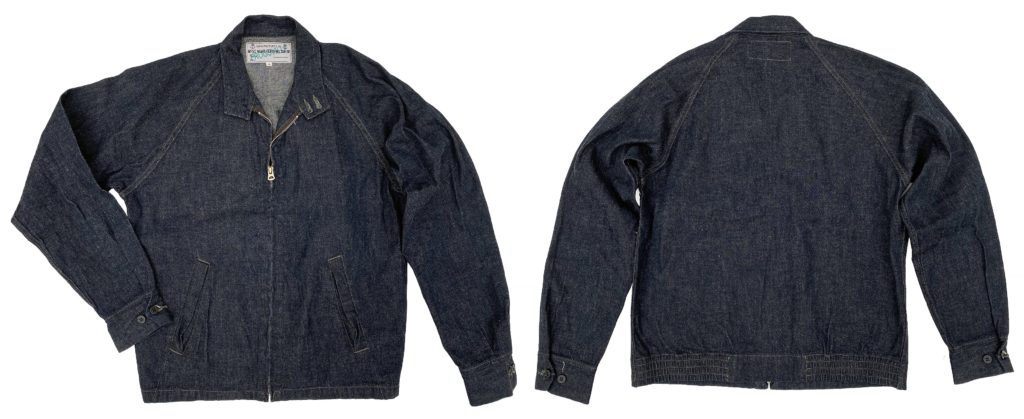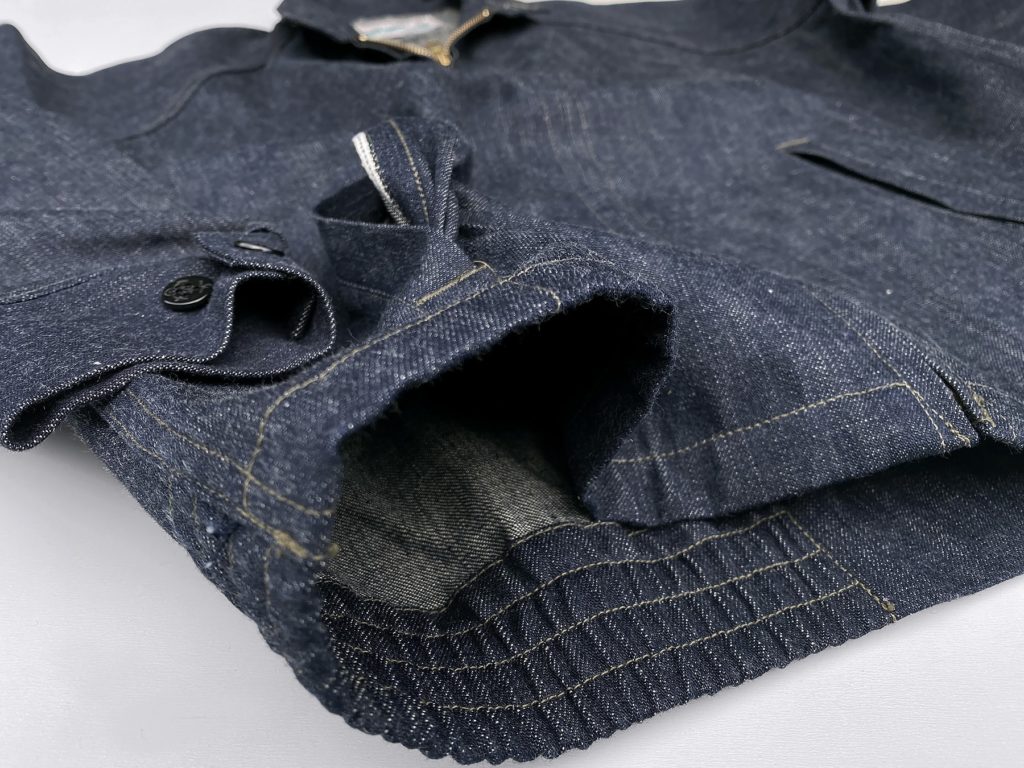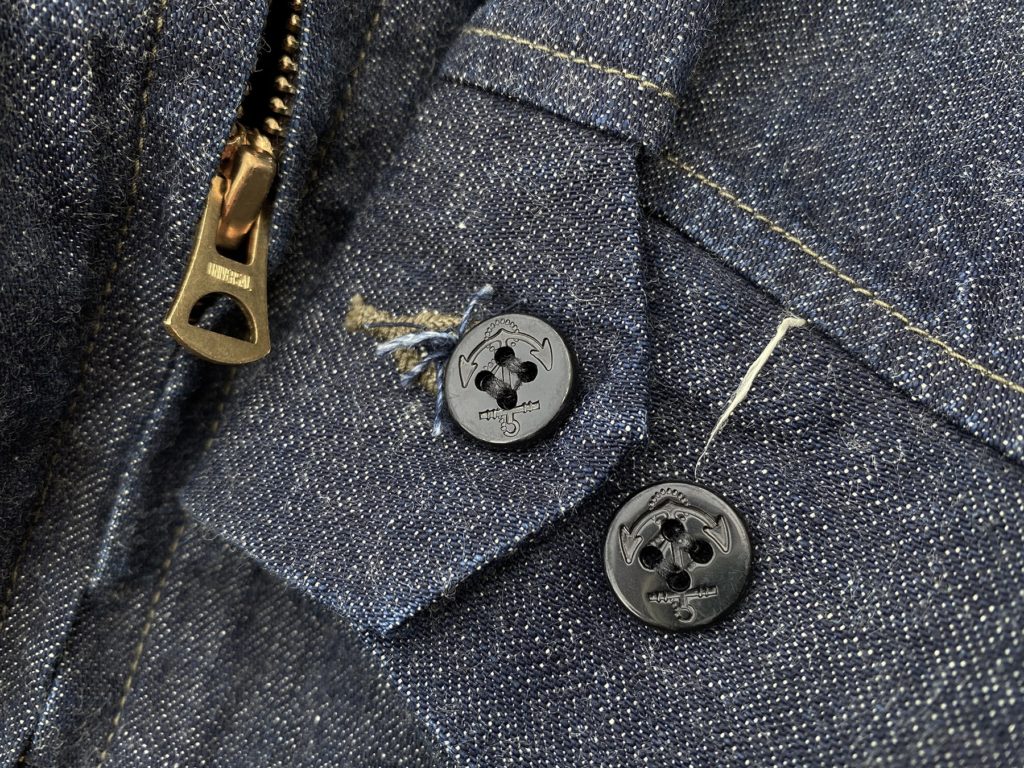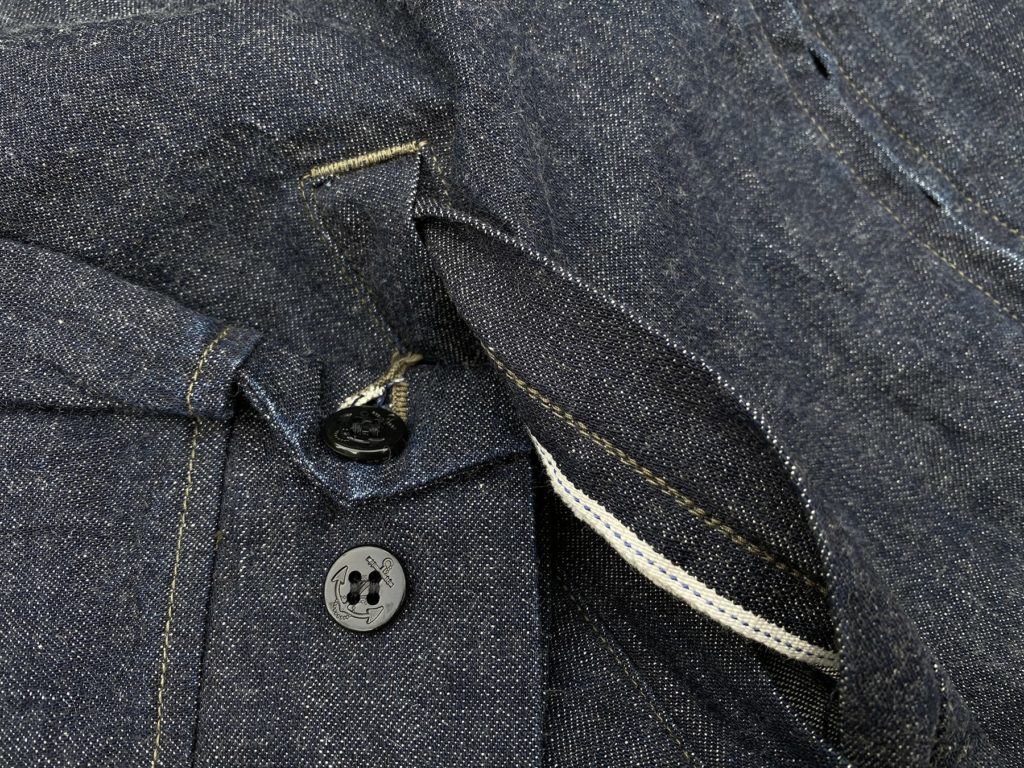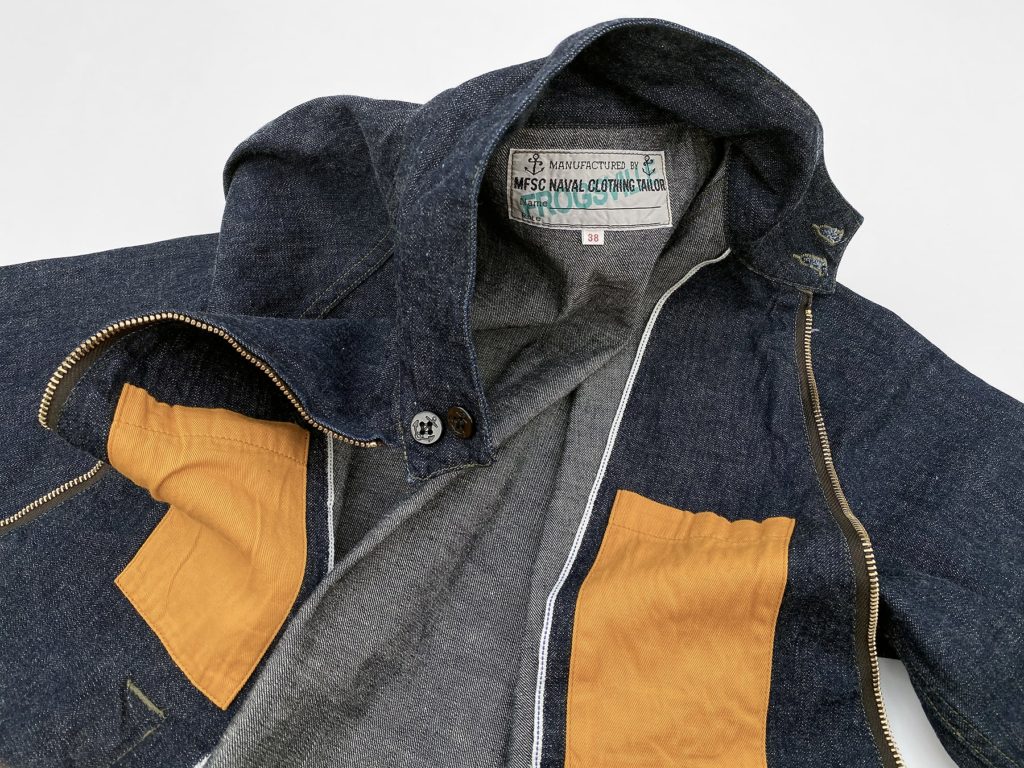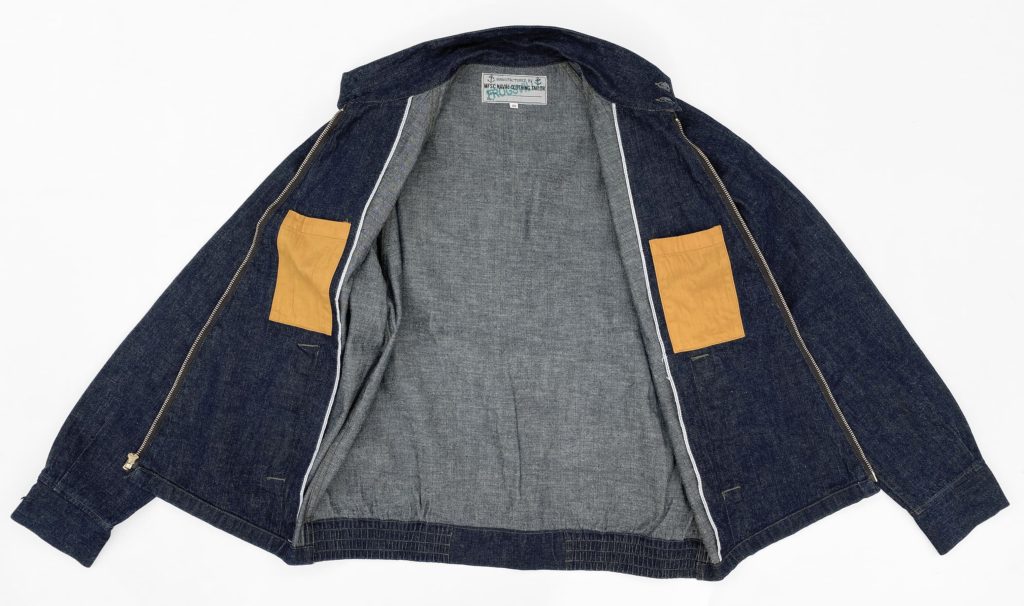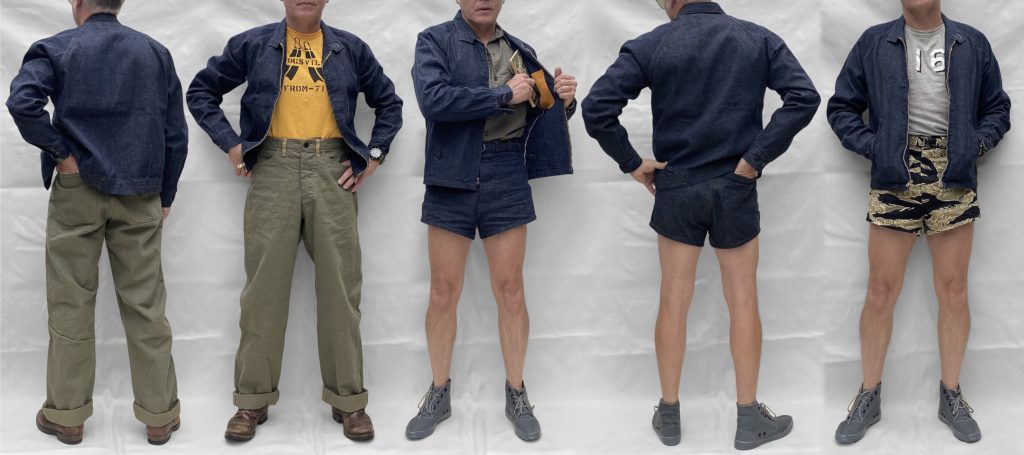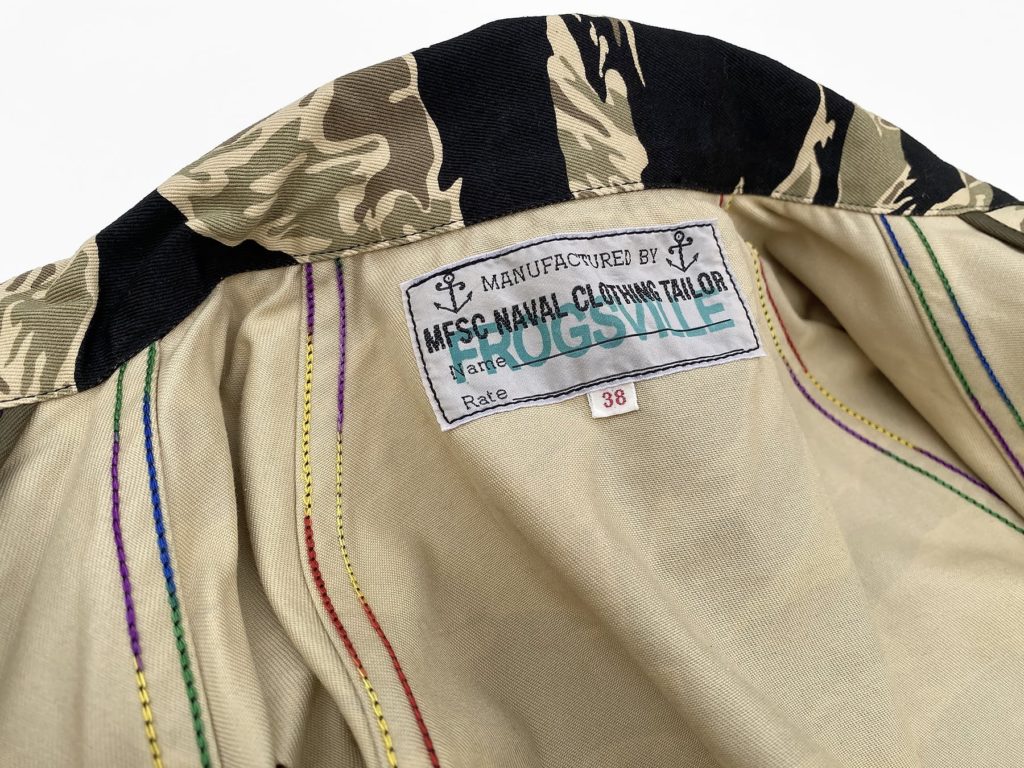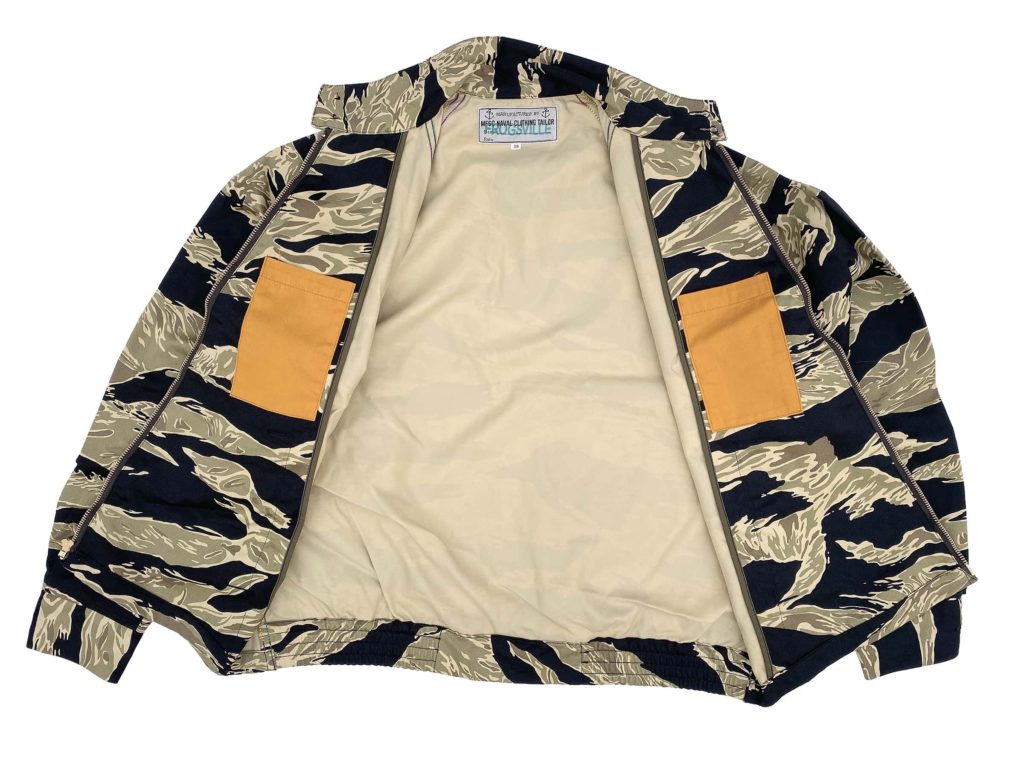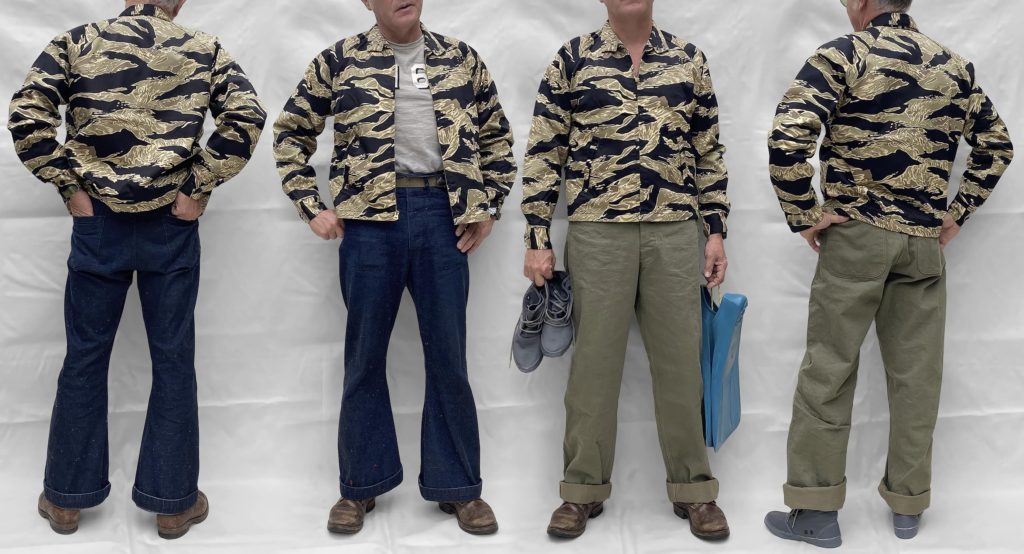 Mister Freedom® ADVISOR Jacket, 2×1 "Army" denim & Gold Tiger Stripe camo.
SS2021 mfsc FROGSVILLE collection.
Made in Japan.
For the "Advisor" moniker background, please refer to the Military Assistance Advisory Group (MAAG) briefly mentioned on this blog in 2014, while introducing the Mister Freedom® "Okinawa" Californians.
In a nutshell, "Advisors" were US military-trained personnel sent to strategic foreign shores, in order to train, support, supervise and fund local military forces and indigenous groups that had (or could be convinced of having) the United States' best interests at heart.
Most US advisors trained at Fort Bragg's "US Army Special Warfare School" and some of the elite was sent to Southeast Asia as early as 1950, initially to assist the French with their Indochina colonial empire situation and the post-WW2 "red scare". France packed-up in 1954 following the Dien Bien Phu defeat, Viet-Nam was split in two between friendlies (South) and commies (North), and the US opted to take a bigger bite of that soup sandwich. Involvement rapidly grew and by 1963, some 16,000 American Advisors were "in country". A year later, sparked by the controversial "Gulf of Tonkin incident", the conflict was officially on…
For US Advisors, language barrier and cultural differences with their Vietnamese allies and counterparts greatly complicated operations in the field, and efforts to train the ARVN often proved frustrating and unsuccessful…
The last US troops withdrew from Vietnam in 1975… There it is.
My favorite reads at the time of our 2015 "Saigon Cowboy" venture were the captivating "A Bright Shining Lie: John Paul Vann and America in Vietnam" (Neil Sheehan, 1988) – forget the TV drama and opt for the book instead- , and of course the must-read classic "Dispatches" (Michael Herr, 1977). Since I'm in the middle of reading it, some of the 875 pages of "About Face" written by one of America's most decorated veterans, Colonel David H. Hackworth, offer a perspective of US Advisors realty in the field one might find interesting.
The vintage militaria collector knows to refer to "Uniforms & Equipement of U.S. Military Advisors in Vietnam: 1957-1972" regarding history and gear. Period photography show US Advisors in Vietnam wearing all kinds of cammies and gear, Beo-Gam (leopard), WW2 Duck Hunter, spray-painted "Tiger" Stripes, …, US commercial and local-made custom patterns.
As always, we were not going for a replica, so the design of the MF® "ADVISOR" is not about regulation field uniforms or authentic US Gov-issued period gear. Instead, we played around with the concept of a fictitious in-country tailor-made jacket that a US Advisor could have strut on R&R in Hong Kong, Thailand, or worn around the NCO Club while sipping a cold Bamiba, that fine local beer affectionally referred-to as "tiger p*ss" by ground forces and apparently brewed with formaldehyde according to several veteran accounts…
The pattern of the MF® ADVISOR Jacket was actually adapted from an unidentified vintage local-made mid-60s civvy jacket cut from a late 60s US Army ERDL poncho liner, maybe commissioned at the time from a Saigon Tu Do Street tailor or other SE Asia local-made options?
We tweaked the pattern, details and fit to our liking, and opted for two distinct fabrics.
First fabric is a sixties-inspired "Gold Tiger Stripe" twill we secured from Buzz Rickson's, the famed vintage US mil-specs Japanese experts. This fabric was previously featured on our 2015 "Saigon Cowboy" Board Shorts. I believe this specific tiger pattern is referred to as TSP (Tadpole Sparse Pattern), although the whole camo classification and evolution tends to be quite confusing. The correct answer is inside Richard Denis Johnson's "Tiger Patterns" (ISBN 0-7643-0756-8), for those interested in solving that mystery.
Second fabric option is a lightweight 10 Oz. 2×1 selvedge denim, a replica of 1940s US Army dungarees fabric, again developed by our friend Buzz.
We added two concealed iPhone/sunglasses pockets on the zip placket, cut from a contrast "signal yellow/emergency orange" twill. We figured we'd spice-up the tiger stripe edition with inside "rainbow" chainstitching, for an extra Liberty/shore leave vibe.
All the above historical ramblings aside, our denim ADVISOR will look to most like a rather classic 60s windbreaker type jacket, and the tiger version more of a head-turning hybrid, vintage Saigon Cowboy style meets modern streetwear.
They are both easy to wear and versatile, and should blend-in nicely with any classically-curated wardrobe.
The MF® ADVISOR Jacket is designed in California by Mister Freedom®, and manufactured in Japan in collaboration with Sugar Cane Co.
SPECS:
PATTERN: Original MFSC pattern, inspired by a 1960s zipper jacket, and the US military tradition of local-made custom garments.
FABRIC:
Two distinct fabric options:
a) Buzz Rickson's "Gold Tiger Stripe" printed cotton twill, 60s-inspired TSP pattern, milled in Japan.
b) "Army" 2×1 selvedge indigo denim twill, 10 Oz., white with blue line selvedge ID, milled in Japan.
DETAILS:
* Classic 1960s windbreaker stand collar zip jacket style.
* Raglan sleeve pattern.
* Unlined, all clean seams (no overlock.)
* 50s/60s-style "Universal" brass metal zipper with cotton tape, bell-shaped pull.
* Selvedge front panel facing for the denim version, and OD tape seams for the tiger stripe.
* Chainstitch construction, 100% cotton thread, OD color for the denim version, tonal/rainbow inside combo for the tiger stripe.
* Rear panel elastic waistband cinch.
* Two concealed chest pockets cut from vintage NOS "emergency orange/signal yellow" cotton twill, for iPhone or sunglasses.
* Classic USN-style "fouled anchor" CPO plastic buttons on cuffs/collar.
* Original mfsc "FROGSVILLE" woven rayon label.
* Made in Japan.
SIZING/FIT:
Both models of the MF® ADVISOR Jacket come unwashed and are cut so that the measurements match the labeling AFTER an initial cold soak/line dry. We recommend this usual protocol before wear:
Turn garment inside-out. Cold soak for about 30-40mn with occasional hand agitation.

Washing machine spin dry.

Line dry. (No heat dryer)
I opted for a 38 (Medium) for a comfortable fit (5.7'' / approx. 150 lbs).
Compare measurements with an unlined jacket of similar style you own and that fits you well to dial-in the size that will work best for you, according to your silhouette preference and layering habits.
CARE:
Launder when needed.
We recommend turning the jacket inside-out to avoid potential marbling of the fabric. Wash denim model separately from light-colored garments.
Machine wash with cold water, gentle cycle, eco-friendly mild detergent and line dry.
Available RAW/unwashed.
Sizes:
Small (36)
Medium (38)
Large (40)
X-Large (42)
XX-Large (44)
Available from www.misterfreedom.com, our Los Angeles brick & mortar store, and fine retailers around the World.
Email sales@misterfreedom.com or call 323-653-2014 with any questions unanswered above.
Thank you for your support, be safe, stay sane, stay cool.
Christophe Loiron
Mister Freedom®
©2021