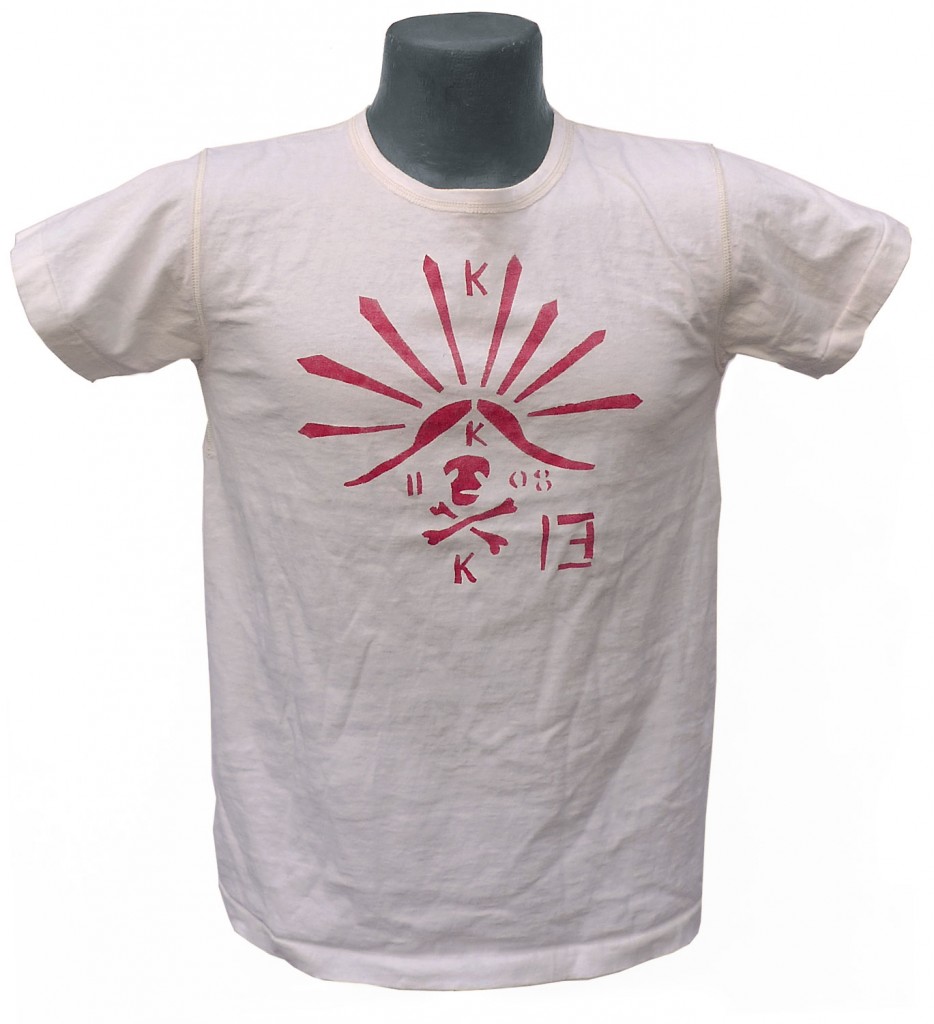 I hope you all had a pleasant Thanks Giving day. But, that was yesterday.
And today, it's here! The anticipated 2013 Edition of… Black Friday, referred to  as "Black Eye Friday" by the ice pack Industry.
Consumers' finest behaviors, displaying unmatched shopping skills, a real sense of philanthropy coming to your neighborhood, maybe at a Walmart near you?..
Black Friday, the return of the stampede, power to the Sheople.
Meanwhile, no less eager to 'cash in' on this classy phenomenon, we at Mister Freedom®, have cooked up something in the form of a special edition item, not unlike what we had done for the March 2011 Japan Tsunami relief effort, here and here.
I first thought of using the proceeds to fund a vacation in Bora Bora. My co-workers, however, vehemently opposed to it and kindly suggested Mister Freedom® donates 100% of the proceeds to the Red Cross…

Why:
On November 8th 2013, Yolanda (Haiyan) tore through the center of the Philippines…
Believed to be the strongest recorded storm to ever hit land, with winds up to 236 mph, this 'super typhoon' left total devastation on its trail, often in areas already economically challenged.
Annihilating isolated rural communities, fishing villages and cities alike, Haiyan's viciousness was soon shared with the World through shocking photos of flattened out landscapes, bodies laying in rubbles… Photos showed the magnitude of the disaster but were barely a glimpse of the ongoing nightmare to be faced in the aftermath, as recounted by survivors and rescuers.
Today, after about three weeks, the death toll is estimated to be around 5600, with some 1700 still missing and about 26,000 injured… For those wanting official updates, see here.
It is not my purpose here to describe the horror, but rather to try to make myself useful to some extent, as promised three weeks ago on Mister Freedom® Instagram.
Photographers will move on and International media coverage will inevitably fade, before Pinoy folks out there see the end of that tunnel.
So, this one goes to the gritty Filipinos and Filipinas whose task it is to heal and rebuild.
I trust this will reach you.
What:
We hand printed 20 of our skivvy shirts with an original MF® graphic, designed for the event.
This quite 'obscur' graphic draws its inspiration from the Revolution of the late 1890's in the Philippines and the symbolic attached to it.
For those, like I, who have zero knowledge about Filipino History besides the Bataan March and the General MacArthur episode, here is a short slice of background I gathered:
In the 1870's, an intellectual movement led by ilustrados (Philippines born erudites) started demanding reforms from the ruling Spaniards, for the benefit of natives versus the peninsulares (Spain-born colonists).
Later channeled by Katipunan leaders (a revolutionary secret society founded in 1892 by patriots), this Nationalist spirit grew into an armed revolt for independence, eventually ending colonial Spanish rule in 1898…
The Republic of the Philippines was granted Independence from the United States in 1946.
Although our graphic is not intended to convey any message other than that of a fundraising for a natural disaster affecting the Philippines, the symbolic comes from several flags and banners adopted by revolutionary groups throughout the early years of the 'Tagalog War':
* The eight rays of the rising sun represent the Philippines first eight provinces.
* K is for Katipunan, KKK being the full acronym of that secret organization (Kataas-taasan, Kagalang-galang, Katipunan ng mga anak ng bayan).
NOTHING to do with what it shamefully stands for in the USA, obviously.
K also stands for Kalayaan, meaning Freedom in Tagalog, which i saw fit to use.
* The rather crude Freemason meets Jolly Rogers looking skull and crossbones is inspired by early lower rank Katipuneros' banners, along with General Mariano flag from 1896.
*The numbers 11-08-13 mark the fatal date of the Yolanda typhoon.
I did a rough sketch and then hand cut the stencil board. Each shirt was individually hand printed.
Shirts made and printed in the USA, limited edition of 20 shirts only.
How:
It is a bit involved to set this charity event on www.misterfreedom.com so we decided to do it the old school way, from this blog.
Each shirt sells for $100.00 (we will pay for shipping). NO returns.
Call 323-653-2014 for more infos if needed, or email sales@misterfreedom.com with your size and shipping info. We will then send you a Paypal money request (from sales@misterfreedom.com) if your size is available. Please check the sizing chart of our Skivvy shirts for fit questions.
We will hold your shirt until we receive the payment, then ship.
These numbered shirts (listed below) will be annotated with the buyers' name/website (or 'private' should one desire to stay anonymous) as they sell.
Upon completion of the transactions, 100% of the total amount will be donated to the American Red Cross for "TYPHOON APPEAL", which I trust will dispatch the funds to locals/groups who need it the most.
An official receipt from the Red Cross for the amount of your $2000.00 donation will be added to this post on completion of the final transaction.
Note:
We will be understaffed for the next two weeks. We will do our best, but please be patient, as we are doing MANY other things at work, often keeping us away from computers. Also, if your email was sent at 3am on Sunday, you still get a response, but not within the hour…
Thank you for your understanding.
Now Friends, you know what to do.
Thank you in advance on behalf of those you helped.
Salamat sa iyong pagaalala.
Christophe Loiron,
Laborer at Mister Freedom®
List of shirts available (to be updated as fast as possible)
Shirt No. 1 (Small): Six Feet Under Records (USA)
Shirt No. 2 (Small): R.V. (USA)
Shirt No. 3 (Small): Mr. Andrew Jacobson (USA)
Shirt No. 4 (Small): Gary Batty (USA)
Shirt No. 5 (Medium): R.V. (USA)
Shirt No. 6 (Medium): Stepfan Schulte (Germany)
Shirt No. 7 (Medium): Matt Middlebrook (USA)
Shirt No. 8 (Medium): Six Feet Under Records (USA)
Shirt No. 9 (Medium): Giles, Alex & Paula Padmore (UK) Iron Heart
Shirt No. 10 (Medium): USMC MSgt J. V. (USA) Vintage Engineer Boots

Shirt No. 11 (Medium): Owen Langston (USA)

Shirt No. 12 (Medium): Zachary M. Irby (USA)
Shirt No. 13 (Large): Craig and Gloria Bayer (USA)
Shirt No. 14 (Large): Micah Thompson (USA)
Shirt No. 15 (Large): Allan A. (Australia)
Shirt No. 16 (Large): Matt Skeen (USA)
Shirt No. 17 (Large): Steven Boyd (USA)
Shirt No. 18 (Large): Ronnie Ivarsson (Sweden)
Shirt No. 19 (Large): Tim Supakorndej (USA)
Shirt No. 20 (Large): Kevin Gregory (USA)
-0-0-0-0-0-0-0-0-0-0-0-0-0-0-0-0-0-0-0-0-0-0-0-0-
UPDATE: 11/30/2013 04:37pm
Mission accomplished in 24 hours!!!
A great many thanks to the generous souls who have made this charity event possible.
Today (actually yesterday, i'm sneaky like that), $2000.00 have been donated to the Red Cross for the Philippines Typhoon Appeal.
If you see someone in the street wearing this Mister Freedom® Tshirt, go shake the hand of a good man.
Ladies and Gentlemen… much obliged.
From Jordan, Cristian, Tom and the ol' man at Mister Freedom®
To view the November 2013 report of the Red Cross response, and where your money went, click Typhoon Report Red Cross