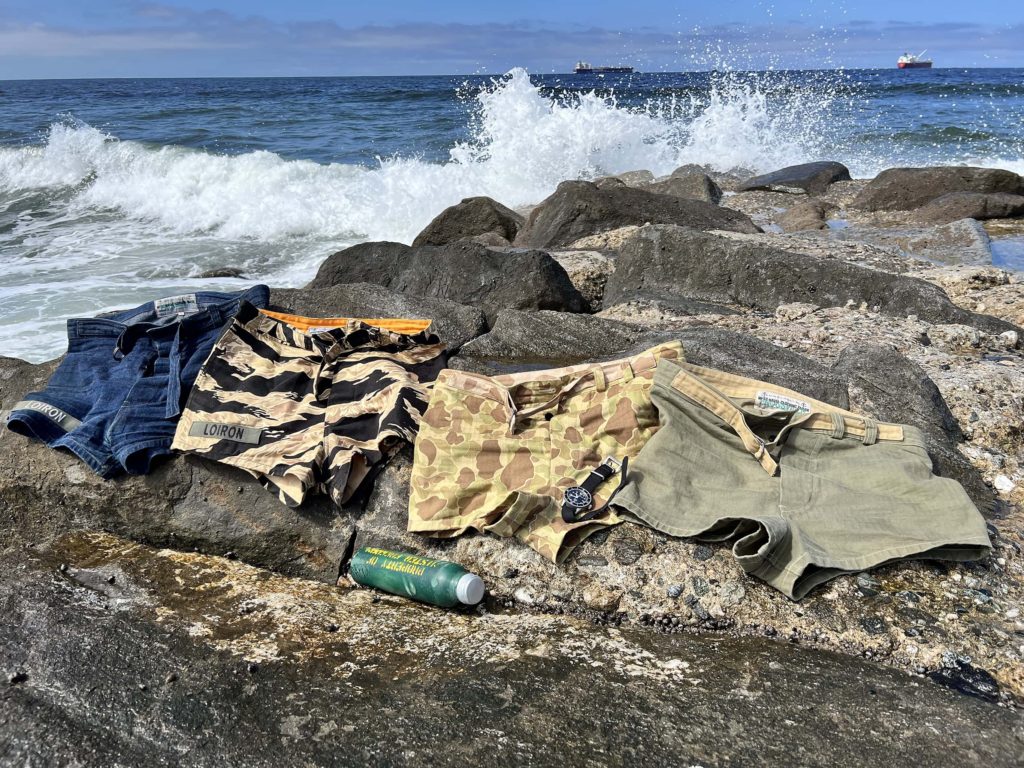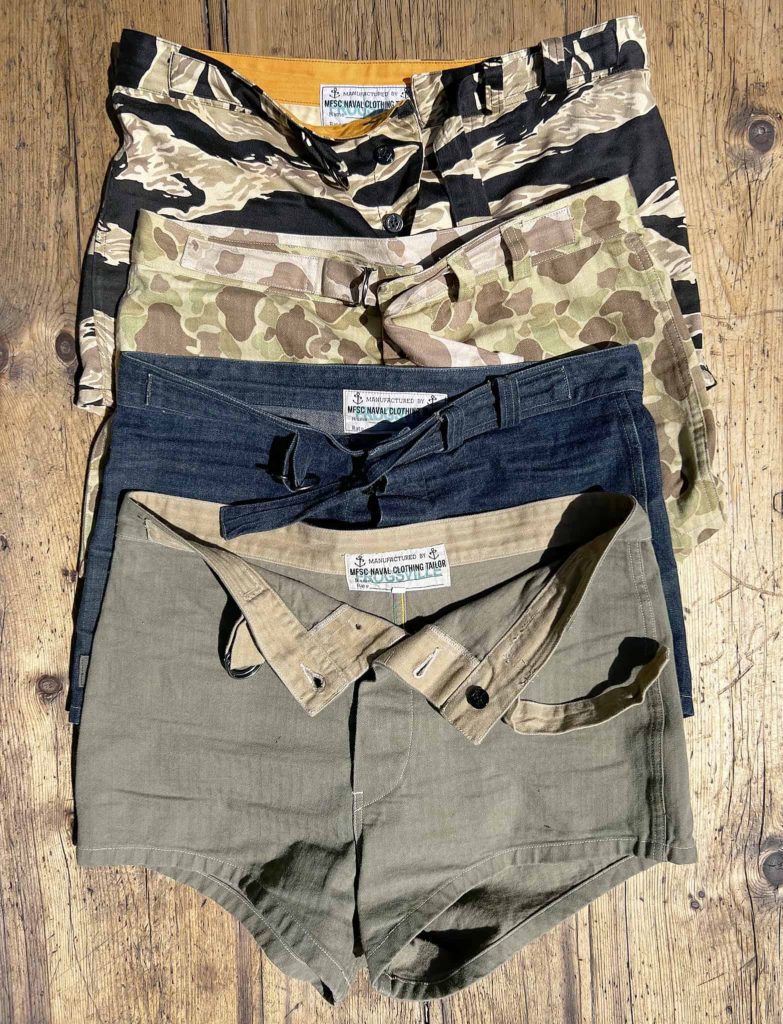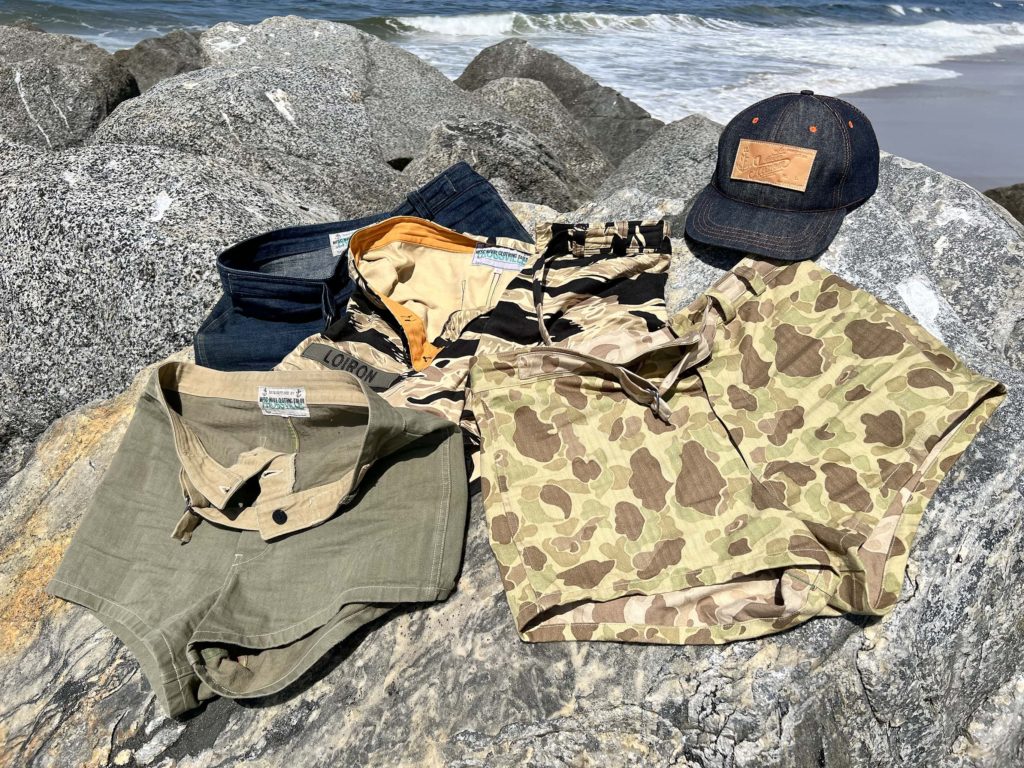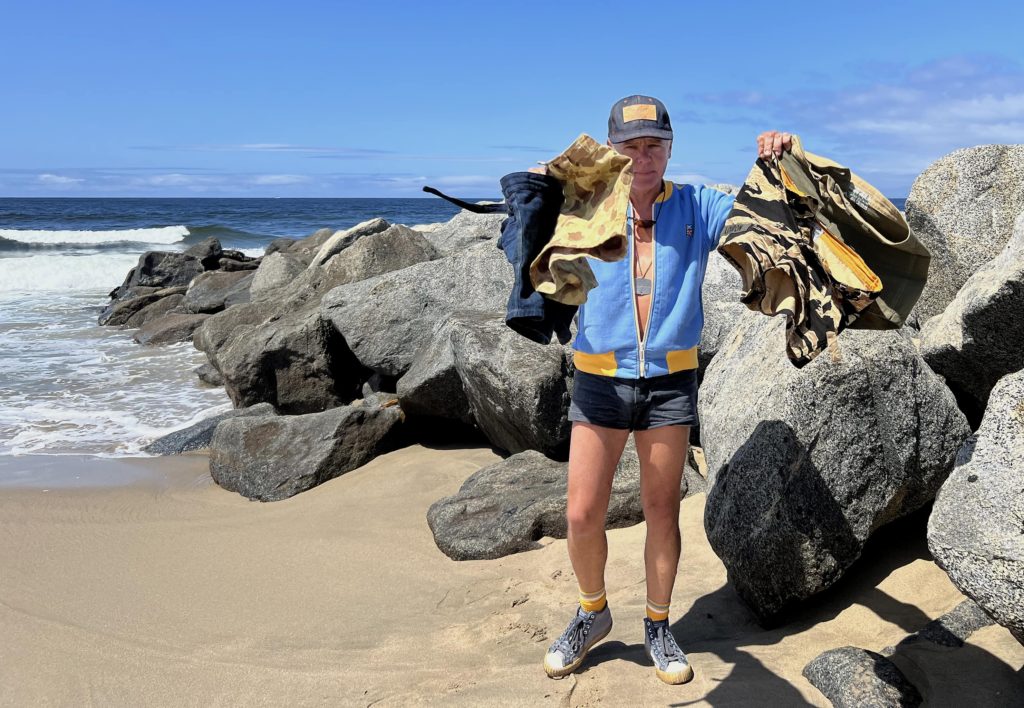 MF® SCUBA Trunks, 2×1 "Army" denim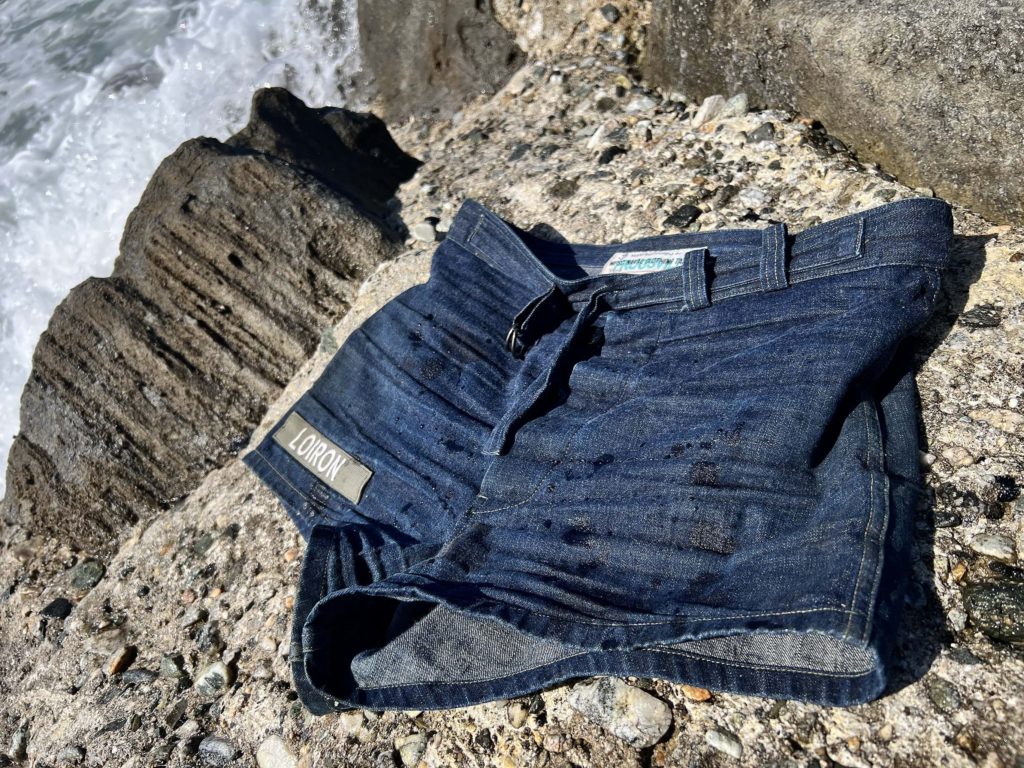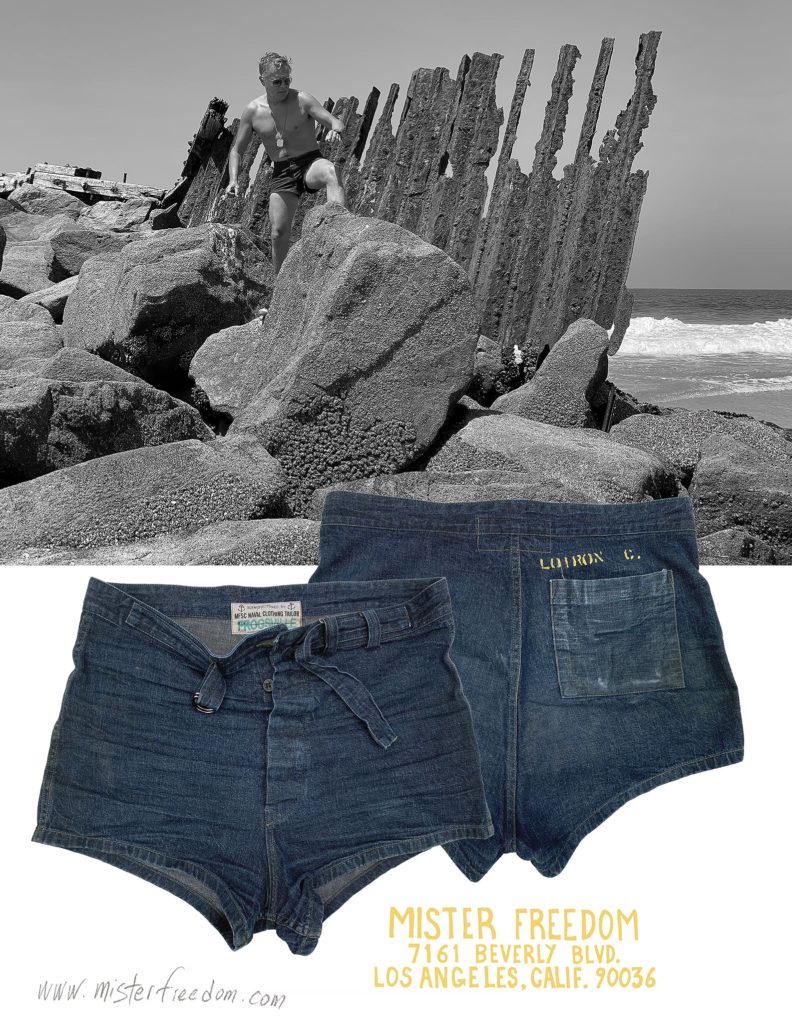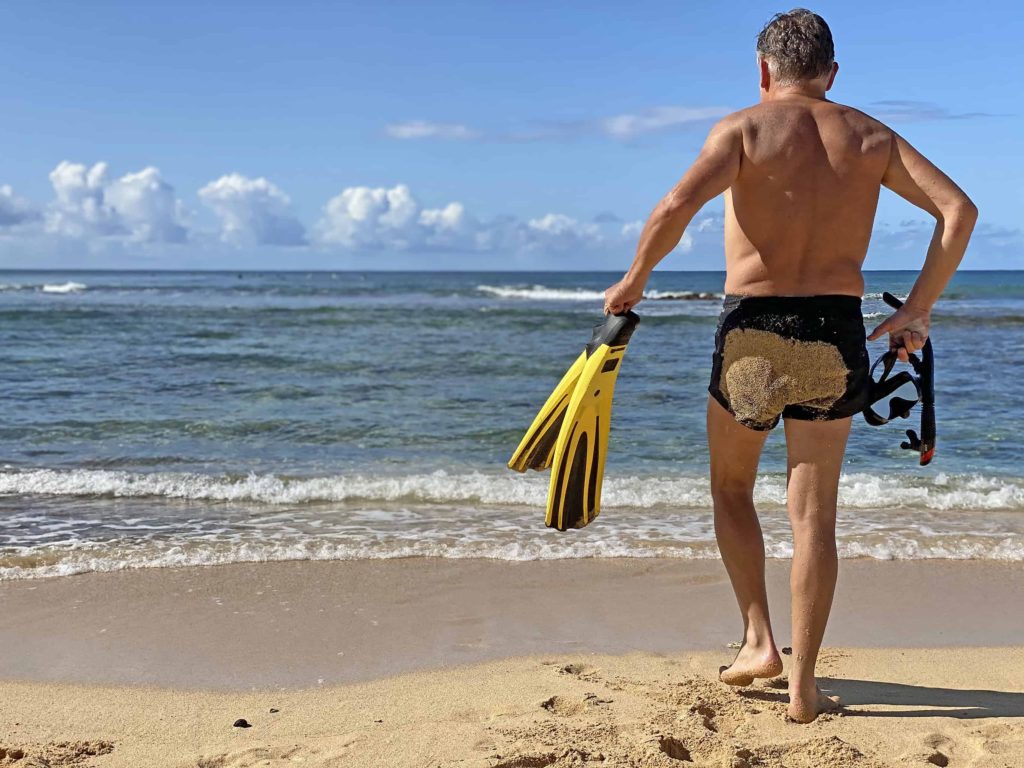 MF® SCUBA Trunks, "Tiger Stripes" camo twill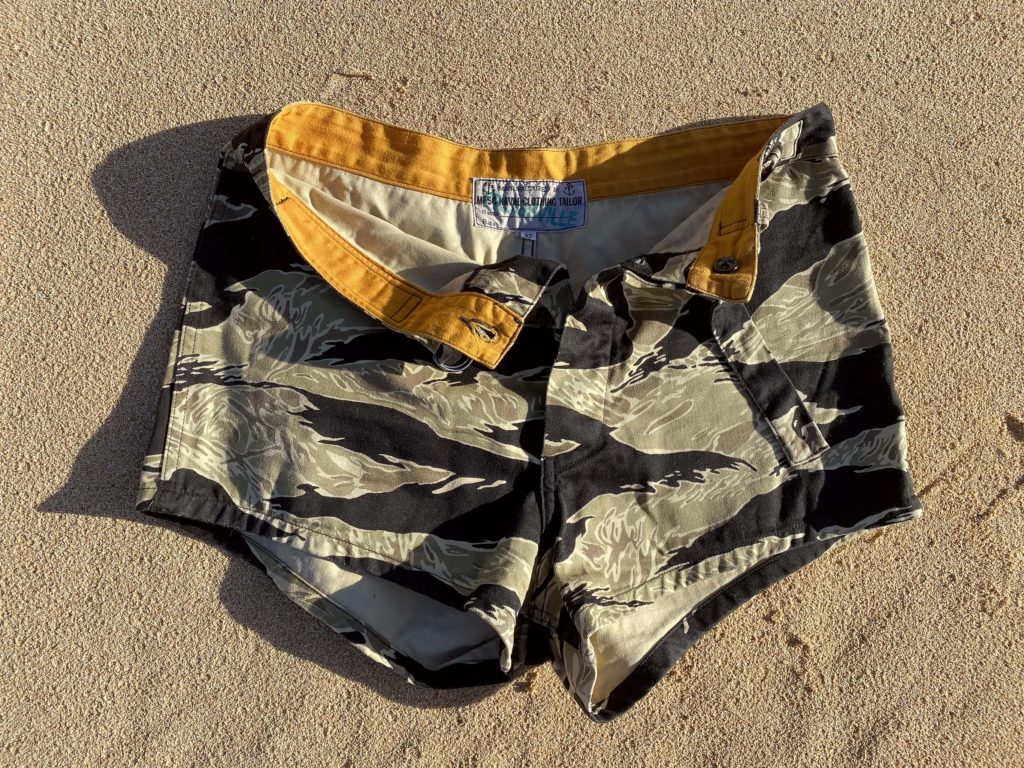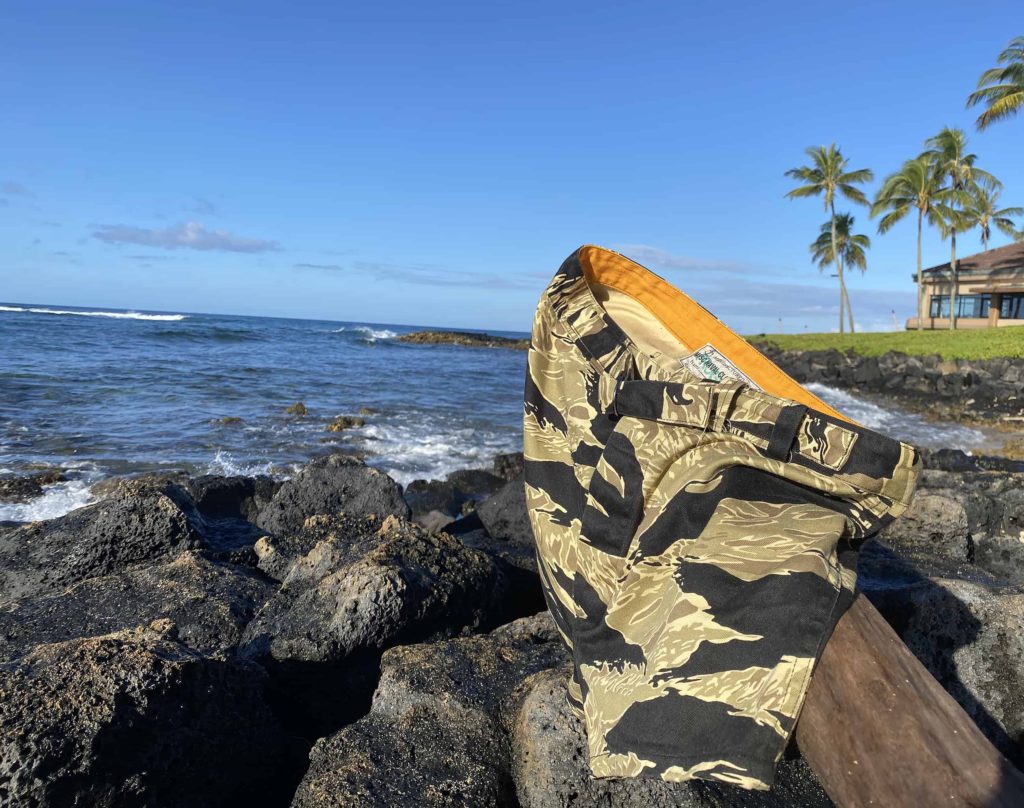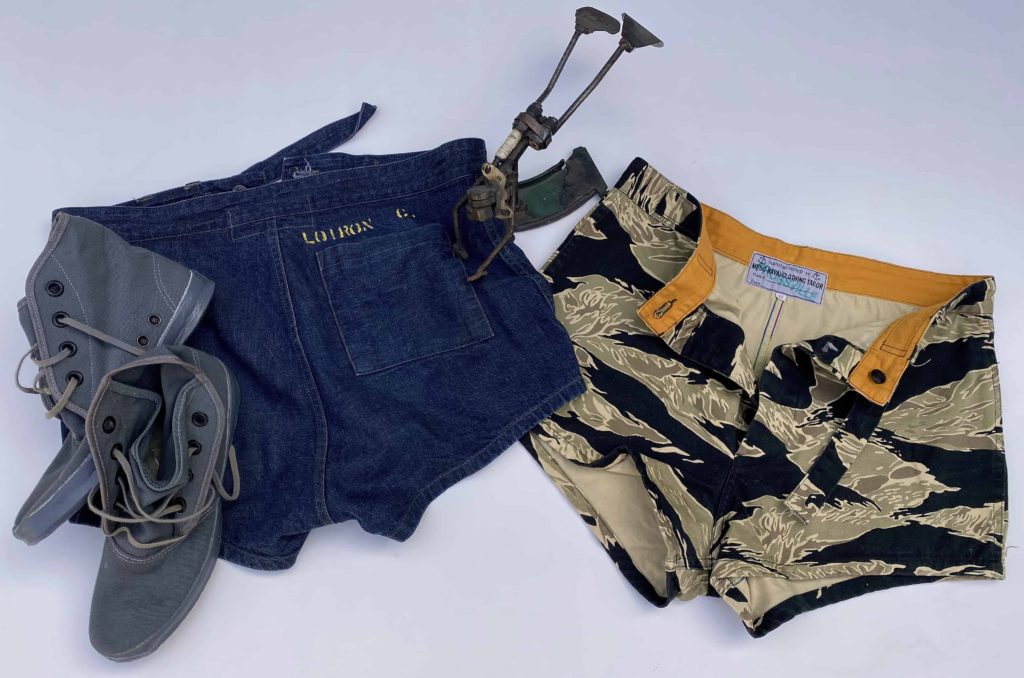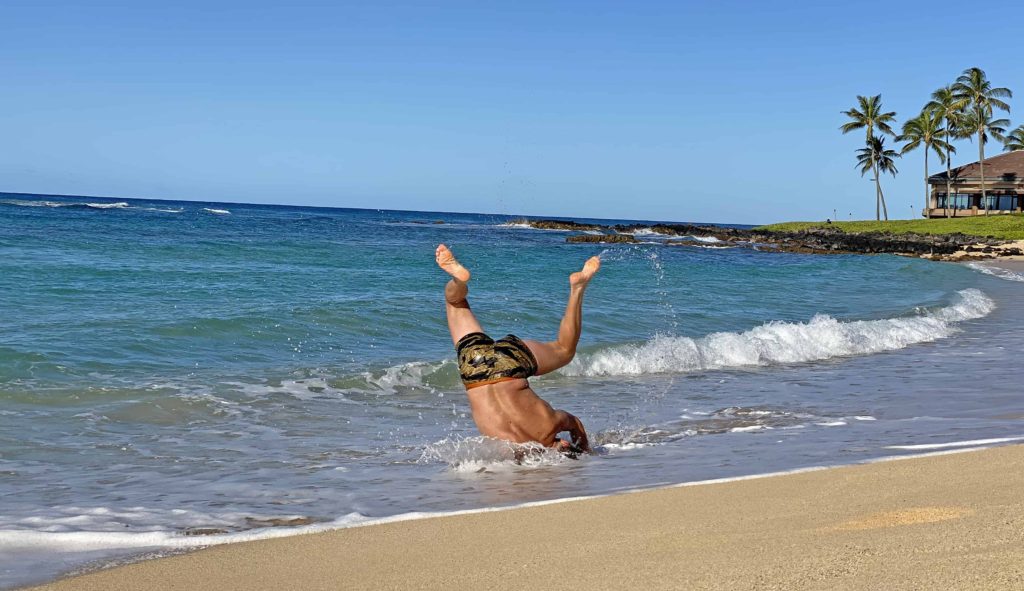 MF® SCUBA Trunks, P42 "Frogskin" camo HBT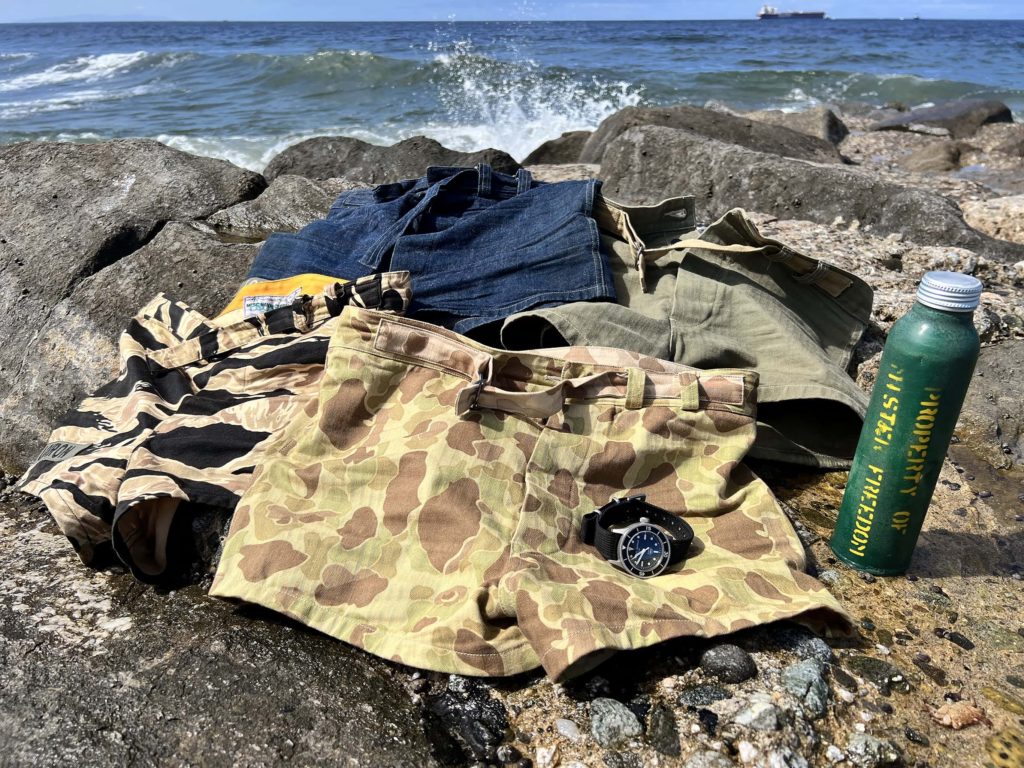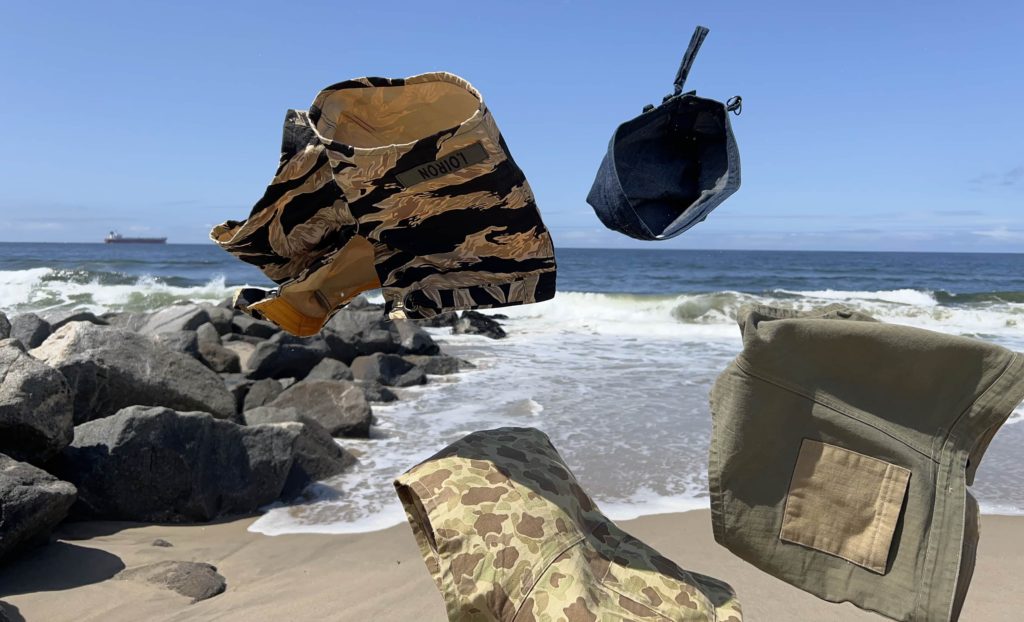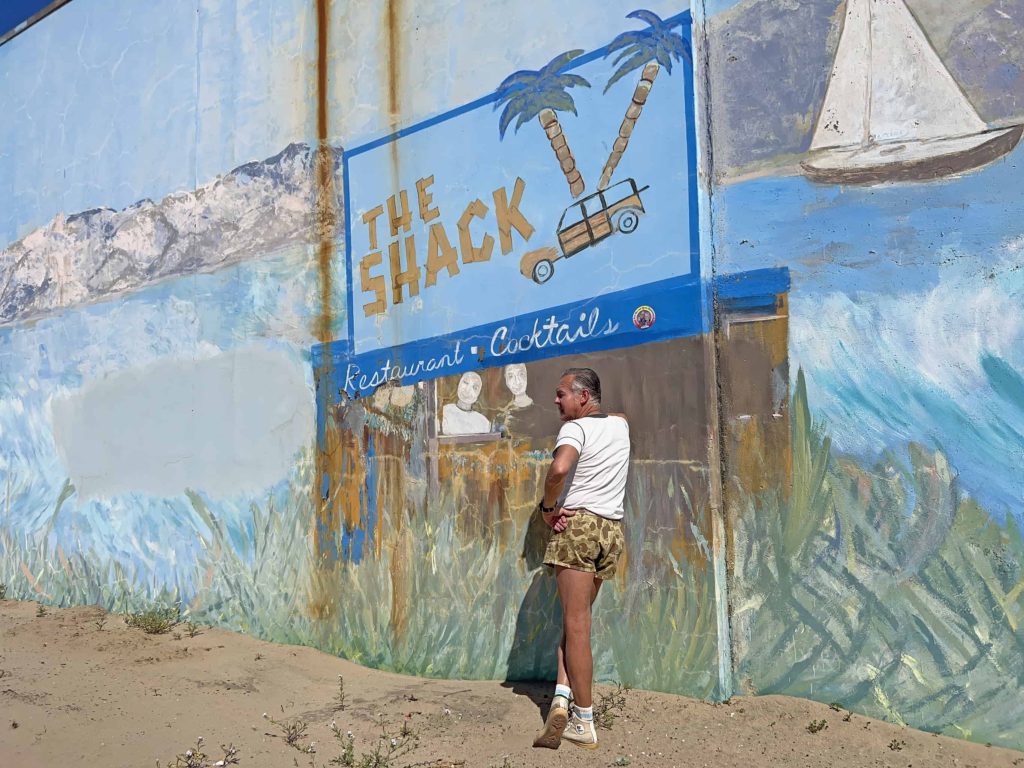 MF® SCUBA Trunks, OD/Khaki HBT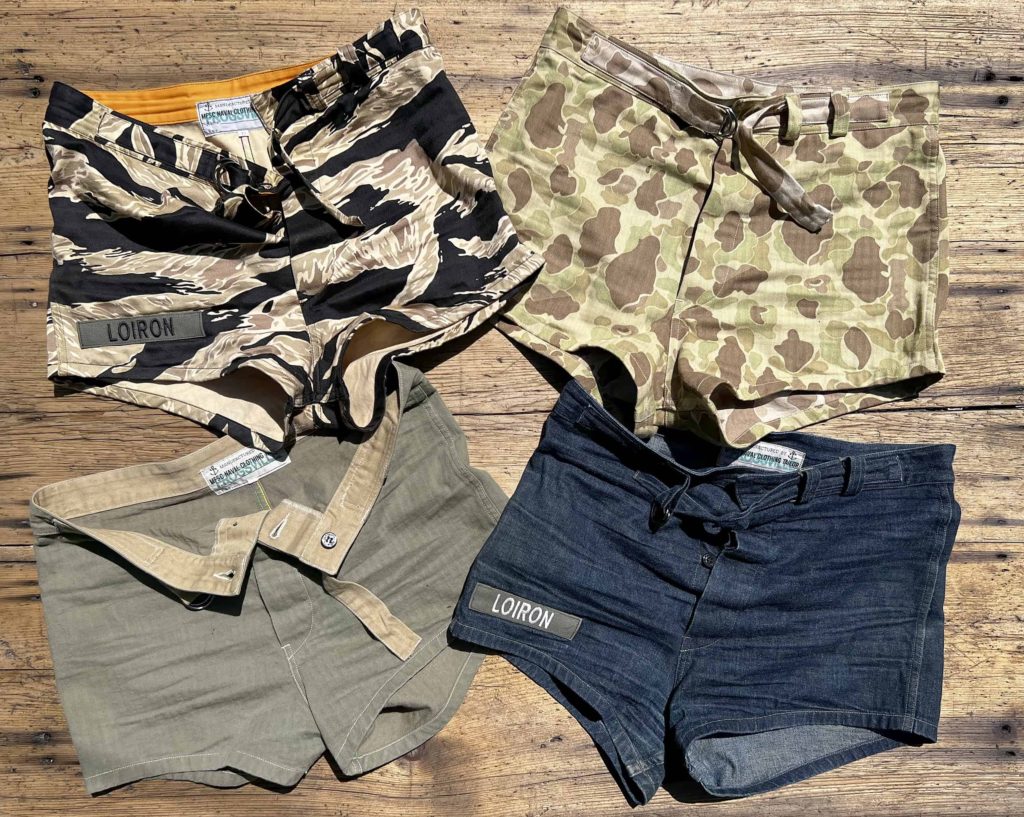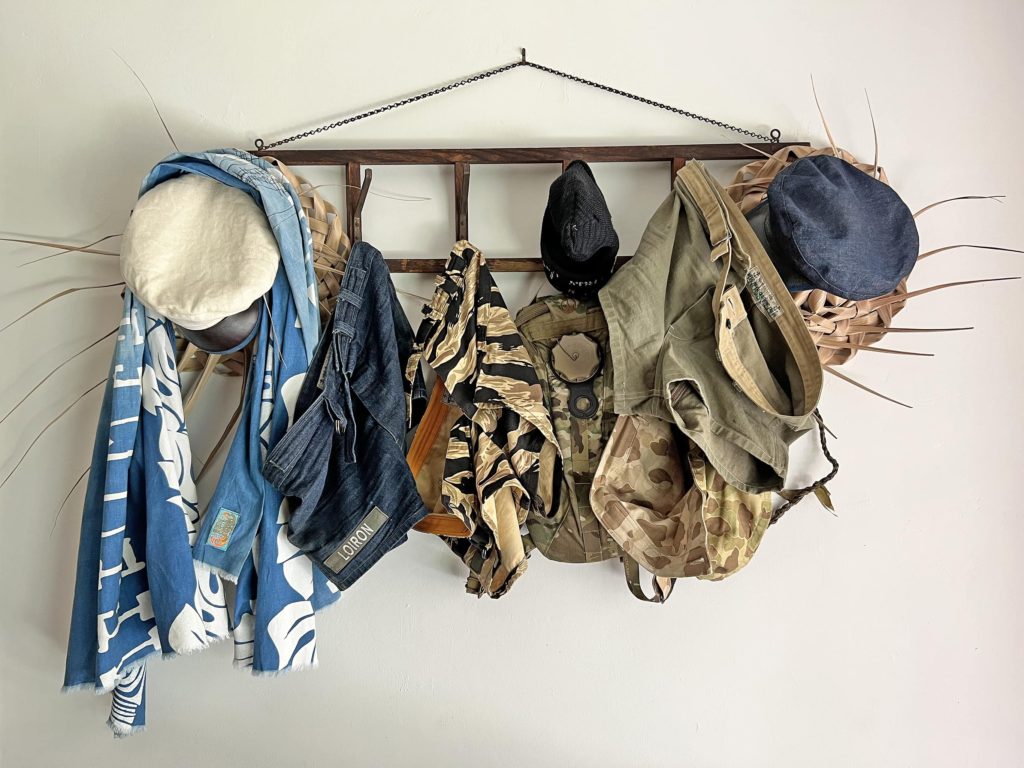 Mister Freedom® SCUBA TRUNKS
Army Denim, Tiger Stripes, Frogskin, OD HBT
mfsc 2021-22 FROGSVILLE
This here is the one garment that inspired and fired-up our entire mfsc Frogsville concept in 2021!
We had felt for a while that the iconic US military "TRUNKS, SWIMMERS" (aka "UDT shorts") were too good of an historical piece of gear to not be revisited by heritage fashion. So we took the dive.
As the swimwear of choice of the Naval Special Warfare combat skin diver since WW2, the unique silhouette/cut (short length, high waist, double D-ring adjustable strap) has long been associated with the badassery of the Naked Warriors, UDT Frogmen and US Navy SEALs.
The characteristic style spread to other branches and MOS (Military Occupational Specialty), and was adopted by rescue swimmer schools – AIRRs (Navy Aviation Rescue Swimmers), SAR, MCCSSS (Marine Corps Water Survival School) – at times worn as PT uniform in USMC Recon Units, as daily uniform (matched with a green skivvy aboard a ship on deployment during Desert Storm source), even as General Purpose trunks.
The style was adapted from 1940's civilian athletic/sport trunks, see vintage satin 1930s-50s belted basketball/boxing shorts. The utilitarian pattern of the trunks evolved very little though the years. The original regulation model, part of the frogman's sea bag, were issued in khaki carded cotton chino twill, and this is how "UDT shorts" are still commonly known today.
However, vintage specimen suggest that several distinctive models and patterns were produced for the military, some more or less obscure. Trunks cut from a wide variety of fabrics also exist, showing in-the-field creativity. Those non-reg versions were usually rigger-made or tailor-made, using recycled uniforms, surplus shelter halves/ponchos, or locally-milled fabrics.
Popular in South East Asia during the Vietnam War were camo versions, flashing all kinds of disruptive patterns, a plethora of tiger stripes, Beogam, Mitchell, ERDL, etc. In-country made embroidered trunks featuring custom "moral patches", in the non-PC "Party Suit" tradition, are coveted items for collectors today.
For our Mister Freedom® interpretation, the SCUBA Trunks, we combined details and cuts from several military-issued swim shorts from our archives, the oldest being a 1943 US Navy contract pair (NXsX-35162) issued to a "NASH, R.D", and the most unusual one a 1940s-50s private purchase pair labelled "Frank Bros. Military Uniform and Civilian Clothing, San Antonio, TX" featuring an interesting underwear "diaper" back pattern. We applied the usual MF® twist, blended all the vintage references into a contemporary wearable garment, and, yes, steered clear of the Frank Bros style.
With updated pattern/fit/fabrics, our swim trunks are not replicas, yet respectful of the DNA of vintage military originals.
The waist strap allows for a ½ to 1 inch cinch. Many period photos of SEALs in the 1970s show the trunks being worn with the top waist button undone, belt un-cinched, waistband rolled down. This practice may show a tendency at the time to prefer a lower rise than the old 1940s high-waisted cut, amongst other concerns.
Our friend John T, of @Mosquito_Boat IG fame, a salty USMC veteran and knowledgeable preserver of military History, confirmed the practice during his time serving as a proud US Marine in the 1990s-00s, with anecdotes I won't relate here.
Personally, the SCUBA Trunks have rapidly become my go-to PT beachwear, as hinted by the 38,779 photos on my IG feed, cosplaying as a half-naked weekend warrior peddling wares.
The MF® SCUBA TRUNKS are a re-imagined classic designed in California by Mister Freedom® and manufactured in Japan in collaboration with Sugar Cane Co.
FABRICS:
The MF® SCUBA Trunks are available in four distinct fabric options, all milled to vintage Mil-Specs in Japan:
a) 10 Oz. "Army" 2×1 selvedge denim, 100% cotton (same fabric as our Denim Raiders Fatigues)
b) BR (Buzz Rickson's) Gold "Tiger Stripes" camo printed all-cotton twill, 1960s-inspired TSP pattern (same fabric as our Tiger Advisor Jacket). Inside waistband cut from contrast signal orange NOS cotton twill.
c) OD/Khaki combo HBT (Herringbone Twill), 100% cotton (same fabric as our HBT Raiders Fatigues)
d) BR (Buzz Rickson's) P42 "frogskin" double-sided camo pattern, all-cotton HBT, reversible, constructed jungle (green) side out, also wearable with beach (beige) side out (same fabric as our Map Shirt)
SPECS:
* An original MFSC pattern, inspired by vintage military Swimmers Trunks, UDT shorts, revisited in the US military tradition of in-country local-made custom garments.
* Old school high rise and short length profile.
* Adjustable waist strap with double D-ring buckle.
* Single square rear pocket.
* Button fly, classic USN-style "fouled anchor" CPO plastic buttons.
* Chainstitch seams construction.
* Tonal stitching (with "rainbow" stitch accent on the inside for the Tiger Stripes & OD HBT model, in old USN "Liberty" fashion.)
* Original mfsc Frogsville woven rayon label.
SIZING/FIT:
The MF® SCUBA Trunks are true-to-size after a cold rinse/machine spin dry/line dry.
Although the four fabric options have varying shrinkage specifics, all four models will fit similarly after the initial rinse/dry.
We recommend the following simple initial process.
Cold soak for about 30 mn in tub or machine, with occasional hand agitation.

Spin dry (spinning cycle) if using a washing machine.

Line dry.
The D-ring waist strap allows for a one inch ~ ½ inch cinch. I wear a W32 in all models, and can get away with a W31 in the "Army" denim version. I'm about 5'7 / 145-150 lbs.
Wear underwear.
CARE:
Low maintenance. Machine wash when needed. Cold water, eco-friendly detergent. Line dry.
Available from www.misterfreedom.com, our Los Angeles brick & mortar store, and fine retailers around the World.
Email sales@misterfreedom.com or call 323-653-2014 with any questions unanswered above.
Thank you for your support.
Christophe Loiron
Mister Freedom®
©2022