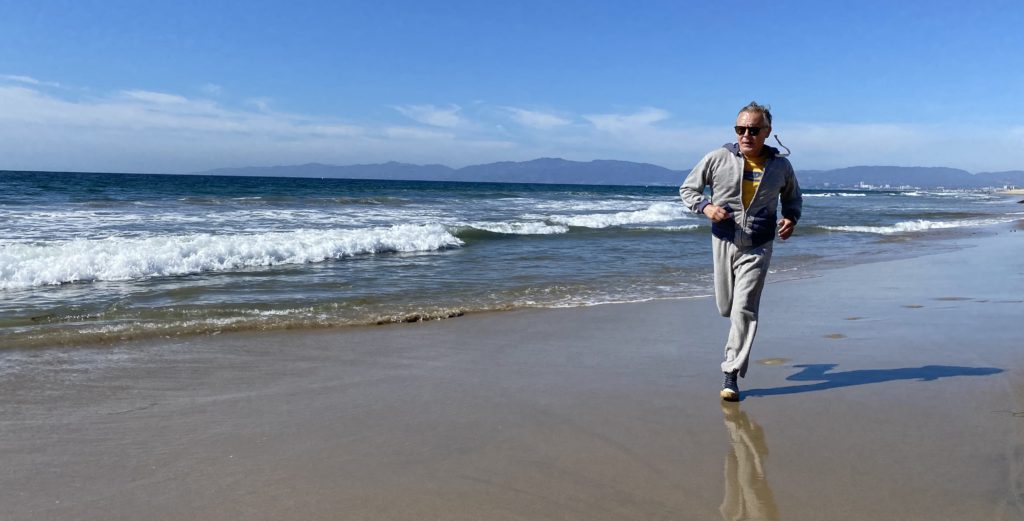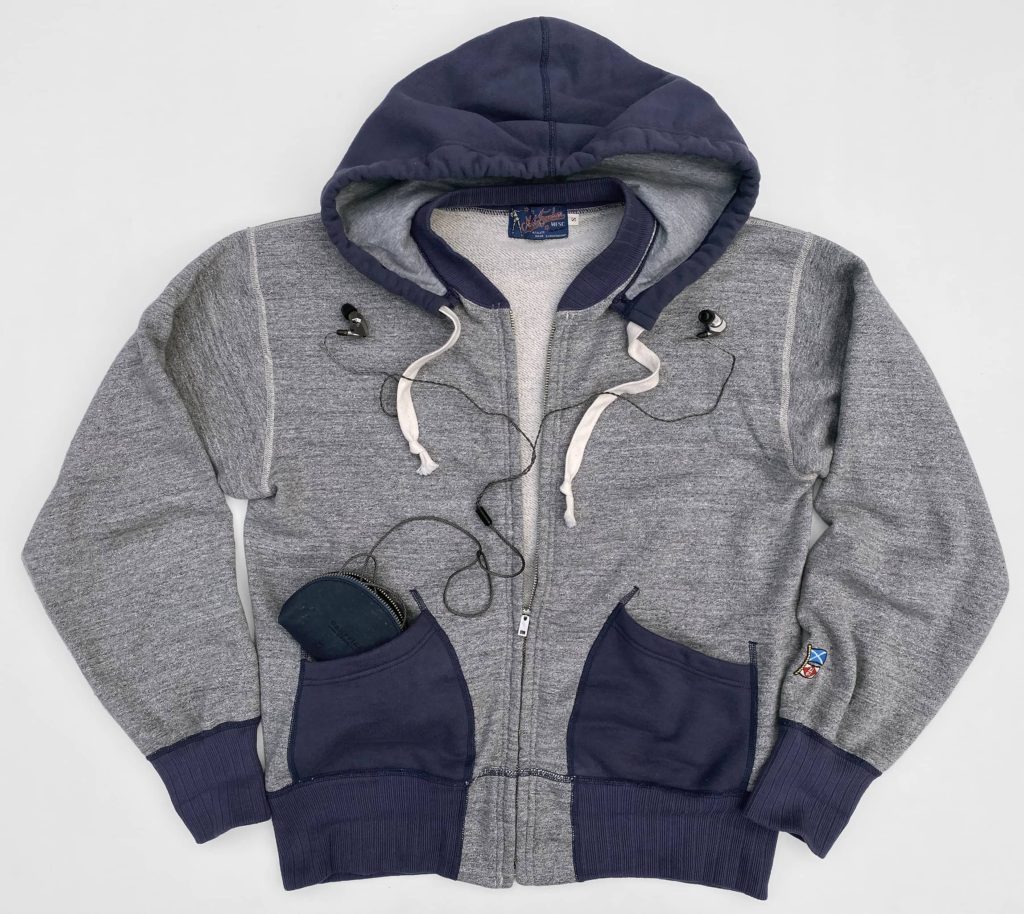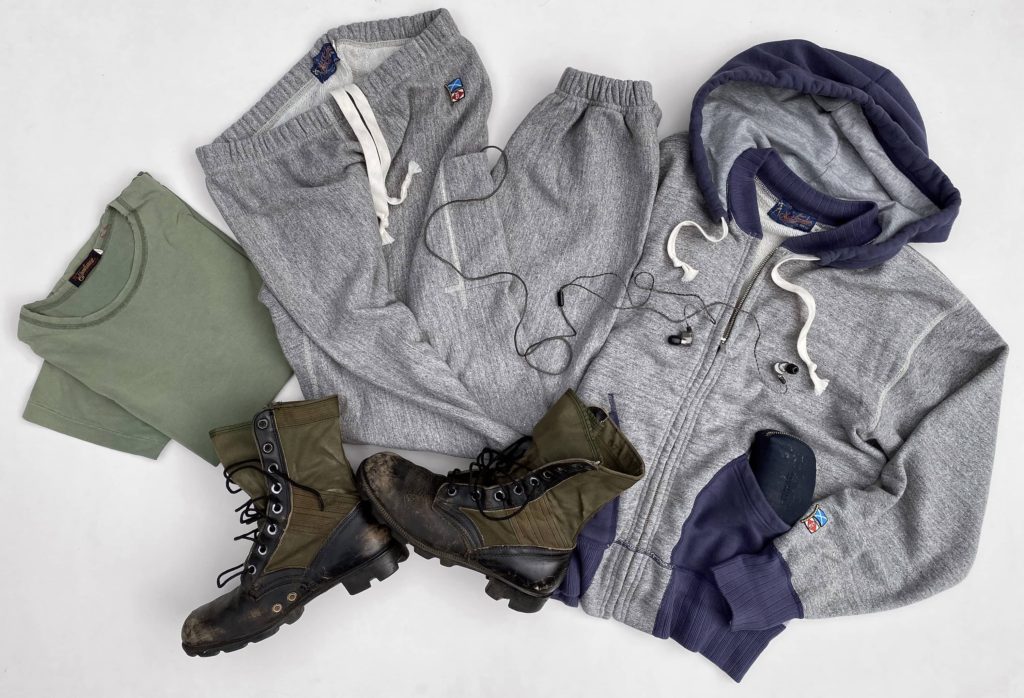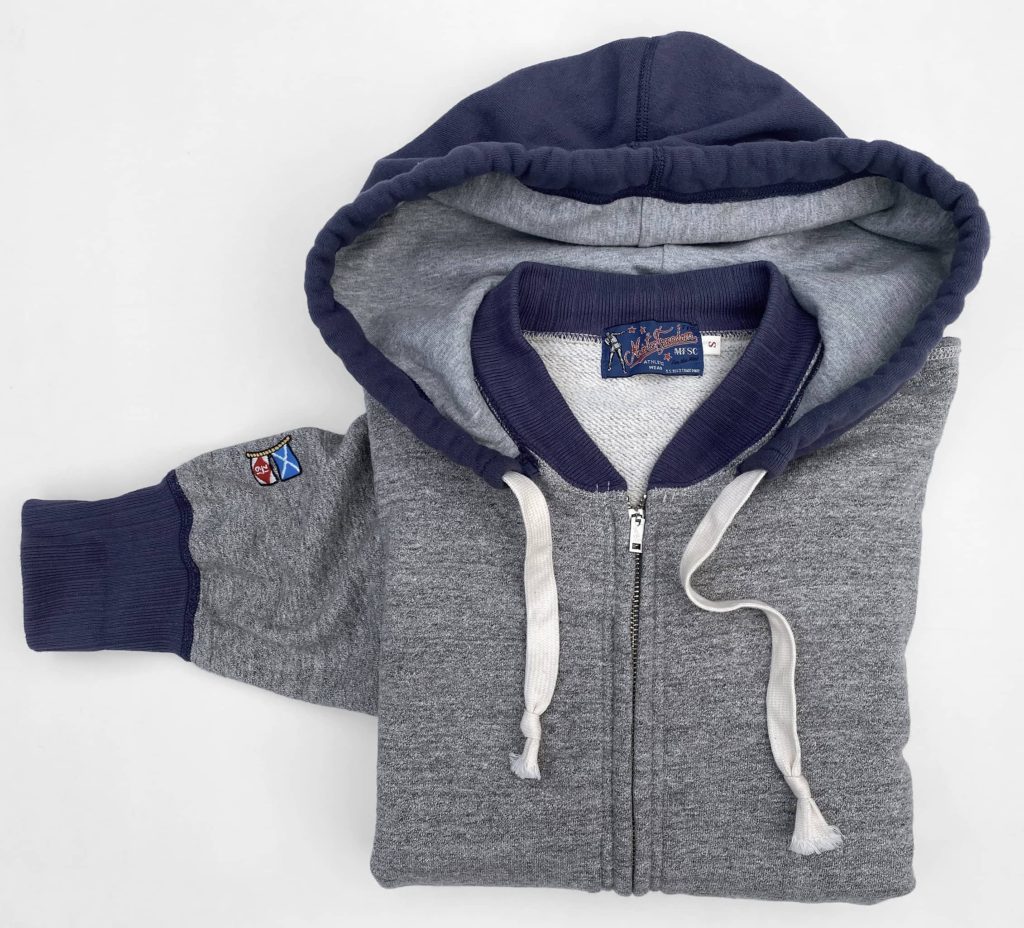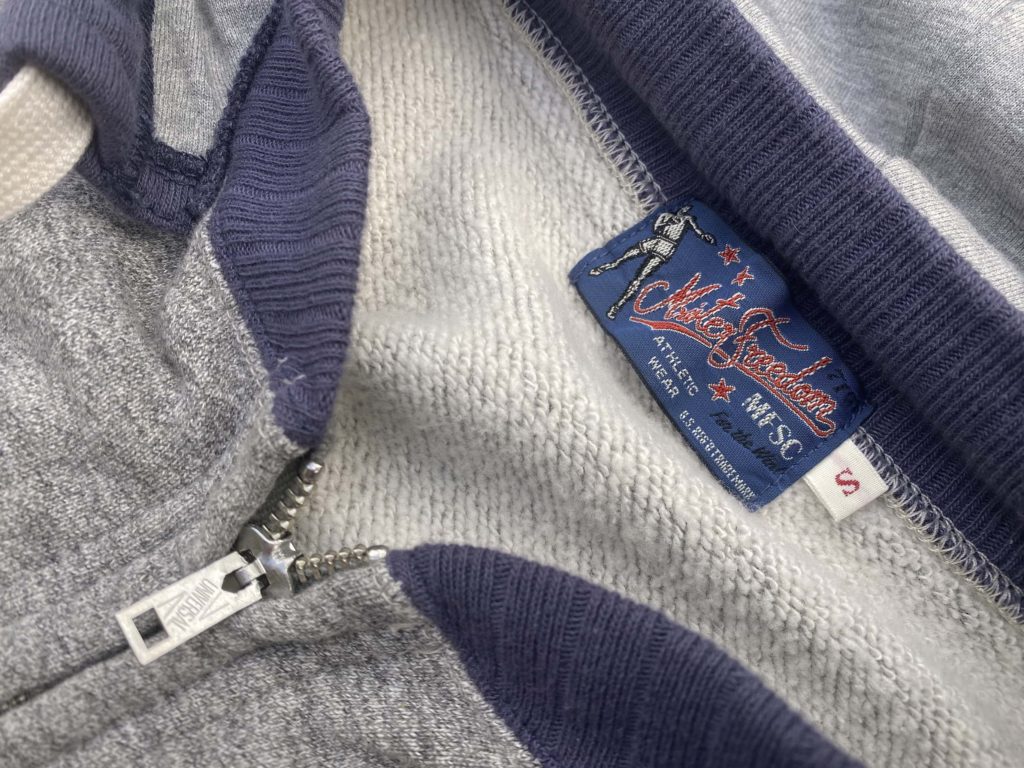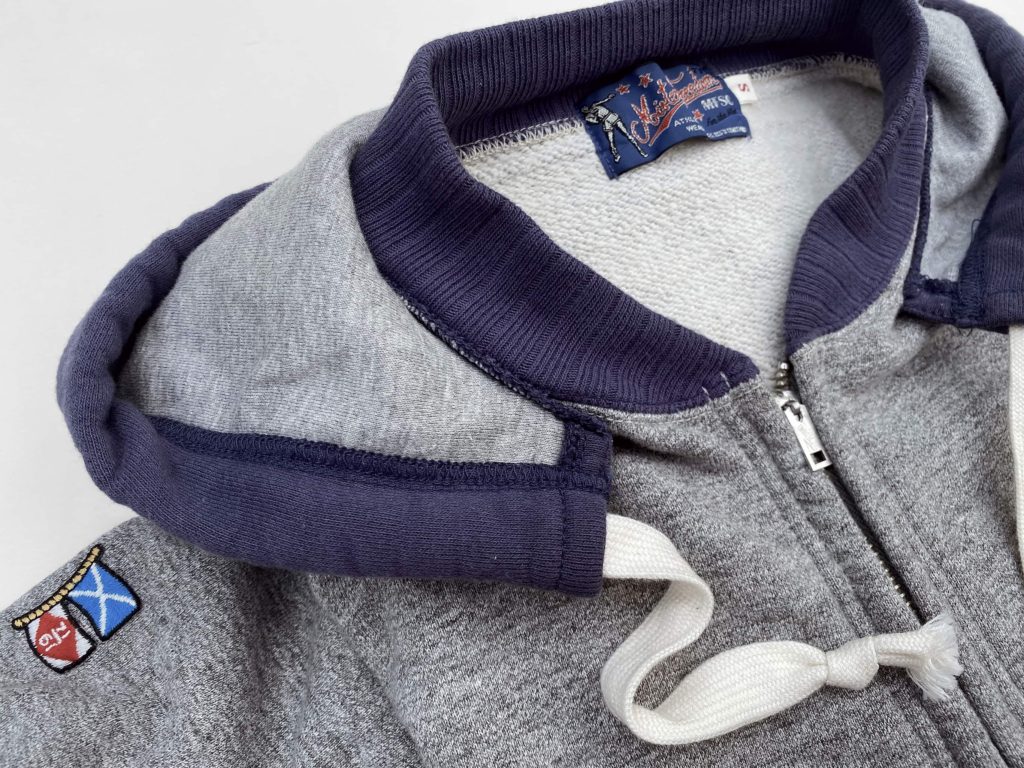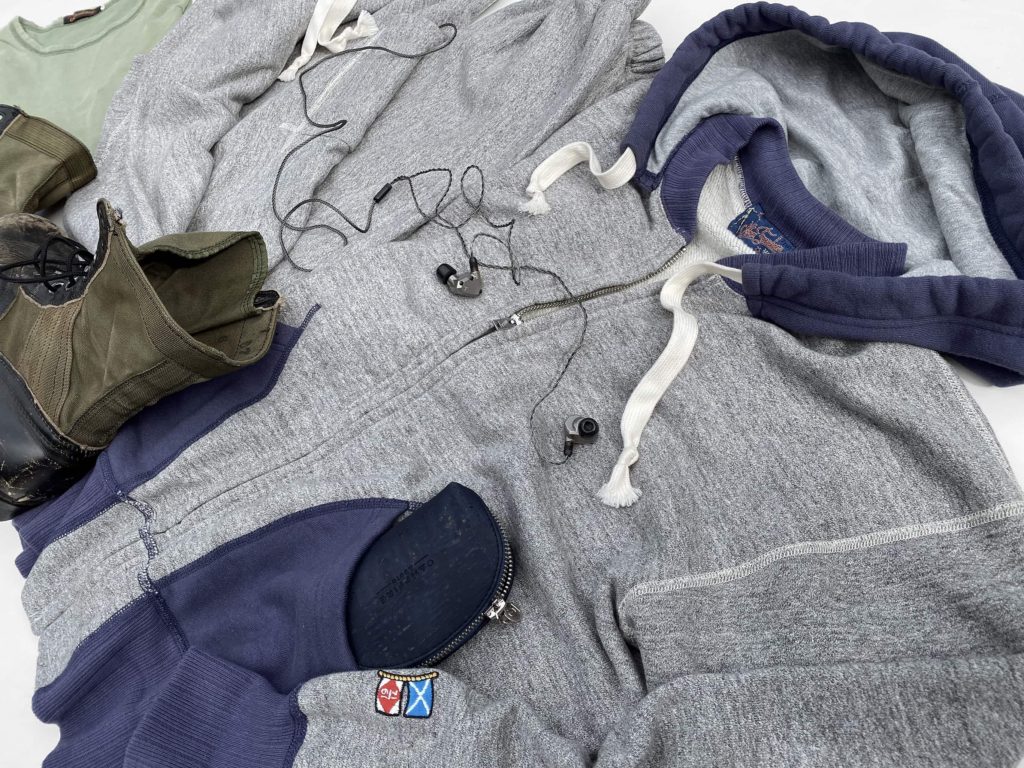 Mister Freedom® CONTENDER Attached-Hood zip-front Sweatshirt, 100% cotton yarn-dyed fleeced jersey.
FW2021 mfsc PODIUM collection.
Made in Japan.
The Mister Freedom® CONTENDER blends three all-American old timers: the classic cotton fleeced practice jersey sweatshirt (born ~1920s, see our MEDALIST rendition), the hooded sweatshirt (born ~1930s, "hoodie" in 1990s parlance), and full zip-front sweatshirt (mid 1950s?).
A bit of Clouseau detective work now…
In a Spring & Summer 1928 Montgomery Ward catalog, silver grey crewneck sweatshirts in fleece-lined cotton sold for a whooping 96 cents, two-tone options for $1.28… no mention of hooded options. Same in the company's Fall & Winter 1929-30 catalog.
In a Fall & Winter 1938-39 Lowe & Campbell Athletic Goods Co catalog, traditional "cotton training suits" (crewneck sweatshirts and sweatpants matching sets) were advertised, still no mention of a hooded option. In the "Sideline Coats" section however, a "Hooded Pull-Over Shirt in School Colors" appears. The "heavy woven wool" shirt boasted a "zipper hood and neck opening", and a "snug fitting blouse band". Those, ancestors of the modern "hoodie", fetch a pretty penny in vintage clothing circles today. 
In a Fall & Winter 1939-40 SEARS, ROEBUCK & Co catalog, crewneck sweatshirts are well-advertised and get a full page spread (page 946, fact!) Interestingly, some 20 pages later, a tiny little insert amidst ice skates and ski gear timidly promotes a "New Hooded Sweatshirt" in "double-thick cotton sweatshirt cloth" with "attached hood". This novelty shirt was only available in two-tone gun-metal grey and navy, and could be yours for $1.69. There it is, our CONTENDER's great-grandfather!
By the 1950's both crewneck and hooded sweatshirts had become a staple of athletic-wear. A 1956 catalog from "SOUTHERN Manufacturing Co, Alexander City, Alabama" mentions "single hoods" and "double hoods" in the "Men's Sweatshirts  – Sweat Pants – Hoods" section, referring to the layers of fabric in the hood construction.
In 1963, a 21 year-old boxer by the name of Cassius Clay was training in the streets of London alongside heavy-weight fellow boxer Jimmy Ellis. In the publicity shots immortalized by Arthur Sidey, both boxer were wearing what looks like hooded sweatshirts. On closer inspection, if "The Champ" sported a commercially-produced hooded zip sweatshirt, Jimmy Ellis has a terry cloth towel over the head, tucked-in his crewneck sweatshirt in lieu of a hood. Common practice at the time.
Asked about why he had on heavy combat boots while running, the future Mohammed Ali explained that this helped him feel very light on the ring, with regular sport shoes on. One way to float like a butterfly and sting like a bee!
Fast-forward to a 1972 Fall & Winter SEARS catalog featuring some happy-looking fellas, in a different weight division , sporting the season's finest in fierce and convincing athletic poses. The dude in the green get up kinda takes the cake, although none of the others are too far.
At that point, acrylic and polyester fibers had made their way into active wear (and fashion in general), making it quite impossible for consumers to even find any 100% cotton garments on the market. Cotton blends and synthetics had taken over. To this day, all-cotton athletic gear stays very uncommon.
For our CONTENDER, we opted for the early "attached hood" type pattern, as it was referred-to in the late 1930s – early 40s. "Attached" doesn't mean detachable, but rather refers to the early days when hoods were merely mounted on crewneck sweatshirts, not part of the neck construction.
The hood was stitched to the body, right below the jersey rib neckband, a quick way to retro-fit a regular crewneck sweatshirt for the colder months. In later models of hooded sweatshirts (1940s onward), the hood would completely replace the rib neckband and be serged directly on the neck line, as on today's common hoodies.
The Mister Freedom® CONTENDER old-school attached hood is lined with a contrasting heather grey cotton knit jersey, of average T-shirt weight.
Instead of the classic pull-over hooded sweatshirt pattern, we opted for a zip-front closure. Buttoned-front cardigans are quite common in 1930s-40s menswear, but full zip-front sweatshirts with rib knit neckbands seem to have entered American sportswear fashion in the mid 1950s (Pilgrim, Akom, etc…), only preceded by occasional home-made protos with DIY zipper jobs. Full zip-front sweatshirts with hoods appear to have been introduced later, sometime in the early 1960s, and grew in popularity in the 1970s-80s.
We worked on the design of the split muff pockets of our CONTENDER for some time, and settled on a curved shape with flat-lock stitch construction, elegantly blending-in the waistband.
Just like our MEDALIST crewneck sweatshirts and GYMSTAR sweatpants, all the rib knit parts of the CONTENDER are made from a fancy 1950s-style all-cotton 1×5 needle-out ribbing, color-matching the blue/grey contrast fleece hood and pockets.
The body of the CONTENDER is cut from a yarn-dyed heather grey all-cotton 12 Oz. tubular fleeced jersey knit, and the sturdy construction guaranteed by old-school four-needle flat lock stitching.
The MF® CONTENDER Attached-Hood Zip-Front Sweatshirt, in all-cotton two-tone tubular fleeced jersey, is designed by Mister Freedom® in California, USA, and produced in Japan in collaboration with Sugar Cane Co.
SPECS:
FABRIC:
Body: Heavy weight 12 Oz. 100% cotton tubular fleeced jersey knit, yarn-dyed Heather Grey, soft brushed pile back for warmth and absorbency. Milled in Japan.
Hood shell/muff pockets: Contrasting blue/grey 100% cotton fleeced jersey knit.
Hood lining: 100% cotton heather grey knit jersey.
DETAILS:
* An original mfsc pattern inspired by vintage 1940s-50s classic American crewneck & hooded sweatshirts and period athletic wear.
* Tubular body (no side seams).
* 1930s fashion "attached hood" pattern, draw string cinch.
* Full-zip front opening, with 1950s-style "Universal" cotton-tape metal zipper.
* "Drop shoulder" pattern.
* Fancy all-cotton 1×5 needle-out ribbing waistband, cuffs, and neckband.
* Original curved split muff pocket design.
* Vintage-style extra-long waistband and cuffs.
* Four-needle flat lock stitching construction.
* Original mfsc "PODIUM" rayon woven label.
* Made in Japan
SIZING/FIT:
The MF® CONTENDER Attached-Hood Zip-Front Sweatshirt comes raw (un-rinsed) and we recommend this protocol before wearing, so that the garment shrinks to tagged size:
* Full machine wash, fully un-zipped, cold water, delicate cycle, no detergent necessary.
* Use a tumble dryer on low heat until fully-dry.
Depending on your own personal style, preference of silhouette, body type, and whether you're going old-school vintage or contemporary streetwear, the size that will work for you is subjective.
I opted for a size SMALL in the CONTENDER, for a shorter "period" look, matching one's natural waist rather than covering the back pockets of jeans. Just a personal preference for the vintage vibe. I am 5'7 / 145 lbs.
CARE:
Low maintenance garment. Launder when needed, always fully un-zipped.
Machine wash, normal cycle, cold water, mild eco-friendly detergent. Tumble dry or lay flat to dry on clean towel.
Do not include fragile garments in the same wash/dry load, as the metal zipper pull and teeth may snag delicate knit fabrics.
Available from www.misterfreedom.com, our Los Angeles brick & mortar store, and fine retailers around the World.
Email sales@misterfreedom.com or call 323-653-2014 with any questions unanswered above.
Thank you for your support.
Christophe Loiron
Mister Freedom®
©2021