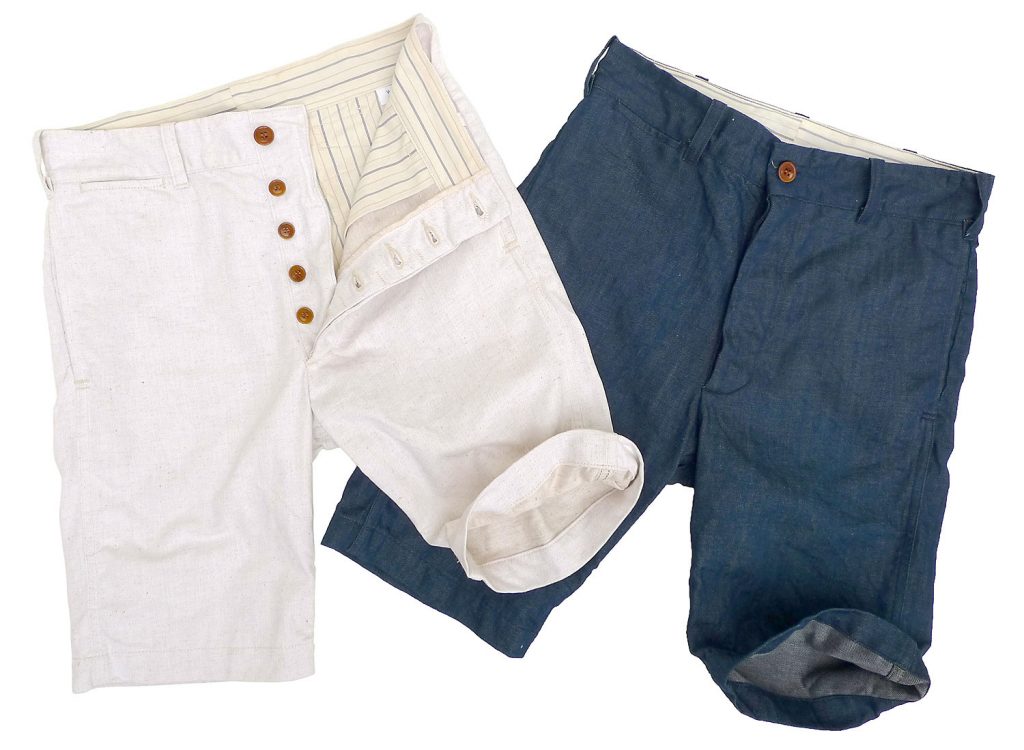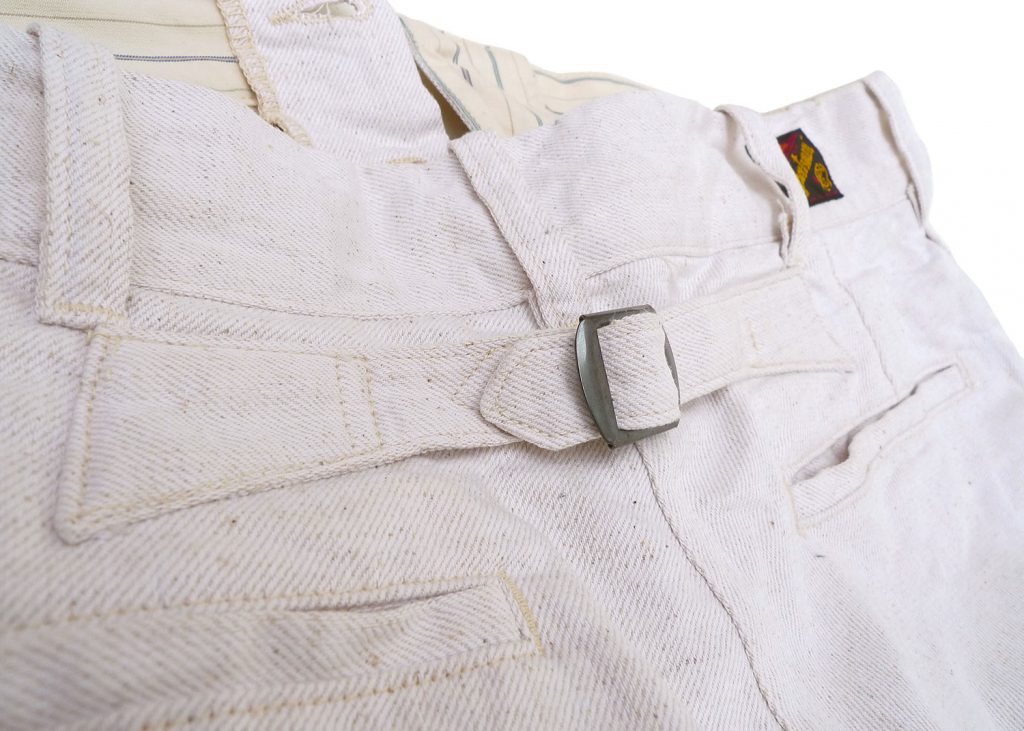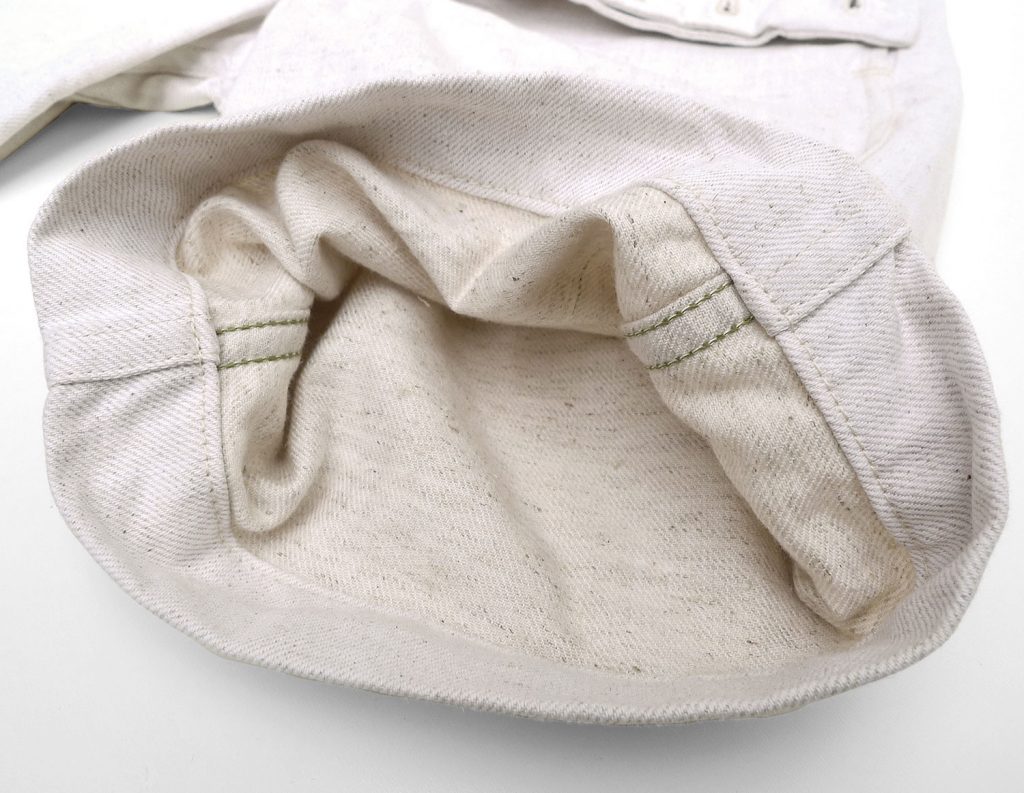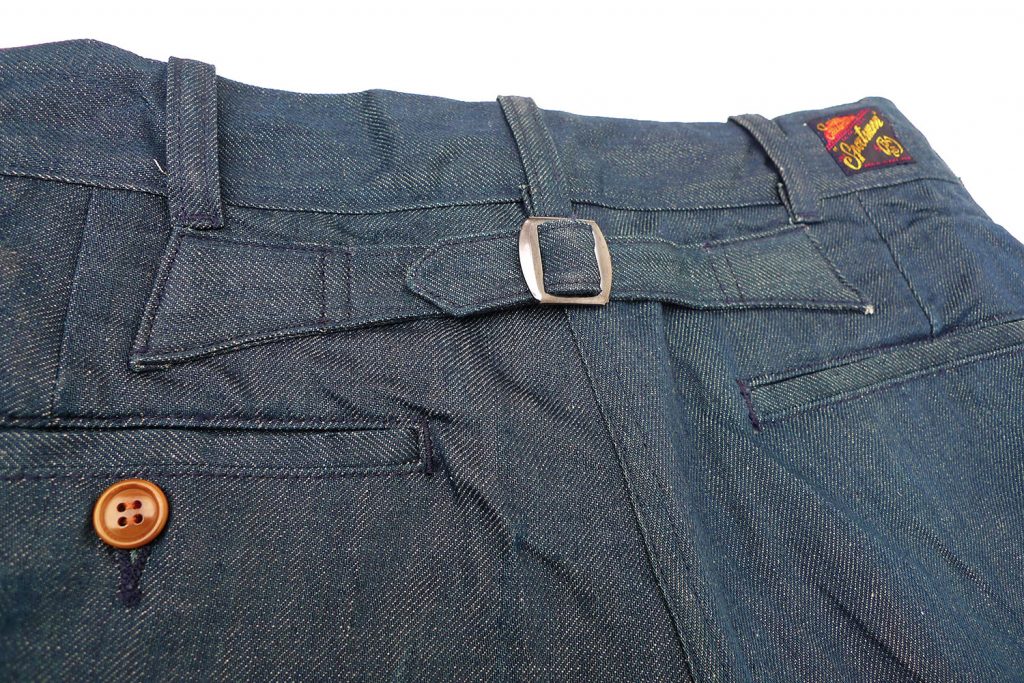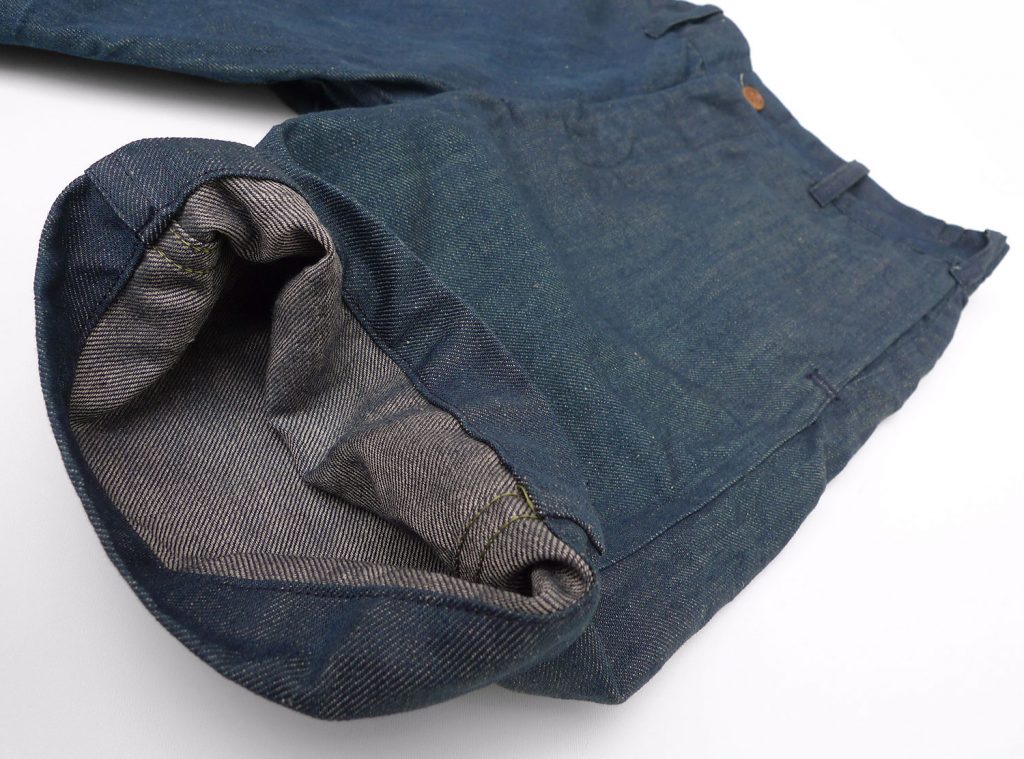 Continental Bermudas, NOS cotton-linen "Congo Gab" & cotton-linen Crosshatch Moss Denim.
mfsc SS2019 Sportsman catalog.
Made in USA.
We introduced our Mister Freedom® "Continental" series in early 2016, an unpretentious all-made-in-USA casual suiting concept consisting of three new patterns – Continental Trousers, Continental Vest, Continental Sportcoat – seasonally released in a combination of vintage New Old Stock fabrics.
We added a new member to the family during Spring 2018, the Continental Bermudas.
The MF® Bermudas' pattern is derived from the original Continental Trousers, our interpretation of classic late 50's-mid 60's casual slacks. These tailored short trousers are a departure from, no offense, dad's favorite 1990's cargo shorts, the recreational fisherman's best friend. We aimed for a more elegant silhouette on this project, more summer in the Bahamas than Sunday at Home Depot.
Anchored in a British military style tradition allegedly dating back to WW1, original 'bermuda shorts' called for a length of approximately one inch above the knee, which we stuck with. Whether you go for the mandatory knee-length socks, blazer and tie dear to the respectable Bermudian keen on proper insular business attire, is up to you. For a casual stroll around town in old-school Ivy League style, we think you'll do just fine with a simple Stanley or Berkeley shirt, topped with an unstructured Continental Sportcoat, and shod in a pair of vintage penny loafers or wingtips… Better yet, do your own thing, and forget "influencers"!
The above-the-knee target length will obviously depend on where one considers the waist line to be. Our Continental Bermudas feature a mid-to-high rise, and, call us old-fashioned, we tend to think of the waist as a natural line falling right above the hips. The simple single needle hem can easily be tailored to one's length of choice. A shorter length might convey more of a sporty and contemporary vibe, although you might want to consult with your partner before going full Daisy Dukes.
For this SS2019 release, we opted for two distinct New Old Stock fabrics from our vault, previously featured in the Sportsman catalog as iterations of the Ranger Shirt, and Continental Sportcoat, Vest, and Trousers.
The first fabric is a crosshatch (slubby warp and weft) denim twill, a fancy 70% cotton/30% linen blend, milled in Italy. This elegant yet rugged indigo moss blue cloth will fade to an attractive range of blue hues overtime, with the typical uneven crisscross "ring" lines of crosshatch denim.
The second option, an off-white "Congo Gab" fabric, is an 8.85 Oz. blend of 86% cotton and 14% linen, an elegant ivory white twill with a subtly-contrasting darker heather oatmeal weft. The face of this denim-like fabric features unbleached yarns, while the reverse displays slubby flecks of natural fibers. For those intending to pair these white bermudas with the SS2018 Continental "Congo Gabardine" Sportcoat, please note that the jacket features the oatmeal side as the face, and both piece will not match as a two-piece suit.
Our choice of "Congo Gabardine" terminology, although technically inaccurate, is a nod to vintage "Congo Cloth". Refer to the original post and its illustrations for a bit of rambling on the subject.
For pocketing, we have outfitted both options with an elegant European woven stripe lining fabric, previously featured on the black Continental "JC" Two-Piece Suit.
The Continental Bermudas are designed in California by Mister Freedom® and manufactured in USA in collaboration with Sugar Cane Co.
SPECS:
PATTERN:
An original mfsc pattern inspired by vintage late 1950's and early 1960's casual slacks with a classic, slim silhouette. Mid-to-high rise.
FABRIC OPTIONS:
a) New Old Stock 11 Oz. Crosshatch Denim Twill, indigo moss blue (blue with a greenish sheen), slubby 70% cotton 30% linen blend, milled in Italy.
b) New Old Stock ivory white twill, 8.85 Oz., blend of 86% cotton and 14% linen,  slubby oatmeal flecks and white warp, with off-white heather weft, milled origin unknown.
Pocketing:  NOS fancy woven stripe 100% cotton plain weave (ivory white with blue & grey stripes), milled in Europe.
DETAILS:
* Elegant late 1950′s early 1960's type silhouette and fit, above the knee length.
* Adjustable back cinch strap, with vintage NOS metal slide buckle.
* Amber brown corozo wood fly and waist buttons.
* Rear welt pockets, watch pocket.
* Coin pocket.
* Trousers-style belt loops.
* Crotch gusset pattern.
* Flat-felled side seam "caballo" construction.
* 100% cotton NOS fancy European woven stripe twill pocket bags and waist band.
* Tonal 100% cotton thread construction, with inside green chainstitch MF® signature accents.
* Original "SPORTSMAN" woven rayon label on rear waistband, concealed when wearing a belt.
* Made in USA.
SIZING:
The MF® Continental Bermudas come raw/unwashed.
Both fabric options will shrink to approximately the same size after a 30mn cold soak, spin dry and line dry.
These are "vanity size", with somewhat of a generous waist that can be cinched with the rear adjustable strap. I tend to fluctuate between W30 and W32 in mfsc trousers, according to the model, and opted for a comfortable W32 in the Continental Bermudas, in both fabrics.
Refer to sizing chart for cold soak/spin dry/line dry measurements.
CARE:
Launder when necessary.
Machine wash on delicate, garment inside-out, cold water with minimal environmentally-friendly detergent and line dry.
Wash with similarly-colored garments.
NOTE: Full washing cycle in hot water and machine dry might result in excessive shrinkage and color loss. Not recommended.
Available Raw/unwashed
Sizes
W 28
W 30
W 32
W 34
W 36
W 38

Available from www.misterfreedom.com, our Los Angeles brick & mortar store, and fine retailers around the World.
Email sales@misterfreedom.com or call 323-653-2014 with any questions unanswered above.
Thank you for your support,
Christophe Loiron
Mister Freedom® 2018