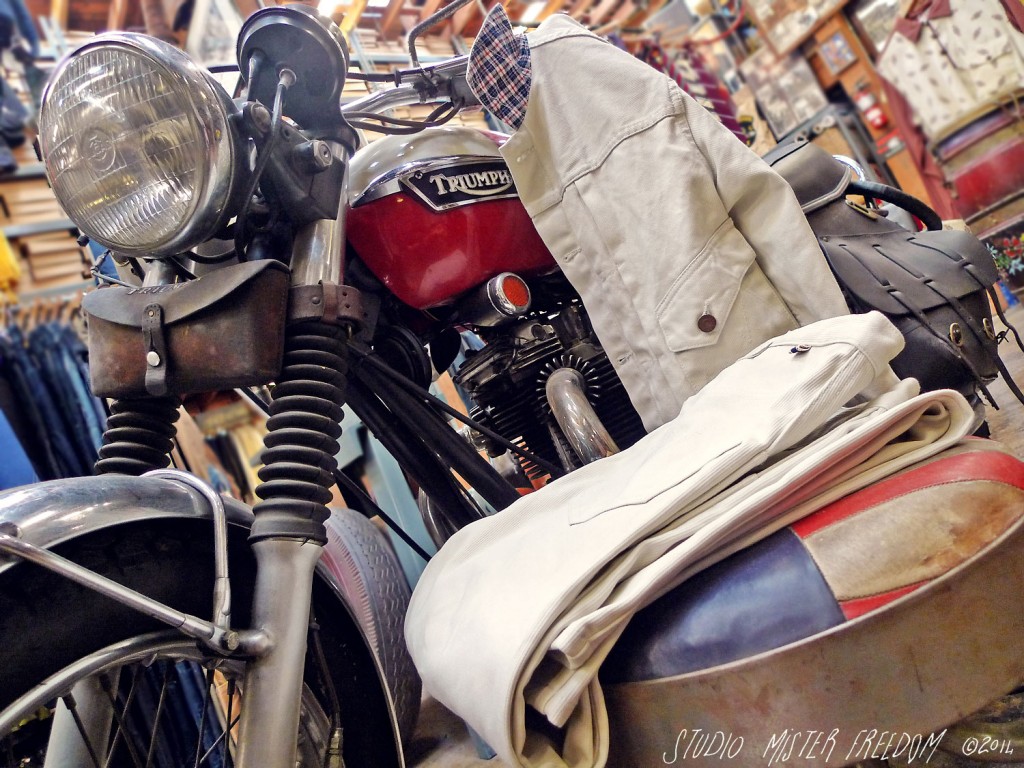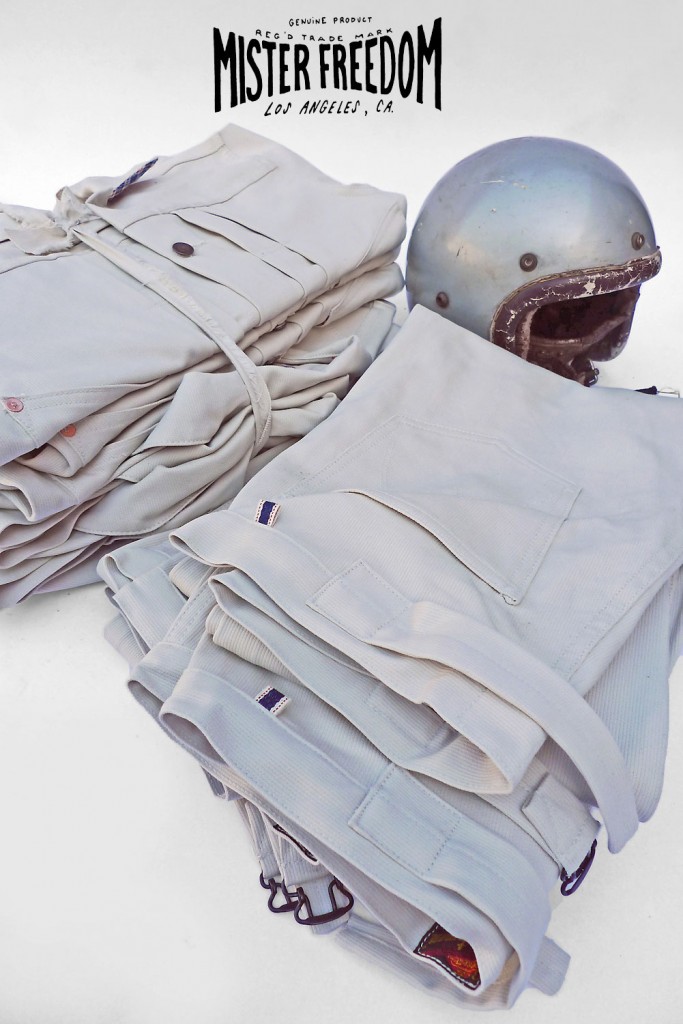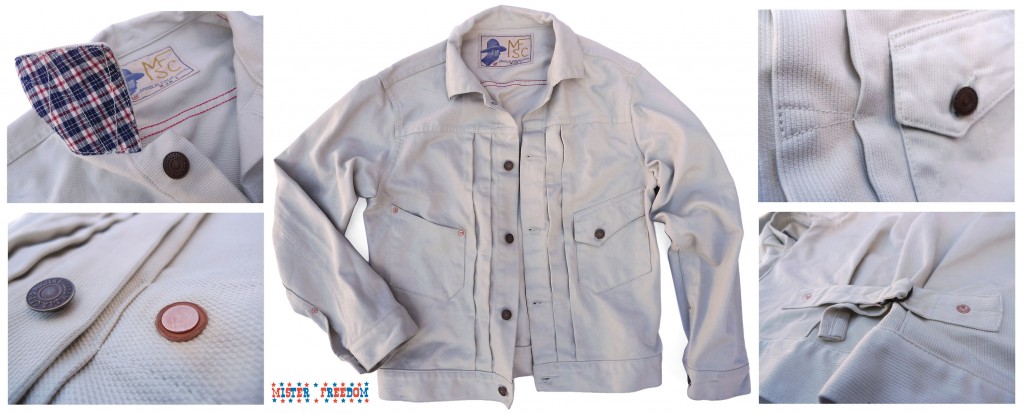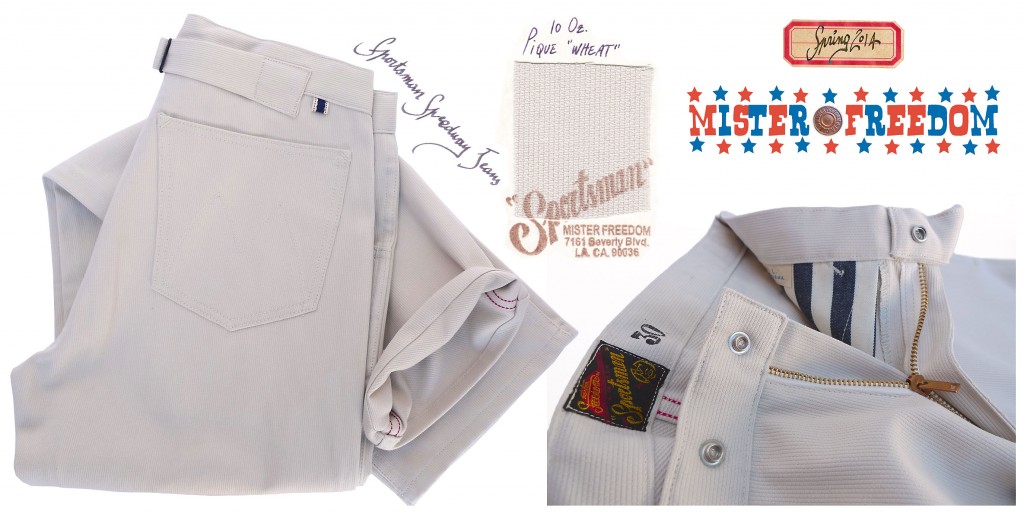 Ranch Blouse & Speedways: Piqué Bedford Cord
"The Sportsman" mfsc Spring 2014
Piqué fabrics are woven on dobby looms giving the finished textile its small geometrical repeat pattern designs.
The French word piqué refers to needle work, as in quilting.
One of my favorite of the piqué family as always been the "Bedford Cord", thought to have originated in New Bedford, Massachusetts, during the golden age of its textile industry, counting some 70 mills around 1920. 18 are still operating today.
Bedford cord fabric is characterized by vertical woven ridges on the face, and tiny 'beehive' pattern on the reverse.
In the late 1950's off-white relaxed fit slacks made their way to the Ivy League scene, often featuring cinch-back or side straps.
By the mid-1960's, slim light colored jeans had become quite popular with young adults, as often displayed in the ranks of 18 to 24 year-old recruits getting schooled in the Art of War before heading out to Vietnam.
On campuses, 'Wheat jeans' on the slim side had then out-fashioned the slightly darker and wider cut khaki chinos in the heart of many preps.
In Hollywood, the usual suspects seem to have adopted the 'wheat jeans' style early on, whether in five-pocket cuts, twills, cords or sateen, 'Sta-Prest' styles or chino patterns…
Our man James 'Flint' Coburn swore by them, on and off screen it seems. McQueen favored a clean 'Sansabelt' type, with concealed snap waist tab, part of the inspiration behind our Speedways jeans.
Most brands went full throttle on the craze, suggesting the matching jacket and pants, as in period HD Lee or Levi's ads.
After a fierce meetings at Mister Freedom®, we unanimously decided the matching wheat jacket/pants thing was not necessarily a good idea this year either.
So we immediately added the Ranch Blouse and Speedways piqué set to the Sportsman catalog for Spring 2014.
As introduced with our Uncle Sam issue, the piqué Ranch Blouse features the embossed MF® brass buttons, replacing our previous 'silver' type.
The modified version of our original 2011 Speedway Jeans and 'wheat' Ranch Blouse come in a new Bedford cord fabric. The color we selected for this 10 Oz. Sportsman Edition piqué is slightly warmer (slightly more beige) than our original Speedway piqué ( slightly more grey). They still both appear off-white, referred to as 'wheat' by 1960's marketing departments.
On Style: The boldest will have no fear in the challenging statement of the mighty Leisure Suit when worn as a set, but we do suggest self-control with the wheat-on-wheat sandwich. In most situations, mixing might be a better option. Although wheat jeans are easier to incorporate in one's wardrobe than is commonly thought, they remain an 'acquired taste', so don't force yourself if you don't feel it.
We never recommend buying garments you won't wear, nor do we guarantee success around the pool with purchase.
The Ranch Blouse and Sportsman Speedways are designed and manufactured in California by Mister Freedom®, in collaboration with Sugar Cane Co.
RANCH BLOUSE, Piqué Bedford Cord Edition

PATTERN: An original mfsc pattern, influenced by early denim 'trucker' type jackets.
FABRIC: 10 Oz. off-white Piqué Bedford Cord, 100% cotton, milled in Japan.
Under collar and under pocket flap lining: New Old Stock woven plaid fabric, blue/red check, 100% cotton.
DETAILS:
* Modified collar pattern.
* 'Vintage' boxy but fit silhouette.
* Original MF® lower chest pocketing, tonal "M" stitching.
* Pleated front with MF® original 'dart' stitching.
* NOS woven plaid collar/pocket flap facing.
* Brass cast MF® branded rivet buttons.
* Buckle back, adjustable, riveted.
* Copper rivet reinforced, unmarked, leather washer back.
* Tonal 100% cotton stitching.
* Printed cotton label (from our Buckaroos.)
* Made in USA
SIZING/WASHING:
Although only offered un-washed the piqué fabric takes its full beauty after the first rinse/dry cycle. It gains in texture,  with a nice crispy vintage feel. We recommend an original gentle cycle in cold water, and machine tumble dry. If the ensuing wrinkles bother you don't let them.
WARNING: Some slight 'crocking' (color transfer) might happen during the first few washes, from the leather washers of the copper rivets, making somewhat of a 'rust' stain on the off-white piqué fabric. This is not permanent and will fade after further washing/drying cycles. DO NOT BOIL, as in the simple equation: (leather) + (boiling water) = soup.
For reasons familiar only to those well versed in crystal ball reading, our piqué Ranch Blouse fits a bit larger than the previous Lot.64 Ranch Blouse. JD and I went for a tight 36 in the piqué but wear a 38 in the denim Lot.64 version.
If you are in between sizes we recommend sizing down. If you do not like the shorter/cropped look of old trucker denim jackets however, staying with the same size will work as well.
Please refer to chart below for measurements.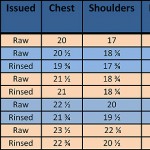 Available Raw (unwashed) ONLY
Sizes
34 X-small
36 Small
38 Medium
40 Large
42 X-Large
Retail $359.95
SPORTSMAN SPEEDWAY, Piqué Bedford Cord
PATTERN: Original MFSC pattern. Slimmer silhouette (not skinny though)
FABRIC: 10 Oz. off-white Piqué Bedford Cord, 100% cotton, milled in Japan.
DETAILS:
* Extended tab waist band, double concealed snaps.
* No belt loops.
* Functional cinch back strap to adjust waist (up to 2 inches adjustment.)
* Lapseam chainstitch leg construction, both outside and inside seams.
* New Old Stock pocket bags: 100% cotton stripe blue/white twill.
* Zipper fly, brass "Gripper Zipper".
* "M" stitched back pockets.
* Inside waistband Sportsman woven label.
* Selvedge tape red/white/blue tab on waistband.
* Tonal stitching, 100% cotton thread.
* Made in USA.
SIZING & SHRINKAGE:
Although only offered un-washed the piqué fabric takes its full beauty after the first rinse/dry cycle. It gains in texture,  with a nice crispy vintage feel. We recommend an original gentle cycle in cold water, and line dry for a crispy vintage feel.
WARNING: Please note that some light crocking (bluish color transfer) will occur during the first wash cycles, due to the blue color of the striped pocket bags NOS fabric. This will fade with further washes and is not permanent. Using an electric/gas dryer instead of line-dry will increase the crocking slightly.
Minimal waist shrinkage with this pique fabric, shrinks mostly in length (about one inch)
I am a W32 in the Californian Lot.64 Blue Jeans and wear a Waist 32 in the Speedway, a bit cinched in the back to accommodate my girly figure. Both fits are somewhat similar.
The bottom hems are not chain-stitched, making shortening the jeans an easy alteration with a single needle machine. Measuring it right to your liking being the most challenging task.
My  personal preference tends towards a slight 'high water'/flood look.
Please refer to chart below for measurements.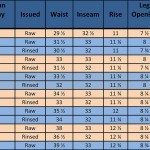 Available Raw (unwashed) ONLY
Tagged Sizes
W28 × L33
W29 x L33
W30 × L33
W31 × L33
W32 × L33
W33 x L33
W34 × L33
W36 × L33
W38 × L33
Retail $279.95
Available soon from www.misterfreedom.com
Please call the store at 323-653-2014 or email sales@misterfreedom.com with any questions not addressed above.
Thank you sincerely for your support 🙂