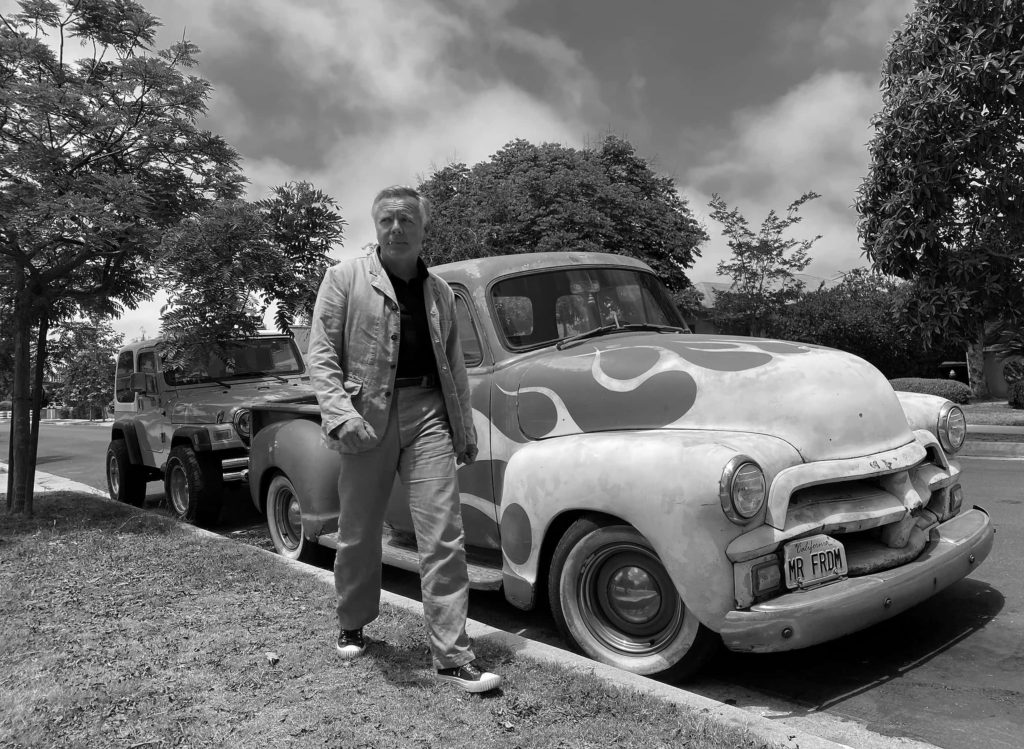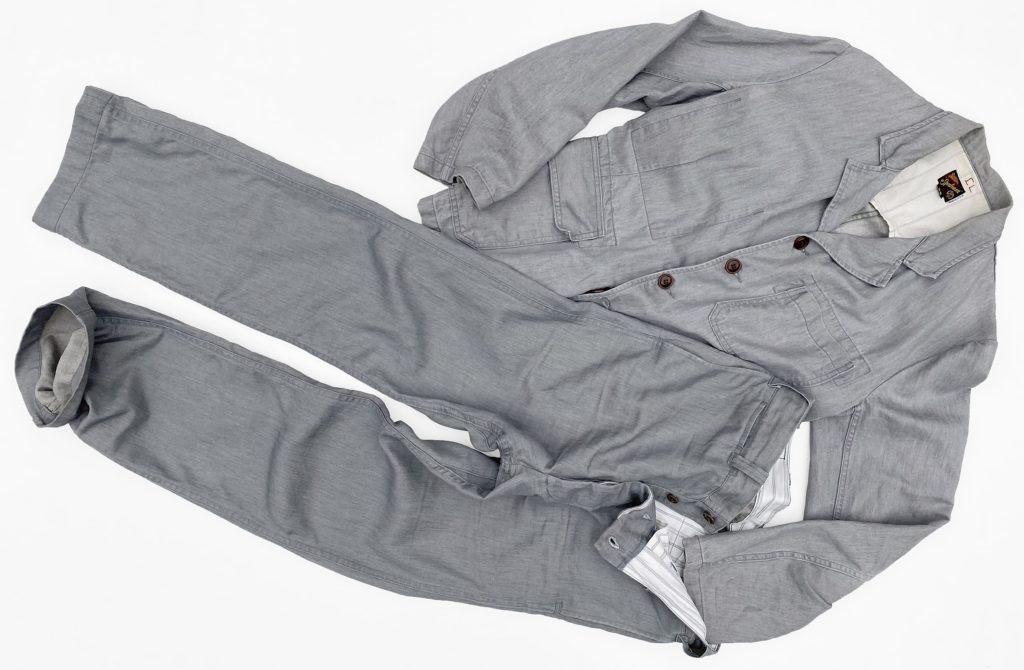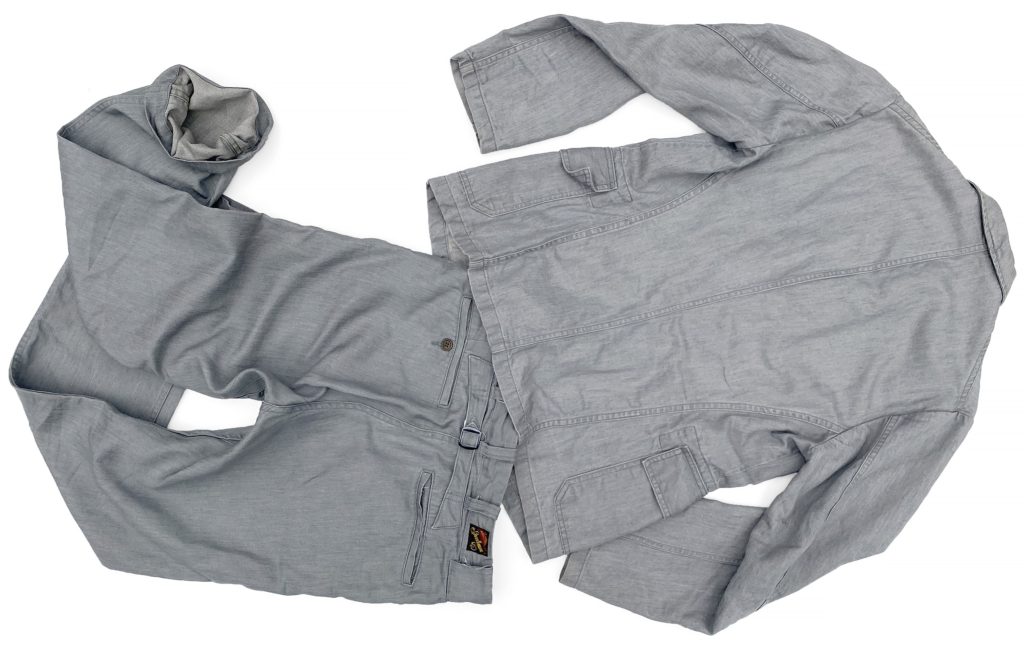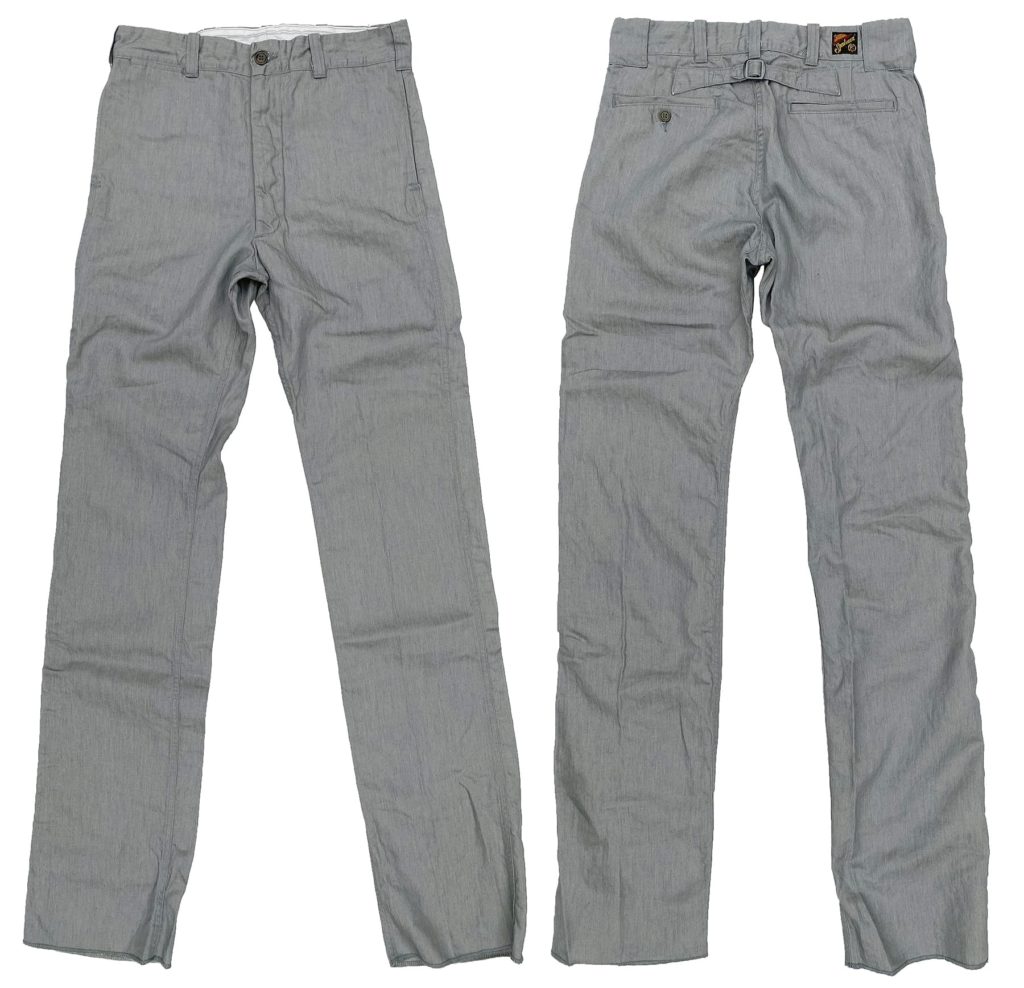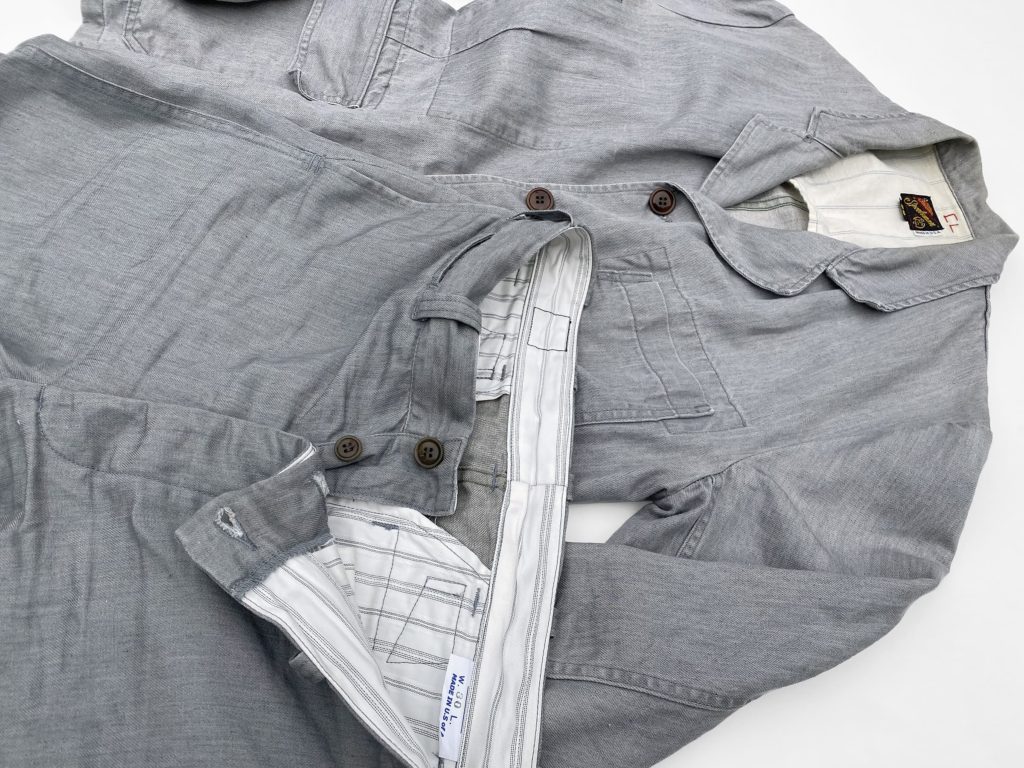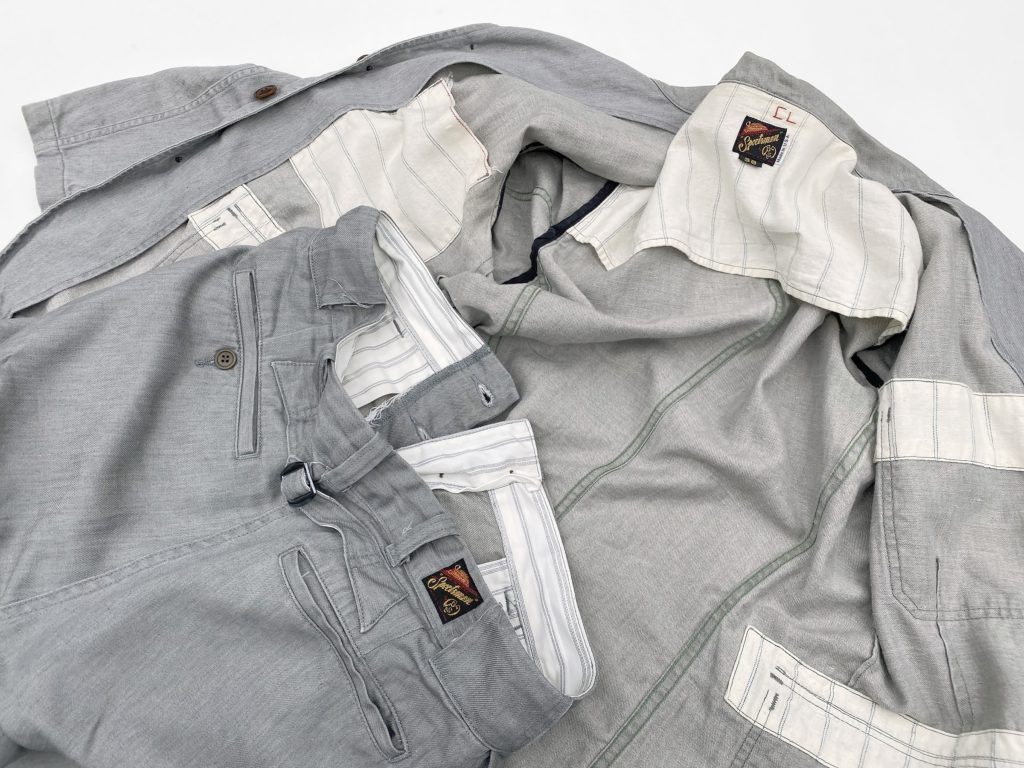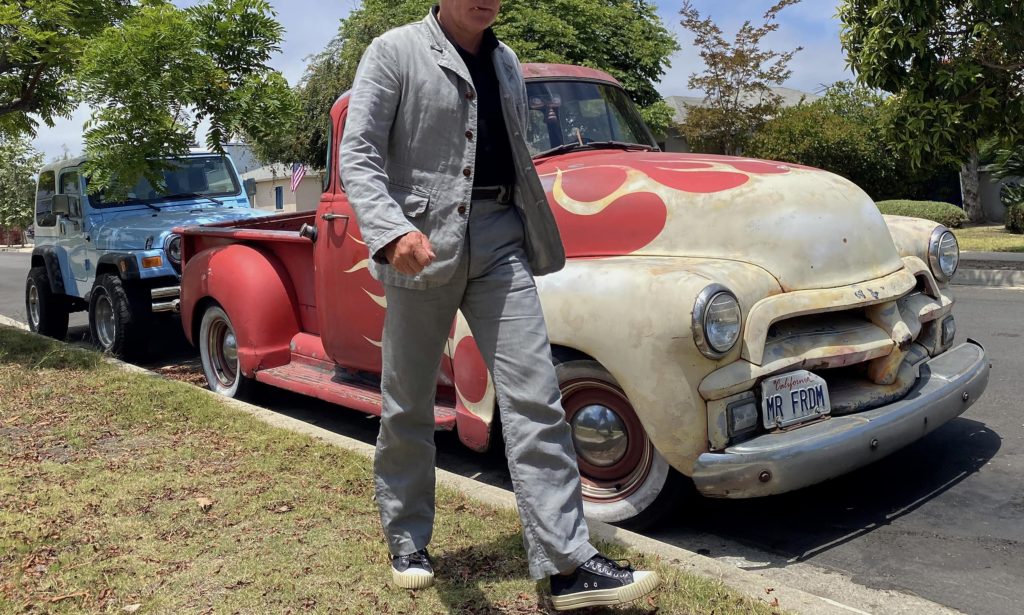 Mister Freedom® Sportsman Chinos, New Old Stock cotton-linen slate grey denim twill.
SS2021 mfsc Sportsman Catalog
Made in USA
We are releasing this season's Sportsman Chinos as a matching companion to the slate grey Continental Sportcoat and Continental Vest. The fabric is the exact same fancy blend of 60% cotton and 40% linen 8 Oz. denim twill, same NOS batch.
A Continental three-piece suit in slate grey can now be put together from our mfsc Sportsman Catalog of vintage-inspired made-in-USA menswear!
The NOS pocketing/facing may differ slightly for each of those three pieces, but consider this as a stylistic nod to eclectic miss-match linings of period tailor-made garments, when fabric availability was limited and all yardage was considered precious. We like this no-waste approach.
Please note that the slight color variation of the slate grey jacket/pants set in the photos above reflect the fact that my Sportcoat is from 2016 and was washed a few times, and the 2021 Chinos have merely been rinsed. This light-colored denim fabric actually has very nice patina potential.
Our Sportsman Chinos and Continental Trousers feature similar design details, but differ fit-wise. While the top block is comparable on both models, the Sportsman Chinos are cut with a more generous 40s/50s-style leg, and the Continental Trousers have a slimmer leg profile. The choice is a matter of one's personal style preferences and body type.
The Sportsman Chinos are designed and manufactured in California by Mister Freedom®, in collaboration with Sugar Cane Co.
SPECS:
PATTERN:
An original MFSC pattern, inspired by vintage 1940's-50's cotton twill work pants and classic mens trousers tailoring.
FABRIC:
New Old Stock, 8 Oz. slate grey denim twill, blend of 60% cotton and 40% linen, probable Italian mill origin.
Pocket bags: Fancy NOS Dobby stripe, 100% cotton.
DETAILS:
* Relaxed vintage silhouette and fit.
* Button fly, brown corozo wood buttons.
* Flat-felled side seams.
* Welt-type rear pockets.
* Original combo belt loops, wide & narrow.
* Adjustable back cinch strap, French vintage NOS metal slide buckle.
* New Old Stock fancy Dobby stripe pocket bags, white/grey stripes.
* Watch pocket.
* Tonal stitching, 100% cotton thread, flat felled seams construction.
* MF® Sportsman signature green inside chainstitch.
* "Action Crotch" gusset.
* MF® "The SPORTSMAN" woven rayon label on waist band, concealed when wearing a belt.
* 'Open' overlocked leg bottom, to suit your cuffing preferences.
* Made in USA.
SIZING/FIT:
The SPORTSMAN CHINOS are sold RAW (unwashed) and will shrink to tagged size following the usual protocol:
• Cold soak for about 30-40mn with occasional hand agitation.
• Washing machine spin dry.
• Line dry. (No heat dryer)
These trousers are true-to-size, with a 'forgiving' waist (aka vanity size), adjustable via the rear cinch. Go for your usual size in mfsc pants, but consider that the full leg and higher rise will provide an old school vintage work pants silhouette.
I opted for a W30 in these (at 5.7'' / approx. 150 lbs, I navigate between W30 and W32 in mfsc pants/jeans), as I wanted more of a 60s Continental Trousers silhouette than a 40s/50s workwear chinos fit.
With a generous inseam, the overlocked leg opening is left open to your cuffing preference. I opted for a simple 1.25 inch hem, DIY with a regular single needle machine.
CARE:
When needed, machine wash on DELICATE, pants inside-out, cold water with minimal environmentally-friendly detergent and line dry.
Do not use the washer's heavy-duty cycle, as you wouldn't with any piece of menswear suiting.
Heat dryer is also not recommended and may result in excessive and irreversible shrinkage.
Available from www.misterfreedom.com, our Los Angeles brick & mortar store, and fine retailers around the World.
Email sales@misterfreedom.com or call 323-653-2014 with any questions unanswered above.
Thank you for your support.
Christophe Loiron
Mister Freedom®
©2021