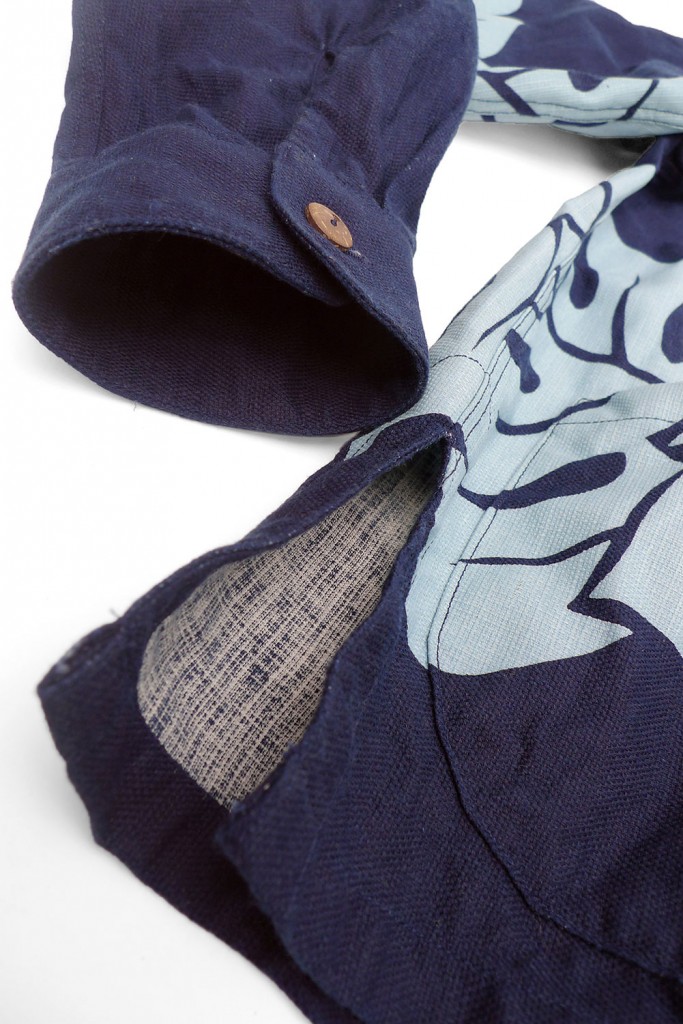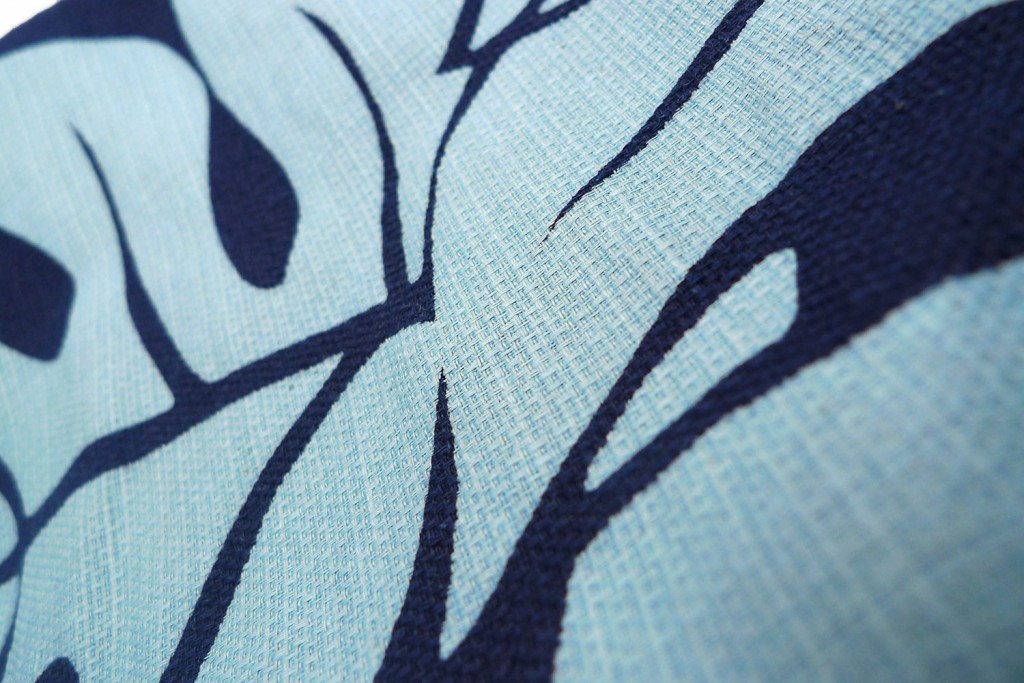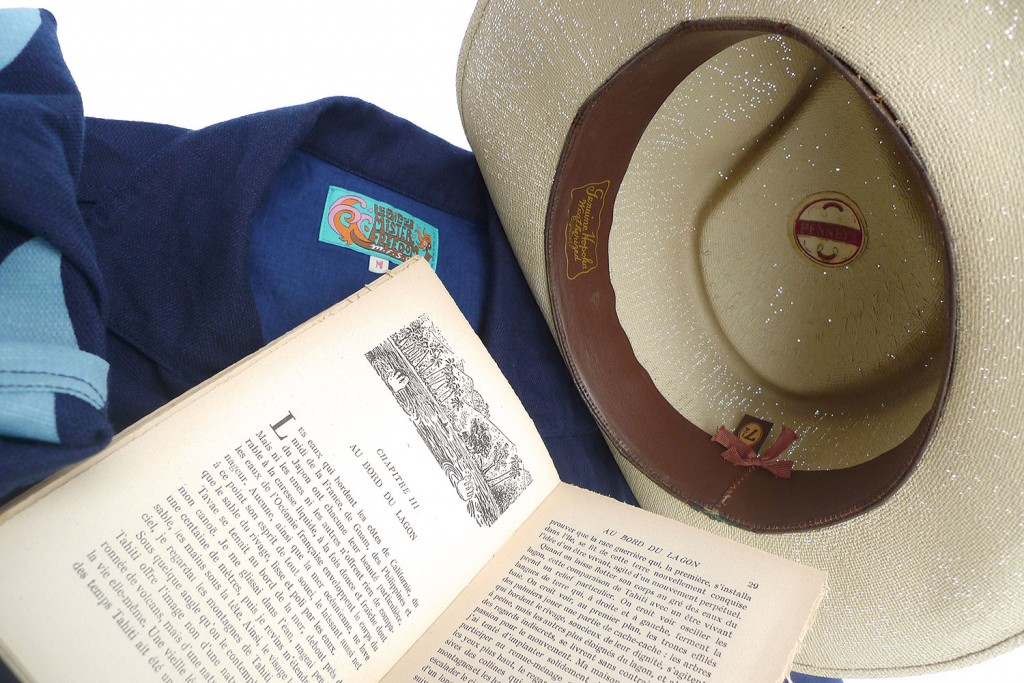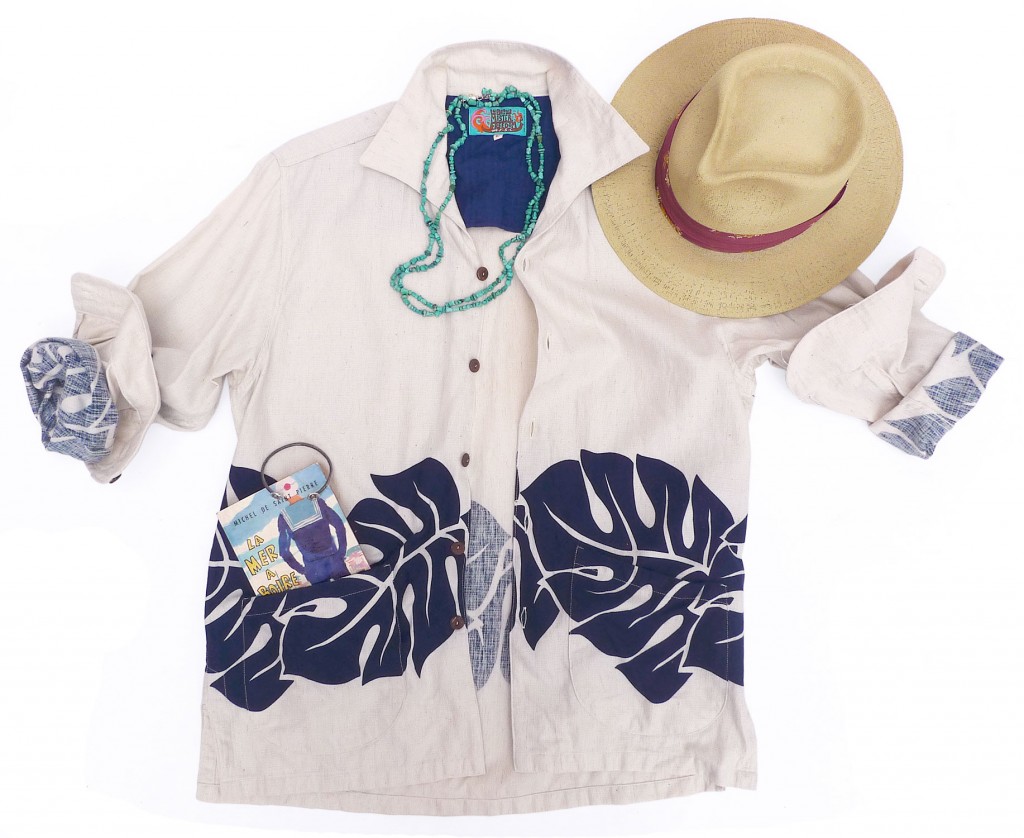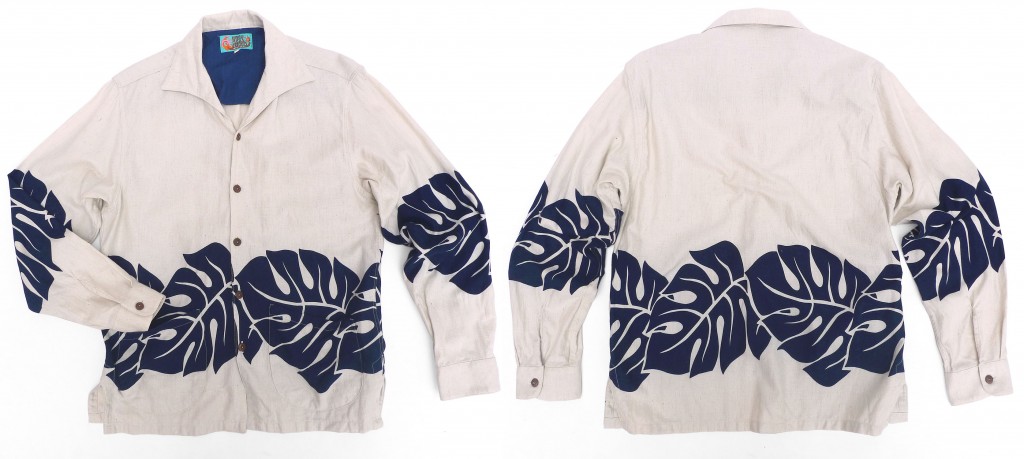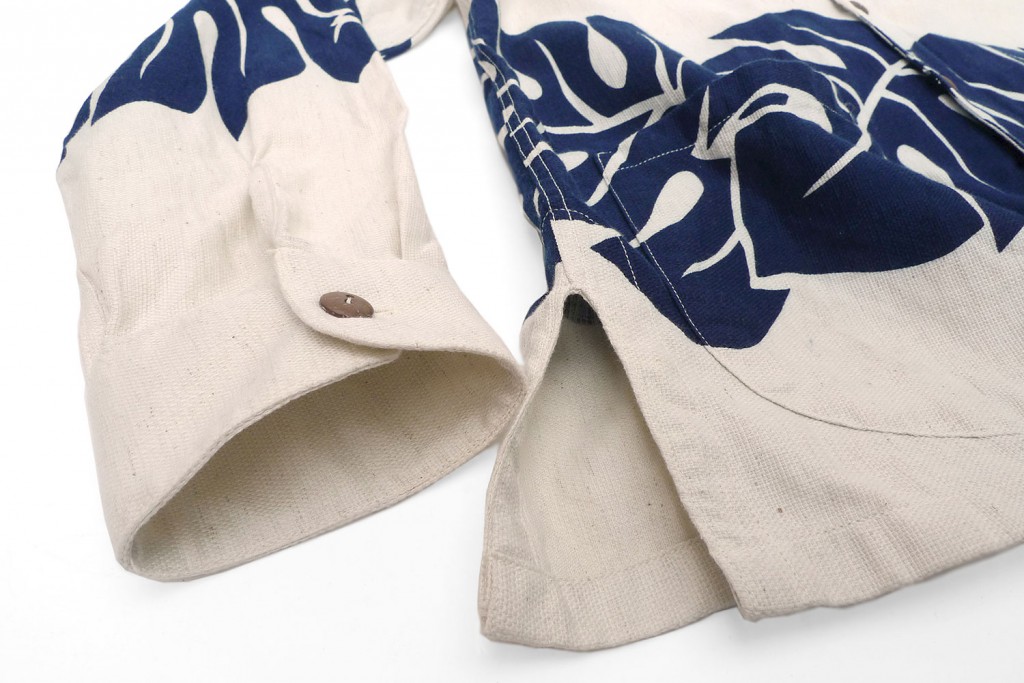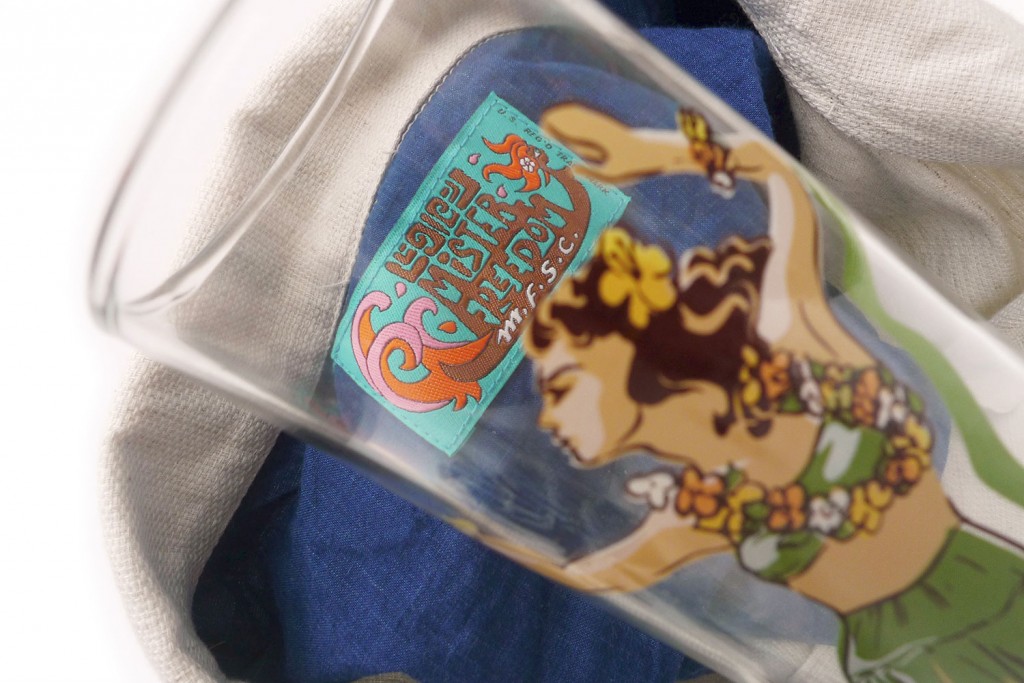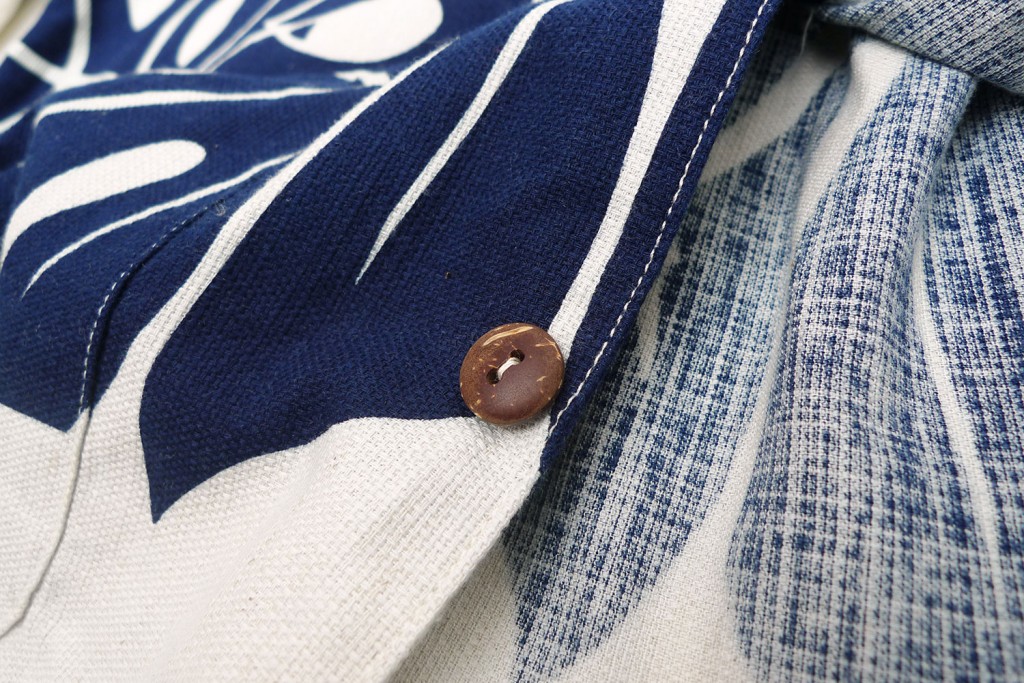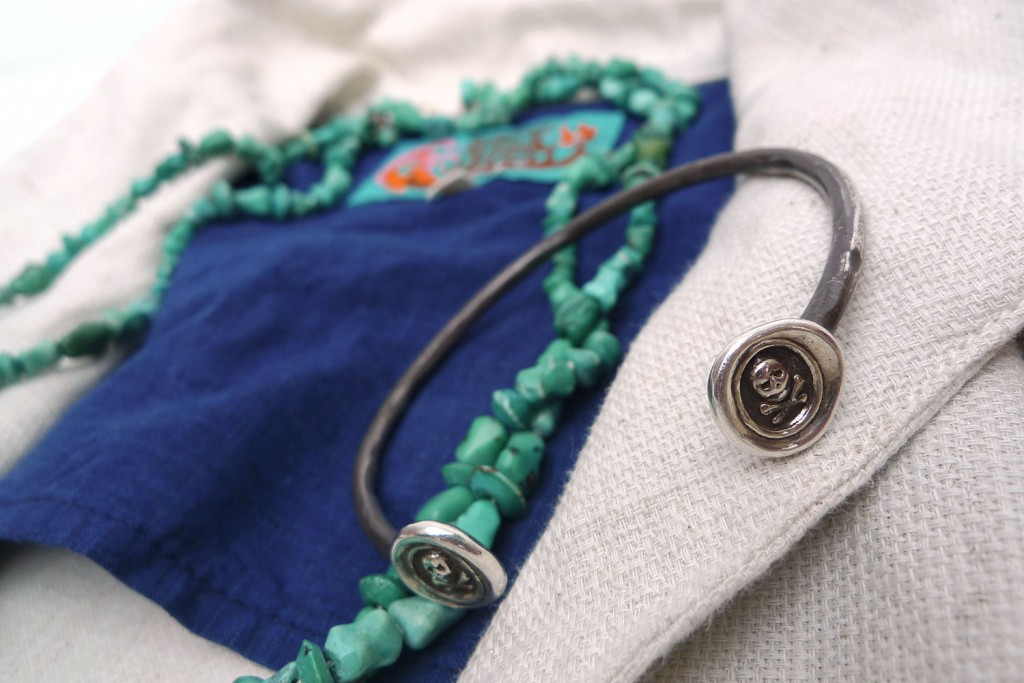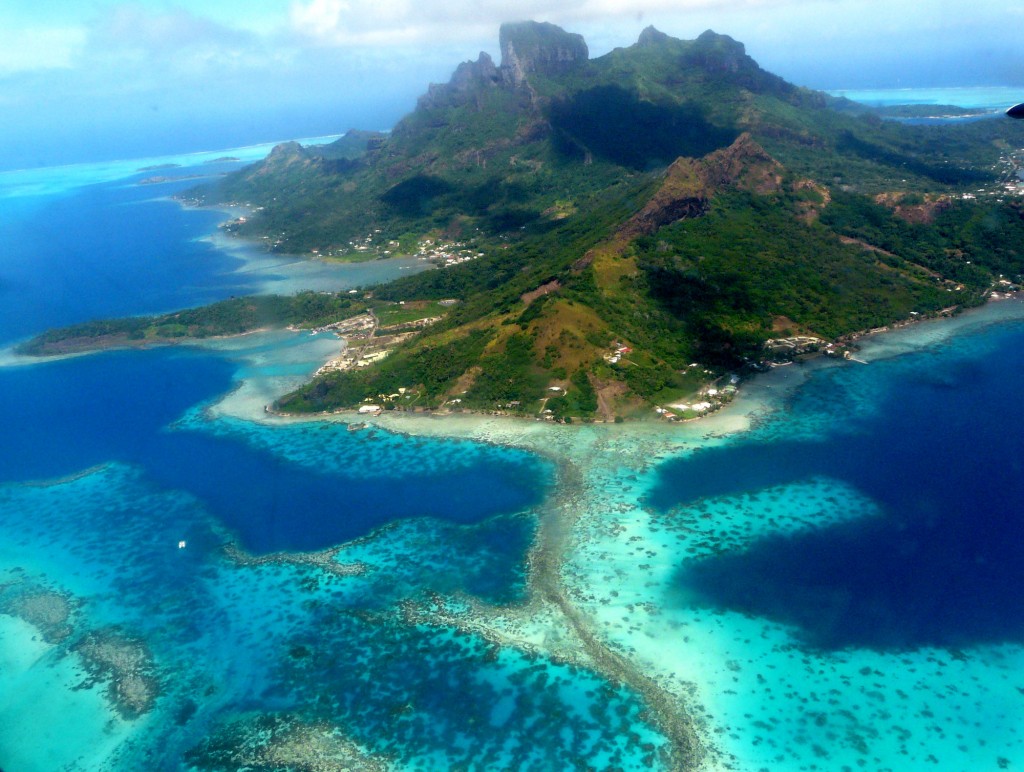 The Bora-Bora Shirt-Jac, cotton-linen.
Monstera indigo print, Day and Night.
Skipper Spring 2016
If you too happen to have fallen under the spell of seafaring tales of Her Majesty's Ship Bounty and her charismatic Master's mate Fletcher Christian, and pondered about the fate of her rogue crew on Pitcairn Island in the late 1700's, then you'll relate to one of the gem of French Polynesia, the island of Bora-Bora.
Besides turning into one of Uncle Sam's outpost and set of eyes on Axis Powers activities in the Pacific during WW2, with thousands of American GIs deployed to its dreamy shores, Bora-Bora locals experienced another island invasion in 1961, by way of an agitated filming crew from Hollywood.
Although it appears that behind-the-camera events turned "Mutiny on the Bounty" into "Mutiny of Marlon Brando" for MGM at the time, Bounty '62 is one of my go-to movies when I need an exotic visual escape. South Sea tales, unlike World news and fashion-related discussions, tend to relax me. I take it all, Jack London's prose, De Bougainville's accounts, massive Hollywood hurricanes, Barefoot Boys tunes, ancient migration theories of Oceania…
Just as Fletcher Christian had happily indulged in island life under the disapproving watch of Captain Bligh, Brando apparently enjoyed the temporary insular pace very much, ultimately taking mental notes while fathoming the depth of his future Polynesian homeland. While at it, he met the beautiful Tarita Teriipaia on set. She could only fight him off briefly, and eventually became the second cast member of Mutiny of the Bounty that Brando got legally hitched to! His first catch-without-release had been actress Movita Castaneda, who had stared in the original 1935 version of Mutiny on the Bounty. He had married Movita in 1960, but divorce her in 1962 to switch to a bonafide islander, Bounty co-star Tarita.
Yes, it's complicated, but Brando was a complicated genius. If you already have a headache, take a break and watch him bust out some Upa-Upa moves in 1967…
Back to Bora-Bora.
If witnessing Brando allegedly binge-eating his way through 52 pairs of tight XVIII century breeches during the 1961 filming of Bounty sounds quite entertaining, another treat would have been to share French skipper and writer Alain Gerbaud's bliss as he sighted the pristine Bora-Bora shores for the first time in 1924, while on his solo circumnavigating voyage. "Oh p*tain, Terre! Terre!" the voice still echoes around the motus. The island was to become Gerbaud's heart anchorage for the rest of his life, taking on Polynesia's cause as his warhorse, and leaving behind a controversial trail of allegations.
Not sure what was actually left from those days when I hopped on a small rattling cargo ferry on route from Papeete to Bora-Bora in 1995. But the tiny island can still spell its magic, from the moment you first spot the indigo blue hues of Bora-Bora's lagoon on the horizon, to the last sip of warm coconut water on the Vaitape docks…
Before digging too deep into these tropical island blues, let's pay a little bit of attention to the Mister Freedom® shirt du jour…
The style of the our Bora-Bora Shirt-jac is inspired by 1950's-60's Shirt-Jac type garments. Casual hybrids between shirts and jackets, these are known in the tropics as the visitor's attire of choice for luau, clambake and other beach BBQ festivities.
A bit about our shirt's graphic… The printing technique of the old-school monstera leaf wrapping body and arms is not your average silkscreening type method. An actual indigo-dyeing process was used to have the blue colors applied. Technically, the fabric is 'indigo-printed', and not indigo vat-dyed or indigo discharge-printed. I unfortunately know more about Brando matrimonial ventures than about the actual printing process, so i'll leave it at that before I start making things up again. Pencilling might be an interesting topic to research for the indigo otaku.
Both color options of the Mister Freedom® Bora-Bora Shirt are using indigo blue for the coloring process. The "Day" version (the white shirt-looking thingy) features a single dark indigo print on a natural background, and the "Night" version (the navy blue shirt-looking thingy) features two shades of indigo blues printed on a natural background.
Textile-wise, the base fabric we opted for, after a lengthy and confusing R&D test period, is a fancy criss-cross basket-weave blend of 20% linen and 80% cotton, unbleached natural white color. The partial bleed-thru effect of the indigo printing, and the particular texture of the fabric, leave the reverse side of the textile with a toned-down negative of the motif.
The back yoke is a floating half-lining, made of contrasting indigo-dyed poplin, an mfsc staple we often use.
The 'shark fin' collar shape, typical of 1950's shirting, is a wearable reminder to please leave sharks out of your soup bowl. Thanks.
Of interest also, our Bora-Bora Shirt-Jac proudly boasts being the first indigo-printed garment in the World to feature two concealed single toothpick pockets. They are located under the collar, and are not to be used for collar-stays.
The Bora-Bora Shirt-Jac is designed in California by Mister Freedom® and manufactured in Japan in collaboration with Sugar Cane Co.
Rig photos are featuring a Pyrate-inspired Vintaglio skull cuff (handcrafted in Dallas, Texas, and gifted by my dear and talented friend and IG foe Kenny "Kato" Thomas), a vintage Penney's hat, and other old things…
SPECS:
Inspired by 1950's-60's tropical island garb, vintage Shirt-Jac type shirts, Fletcher Cristian and French Polynesia.
FABRIC OPTIONS:
1) "Day" Monstera Indigo print: Criss-cross basket-weave blend of unbleached 20% linen and 80% cotton, featuring a dark indigo blue print applied on a natural-color background.
2) "Night" Monstera Indigo print: Criss-cross basket-weave blend of unbleached 20% linen and 80% cotton, featuring a dark indigo blue and aqua indigo blue motif applied on a natural-color background.
Fabric woven and printed in Japan.
DETAILS:
* 1950's-60's long sleeve Shirt-Jac type pattern.
* Actual indigo color print, with bleed-thru effect on the reverse.
* Body wrap pattern design with continuous arm wrap band.
* Two hip pocket, matching monstera leaf pattern.
* Side slits.
* Shark fin shape collar.
* Two concealed single toothpick pockets.
* Indigo-dyed poplin back yoke floating lining, 100% cotton.
* Coconut shell buttons.
* Caballo chainstitch construction, 100% cotton stitching, no overlock.
* Made in Japan.
SIZING/FIT:
The Mister Freedom® Bora-Bora Shirt-Jac comes raw/unrinsed.
We recommend the usual initial 30mn cold soak/occasional hand agitation/spin dry/hang dry process. The shirt in both options will shrink to tagged size.
The Bora-Bora Shirt-Jac is true-to-size. I opted for a medium, my usual size in mfsc top garments. The shirt length is purposely on the short side, typical of period Shirt-Jak garments, a bit accentuated visually by the body/armband wrap graphic.
For general instructions on how we size Mister Freedom® garments, see here. Please refer to sizing chart to figure out what works for you, depending on your own body requirements and silhouette preferences.
CARE:
Launder when hygiene dictates and common sense prevails, like after a particularly messy clambake.
Machine wash. Cold water, gentle cycle, eco-friendly mild detergent and line dry.
Available RAW/unwashed.
SIZES:
14½ (Small)
15½ (Medium)
16½ (Large)
17½ (X-Large)
18½ (XX-Large)
RETAIL $329.95
Available from www.misterfreedom.com, our Los Angeles brick & mortar store, and fine retailers around the World.
Email sales@misterfreedom.com or call 323-653-2014 with any questions unanswered above.
Thank you for your support,
Christophe Loiron
Mister Freedom® 2016