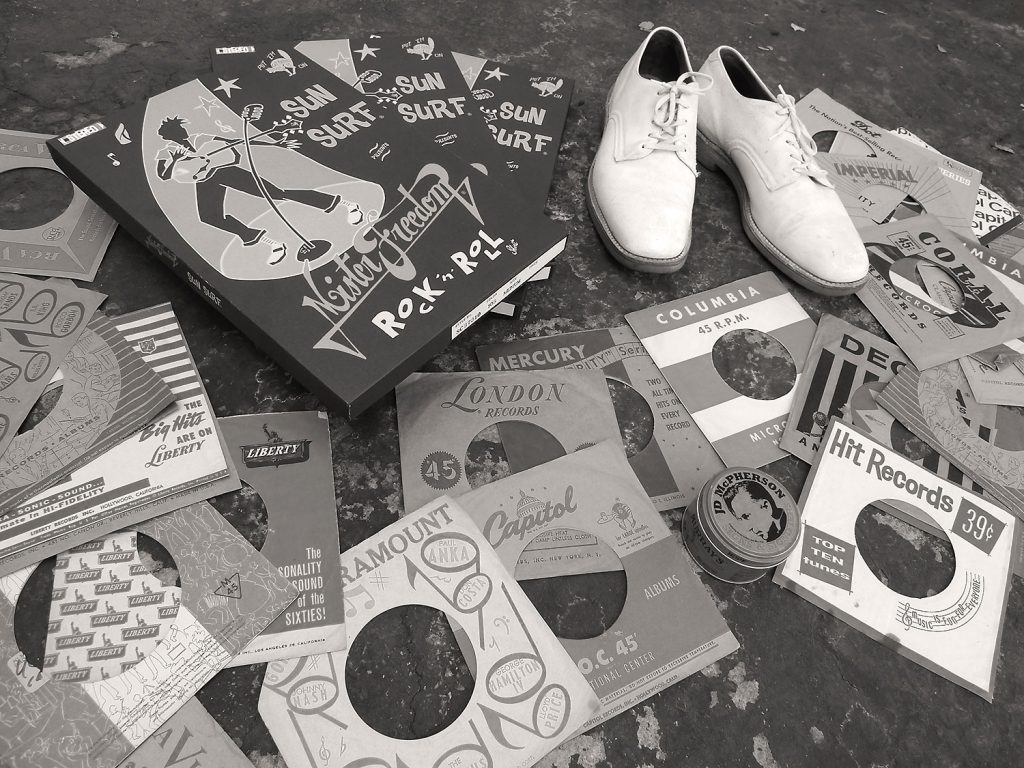 Mister Freedom® x Sun Surf Rock & Roll Shirt
"Rocket 88" Edition, Spring 2016
Following the Spring 2015 introduction of our Rock'n'Roll shirt collaboration with famed Aloha shirt master Sun Surf, here is the much-anticipated Vol.2, stage companion to its "Action Packed" predecessor… the "Rocket 88" edition!
It might sound awkward to name a shirt "Rocket 88" and have it not feature an Oldsmobile, but the story is somewhere else.
"Rocket 88", a fast I-IV-V number recorded in 1951 by Jackie Brenston & his Delta Cats, is considered by some to be THE first recorded Rock'n'Roll song. The Rhythm & Blues outfit responsible for the hit was actually Ike Turner's band under a pseudonym. Besides penning the original tune, Turner is featured tickling the ivories on the intro, an intro lifted note-for-note in 1958 by Little "Good Golly Miss Molly" Richard.
So, was Rock'n'Roll born in March 1951?…
The lines between musical plagiarism and 'inspiration' have always been pretty curvy, and that from the days of Mozart and Beethoven. In the United States, following the court rulings in the 1950 "A Little Bird Told Me" case, song covers have been considered legally sound. Actually, the court was not just debating about a cover on that one, but a pure copycat version. Compare Paula Watson's original song here, and Evelyn Knight's cover here. Paula Watson's record company lost.
The legality flood gates were opened, and, arguably, to the benefit of pop music home listeners. Ethical issues aside, legit covers tend to pull great songs out of anonymity, so that they live forever. If Arthur 'Big Boy' Crudup sadly got peanuts for his genius 1946 "That's All Right Mama" in the unequivocal style he pioneered, it is hard to regret the impact of the 1954 cover. Realizing that his creations only brought fame and fortune to others, leaving him penniless, Crudup boycotted the 'golden' age of Rock'nRoll and regrettably stopped recording for years.
Hopefully Henry Thomas got something out of Canned Heat's hijack, and Oscar 'Buddy' Woods is getting a kick out of Petunia & the Vipers' clip…
Besides the major issue of proper and timely financial compensation, a shameful flaw in the Music Industry judging by the ratio of skinny artists to fat producers and forgotten talents to celebrated couacs, it can be argued that duly credited covers are a needed and normal part of the evolution of Music. Most truthful song writers will admit that composing is about reproducing sounds you've already heard. Tens of thousands of years ago, these were the sounds of Nature, and a bit more recently, the sounds off the radio. Paul McCartney confessed that he held on to "Yesterday" for months after writing it, convinced he had already heard the melody somewhere before… 
Back on track, a cover of "Rocket 88" was also recorded in 1951 by Bill Haley and his Comets, shortly after Turner's. Adding a Western Swing touch to it, this managed to infuse more ingredients into the Rock'n'Roll stew, all the while laying down the foundations of Haley's famous "Rock Around The Clock" style.
The fuzzy guitar sound of the original "Rocket 88" recording would also become important in rebellious youth music. See Paul Burlison of The Rock'n'Roll Trio's efforts on the 1956 "The Train Kept-a Rollin" for more legendary fuzz. If in both instances, rumor has it that the specific guitar sound was due to a malfunctioning tube amplifier, sound distortion helped, at times, mask the limitation of one's guitar playing, as those two awful guitar breaks by said Paul Burlison tend to confirm. Hard to blame the stage monitors (or lack thereof) on this one, considering how Scotty Moore usually managed his licks, despite the screaming of hundreds of hysteric gum-chewing teenage girls. No wonder studios often resorted to replacing 'what the cat dragged in' by competent, consistent, in-house musicians.
I do love and respect the early Johnny Burnette stuff, but music geeks today know that the six-string well-crafted solo gems on the Rock'n'Roll Trio's recordings are courtesy of Grady Martin, the studio's "A Team" genius guitar man. The rest, more 'basic', are Paul Burlison's work.
Whether or not Turner's "Rocket 88" from January 1951 is the first official recorded iteration of Rock'n'Roll is still heavily debated in roots music circles. Could it be Wild Bill Moore or Jimmy Liggins in 1947, Wynonie Harris in 1948, Jimmy Preston in 1949, Erline Harris in 1950, … ?  Could there be possible candidates amongst late 1940's-early 50's Hillbilly Boogie wizards?
Those of you whose pick is Pratt & McClain are invited to go sit at the back of the classroom until further notice.
I guess it probably depends on what makes a Rock'n'Roll song in your song book, singling it out from a fast R&B or Jump Blues number. Is it the racy innuendo (or, later, bubble gum) lyrics, raunchy sound, slap of the bass, guitar tone, uptempo beat, the ducktails, the performer, the performance, the period, the appeal to teenagers… ? One thing is for sure, there's more Rock'n'Roll in 1930's recordings of the Cats and the Fiddle, in early 50's Tiny Bradshaw tunes, and in mid 1950's Radio Four gospel songs, than in Pat Boone's 1956 Tutti Frutti. No offense to Boone's fans, the awkwardness of Great Googa Mooga is amusing, but there's more rockin' and more rollin' in 3 seconds of Teenage Cutie, than in Pat's entire musical career. 🙂
Having said that, one can revere a 1943 Nicholas Brothers' performance, and still dig the 1957 show down of a 58 year-old Fred Astaire cutting a rug. Doesn't have to be either or, when it's good, it's good.

Back in Memphis, TN. If Turner himself is not entirely convinced by the prize title claim, it is commonly accepted that "Rocked 88" is an early example of a 'race record' getting popular with a white audience. No small feat considering that the segregated American South was not exactly color-blind in 1951. In an interview, Turner explains that if his song was not really the first Rock'n'Roll tune, it kinda started that thing called Rock'n'Roll. Turner reasons that "Rocket 88" 's score in record sales got some folks in the music biz thinking. For Sam Phillips, owner of Sun Studio, Memphis, Tennessee, where the song was recorded, sales were a confirmation that if he'd find himself "a white boy who could sing like a black man", he'd "make a million dollars".
A hint of jackpot came in for Phillips sometime in July 1953, when a shy 18 year-old hillbilly sporting pink slacks walked in guitar in hand, paid secretary Marion Keisker the $3.98 required to cut a record, and walked off with his one-of-a-kind plater. That double-sided piece of acetate went on to sell to a mysterious collector for a few extra dollars in 2015. About 299,996 more.
As a business, Sun Studio with its 'We Record Anything, Anytime, Anywhere' motto, managed to put on the map many magnificent artists, and has played a crucial role in defining early Rock'n'Roll and Rockabilly. The studio's output triggered countless musical careers, and is definitely responsible for thousands of adolescents wiggling around in front of a mirror, while holding a broom stick as a mike stand.
The Rock'n'Roll beat that would later blast out of posh venues, take over charts and occupy international air waves, had its humble origins in juke joints, front porches and barn jamborees. It blended blues, boogie, country, black, brown and white. It was one way out of bleakness for many aspiring musicians. You just needed to be real good at it to make it, save for the occasional marketing ploys of desperate record labels pushing an untalented teenage-dream puppet up the charts.
If by the late 1950's Rock'n'Roll had turned into a household name, it definitely had not said its last words. Genetics have taught us that mixed origins make for good, sustainable stock. Inbreeding, not so much. With such rich and mixed cultural upbringings, Rock'n'Roll had nothing but a bright future ahead. Today, traces of it are everywhere in pop culture.
Quite a bit has happened to music in general since 1951, and, as the comment section of YouTube suggests, we all have opinions about it. What's gold and what's rubbish is a mighty subjective matter. I am just grateful that, having figured out where the play button is, I can basically listen to what I want, when I want.
The Mister Freedom® "Rocket 88" Rock'n'Roll Shirt is an homage to the early days of Rock'n'Roll, a musical inclination that might have driven my neighbors nuts for decades. From my teenage years singing with a broom stick and playing air guitar, to shuffling mp3 today, I like it. I know it's only Rock'n'Roll, but I like it. Mmm, I should write a song about that…
Our shirt design is inspired by an unfinished amateur oil painting. After playing a bit with it, twisting it 45rpm record cover-style, we got the graphic and color combinations to convey a bit of the American musical melting pot associated with 1950's music. Since I wanted to actually wear the shirt, it was important to me to avoid the Hard Rock Cafe souvenir look.
The graphic wraps around the body and features a four-piece combo with its three background vocalists, somewhat of a typical 50's rockin' outfit. The stylized characters respectfully hint at a few of the musical influences I dig. A big visual jam session if you will, Alan Freed style. Gene Vincent and the Blue Caps bopping with Steve Gibson and the Red Caps, the Jodimars digging it with Louis Jordan, Carl Perkins jiving with Wynonie Harris, Cliff Gallup riffing with Mickey Baker, Joe Clay tearing it up with Sid King, the Four Tunes harmonizing with the Dominoes, while Bo Diddley's jitterbugging with Hal Harris… In the corner, Chuck Berry's arguing with Jerry Lee over the chords. 🙂
Visitors can testify that echoes of that jam can be heard on any given day at the Mister Freedom® store, where 190GB of eclectic musical goodness shuffles relentlessly amidst the old rags.
Speaking of which, don't forget to visit our Juke Joint, where a few of our talented friends prove that Rock'n'Roll ain't dead!
If the body pattern is similar to the Spring 2015 "Action Packed" edition of the Rock'n'Roll shirt, the "Rocket 88" model features a few changes. The base fabric we opted for this time is a crisp, tightly woven, fine 100% cotton poplin, as opposed to a cotton-rayon blend. Cutting & sewing wise, matching the front panel graphics of the "Rocket 88" was a real task at the pattern-making and marker-cutting stage.
The "Rocket 88" comes in three colors, dark navy blue (it might look black on some monitor screens), ivory, and mint green (teal).
The shirt is still packaged in a fancy recyclable box, featuring original MF® artwork, and perfect to collect your live concert tickets.
The "Rocket 88" Rock'n'Roll shirt is designed in California by Mister Freedom® and manufactured in Japan by Sun Surf and Sugar Cane Co, both branches of Toyo Enterprises.
Vintage photos courtesy of Getty Images, Marv Goldberg, Josep Rulló Guàrdia via Bob Pakes, x, y,  … and whoever originally shot them.
SPECS:
Inspired by 1950's old-school Rock'n'Roll.
FABRIC:
100% fine cotton poplin, milled and printed in Japan.
Three color options:
* Dark navy blue.
* Ivory.
* Mint green (teal)
DETAILS:
* Classic 1950's casual shirt pattern.
* "Rocket 88" edition, featuring original MF® artwork.
* 'Shark Fin' collar.
* Corozo wood buttons, aka ivory nut.
* Double chest pockets.
* Matching front panels.
* Narrow flat-felled seams, tonal chainstitch.
* Made in Japan.
SIZING/FIT:
The R'n'R shirt is pretty much sanforized but comes unwashed. We recommend the usual initial 30mn cold soak/occasional hand agitation/spin dry/hang dry process.
This shirt is designed to have a 50's casual shirt type silhouette. True to size, the shirt has quite a comfortable fit. If you are usually a Medium in mfsc shirts, you are a Medium in the R'n'R shirt.
For general instructions on how we size Mister Freedom® garments, see here. Please refer to sizing chart to figure out what works for you.
CARE:
Launder when hygiene dictates and common sense prevails.
Machine wash on delicate. Cold water, gentle cycle, eco-friendly mild detergent and line dry.
Available RAW/unwashed.
SIZES:
14½ (Small)
15½ (Medium)
16½ (Large)
17½ (X-Large)
18½ (XX-Large)
RETAIL $279.95
Now available from www.misterfreedom.com, our Los Angeles brick & mortar store, and fine retailers around the World.
Email sales@misterfreedom.com or call 323-653-2014 with any questions unanswered above.
Thank you for your support,
Christophe Loiron
Mister Freedom® 2016