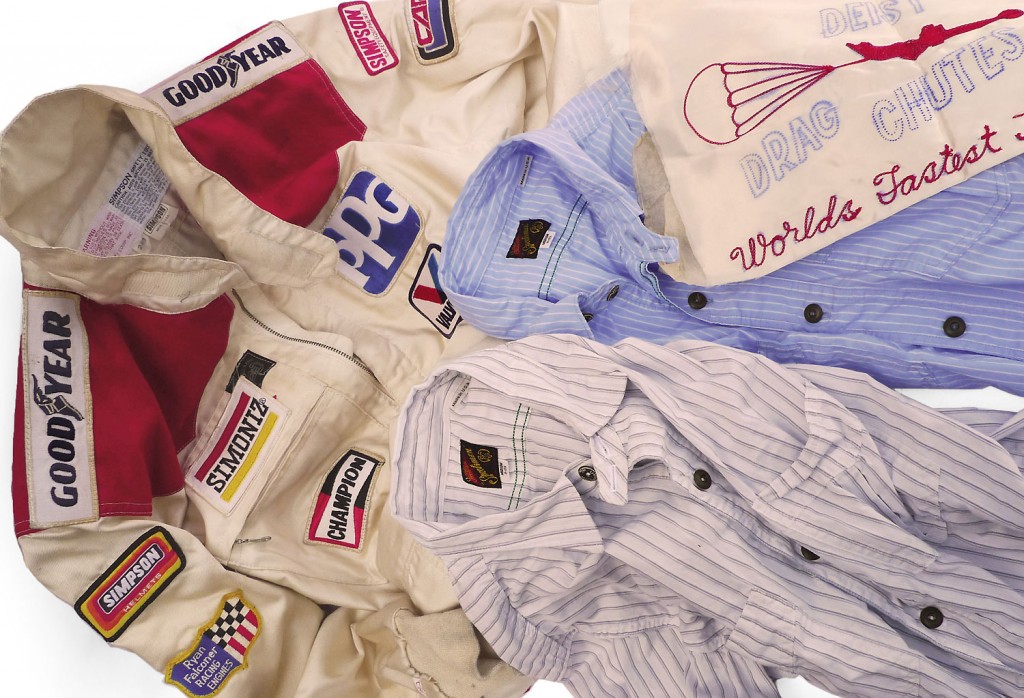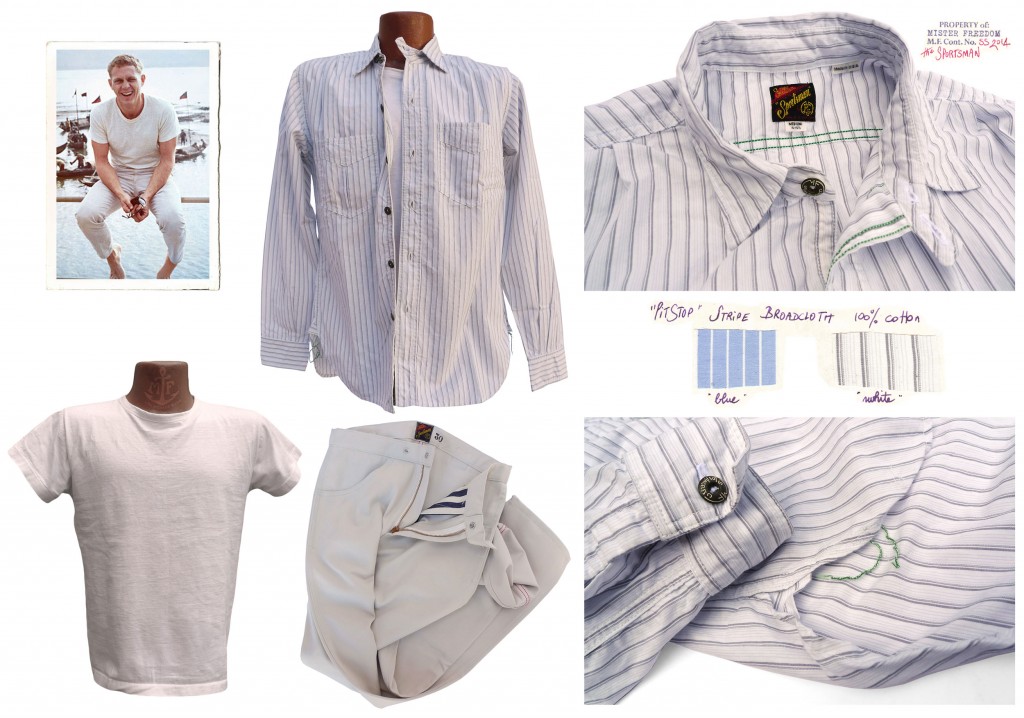 Pit Stop Shirt
"The Sportsman" Catalog, Spring 2014
There aren't many rules in the Garment Industry, but it is often agreed upon that one should avoid the word 'pit' when considering a moniker for a men's shirt.
As a winning formula for a high sell-through, it is not unlike an entire collection of flesh colored polyester overalls.
So, let's proudly introduce Mister Freedom® 'Pit Stop Shirt', another addition to our Sportsman catalog for Spring 2014.
One could think that this was, again, heavily influenced by my personal musical hero, JB.
However, we had two finely woven striped broadcloth selvedge fabrics milled in Japan for the occasion. Inspired by vintage swatches from our archives, these two light weight fabrics have somewhat of an old work/uniform feel to them. Milkman meets delivery driver meets filling station attendant on the Pacific Coast Highway circa 1935, meets Le Mans.
What a party.
The pattern of the 'Pit Stop' is that of our original Sportsman Chambray shirt, featuring some MF® Sportsman signature details that our entire block envies us for. Including across the street.
Things like inverted box-pleat pocketing, shoulder expansion pleats, inside green chain-stitch, metal cast buttons, side gussets, chin strap, American manufacture… to name a few.
Our Pit Stop Shirt is designed and made in California by Mister Freedom®, in collaboration with Sugar Cane Co.
SPECS:
PATTERN: An original MFSC pattern, inspired by our usual vintage influences.
FABRIC:
Two options
a) Blue: fine and light-weight 100% cotton woven stripe broadcloth, selvedge, milled in Japan.
b) White: fine and light-weight 100% cotton woven stripe broadcloth, selvedge, milled in Japan.

DETAILS:
* Relaxed silhouette and fit.
* Original chest inverted box-pleat double pockets.
* Slim chin strap.
* Full button front.
* MF® original olive green painted embossed metal buttons, combination solid and MFSC branding.
* White cotton popeline button facing strip.
* Double front & back expansion pleats on shoulder yoke.
* One piece cuff gusset.
* 100% cotton thread, high stitch count.
* Flat felled seams, with inside green chain-stitch MF® signature.
* Side gussets with self fabric.
* Original "The SPORTSMAN" woven rayon label.
* Made in California, USA.
SIZING/WASHING:
The Pit Stop shirt comes unwashed and will shrink to tagged size. If you are a usually a medium in other mfsc shirts, go with a medium. Both fabric options size and fit the same.
Although a very light-weight and fine fabric, this is a low maintenance shirt, no special care. Machine wash and tumble dry as needed.
Please refer to chart bellow for measurements.
Available RAW/unwashed.
SIZES:
14½ (Small)
15½ (Medium)
16½ (Large)
17½ (X-Large)
18½ (XX-Large)
Retail $289.95
Soon available on www.misterfreedom.com
Please call 323-653-2014 or email sales@misterfreedom.com with any questions not answered above.
Thank you sincerely for baring with us and for your support.