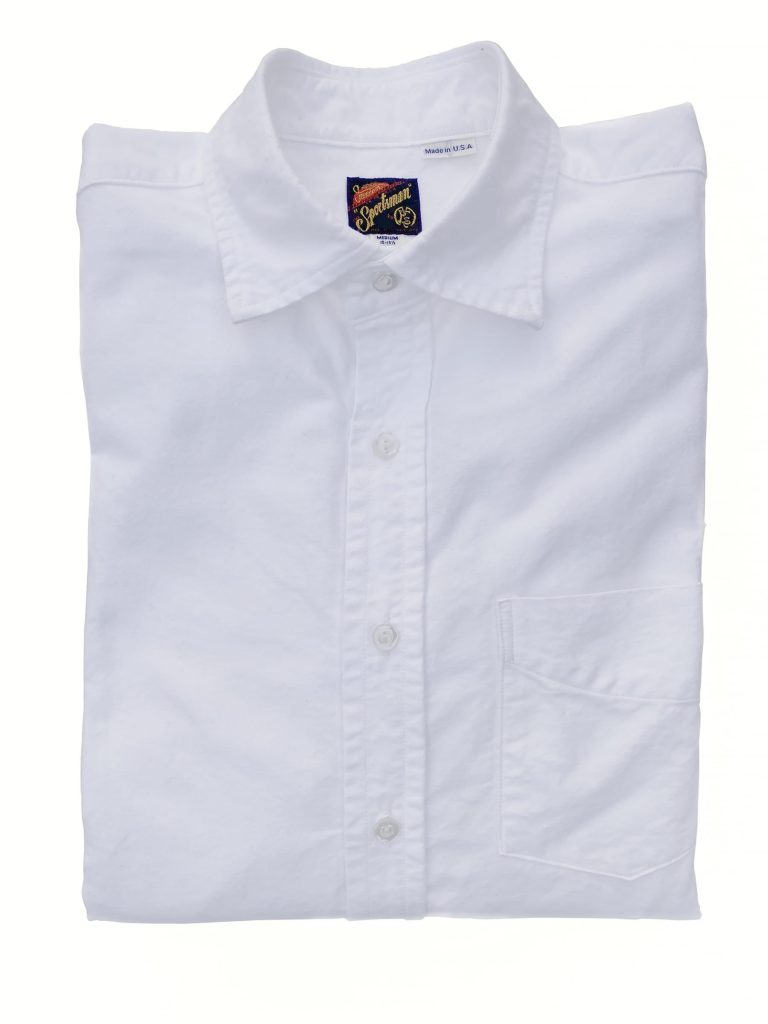 Mister Freedom® "ARISTOCRAT" Shirt, selvedge oxford cloth.
FW2020 mfsc Sportsman catalog
Made in USA
Happy New Year, friends!
The Mister Freedom® "ARISTOCRAT" is a new shirting pattern we are adding to The Sportsman, our catalog of US-made wardrobe essentials.
This original design was inspired by several vintage American and European classic dress and sport shirts from our archives.
Our aim was to merge traditional tailoring details with our own ideas, and simply create an elegant, unpretentious and versatile garment, a modern classic filled with vintage references.
The connoisseur will notice the nod to gents' outfitters Turnbull & Asser – and other bespoke shirtmakers – in our choice of "Regent" spread collar shape (dig that subtle curve), although we opted for an unstructured collar construction (no fusing) for a more casual vibe.
We wanted the chest pocket design to serve as outside branding, rather than an embroidered logo, so our R&D team got extra cups of brain juice to reinvent the wheel, one that would spin our own yarn. Sketches were drawn-up, prototypes made from scratch, and a eureka moment came sometime in February 2020 when an all-original pocket finally surfaced from the drafting table. We had our ARISTOCRAT classic chest pocket: a simple diamond shape with an elegant curved fold and streamlined stitching.
The specific off-set shirt tail cut, front button placket construction, and double button rounded cuffs, were also thoroughly considered and tweaked until it all worked out for our aesthetics.
The shirred rear panel with its rounded piecing patch is a detail borrowed from early European shirting, and, along with the classic side gussets displaying the fabric's selvedge, add to the refined and subtle vintage appeal of the ARISTOCRAT.
To our delight, the US factory did a remarquable job with the stitch count, closely following tech pack for the magic high number, matched by a fine thread gauge. Because of obvious productivity issues, it is often a challenge to convince factory owners of committing to higher-count stitching settings. This can almost double production time (= double production cost), but the results are stunning and always make a garment stand-out next to a more hastily-constructed one. Anyone able to spot a cheap suit will notice the difference.
So, tip of the hat to our family-run local Los Angeles factory, who not only faced unprecedented challenges in 2020, but kept her steady and fully delivered mfsc FW2020.
The ARISTOCRAT is complimented by genuine mother of pearl buttons, another reference to traditional European bespoke tailoring, while the chainstitch construction (using MF® signature green contrast stitching) brings it down a few notches with a workwear touch (bespoke shirts often feature French seams, not chainstitch.)
The discreet red bartack on the gusset is a nod to the red stitched "H" of the iconic Hathaway brand, one of the last American shirtmaker to produce shirts in the USA, until they gave up on that endeavor around 2002…
For the silhouette, we opted for a trim fit, adjusting body pattern and side curves to convey broad shoulders and slim waist, balancing with a traditional shirt tail length.
For this initial release of the ARISTOCRAT, we went for a fancy oxford cloth, the office dress shirt fabric of choice! Ours is milled in Japan, and features an attractive solid white with red line selvedge ID. This crisp and dry hand fabric is on the heavier weight side of the oxford cloth family. With normal wash & wear routine, the shirt will naturally soften over time to the desirable buttery feel of well-worn traditional button downs.
The ARISTOCRAT is a reimagined vintage-style dress shirt that morphed into a versatile, casual, easy go-to garment, dressed-up with a suit or down with a pair of blue jeans, worn with a tie or open collar, tucked or untucked.
The MF® ARISTOCRAT Shirt is designed in California by Mister Freedom® and manufactured in the USA in collaboration with Sugar Cane Co.
SPECS:
PATTERN:
Inspired by vintage American and European classic dress shirts and sport shirts.
FABRIC:
Fancy 100% cotton plain oxford cloth, solid white with red line selvedge ID. Milled in Japan.
Two options, white and blue oxford.
DETAILS:
* Classic, versatile, elegant yet casual shirt style.
* Slim and trim silhouette.
* Classic spread collar with British flair.
* Original chest pocket design, diamond shape with MF® signature curved fold and streamline pocket stop stitching.
* Rear panel shirring with rounded piecing patch.
* Side gussets featuring the oxford cloth selvedge ID.
* Off-set shirt tail lengths (slightly longer rear tail).
* Red bartacks accent on gusset.
* Genuine mother of pearl buttons.
* Double-button rounded cuffs.
* Elegant front button placket pattern.
* High-stitch count and fine thread gauge construction.
* Chainstitch construction with signature inside contrast green stitching.
* Mister Freedom® mfsc "Sportsman" rayon woven label.
* Made in USA.
SIZING/FIT:
The ARISTOCRAT Shirt in oxford cloth comes unwashed and is cut so that the measurements match the labeling AFTER an initial cold soak/line dry. This is a low-maintenance garment as it is designed to go through many wash/wear cycles, and we recommend this protocol before wear:
Machine rinse, delicate settings, cold water, spin dry.

Line dry. (No heat dryer)
I opted for a Medium for a trim, yet not too tight fit, my usual size in mfsc shirting. I am 5'7 ~145 lbs. We recommend getting your usual size in MF® shirts.
Please refer to sizing chart for approximate raw/soaked measurements, understanding that the soaked measurements are the relevant ones, since this shirt is intended to be worn/washed routinely.
CARE:
Machine wash on DELICATE, cold water, mild eco-friendly detergent. Hang dry.
Do not use the washer's heavy-duty cycle. Heat dryer is also not recommended and may result in excessive and irreversible shrinkage.
Available RAW (unwashed)
Sizes
Small
Medium
Large
X-Large
XX-Large
Available from www.misterfreedom.com, our Los Angeles brick & mortar store, and fine retailers around the World.
Email sales@misterfreedom.com or call 323-653-2014 with any questions unanswered above.
Thank you for your support.
Christophe Loiron
Mister Freedom®
©2021