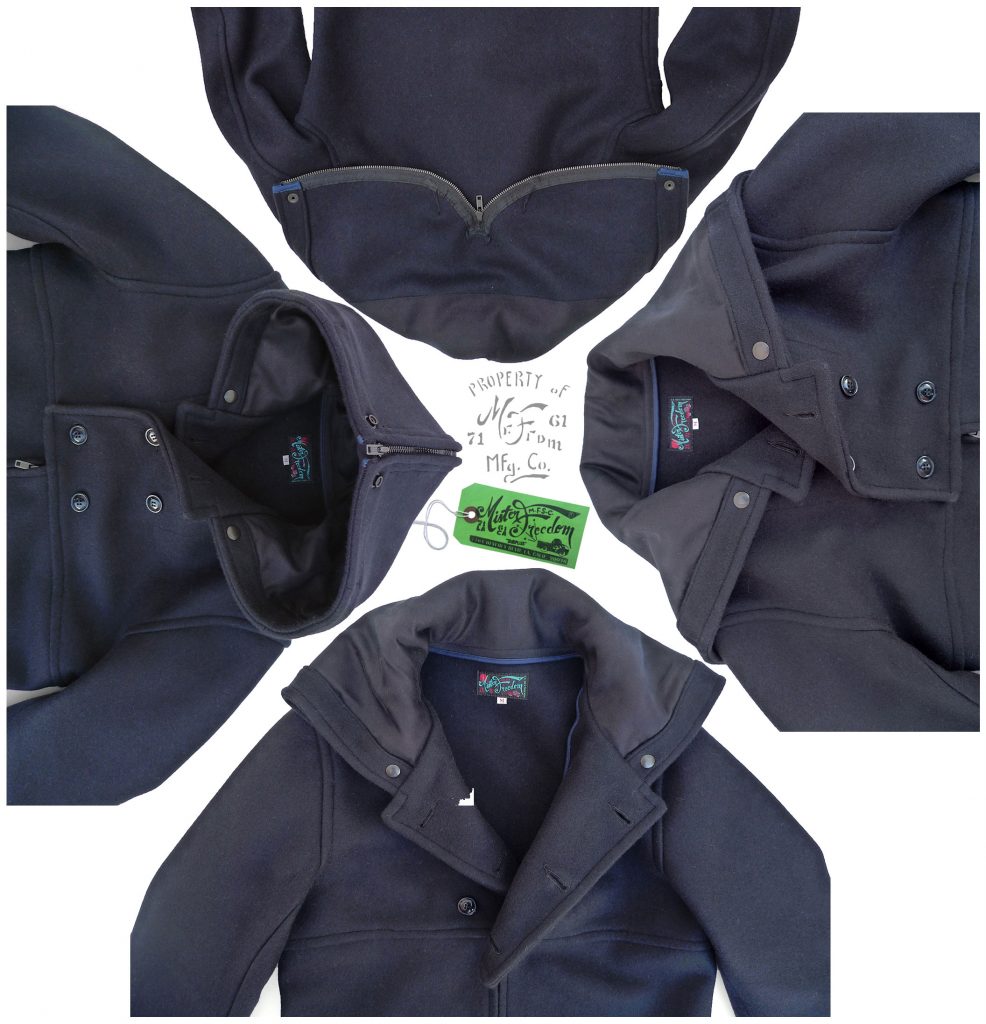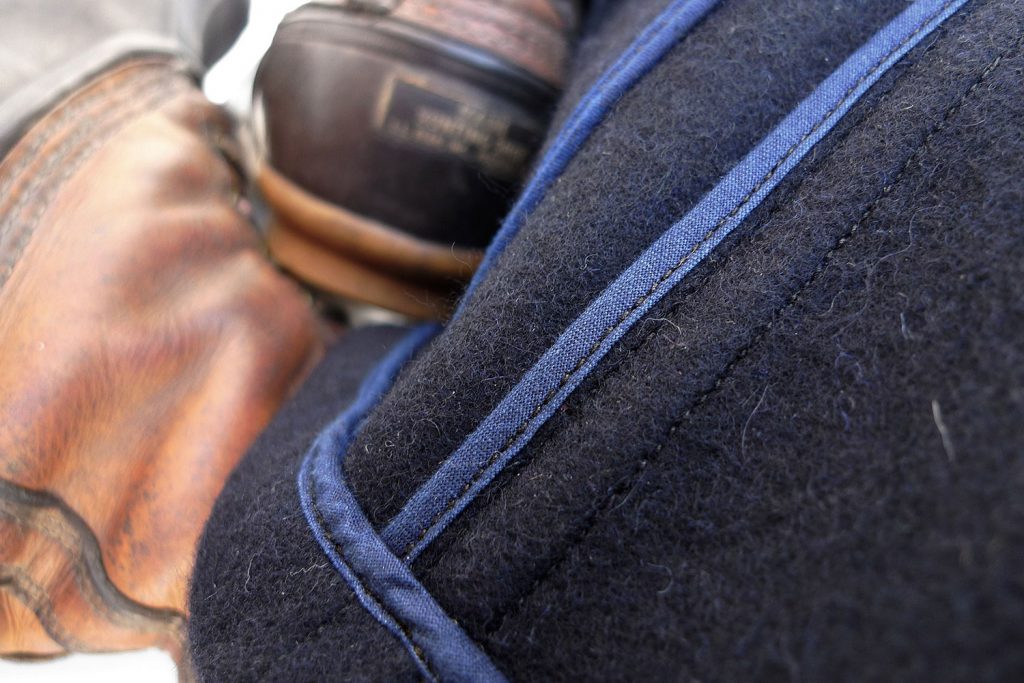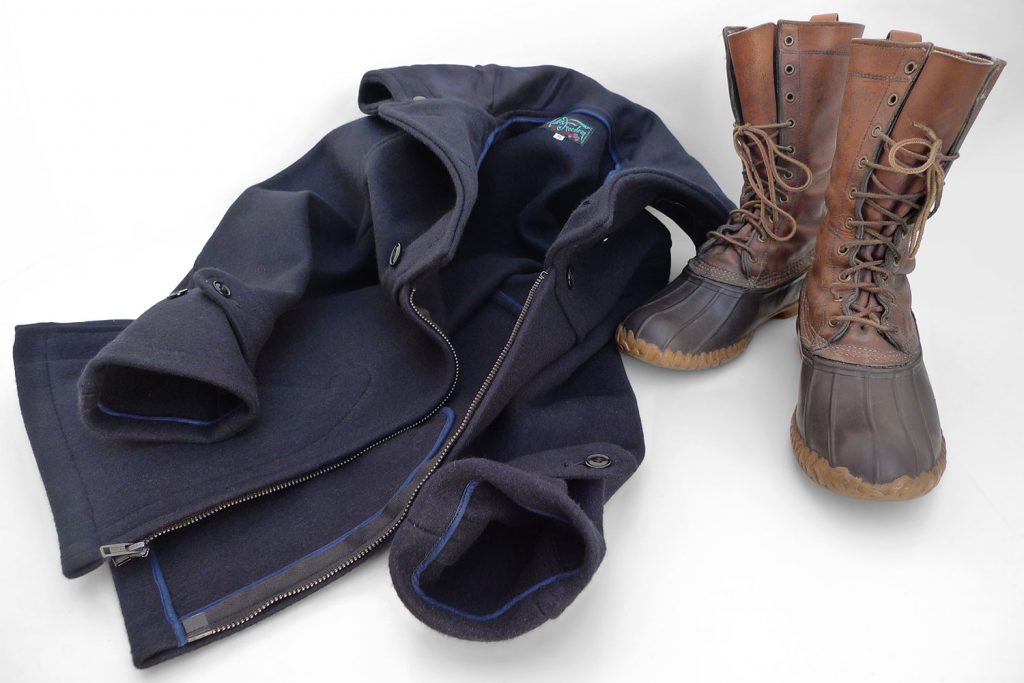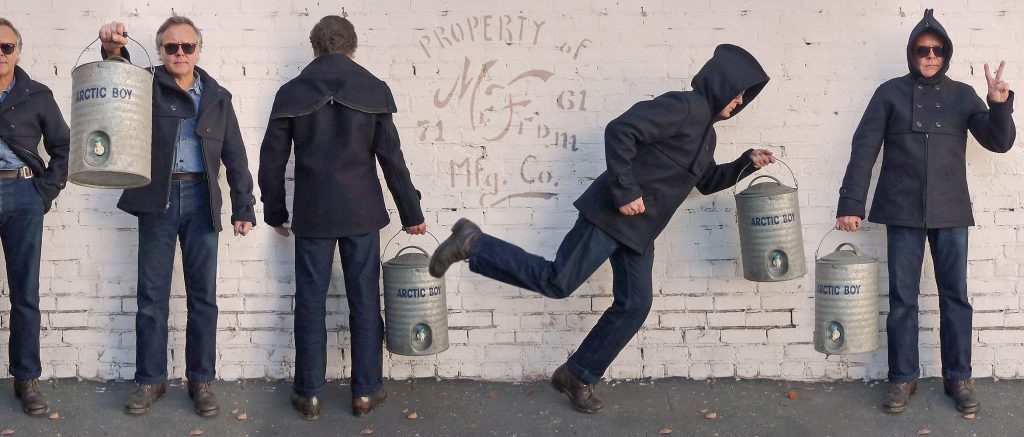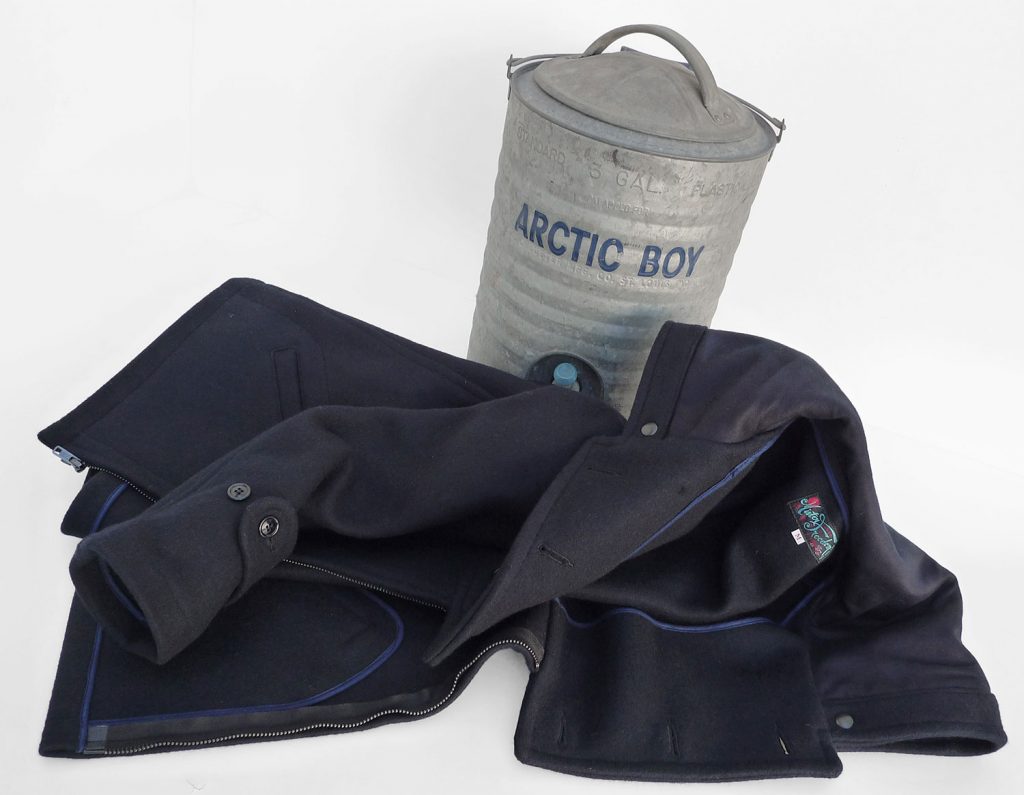 Mister Freedom® HUDSON Jacket, 36 Oz. midnight blue Melton wool.
FW2018 mfsc Surplus collection.
Made in Japan.
We are adding a new vintage classic to the "Surplus" mfsc catalog this season, the Mister Freedom® "HUDSON" jacket, a design inspired by an obscure 1930's unlined wool coat made by the H.W. Carter & Sons label (Est. 1859, read the history and some legal tidbits here) and cut from a genuine Hudson's Bay point blanket.
We'd saved this vintage outdoor garment in our archives for quite some time, waiting for the right twist to put on it. The spark came as we were working on releasing a type of US Naval Academy Midshipmen wool hooded jacket. We thought of combining both designs… and there it was, the MF® HUDSON!
Our jacket pattern has a modern, elaborate and elegant feel to it, but is a lift of what was essentially a well-thought and functioning outdoor garment. While working in the field, the double-breasted top-half of the jacket buttons-up to keep the chest and neck protected from wind and cold, while the bottom-half zips up and down to allow access to the pockets of an inner (denim or else) jacket. The split-pattern hood, when not worn to scare the neighbors, unzips to lay flat as an extra layer to protect the shoulders, but also folds in half and snaps-up to the shape of a somewhat regular open collar. You can style this thing in about as many fashions as you can tie the MF® skipper paréo.
We opted for a 36 Oz. midnight blue Melton wool fabric (the weight of a vintage USN Peacoat), secured from our friend Buzz Rickson's own coveted stash of vintage mil-specs US Navy trims and textile replicas. Because of the unlined construction of our HUDSON jacket, we resorted to taped inside seams, a reference to 1930's sportswear and outdoor jackets, and a nod to early manufacturing savoir-faire. Because we know your inner beauty matters, we graced the seams with indigo-dyed cotton tape of a desirable narrow width, as seen on 1930's unlined specimen.
The detail-oriented will also notice that the adjustable wrist cinch tabs are backed with black cotton sateen fabric, a common feature of vintage CPO shirts and old wool garments. Concerned about your comfort, we also kindly lined part of the collar (the portion in contact with the neck) with a soft-hand NOS cotton sateen fabric. It's tonal, so you can hardly see it, but those sensitive to wool will appreciate.
The MF® HUDSON jacket is designed in California by Mister Freedom® and manufactured in Japan by Sugar Cane Co and the expert Toyo Enterprise team.
SPECS:
FABRIC:
Soft-hand midnight blue 36 Oz. Melton wool, fabric-dyed, vintage mil-specs US Navy type cloth, milled in Japan.
DETAILS:
* An original mfsc pattern, inspired by vintage 1930's unlined outdoor sportcoats and 1960's USNA Midshipmen jackets.
* Unlined body construction featuring attractive taped inside seams, with 1930's-style narrow-width indigo-dyed cotton tape.
* Double-breasted button-up top block and zip-up lower half.
* Tonal corozo wood buttons.
* Versatile collar pattern design: lays flats on shoulders, zip-up as a hood, folds in half and snaps-up to the shape of a regular open collar.
* Vintage NOS cotton-tape "Talon" metal zipper, oxidized black.
* Neck collar area partly-lined with soft tonal NOS cotton sateen fabric.
* Adjustable cinch tabs on wrists, backed with black cotton sateen fabric.
* Woven mfsc Surplus label.
* Made in Japan.
SIZING/FIT:
The MF® HUDSON jacket is ready-to-wear, and does not require any special process before use. It is true-to-size, and somewhat intended as a top layer. I opted for a size Medium, my usual size in mfsc jackets, for a comfortable fit that will allow wearing a denim (or the like) jacket underneath.
Please refer to sizing chart for approximate measurements, to figure which size will work for you.

CARE:
Professional dry-clean only, from your local eco-friendly facility.
Do not wash.
Available un-issued.
Sizes
36 Small
38 Medium
40 Large
42 X-Large
44 XX-Large
Available from www.misterfreedom.com, our funky-fresh Los Angeles HQ, and fine retailers around the World.
Email sales@misterfreedom.com or call 323-653-2014 with any questions unanswered above.
Thank you for your support.
Christophe Loiron
Mister Freedom®
©2018