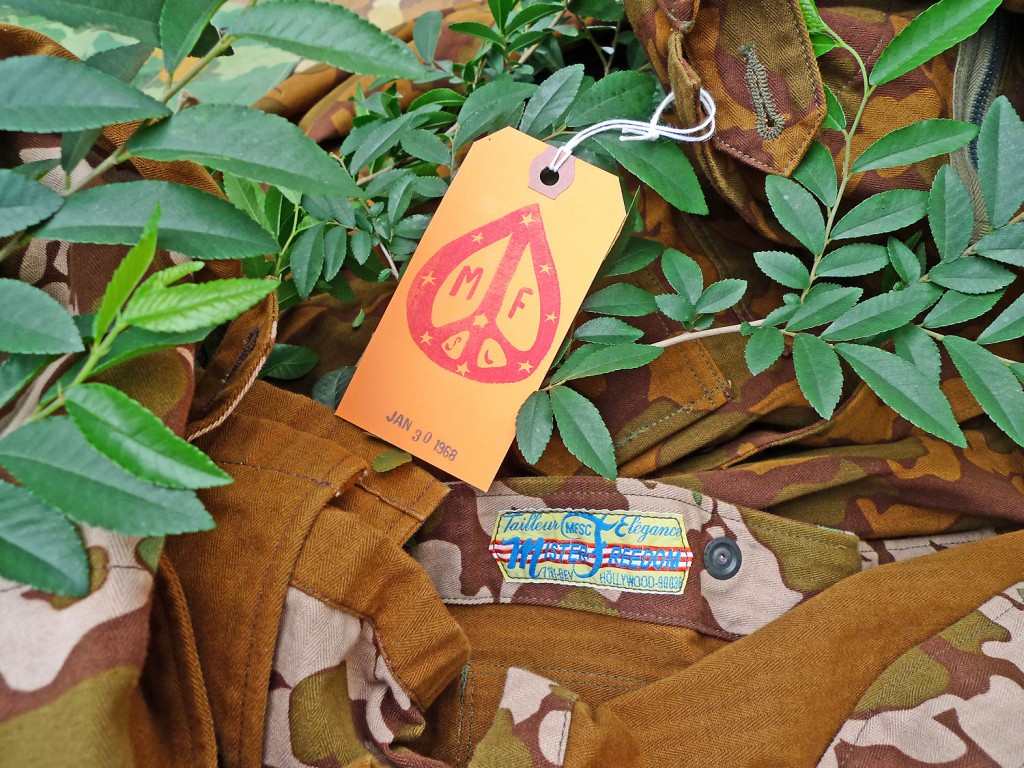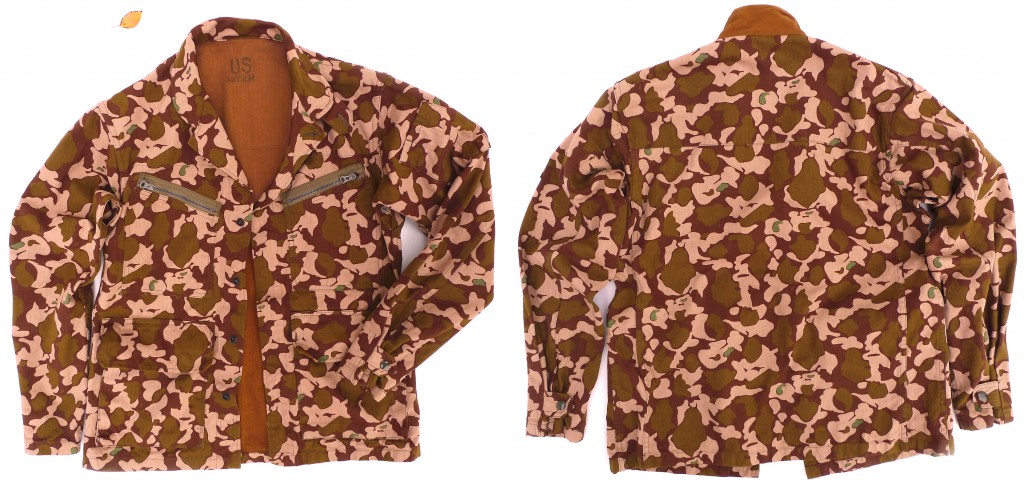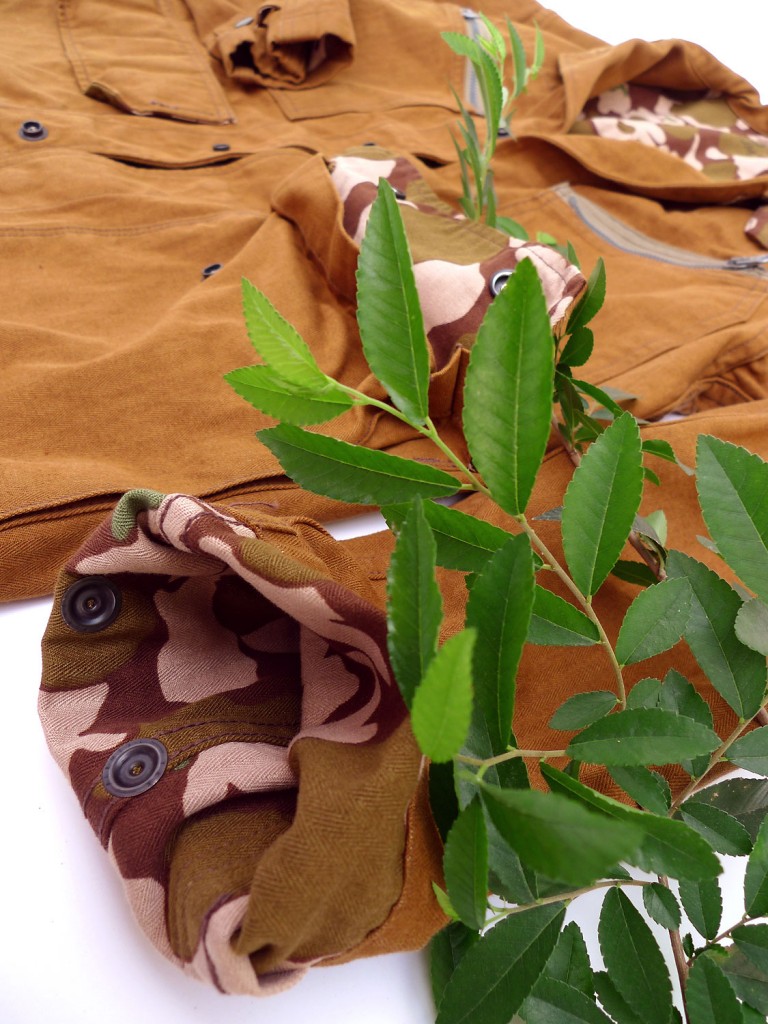 Evac Jak, Experimental Camouflage
Mister Freedom® "Saigon Cowboy" Spring 2015
After an Homeric attempt at an introduction of both our intentions and the background of our Spring 2015 "Saigon Cowboy" concept collection, here comes the time to actually unleash its first chapter. Straight off the steamy jungles where the panthera tigris, majestic beast of the night, roamed free. Until…
…whomp-whomp-whomp-WHOMP-WHOMP-WHOMP…
(skies fill with green UH-1s above the canopy, "Ride Of The Valkyries" plays)
It's show time… sit back and cringe.
It is a documented ancient tradition for warriors to adorn themselves with the furry hides of ferocious hunted creatures, in order to appropriate and hog specific powers from the animal kingdom.
This practice seems to have extended to modern warriors by way of printed cloth known as camo. From the leopard-print cowboy hats of some US advisors in Vietnam to the flashy cheetah-print fatigues of the General Mobutu's Armed Forces of Zaire in the 1970's, it can be said that there is no end to human creativity in the concealment business.
To quote the New York Times in a camouflage-related piece back in 1917, "It is a wonderful opportunity, this game of hokus-pokus".
Nothing spells human ingenuity like painted zebra stripes on a donkey or battleship to fool the enemy.
For the past 100 years or so, commercial or military camouflage has continued to appear in all kinds of shapes, colors, forms, at various levels of justification. See the "Disruptive Pattern Material" brick (ISBN-13: 978-1554070114) for a potential camo coma.
In the printed camouflage family, the military 'Experimental' group is of particular interest to me. It features patterns painstakingly designed by boards of experts that never made it to standard issue status, from either lack of interest, failure of the field tests, budget issues, fluctuations in theater of deployment according to where the evil enemy of the month hides, etc…
Specimens of obscure patterns are sporadically unearthed and sometimes shared by collectors, such as this handsome "MacLaren" for instance. Some patterns are only known to be in existence from a brief feature on an official publication or rare field test photo set. Whether one-of-a-kind individually hand-painted for a specific mission, or produced in small batch/tested in combat/pulled as inconclusive, there's gotta be some interesting stories about these experimental camouflage pattern in the Fort Belvoir archives (US military's headquarters for camouflage R&D in Virginia), or the Natick Labs file cabinets…
In an effort by the Clothing Division of the Office of the Military Planning Division to financially recover part of the cost of R&D, it is plausible to imagine that rolls of obsolete experimental camouflage fabric ended up being sold to jobbers or Army/Navy surplus stores, eventually cut & sewn into tarps, hunting clothes and civvy fatigues. Obscure sample runs and seconds from the stock pile of a fabric-printing mil-specs contractor could also surface out of nowhere after liquidation…
For the Mister Freedom® Spring 2015 "Saigon Cowboy" collection, I thought of temporarily playing camoufleur. But how does one 'invent' a camouflage? Relieved of the overwhelming pressure of having to help save or take lives, I was still shooting for something that would look more legit than foofoo. Besides the early realization that most assignments are better left to professionals, off we were on our merry way to come up with the first ever 'original' MF® 'flage! Oh boy…
As most camouflage patterns are an interpretation of a predecessor (the 1980's Woodland is an evolution of the 1960's ERDL leaf pattern), I felt less shame borrowing the famous amoeba shapes of the P1942 "Frog Skin" we had used for the Map Shirt of our Sea Hunt days . We opted for the same sturdy 100% cotton HBT white base fabric however, the same painstaking rotary-print technique (not computer printed or over-dyed), and the same concept of a reversible fabric.
The fun part was selecting the colors… and determining where exactly the MacLaren-inspired sparse lime green amoebas looked best.
After going back for weeeeeks to the drafting table, with color swatches and unsatisfying protos, going bananas and obsessing about visual contrasts & blends, face & reverse, we managed to settle on ONE pattern, in several options.
If our approach is an obvious nod to the Beach & Jungle sides of 40's USMC reversible Frog Skin gear, the MF® Exp. camo combines camouflage with a simple solid side. The solid side cachou color is a reference to the caramel-like color typical of 1930's French military canvas gear. Please note that if our fabric is technically reversible, the resulting garments are not.
For confusion sake, and to make sure everyone feels as in-the-fog as we do, here is a list of MF® Experimental 'flage options available this season (please note that, depending on distribution in a specific Country, not all options are available). The face/reverse options are:
A) LoLand out (jungle, darker)/cachou in.
B) HiLand out (arid terrain, lighter)/cachou in.
C) Cachou out/HiLand in.
Wearing an early proto jacket of the MF® LoLand camo the other day at the Rosebowl flea market, it was quite satisfying to be asked by a puzzled seasoned militaria collector "What Country is that?"… Made my day.
The MF® Exp. camo is featured on two pieces of our "Saigon Cowboy" Spring 2015 collection.
* The Evac Jak.
* The Utes.
First to hit the LZ this season is the "Evac Jak", a snap closure cotton jacket.
For the inclined, a bit of approximative History and semantics follows. Read or fast-forward, but as always make sure not to quote me on anything that requires exactitude…
The name we picked is a reference to MEDEVAC, the call sign for helicopter ambulance and crew in charge of medical evacuation during the Vietnam conflict. For the 1st CAV who forged its own, a MEDEVAC crew consisted of an Aircraft Commander, Co-Pilot, Crew Chief, Door Gunner and a Medic. Defying the odds of survival by most likely landing in a hot zone, these men gave their lives to save others'. Statistics have it that, among the ranks of American soldiers fighting in Vietnam, "nearly 98% of those wounded in action were evacuated from the battlefield alive."
That courage qualified the dustoff crews as a trooper's best friend on the battlefield. For the wounded soldier, the sound of that Huey coming to the rescue was sweet & sour music, the sight of that flying Red Cross meant a ticket back 'in the world'.
In a war that dragged over a decade, in-the-field gallantry could only be sustained by the relative reassurance of knowing someone was coming to lift you out of the muck on time. Countless accounts of courage and sacrifices from those MEDEVAC and DUSTOFF crews have been published.
Similarly, the NVA (=the communist North Vietnamese Army, China's protégé opposing the South Vietnamese Army, aka ARVN, America's protégé… just look it up) went through great length to carry their fallen away from the battlefield for proper burial ceremonies. Faced with fighting the most powerful Nation on Earth, NVA and VC troops needed the guarantee of a better afterlife to accomplish the impossible…
Back to our fiction…
Because a specific helo pilot-issued jacket didn't seem to happen during the Vietnam conflict, we decided to come up with one. The style of our "Saigon Cowboy" Evac Jak is inspired by 1960's US Air Force flight suits, 1950's French army field jackets and Vietnam era flyboy gear, with an in country-made flair. Pilots and flight crews occasionally had custom local-made gear to replace the standard Gov't issued garb, as period photography hints. Camouflage appealed to some airmen, should they themselves get to experience waiting for a dustoff… The one-piece flight suit also proved unpractical and some pilots, fixed wing or rotary, opted for the jacket (shirt)/pants combo.
To accentuate the local-made meets custom Saigon tailor 'vibe', we have ink-stamped sizing in a manner reminiscent of CISO-supplied military garments. The "US" stood for sizing following American standards, as opposed to the "A" stamp differentiating  Asian standards garments. See the book "Tiger Patterns" (ISBN-10: 0764307568) for more on that.
For the anecdote-oriented few, the idea behind our MF® "mfsc Tailleur" woven label being somewhat concealed on this jacket (bottom of the inside front panel, and not in its expected back yoke position), is to highlight the contrast between name-branding and the signature of a local tailor. Oddly enough, in the past, legit tailors tended to sign their works in a conspicuous spot. Famous Brands today do it on the outside, with voluminous logos.
The Evac Jak is designed in California by Mister Freedom® and manufactured in Japan by Sugar Cane Co.
SPECS
FABRIC:
Somewhat original Mister Freedom® camo pattern, double-side rotary screen printed (one side solid, one side camo), white 100% cotton Herringbone Twill (HBT) fabric base.
Fabric milled and printed in Japan.
DETAILS:
* Inspired by vintage USAF flight suits and French military field jackets.
* Un-lined, no overlock seams.
* 'Bat sleeves' arm pattern.
* Flight suit typical slanted chest pockets with mil-specs replica 1950's US Air Force metal "CROWN" zippers.
* Large lower cargo-type pocket.
* Concealed snap front closure.
* Arm pen pockets.
* Wrist snap cinch tabs.
* Round collar with removable chin-strap
* Underarm mesh screen eyelets.
* Intricate front/rear shoulder yoke.
* Flat felled seam construction, 100% cotton thread.
* Non-reversible.
* Made in Japan.
SIZING/FIT
This garment comes raw/unwashed and will shrink to tagged size after an original cold soak/line dry. Further shrinkage to be expected with the use of hot water and heat dryer.
All MF® Exp. Camo fabric options will shrink the same.
If you are a Medium (38) in mfsc jackets, you are a Medium in the Evac Jak.
Please refer to sizing chart for measurements reflecting a 30mn cold soak no agitation/light machine dry.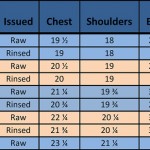 CARE:
Launder when hygiene dictates and common sense prevails.
Machine wash. Cold water, gentle cycle, eco-friendly mild detergent and line dry. We recommend turning garments inside out to avoid marbling of the fabric during the washing cycles.
Because the base HBT fabric is white before being printed, toning down of colors will naturally occur. This fading should not be considered a quest nor a defect, only the natural consequence of the wash/wear process over the years.
Available RAW/unwashed
SIZES:
Small
Medium
Large
X-Large
XX-Large
RETAIL $429.95
Available from www.misterfreedom.com, fine retailers around the World, and our dusty Los Angeles brick & mortar store.
Email sales@misterfreedom.com or call 323-653-2014 with any questions unanswered above, like what happened to D) Cachou out/LoLand in???!
Thank you for your support