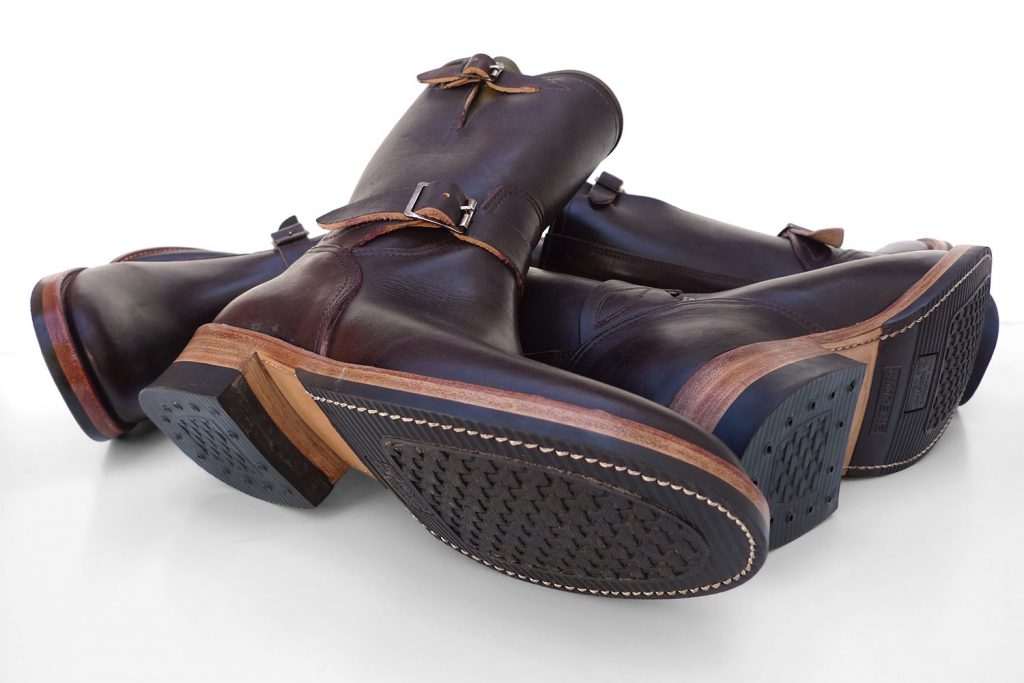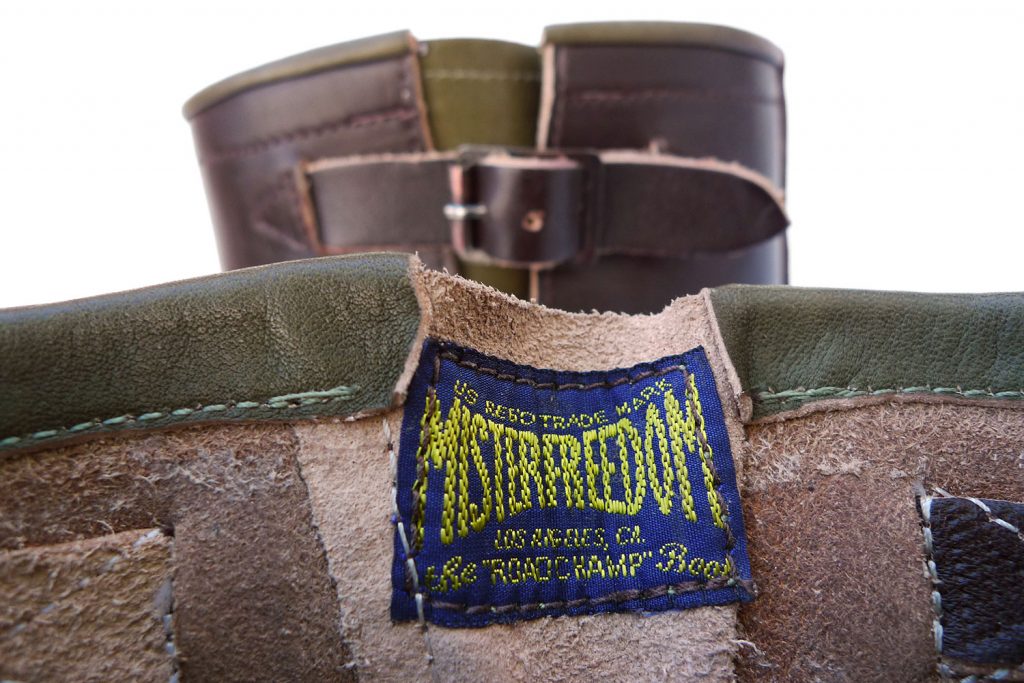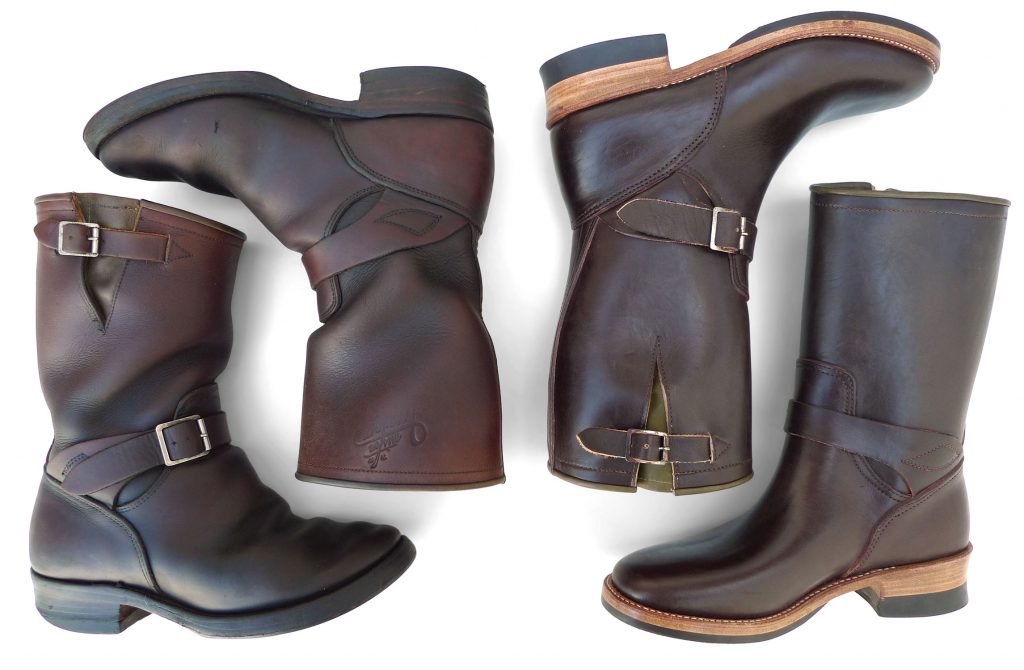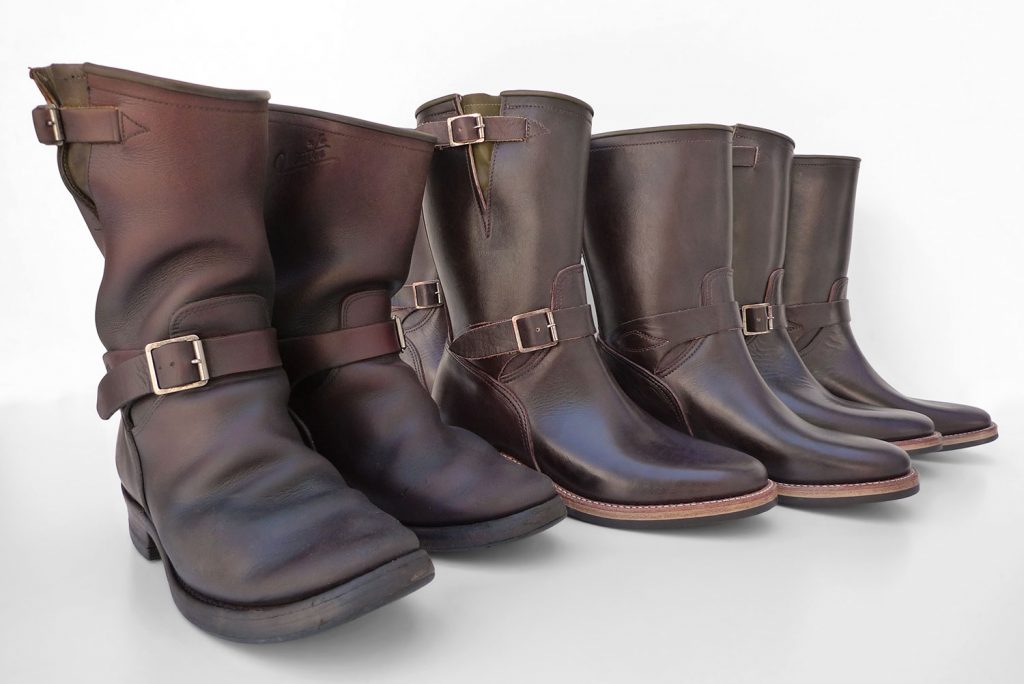 Mister Freedom® ROAD CHAMP Engineer Boots, brown.
NOS Nitrene rubber sole edition, Spring 2017
Made in USA.
The Mister Freedom® "Road Champ" engineer boots are the result of 2½ years of research & development that started sometime in 2006. By the end of 2009, after a painstaking process of designing, last carving, sourcing, custom leather tanning, color testing, hide selecting… the first batch of RC was finally released.
Followed many more batches throughout the years, in a wide range of brown hues. Our hides are vegetable tanned and individually hand-dyed at the factory. Fluctuation in color came with the territory, adding quite an interesting uniqueness to each pair.
After an appearance in jet black hand-dyed leather in 2015, the classic Mister Freedom® Road Champ engineer boots are now back in the original brown cowhide leather of the initial release. We added the New Old Stock Nitrene rubber sole and heel of the BRC issue for good measure.
These vintage Nitrene half soles (a limited stock introduced with the MF® Trooper Boots) have proved to be longer-lasting on asphalt than Cat's Paws. They boast a "Non Marking – Oil Resistant – Long Wearing" quality. Rubber soles are definitely less slippery than the full leather soles of the original RC.
The last, pattern, MF® signature green top, sizing, price of these 2017 brown Road Champs all remain identical to our first 2009-released RC.
The production is still a slow process, but it appears that we are mostly caught-up with the wait list now! The Mister Freedom® Road Champs are still made in very small batches, so size availability will continue to be limited and stock status quite erratic. Again, this is not a marketing strategy on our part, nor a way to aggravate customers with an artificial hype, but rather the result of us striving to keep quality standards.
We never claimed to do it best, just try to do it right.
On a broader scale, and in this golden age of disposable wares, cheap imports and reckless consumerism, we're just happy there still is footwear manufacturing activity in the USA.
Vintage engineer boots enthusiasts will make sure to check out our friend USMC John "VEB" V.'s blog for valuable info, historical references, brand reviews and pertinent updates related to this iconic footwear category.
NOTE: The worn pair of Road Champs featured in the photos in about three years old. If the leather color and grade is the same, the soles of that old specimen were originally full leather, and feature a non-slip thin rubber pad that was added during a later custom resole.
SPECS:
* The Mister Freedom® Road Champ boots are the result of 2 1/2 years of R&D in California, and were originally released in 2009.
* Featuring an original Mister Freedom® panel pattern and original hand carved last.
* Inspired by 1930′s to 1950s American engineer and work boots, popular amongst motor-cyclists/servicemen/workers/engineers.
* Old school low-toe profile, à-la Johnny "Wacha got" Strabler.
* Vegetable tan cow hides, carefully selected from a reputable American tannery.
* Custom leather treatment and coloring process. Hides are not dip-dyed but individually hand-dyed. Flesh side is natural, skin side treated with 3 layers of colors for a dark chocolate brown appearance. Guaranteed to beautify with wear. The leather will develop a 'vintage' patina with a range of reddish brown/chocolate/olive/black tones… according to use and personal choice of oil treatment and conditioning. When conditioning is needed, we recommend Pecard Leather Dressing.
* Original MF® olive-color top roll band and shaft strap gusset, aka "green tops".
* Vintage style steel roller buckles.
* Curve pattern instep strap, adjustable to cinch ankle and heel. Un-cinch to pull boots on.
* Vintage limited supply of USA-made NOS 'NITRENE' rubber half sole and heel combo, boasting a "Non Marking, Oil Resistant, Long Wearing" quality.
* Mid rise welt (approx. 10½ inches)
* Approx. 1¾ inch heel height
* Made in USA
SIZING:
The general consensus is to size down ½ a size from your usual sneaker size. From customers feedback, if you are a size 10 in sneakers, a size 9½ Road Champ is likely to work for you.
Fit also depends on one's foot profile and proportions, and obviously sock thickness. Wearing a thin insole with thin cotton socks for summer, and no insole with thick wool sock for winter is an option for some.
Available Sizes (according to stock):
US 7
US 7½
US 8
US 8½
US 9
US 9½
US 10
US 10½
US 11
US 11½
US 12
US 13

Retail $ 949.95
Available from www.misterfreedom.com and our Los Angeles brick & mortar store.
Email sales@misterfreedom.com or call 323-653-2014 with any questions unanswered above.
Thank you for your support.
Christophe Loiron
Mister Freedom®
©2017