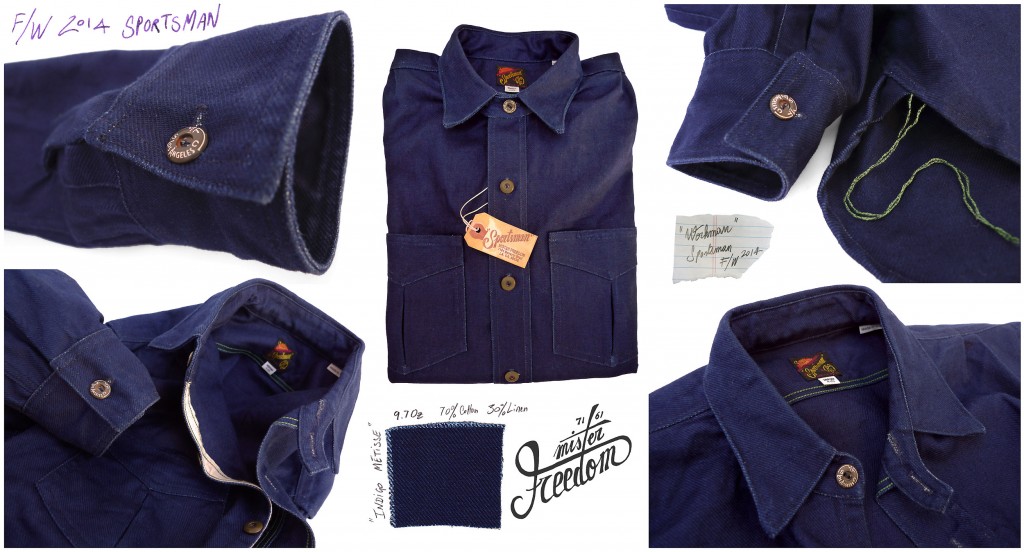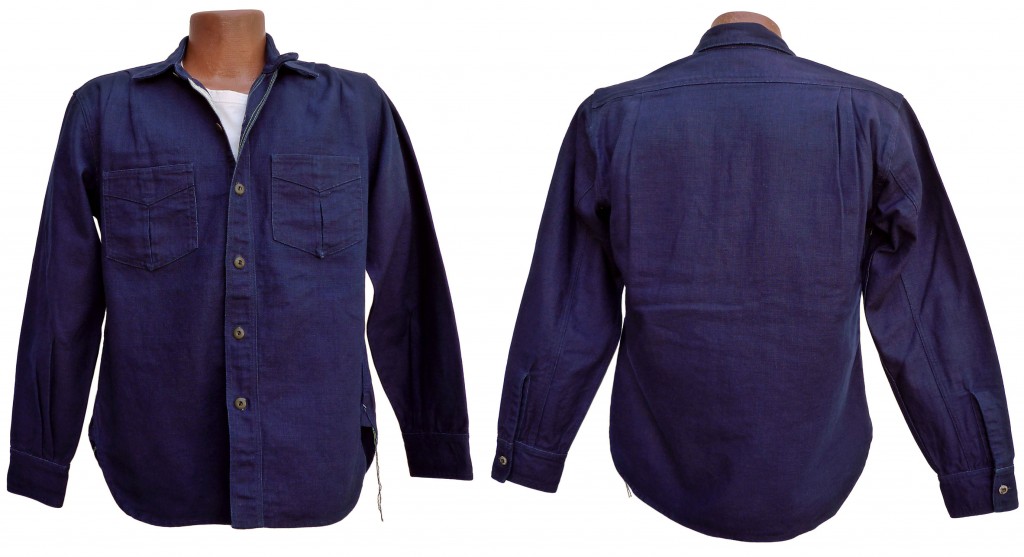 Sportsman Shirt, indigo twill métis
"The Sportsman" Catalog, Fall 2014
A new addition to our "Sportsman" line-up this Fall 2014 is an indigo twill métis shirt.
Using our classic Sportsman shirt pattern, we have once again put an old familiar face to work: our original indigo métis fabric, originally introduced sometime in 2011 with the Veste Ouvrier of "Les Apaches" collection.
Some of you might be familiar with other good use we have made of that fabric, such as the Sportsman Chinos, Pantalon Ouvrier, the Paletot Apache, the Chemise Hirondelle, and the Gilet de Ville de Depp de Hollywood…
When applied to textiles, the French word métis refers to a blend of cotton and linen fibers. Métis fabrics were used extensively by French country folks in the better part of the XXth Century, for both bedding and clothing. If hemp was never mixed with linen, cotton became its best companion due to the properties of the resulting 'métissage'. In the old days, cotton/linen textiles were tough, affordable, washed easily… until poly fibers hit the fan.
On a side note, it has not escaped you that I have kept on spelling it wrong since launching our indigo twill in 2011. Indeed, it is métis, and not métisse. Mea culpa, I can now feel awsome again.
The fabric of our Sportsman shirt blends 70% cotton with 30% linen. Woven in a twill pattern, both warp and weft yarns are indigo dyed.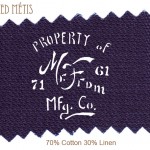 For those into naturally faded specimen of indigo-dyed clothing, here are some instances of what happens to our indigo métis over time.
We don't get tired of our friend Tyler's veste ouvrier, quite an epic example of what happens to workwear actually worked-in…
Our friend Mikko, from  "Pancho and Lefty" in Sweden, has a neighbor who seems to enjoy wearing his Sportsman Chinos indigo métis quite regularly… These were purchased unwashed, and were originally the exact same color as our métis shirt…
Thank you for sharing, Gentlemen.
The Sportsman Shirt indigo twill métis is designed and manufactured in California, USA, by Mister Freedom®, in collaboration with Sugar Cane Co.
Fabric loomed  in Japan.
PATTERN: An original MFSC, inspired by our vintage influences.
FABRIC:
Indigo Métis Twill: 9.7 oz. indigo dyed twill blend, 70% cotton and 30% linen, un-sanforized. The yarn core is white, the indigo outer has a purple blue shade typical of early French indigo work clothes. Fades, bleeds and reacts to sun light.
DETAILS:
* Relaxed silhouette and fit.
* Original chest inverted box-pleat double pockets.
* Slim chin strap.
* Full button front.
* Original painted embossed metal buttons, combination solid and MFSC branding.
* White cotton popeline button facing strip.
* Double front & back expansion pleats on shoulder yoke.
* One piece cuff gusset.
* 100% cotton thread, high stitch count.
* Flat felled seams, with inside green chain-stitch MF® signature.
* Side gussets.
* Original "The SPORTSMAN" woven rayon label.
* Made in California, USA.
SIZING/WASHING:
This shirt comes raw/unwashed.
We recommend an original 30mn cold soak, spin dry, line dry. The shirt can be shaped by putting it on for a few minutes while still damp, then hung back to fully dry. This process with result in minimal shrinkage and almost no indigo color loss. The shirt might still feel a bit loose because it has not fully shrunk but will settle to the proper fit with subsequent normal wear/wash cycles.
We prefer this slower method over the hot water/heat dryer some use to make clothes fit.
I am a Medium in mfsc shirts and wear a Medium in the Sportsman métis.
Color croaking is to be expected and will temporarily 'stain' light color garments such as white undershirts. Indigo rub-off washes off eventually, but is less than attractive when applied to arm pits. This is unfortunately the nature of the beast.
This indigo-dyed métis fabric is also very light sensitive. Protect garment from the sun if stored folded to avoid uneven fading.
When laundry is due, hand-wash inside out with mild detergent and line dry.
Please refer to chart for cold soak/line dry measurements. Keep in mind that our cold soak method results in minimal shrinkage.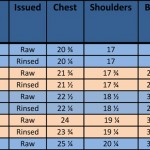 Available RAW/unwashed.
SIZES:
14½ (Small)
15½ (Medium)
16½ (Large)
17½ (X-Large)
18½ (XX-Large)
RETAIL $329.95
Available from www.misterfreedom.com
Email sales@misterfreedom.com or call 323-653-2014 with any questions unanswered above.
Thank you for your support.