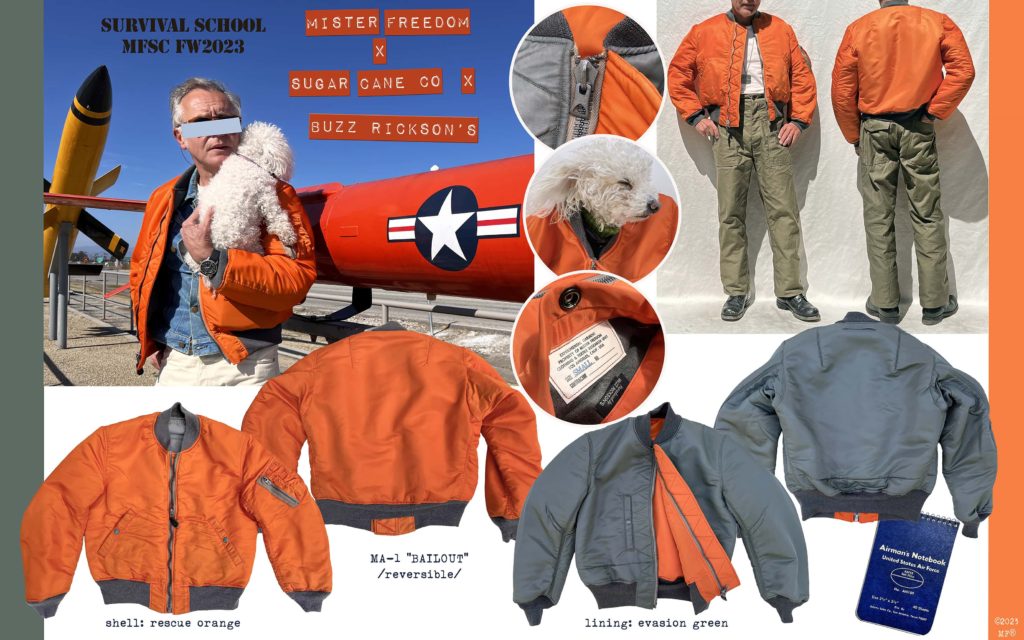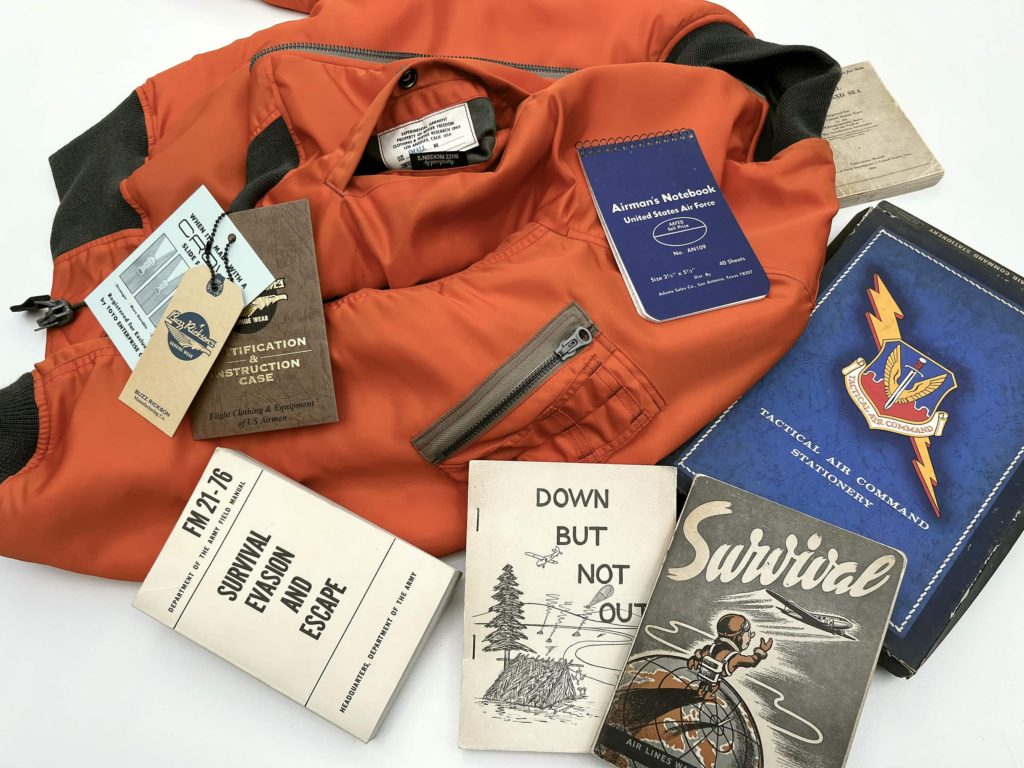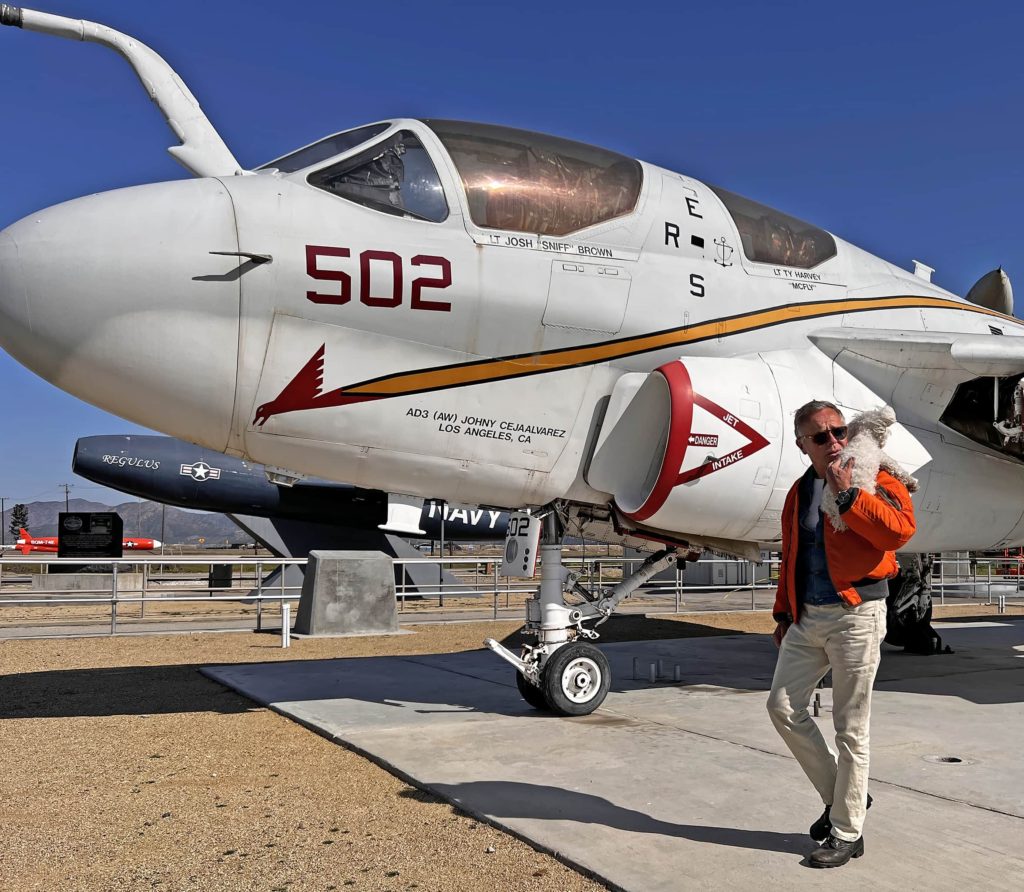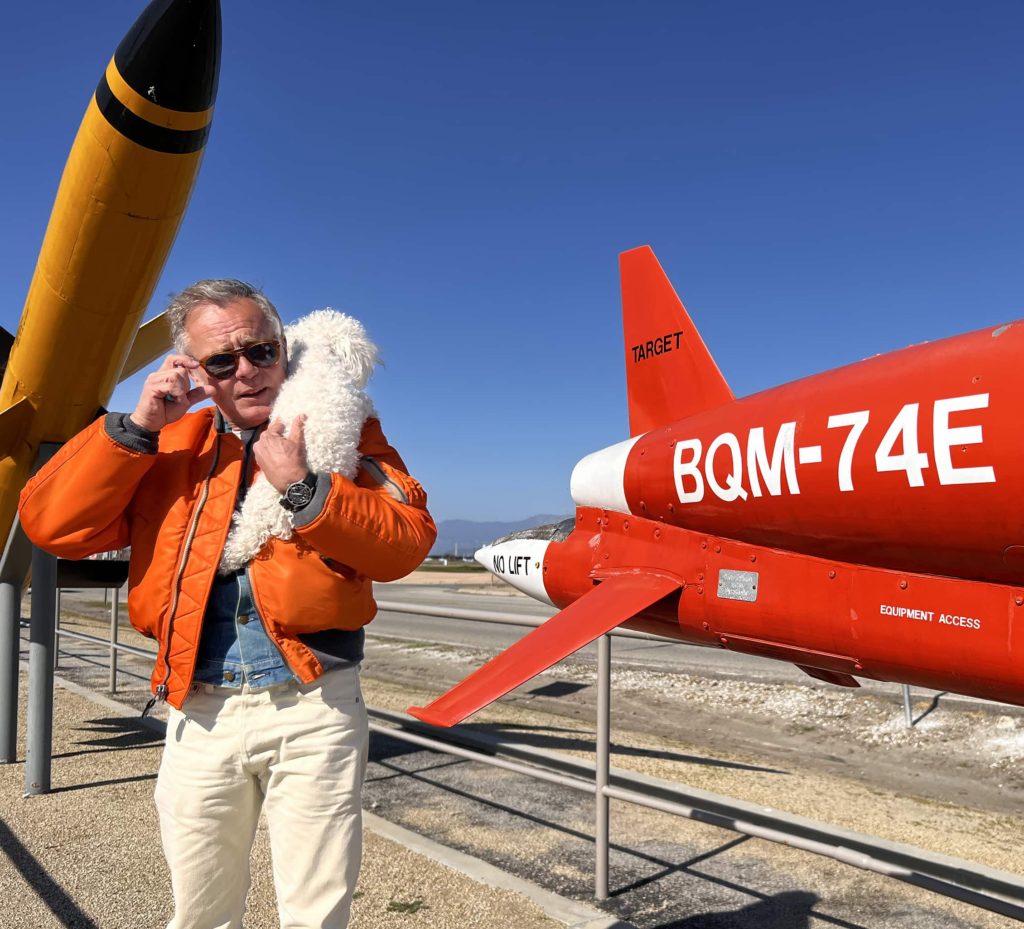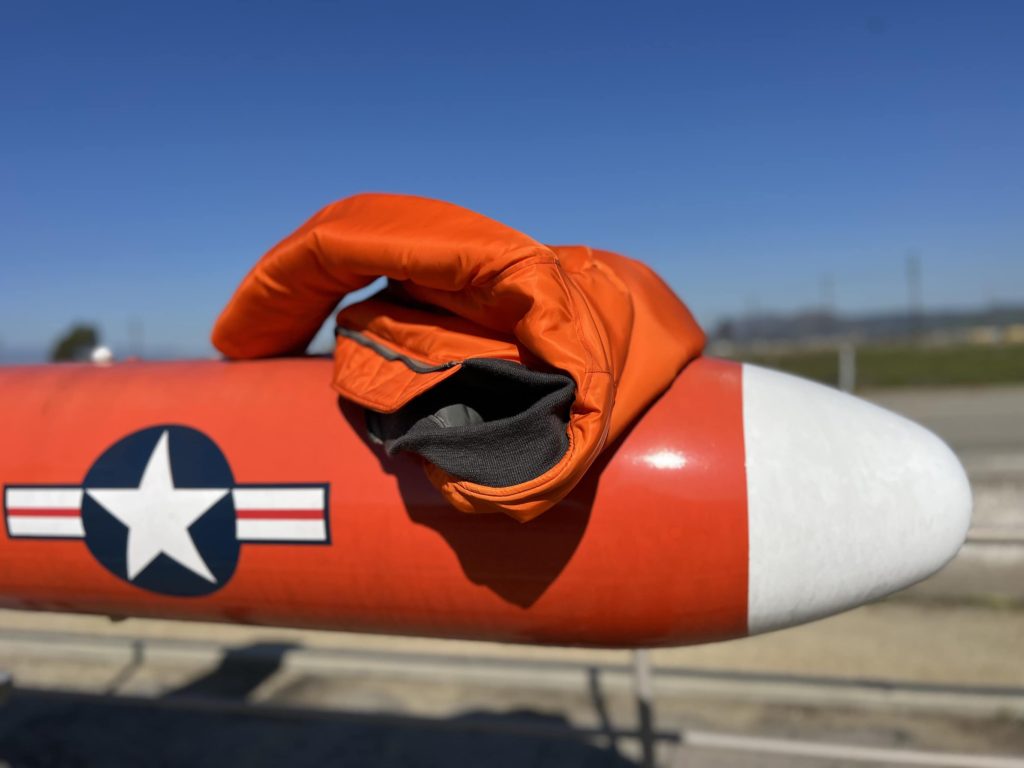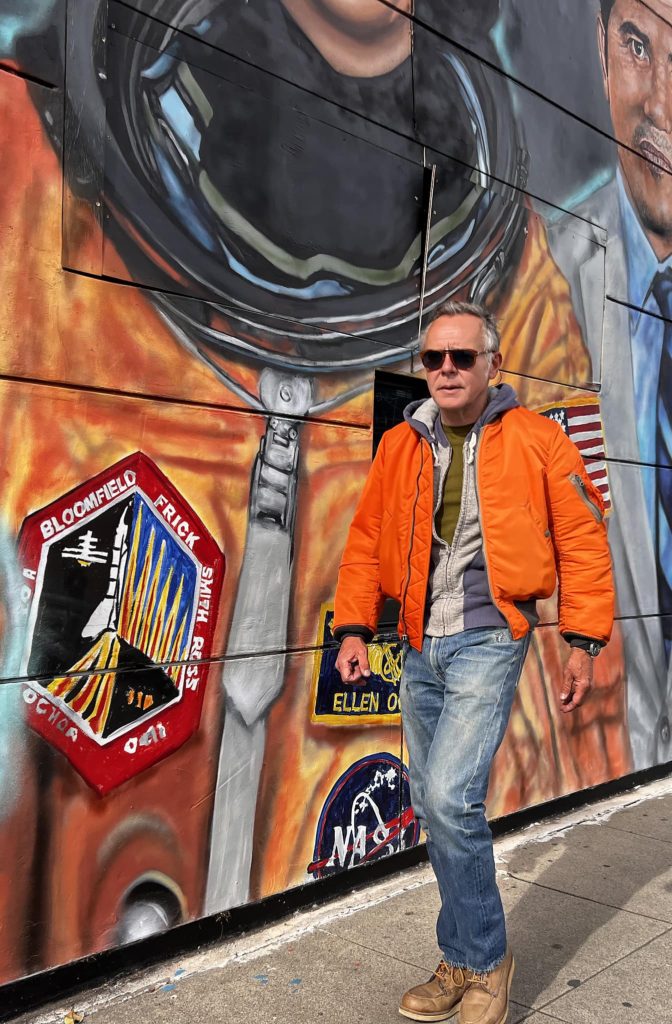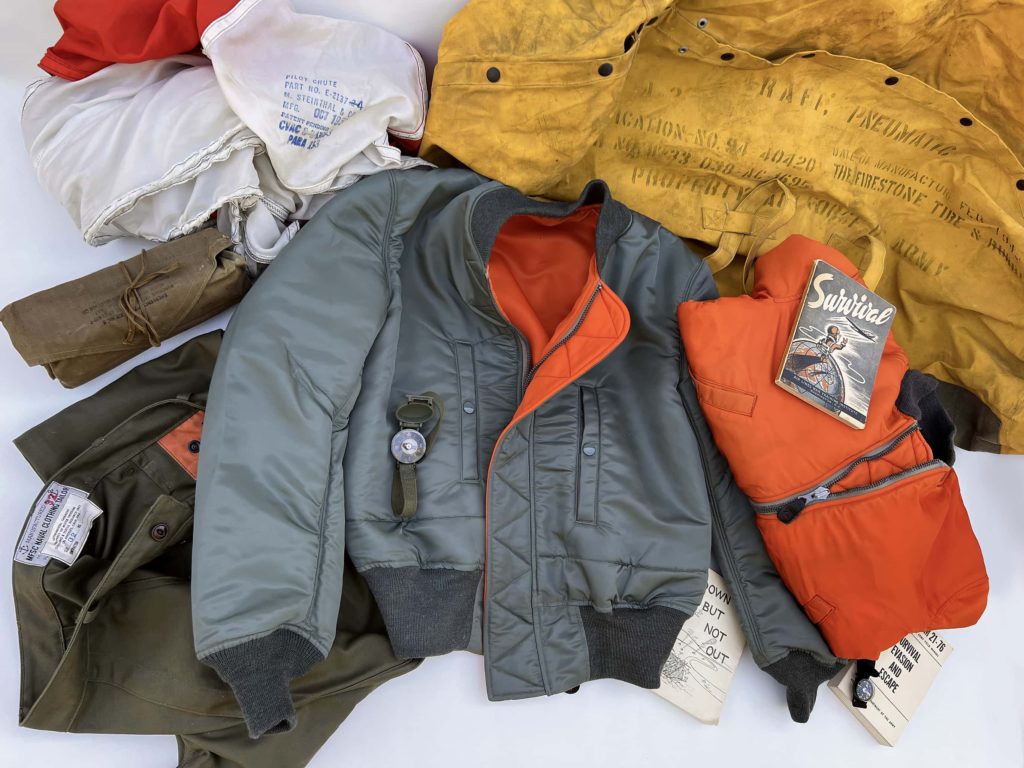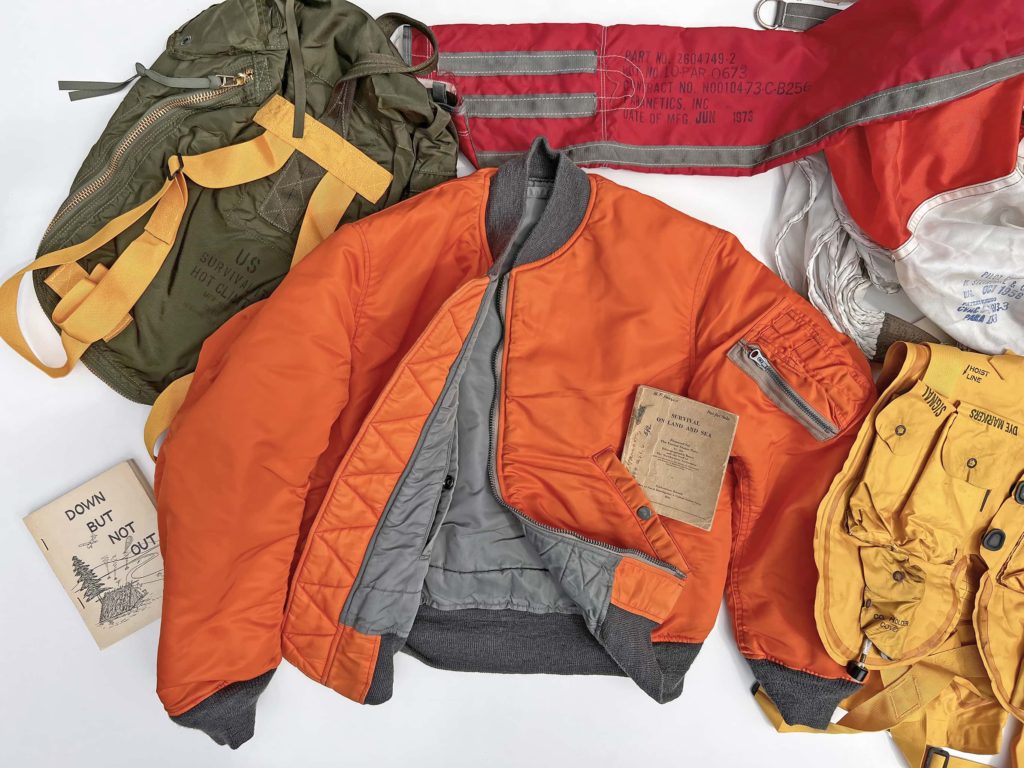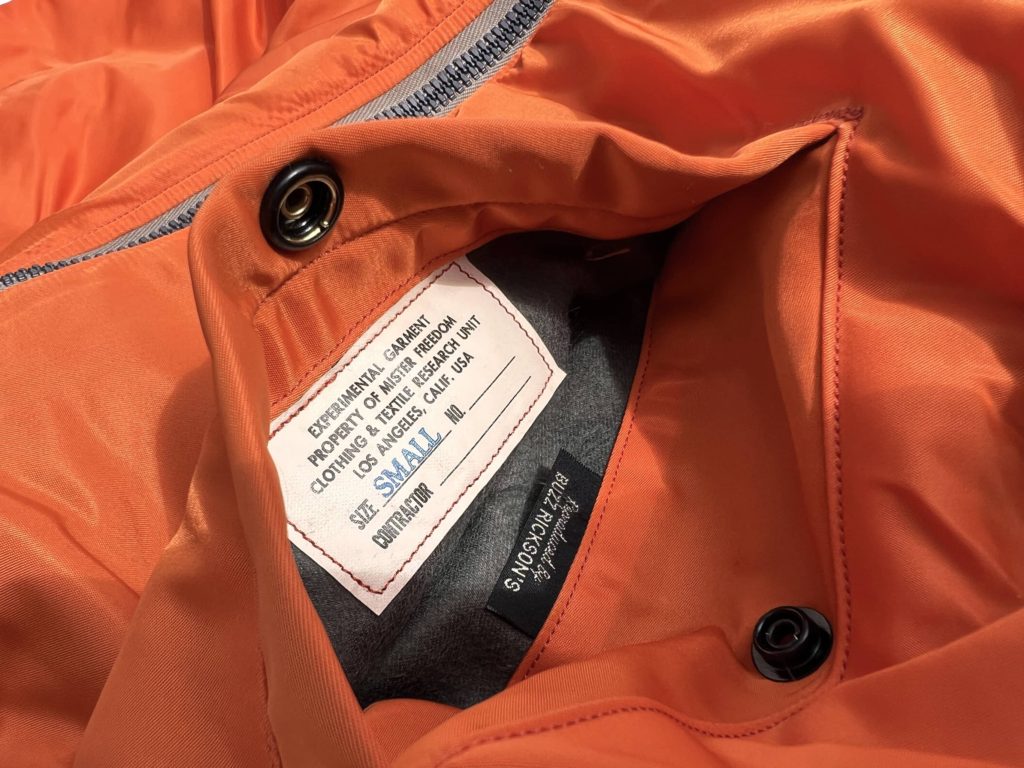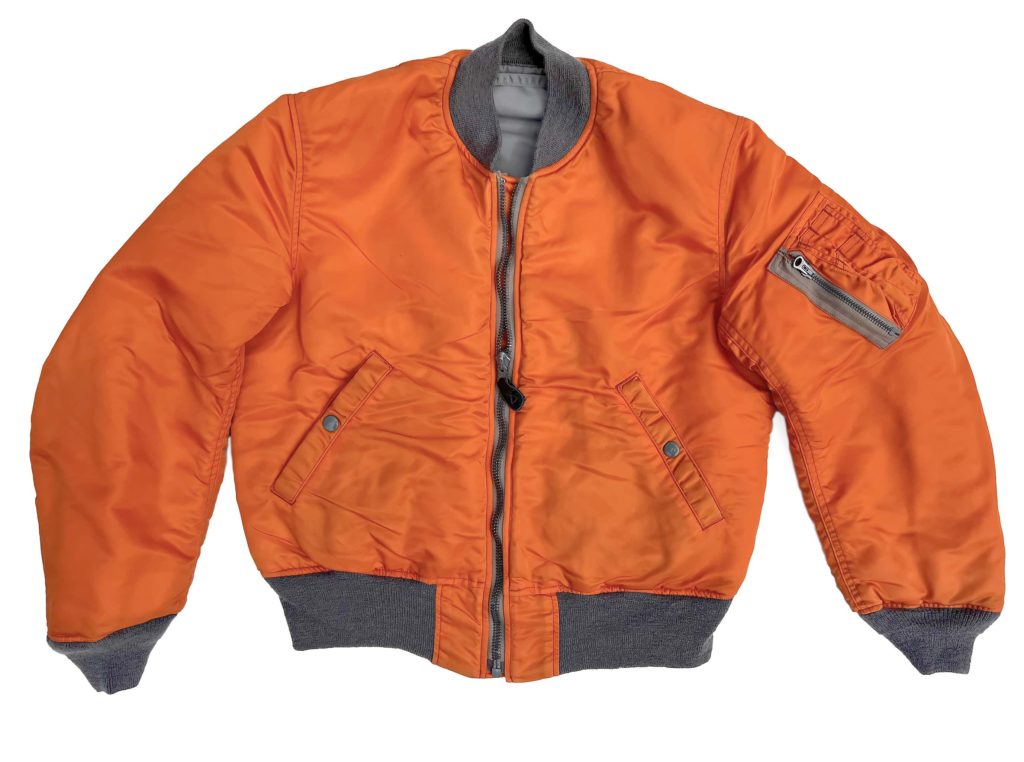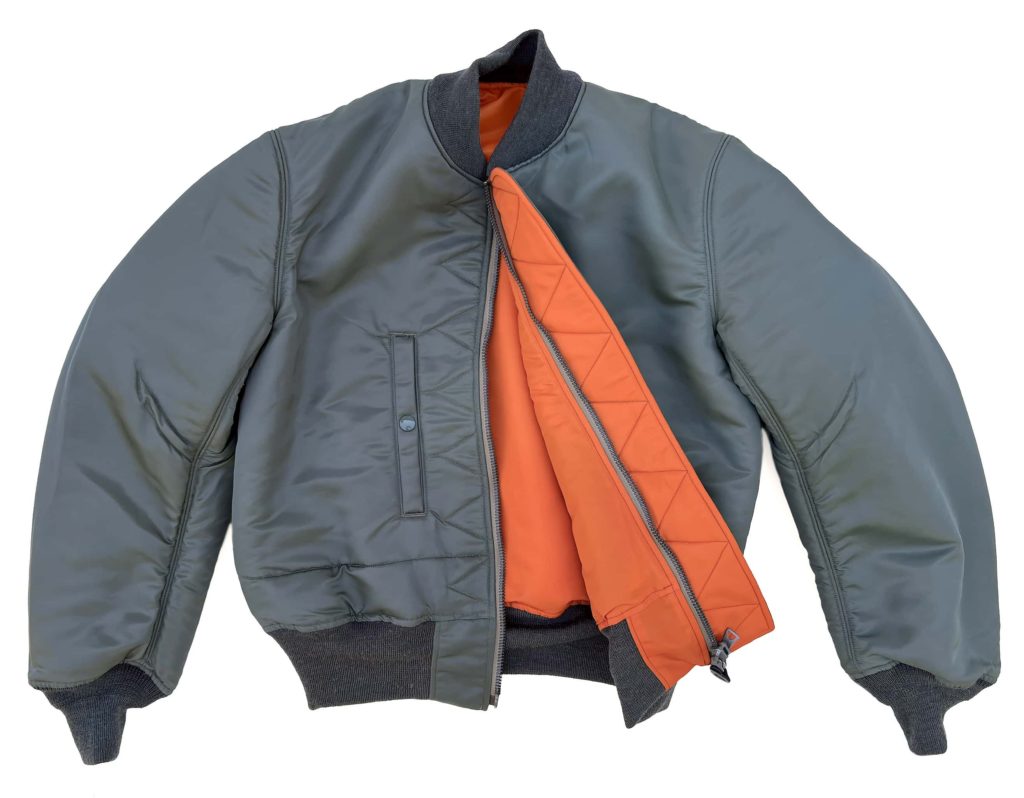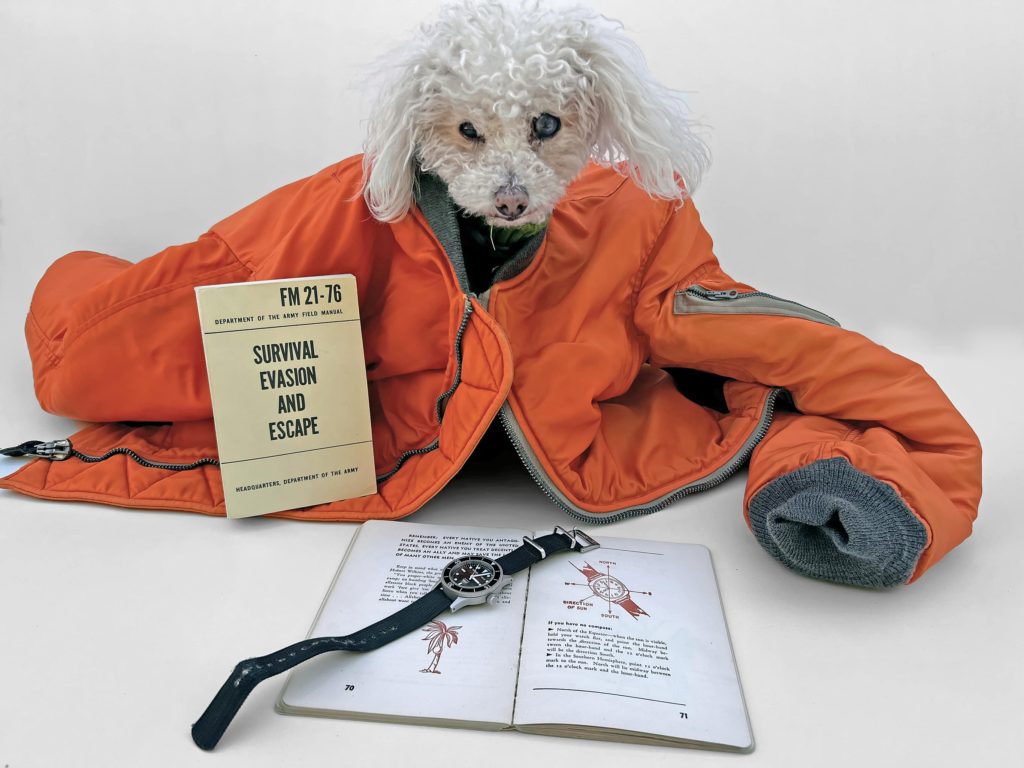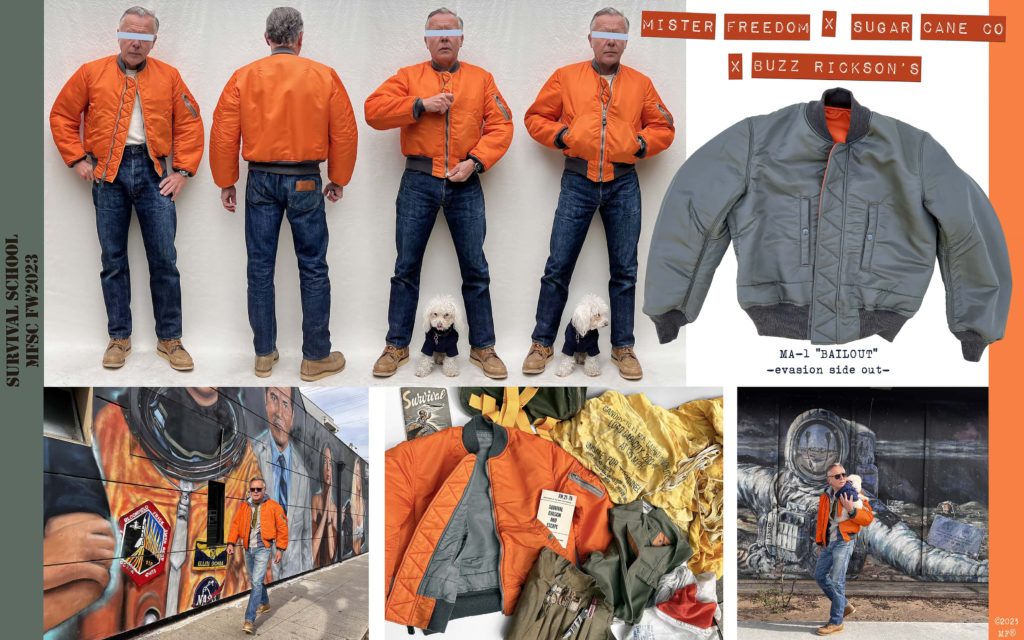 MF® MA-1 "BAILOUT" Flyer's Jacket.
Mister Freedom® x Buzz Rickson's 30th Anniversary Limited Edition.
mfsc FW2023 "Survival School" collection.
Made in Japan.
The MF® MA-1 "BAILOUT" Flyer's Jacket drop officially launches our anticipated mfsc FW2023 "Survival School" capsule collection, an original line up freely-inspired by 40s~70s US military survival gear, vintage experimental MIL-SPECS garments, early NASA astronauts training program visuals etc.
Introduction to our FW2023 mfsc "Survival School" storyline:
In the early days of WW2, a downed pilot's chances of being rescued and making it back to safety were very slim.
The USAAF  (United States Army Air Force) soon realized that training a serviceman in the art of flying was not enough. Arial combat training was lengthy, qualifying candidates few, so a skilled flyer needed to survive after a bail-out.
A downed aviator's field experience was invaluable knowledge, and sharing that experience with new pilot recruits was crucial.
The odds of returning to base camp started changing with the establishment of "Survival Schools", and the implementation by the DoD of proper "Survival – Evasion – Escape" training for all flying personnel. (timeline for USAAF here)
Newly-designed experimental gear was also being issued and tested in combat situations and survival circumstances.
Starting in the mid-1940s, official films recreating fictitious survival scenarios (jungle, desert, mountains, arctic) were produced, and became required viewing during training and on base.
Swimming skills became a requirement for all aircrews. Survival crash courses through tough physical training and studies of illustrated manuals became mandatory for Army Air Force and USN flyers.
Training in basic survival skills, acquiring jungle and mountain terrain knowledge, exotic fauna and flora expertise, learning about wilderness adaptability, food foraging, land navigation techniques, cold and hot weather survival, local language and customs essentials, expertise in blending with the elements to avoid capture, evasion tactics, …, all lead to greater chances to make it home for American flyboys.
Techniques, technology, and TO (Theater of Operations) have obviously evolved through the years for US Armed Forces, and so have instructions in survival manuals. If what applied to the Korean cold front in the 50s had to be adapted to Vietnam's steamy jungles in the 60s, the basics and message remained the same after "Survival School": "you now have the skills to live another day", Sir.
For more background on our R&D inspiration and design process, check out:
* Vintage USAAF and USN pilot survival gear.
* Visuals from 1950s-1970s US military survival program, from "Arctic Indoctrination Survival School" (aka "Cool School") to "Tropical Survival School" (aka "Green Hell"), to "Survival, Evasion, Resistance and Escape" (SERE) training.
* Visuals from NASA astronauts on desert/jungle survival training (+ here) or geological field trips ( photos 1965, 1965, 1965, 1967, 1969…)
On a side, personal note, if warfare survival skills are obviously irrelevant to a pampered civilian life, and the odds of one experiencing Louis Zamperini's plight unlikely for most, basic knowledge of adaptability and improvisation, resourcefulness, awareness of one's surroundings at all time, applying the right amount of common sense and civility in all situations, should be attitudes taught in schools, and at home.
Yes, learning how to fend off a wild cat attack while on a hike, or knowing which side of a tree is most likely to grow moss in the northern hemisphere may sound like useless knowledge for most city dwellers stuck in traffic.
But, without turning into a paranoid survivalist nut job, merely paying attention in daily life will never be a bad habit to have! "Improvise, adapt, overcome" is not a bad motto either.
Along those lines, knowing to keep one's eyes on the road and not the Pokemon while driving or crossing the street may prevent many Darwin Awards from being distributed worldwide. Right now, in the US alone, 2 auto crashes occurred in the 10 seconds it took you to read this paragraph.
Oh, and don't act like a prey if you cross path with a big cat, even "The Zamp" couldn't outrun a mountain lion. Also, moss usually grows on trees on the side facing North, if you lost your way, forgot your compas, and just realized you killed your battery on TikTok…
Kids these days know more about sneaker brands than varieties of edible wild fruits. Not sure this is a good survival skill for our species.
The jacket:
The Mister Freedom® BAILOUT Flyer's Jacket is our spin on the classic MA-1 flight jacket – aka "bomber jacket" – the iconic piece of protective gear officially issued to USAF (United States Air Force) fighter jet pilots and flight crews throughout the 1950s~60s.
The design of the MA-1 flight jacket evolved through the years, with its inception around 1950 when the bulky mouton collar of its predecessor (the B-15 flight jacket, 1944~1954) was replaced by a soft wool knit ribbed band to better accommodate combat pilots modern flight helmets (out were the WW2 cloth skull caps, in were the hard shell "bone dome" types) and reconfigured jet aircrafts cockpits (the Jet Age mostly kicked propeller planes to oblivion for aerial warfare.)
Optimized for current technology, the MA-1 (MIL-J8279) was born, becoming official issue sometime in 1952. Followed many revisions, until the MA-1 was phased out by updated regulations and eventually retired in the late 1980s, outperformed by safer fire-resistant Nomex® MA-2 flight jackets. This wasn't the MA-1's last words however…
For our "Survival School" story, we decided to modify a vintage "JACKET, FLYING, MAN'S, INTERMEDIATE, MA-1, MIL-J-8279D" specimen from an Alpha Industries 1965 contract, and turn it into a "might have been" functional, wearable, "experimental" garment.
The major mod on the D-Type (fifth generation MA-1, circa 1960) had been its novelty reversible revamping, with a sage green (referred to as camo) nylon shell for classic military concealment on the ground, contrasting with an "Indian orange" high visibility lining. A downed pilot was instructed to wear the green side to evade enemy capture after a successful bailout, and wait for a rescue team flashing the orange side out.
Decades later, this major visual functional improvement probably helped to propel the MA-1 style to the unsustainable fashion sphere, from streetwear to catwalks, produced in all kinds of CoO (Country of Origin) for a wide range of international labels.
For our BAILOUT design mission, the main point of a plausible "revision" was to flip the blazing orange lining side as the main side, up the nylon twill ouncage, use the 2/2 nylon camo side as the lining, while keeping all period-correct Mil-Specs for fabrics and trims.
Collaborating with Buzz Rickson's – celebrating at the same time their 30th Anniversary! – made this a breeze for us, thanks to the help, expertise and patience of Buzz's creative director Kameya San and team. After providing detailed instructions/diagrams of our MA-1 BAILOUT concept, we gladly assumed the backseater role in the cockpit and let the world's ichiban manufacturer of authentic military flight jacket replicas do all the heavy lifting.
Of course, Buzz delivered! No cut corners, outstanding craftsmanship and quality, living up to Toyo's high manufacturing standards and BR's impeccable reputation.
"But, why not just wear a vintage D-Type with the orange side out?" one could legitimately wonder…
Well, because of the overall construction, quilted storm flap set-up, slash pockets configuration ("hand warmer" for the A-side and "map storage" for the B-side), utility ("cigarette/pen") sleeve pocket on A-side, etc…, sporting a vintage MA-1 orange side out will always look like the garment is being worn inside out. Not a life-threatening issue of course, but, for those attached to details – and we are -, wearing out what is clearly a jacket's lining in non-survival circumstances may look a bit awkward or contrived around town.
The BAILOUT fills that gap for one wanting to casually wear a bright orange military-style flight jacket, built like a legit 1960s MA-1.
Note that the MF® BAILOUT is still fully reversible, and can of course be worn B-side (green) out.
On original D-Types, the orange nylon twill lining is of a lighter/thinner grade than the Mil-Specs green 2/2 twill shell. The MF® BAILOUT jacket features vintage Mil-Specs heavy 2×2 grade nylon twill on both A (orange) and B (green) sides.
For the accuracy-obsessed, quote from Buzz Rickson's MA-1 shell fabric specs:
"36 filament yarns are twisted together to make a single thread that is then woven into the 2/2 twill fabric.
2/2 means two warp threads crossing every two weft threads, identified by diagonal lines."
Regarding warmth, "INTERMEDIATE" in the original MA-1 nomenclature refers to the "Intermediate Zone" climate for which the garment was initially optimized, a range of 14º F ~ 50º F in a military classification of 5 climate zones at the time.
The MA-1 was also considered as a versatile year-round piece of gear in temperate climates by flight crews, worn zipped-up in Winter and un-zipped in Spring.
We decided to keep the period-correct Wool/Cotton blend (60/40) fiber interlining of the 1960s originals, and not the cheaper and lighter polyester fiber modern days substitution. This makes the BAILOUT much heftier and bulkier than contemporary fashion MA-1 type jackets out there.
For the zipper, we went with a robust vintage-style aluminum model of Coats & Clark (CC) slide fastener, instead of the expected black oxidized brass CONMAR zipper of period D-Type MA-1 jackets. CROWN was a division of Coats & Clark. Production of most CROWN fasteners (like the aluminum spring automatic lock etc) was abandoned sometime in the 1960s, deemed too complicated and too costly.
Some 30 years ago, Toyo Enterprise went through great lengths (and, I was told, hundreds of thousands of dollars in R&D and retro engineering) to faithfully reproduce several CROWN fastener models, and now owns the Trademark. These cost today about $30~$40 to produce… Kameya San was kind enough to hook us up with a few CC models for this limited edition.
We also opted to stay true to the original MA-1 jackets fit and profile, with the old school full and boxy cut, setting them apart from modernized slimmed-down versions with trimmed sleeves flooding the fashion market since the 1980s.
The BAILOUT's classic shorter length compliments one's natural waist, and works best with mid to high rise trousers or jeans.
This season, the recurring mfsc cloth label for our "Survival School" collection is a respectful nod to the little-known Quartermaster Research Facility (aka Natick Army Labs), a US Department of Defense organization located in Natick, Massachusetts. The "CLOTHING & TEXTILE RESEARCH UNIT" has been tasked with designing and developing anything from new uniforms/gear/fabrics/camo patterns/etc for the US military since 1952. Those guys are the real OG designers of most streetwear today.
The Mister Freedom® BAILOUT "Clothing & Textile Research Unit" labeling is concealed in the left side slash pocket.
Of course, the Mister Freedom® BAILOUT comes "unissued", i.e. free of unearned squadron/unit patches. Should you want to go full-on Top Gun, do your thing Mav'!
Speaking of Hollywood, our subtle nod to "The Hunter" (1980) – McQueen's final movie – with his bounty-hunter "Papa Thorson" character (pops going full circle after Josh Randall, ain't he?!) sporting an MA-1 iteration won't be lost on the cinephile. Papa and stunt double/friend Loren Janes are wearing the flap pocket model MIL-J8279E (E-Type) in the movie, although they may be commercial versions?
Anecdotally, "Buzz Rickson" is the name of McQueen's character name in "The War Lover" (1962.)
The MF® x Buzz Rickson's "BAILOUT" Flyer's Jacket is a classic reimagined in California, USA by Mister Freedom®, designed for the man-o-style uninterested in fleeing trends, and crafted in Japan by Toyo Enterprise.
SPECS:
PATTERN:
A classic 1960s US military flight jacket pattern (MA-1) revisited, and a visual nod to colorful Jet Age astronaut jackets.
FABRIC:
A-side: Rescue out, period Mil-Specs 2/2 heavy nylon twill, "Indian" orange.
B-side: Camo out, period Mil-Specs 2/2 heavy nylon twill, 1960s USAF sage green.
Interlining: thick insulating blend of undyed 60% Wool – 40% Cotton pile fibers.
DETAILS:
* Constructed and redesigned with all period Mil-Specs patterns/fabrics/trims/snaps/zippers.
* Vintage silhouette and proportions true to authentic vintage USAF MA-1 profiles: full cut, boxy fit.
* Fully reversible: main side (A-side) is rescue (Indian orange), lining (B-side) is camo (sage green.)
* Two slanted "hand warmer" slash pockets on shell, snap closure, 35/65 Wool/Rayon blend double face brushed pocket lining.
* Two interior "map" welt pockets, snap closure, white cotton twill pocket lining.
* Quilted storm flap.
* Soft 100% wool ribbed knit collar, waistband and sleeve cuffs.
* Utility pocket ("cigarette" pocket) on A-side sleeve, authentic pen caps slots.
* Aluminum "CC" (Coats & Clark) CROWN type double-sided slide fastener (zipper), all cotton tape, leather pull tab extension for easier gloved operation.
* Intricate garment construction, authentic puckering seams, cut and sewn by skilled and experienced artisans.
* Year-round jacket, optimized for 14º F ~ 50º F (minus 10º C ~ 10º C) range temps.
* Original Mister Freedom® x Buzz Rickson's "Clothing & Textile Research Unit" labeling, concealed in the left side slash pocket.
* Crafted in Japan by specialized expert artisans, with a 30-year experience in authentically-reproducing vintage military gear.
SIZING/FIT:
The MF® x Buzz Rickson's "BAILOUT" Flyer's Jacket comes ready to wear out of the box. No initial process required.
MF® crew sizing recs:
CL (5'7 ~ 140 lbs): I opted for a SMALL, for a comfortable yet period fit.
John (6' ~ 170 lbs): LARGE
Ivan (5'9 ~ 160 lbs): MEDIUM
Enoch (6' ~ 153 lbs): SMALL
The MF® BAILOUT pretty much fits like authentic 1960s vintage MA-1 jackets, for those familiar with them.
Some people may consider sizing down, according to silhouette and subjective style preferences.
Please refer to size chart for approximate measurements, keeping in mind that due to the thickness of the shell + interlining + lining, properly measuring is somewhat subject to one's interpretation.
CARE:
Professional DRY CLEAN only or spot clean when needed.
Do NOT machine wash/heat dry.
Because of the 100% wool knit trims and , please store garment with your choice of moth-repellent product.
Available from www.misterfreedom.com, our Los Angeles brick & mortar store, and fine retailers around the World.
Email sales@misterfreedom.com or call 323-653-2014 with any questions unanswered above.
Thank you for your support.
Christophe Loiron
Mister Freedom®
©2023