Mister Freedom® "BREEZER" Windbreaker Type II, Indigo Blue Cotton-Linen Chambray & Red Cotton-Rayon Sateen-back.
Spring 2018 mfsc "SURPLUS" catalog.
Made in Japan.
If it took us a little while to get to officially introduce the "Breezer", an original MF® jacket produced in 2010 but only documented in 2017, we figured we'd step on it a bit for the release of the Breezer Type II on this blog.
Our 2010 Breezer jackets, originally available in four fabric options, were part of the motorcycle-inspired "Speedsafe Clothing For Modern Riders" mfsc collection, out of which the Mulholland Master was to become a classic highlight. The Breezer Type II is now part of our on-going SURPLUS collection, our selection of designed-in-USA and made-in-Japan classics.
Borrowing its puny moniker from the famous "Scottish Drizzler", our "Breezer" combines several vintage styles of windbreakers. The "Drizzler" was the classic zipper jacket introduced in 1947 by sportswear specialist McGregor®, an iconic label with a genius design team, familiar to all vintage clothing aficionados. Departing from purely replicating the past, our Breezer blends 50's swing tops, 40's US Navy/USMC summer flight jackets (type M-421A), 60's British vibes, into a casual classic-looking jacket.
The SS2018 Breezer Type II is a "simplified" version of its SS2010 forerunner. We removed the inner and rear pockets, the elbow diamond patch and underarm gussets, but tricked-out the two front patch pockets into a double layer hand-warming pocket pattern. We added narrow cinch tabs to the waist and wrists, as a 50's sportswear reference.
The Type II comes in two distinct fabric options, both exclusively milled for mfsc in Japan.
The first is a fine indigo selvedge chambray, a slubby tightly-woven and crispy blend of 85% cotton and 15% linen. This blue chambray fabric is quite reminiscent of the 1950's French Marine Nationale utility uniform fabric that had inspired our Sea Hunt Spring 2014 Crew Pants (see original blog post here), but features a darker and more reddish indigo hue, a denser weave, and a selvedge with white/red stripe ID. It was recently introduced with the release of our SS2018 Naval Chinos.
The second fabric option is a subtle nod to vintage Hollywood, more specifically "Rebel Without A Cause" from 1955. In the second half of the movie, Jim Stark drops slacks and tweed sportcoat, proper 1950's High School attire, and gears-up in a red jacket, white Tshirt, Lee® 101-Z blue jeans and a pair of mean-looking engineer boots, laying down style rules for future generations of teenage rebels. The iconic red zip-up nylon windbreaker was apparently produced by the "Bud Berma" label, although some believe the movie jacket was a cherry red McGregor Anti-Freeze model…


Original 1955 "Rebel Without a Cause" wardrobe jacket, estimated at $600,000.00 (Courtesy Palm Beach Modern Auctions)
Our Breezer pattern is obviously not a lift of that jacket, but we did borrow the Technicolor® red from the movie. The fabric of the red Breezer is the same as that of our original Breezer, a double-face woven textile, cotton face and rayon reverse aka cotton-back sateen, inspired by vintage 1950's 'weatherproof' McGregor® Scottish Drizzlers. Our Breezer is cut cotton side-out, with the sateen rayon twill side visible from the unlined reverse side. The fabric face is rather matte, contrasting with the rayon sateen luxurious sheen.
Back in 2010, we had borrowed the design idea of the contrast tartan accents from the G9, a classic golf jacket introduced in 1937 under the British Baracuta label, "Aristocrat of Tailored Rainwear". Our Type II Breezer features a "Dress Steward" woven plaid cotton/linen fabric, a selvedge New Old Stock textile from the MF® vault. It is displayed on the facing of the front panels, stand collar lining, and front pockets.
The MF® BREEZER Windbreaker Type II is designed in California by Mister Freedom® and manufactured in Japan by Sugar Cane Co.
August 24, 2023 EVO fabric update, after intermittent wear and a few washes: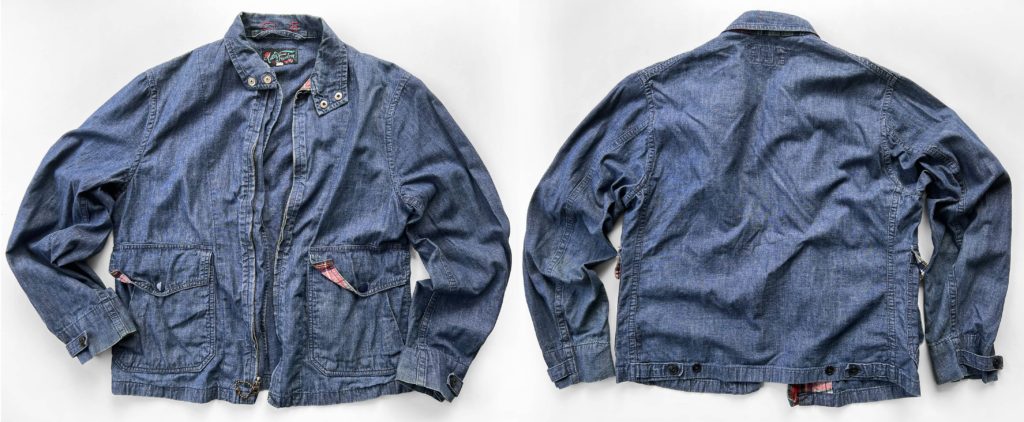 FABRIC OPTIONS:
a) Fine, tightly-woven and crispy blend of 85% cotton and 15% linen indigo chambray, slubby texture, white/red stripe selvedge ID, milled Japan.
Partial lining: NOS woven tartan, cotton/linen blend.
b) Tightly woven blend of 50% cotton (matte face) and 50% rayon twill sateen (shinny reverse), aka cotton-back sateen, milled in Japan.
Partial lining: NOS woven tartan, cotton/linen blend.
SPECS:
* An original MF® design blending 1950's swing tops, vintage British windproof jackets and 1940's summer issue US Navy/USMC pilot jackets. This Type II is a modified version of our 2010 Breezer Jacket.
* Unlined body.
* "Dress Steward" tartan woven plaid accents, cut from NOS selvedge fabric, featured on front panel facing, stand collar and pocket lining.
* Two front patch pockets, doubling-up as hand-warmer pockets.
* Stand collar, double snap closure.
* 1950's-style "TALON" metal zipper, cotton tape.
* Narrow cinch tabs for waist and wrists.
* Mfsc "Surplus" woven rayon label.
* Made in Japan.
SIZING/FIT:
The MF® Breezer Type II comes raw/unwashed, and we recommend an initial cold soak, spin dry and line dry. Both fabric options will shrink to approximately the same tagged size.
I opted for a size 38 in both models. I did use a heat dryer for a few minutes, for both fabrics, to maximize shrinkage and add puckering to the seams. If the fit on both fabric options is similar, the chambray Breezer feels a bit roomier than the red cotton/rayon model. This is mostly due to the very different drape of both textiles.
Please refer to sizing chart for cold soak/spin dry/line dry approximate measurements.
CARE:
Wash separately on delicate, cold water, mild eco-friendly detergent. Line dry.
Available raw (un-washed)
Sizes
Small (36)
Medium (38)
Large (40)
X-Large (42)
XX-Large (44)
Retail: $469.95
Available from www.misterfreedom.com, our Los Angeles HQ, and fine retailers around the World.
Email sales@misterfreedom.com or call 323-653-2014 with any questions unanswered above.
Thank you for your support.
Christophe Loiron
Mister Freedom®
©2018