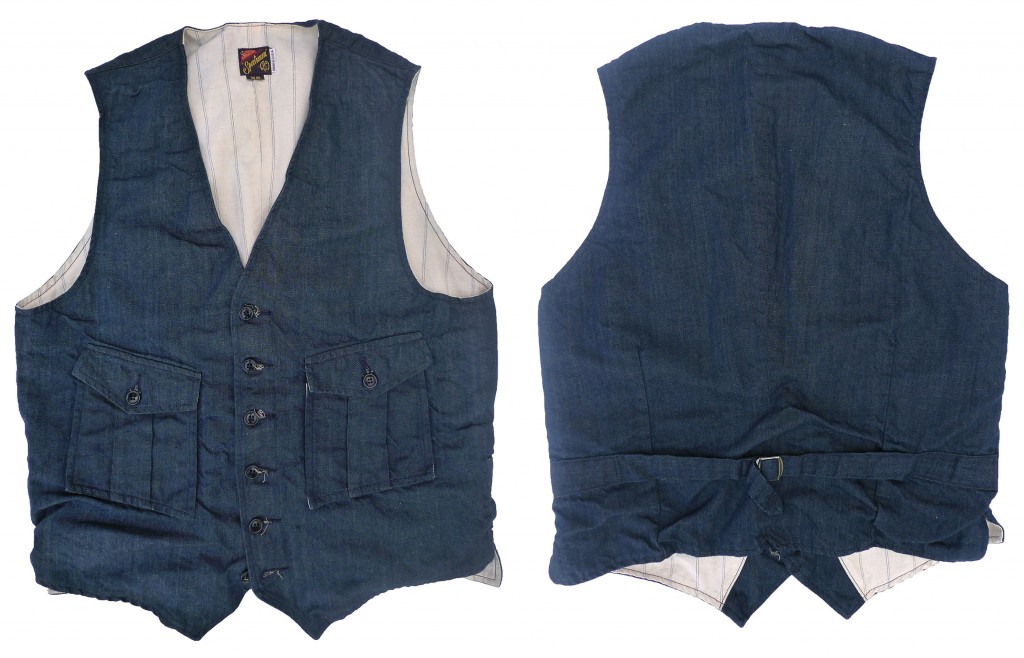 The "Continental Vest"
NOS Cotton-Linen twills, Charcoal, Slate Grey & Indigo Moss Blue.
Sportsman Collection Spring 2016
Moving right along in our Continental trilogy, the latest grouping added to the Made in USA Mister Freedom® Sportsman catalog for Spring 2016, here is the Continental Vest. The third original pattern of our recently-released suiting effort complements the Continental Trousers and Continental Sportcoat.
Our Continental Vest design is inspired by several vintage waist coats, and more specifically by an original 1950's-60's British-made specimen. Unlike previously-released Mister Freedom® waistcoats mostly taking from turn-of-the-Century to 1930's models and featuring contrasting cotton sateen backs, the Continental Vest carries an early sixties tailor-made vibe with its matching fabric back design.
This elegant six-button front garment features two slanted box-pleat patch pockets with flaps, and a full cinch back belt. In addition to the charcoal and slate grey cotton-linen twill fabric options offered with the Continental Sportcoat, we are also releasing the Continental Vest in Indigo Moss Blue. It is the same attractive denim-like fabric originally introduced with the Continental Trousers, a New Old Stock slubby 11 Oz. crosshatch twill, 70% cotton – 30% linen blend that got black ops spooks red with envy. The Fashion industry, on the other hand, does envy our "Indigo Moss Blue" terminology, which is indeed one of our proudest semantic achievement to date.
Please note that said-Indigo Moss Blue option features the 1rst type  Continental lining, an ivory white 100% cotton plain weave with a woven blue stripe. A slightly different NOS woven stripe fabric was used for both the charcoal and slate grey vests. To accommodate mixing and matching within the Continental family, this handsome new lining fabric is very similar in appearance to its original companion. The subtle variation typifies the perks associated with opting for limited New Old Stock fabric on full-fledged garment manufacturing projects.
Using vintage NOS fabrics not only satisfies our known appetite for limited edition runs, but also matches a desire to limit the carbon footprint of Mister Freedom® seasonal offerings, however insignificant of a gesture it might seem.
Speaking of H2O, our vest is washable. But be aware that the cotton-linen fabric will torque and shrink, and the stitching will pucker to a roping effect. This 'wrinkled' look is an acquired taste, and some might prefer a freshly pressed 'clean' look instead easily obtained with professional dry-cleaning.
The Continental Vest is quite versatile and will adapt to the wearer's own personal style, according to what it will be paired with. It can be dressed-up with Continental Trousers and vest, dressed-down with blue jeans or chinos, buttoned-up (don't forget to leave the bottom button unbuttoned) or worn open, etc…
Ultimately, and with such wardrobe must-haves as the Continental Trousers, Sportcoat and Vest, there will be no rest for the delusional on-the-go Int'l Man of Action, heading out on an impossible mission to get groceries.
Oh, and don't forget your Space Pen. One never knows.
The Continental Sportcoat is designed in California by Mister Freedom® and manufactured in California by Mister Freedom® in collaboration with Sugar Cane Co.
SPECS:
PATTERNS:
An original mfsc pattern, inspired by vintage European waistcoats, notably an original 1950's-60's tailor-made British specimen.
FABRICS:
A) Charcoal Grey twill: New Old Stock, 60% cotton – 40% linen, 8 Oz. denim twill with a probable Italian origin.
B) Slate Grey twill: New Old Stock, 60% cotton – 40% linen, 8 Oz. denim twill, also with a probable Italian origin.
C) Indigo Moss Blue denim twill: New Old Stock, 70% cotton – 30% linen, 11 Oz. denim twill, also with a probable Italian origin.
Lining: Two similar types of fancy New Old Stock 100% cotton fabrics, natural white with woven blue stripe.
DETAILS:
* Six-button front.
* Two slanted box-pleat patch pockets with buttoned flaps.
* Full matching back with cinch strap, European-style metal buckle.
* Fancy corozo wood buttons.
* Full lining, woven stripe suit-lining fabric, no open seams.
* Made in USA, baby.
SIZING/FIT:
This explains how we size our garments.
The Continental Vest comes raw/unwashed. We recommend the usual initial 30mn cold soak/occasional hand agitation/spin dry/hang dry process. For the three fabric options, the tagged size reflects the size of the garment after going through this process. All fabric options will shrink to roughly the same measurements.
Please note that it is the nature of cotton-linen blend textiles to wrinkle and slightly stretch back and forth with each laundry/wear cycle. For example, freshly laundered linen garments fit tighter in the morning than at the end of the day. If you prefer a clean, pressed look following the initial soaking process, the Continental Vest can be steamed or professionally pressed.
I opted for a Size 38 in all options of the Continental Vest. This is my usual size in mfsc top garments. However, I have done a full rinse cycle with the Vests, and used a heat dryer for about five minutes to get the shrinkage that fitted my tastes.
Please refer to sizing chart for approximate raw/soaked measurements. Soaked = 30mn cold soak, spin dry and line dry. Further shrinkage and creasing will be achieved with full wash cycle (on delicate) and a heat dryer cycle.
CARE:
Hand wash or machine wash unbuttoned on delicate, cold water with minimal environmentally friendly detergent. Line dry.
NOTE: Full washing cycle and machine dry will result in maximum shrinkage, to be experimented with care and at owner's risk.
Available RAW/unwashed
SIZES:
Small (36)
Medium (38)
Large (40)
X-Large (42)
XX-Large (44)
Retail $ 249.95
Available from www.misterfreedom.com, fine retailers around the World, and our Los Angeles ol' pile o' rags.
Email sales@misterfreedom.com or call 323-653-2014 with any questions unanswered above.
Thank you for your support,
Christophe Loiron
Mister Freedom®
©2016