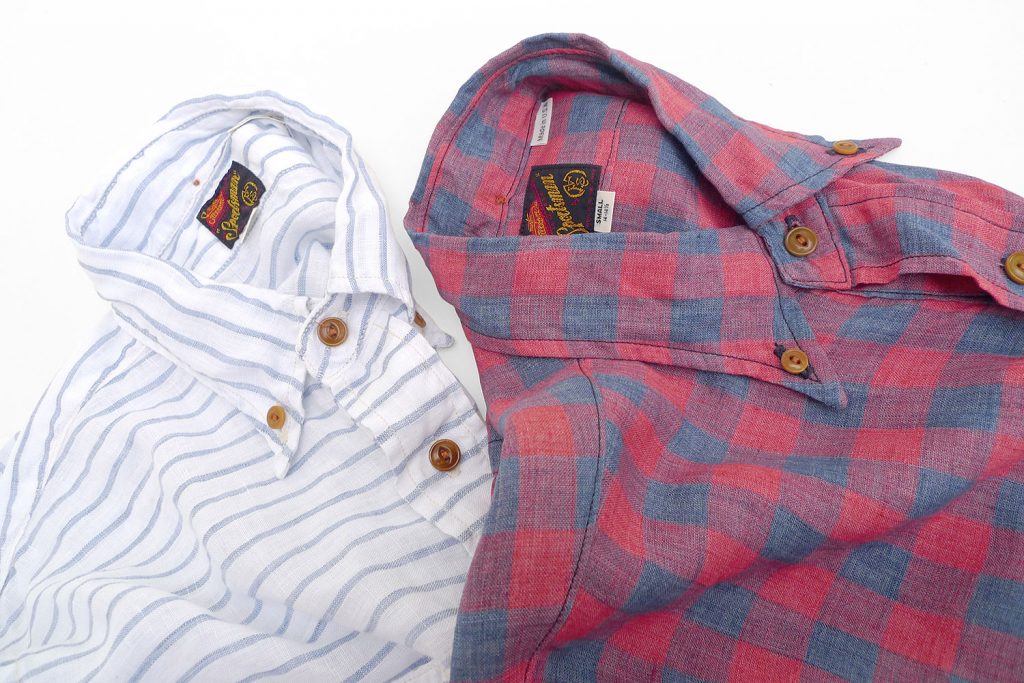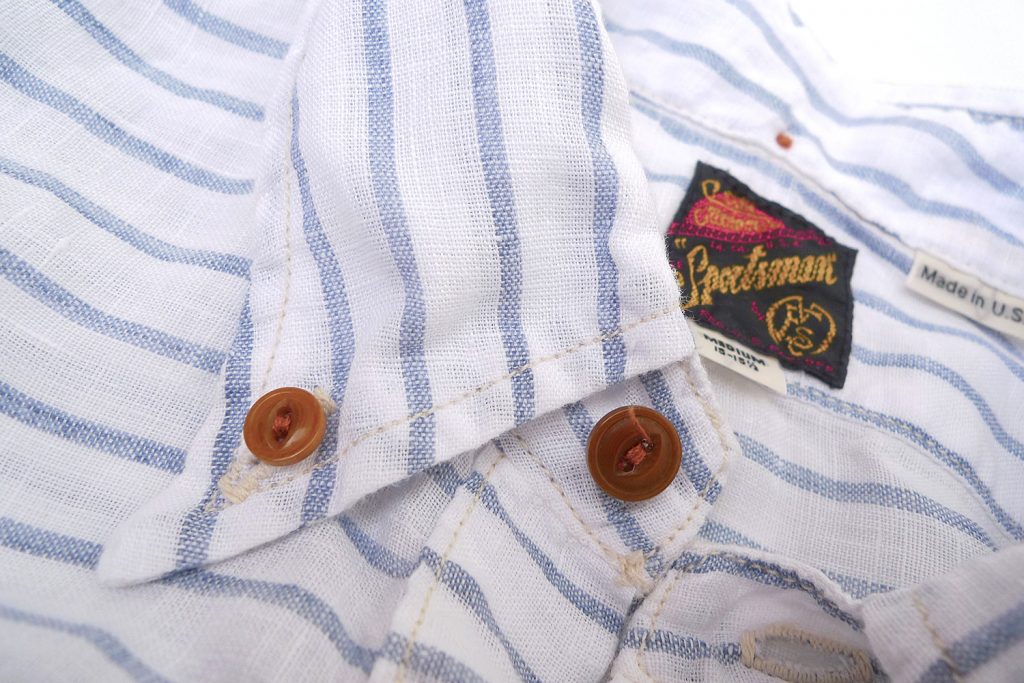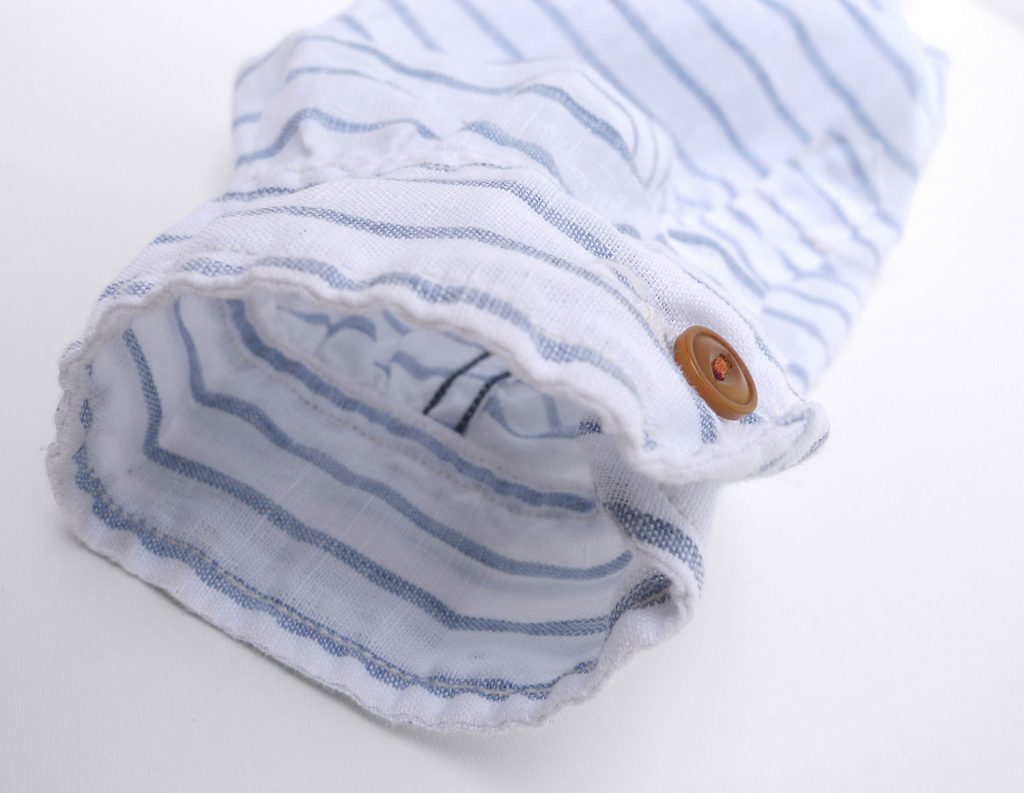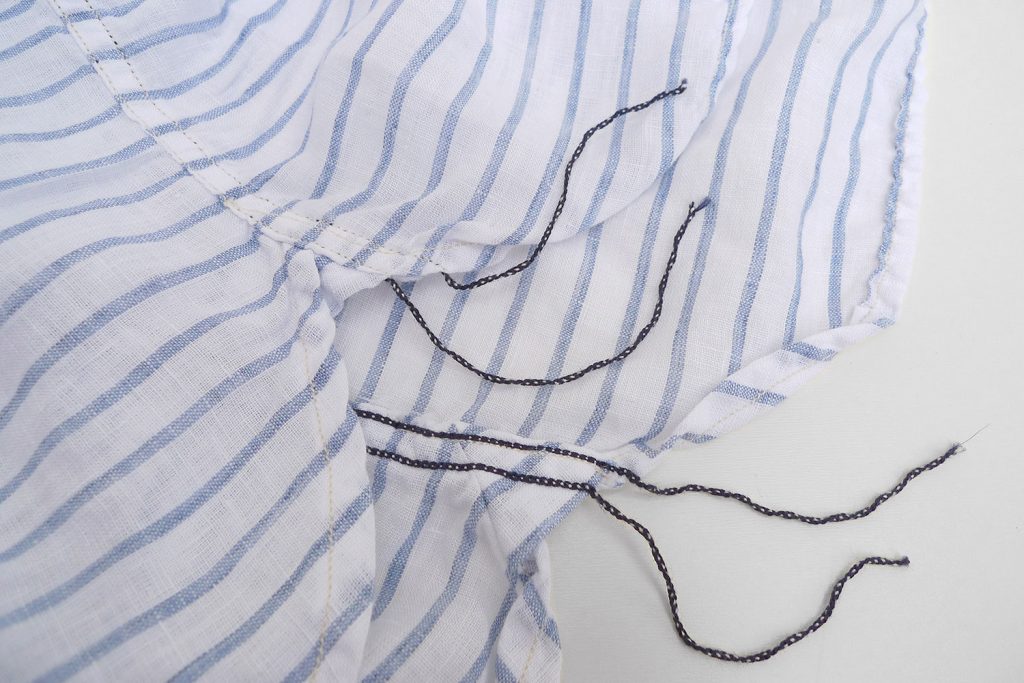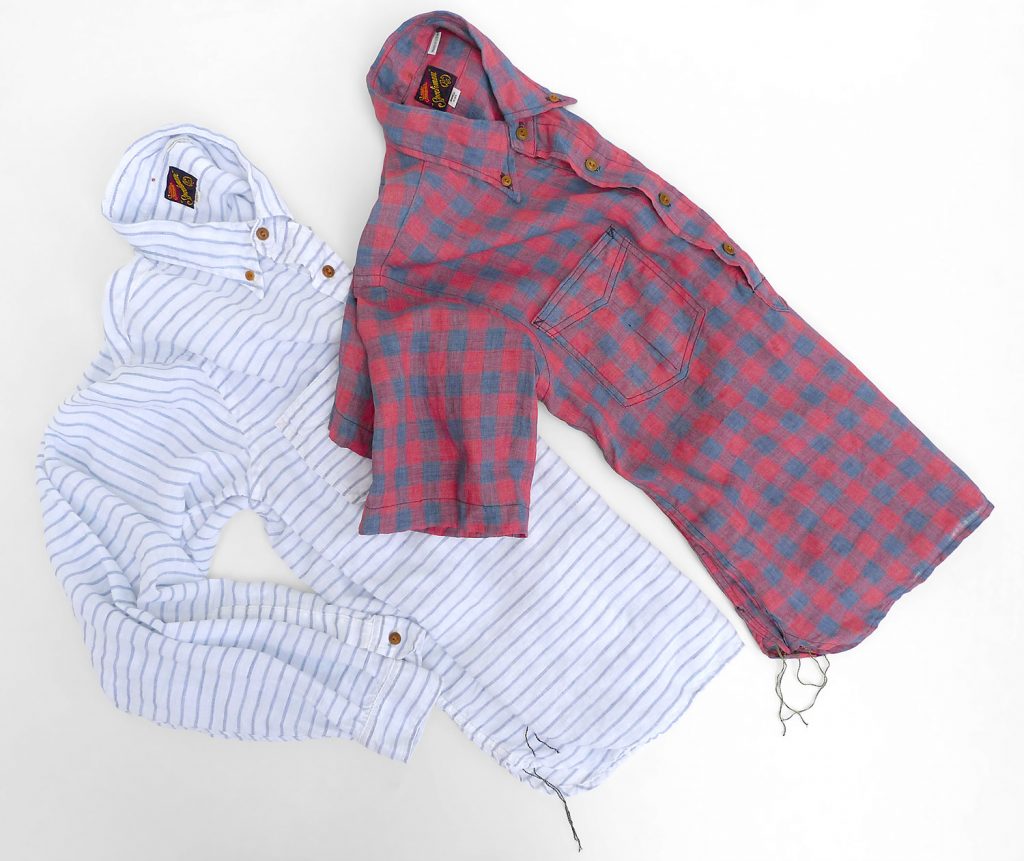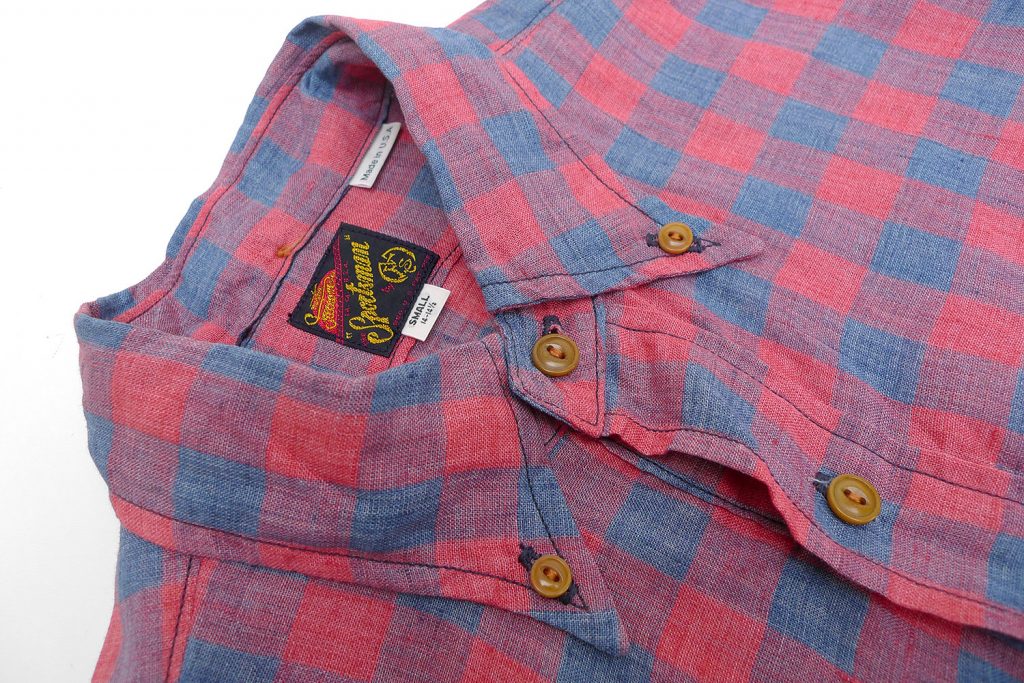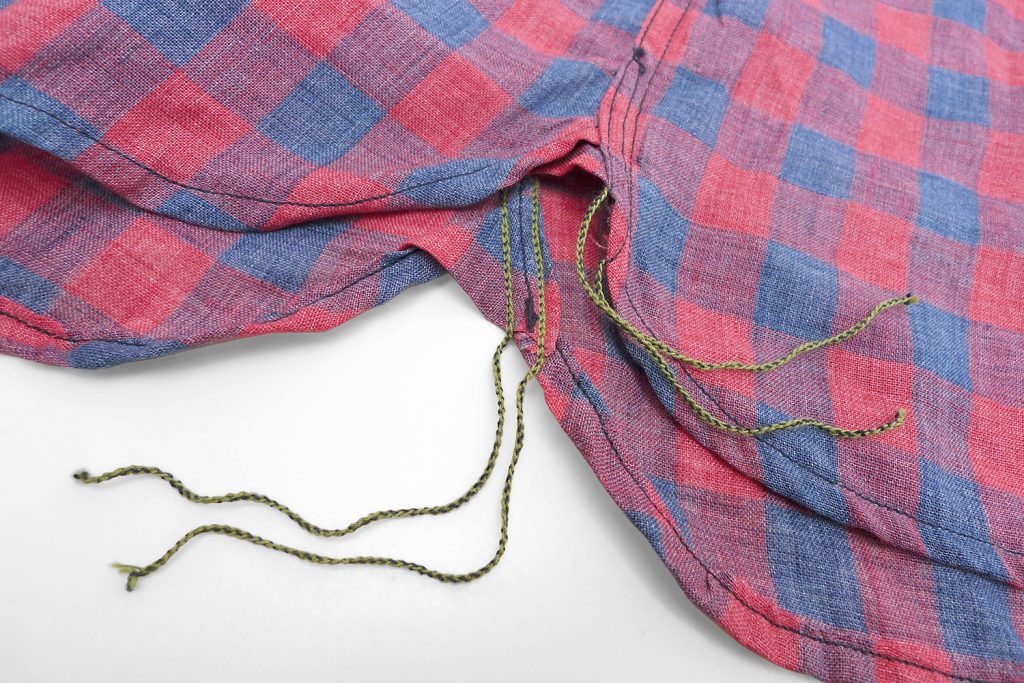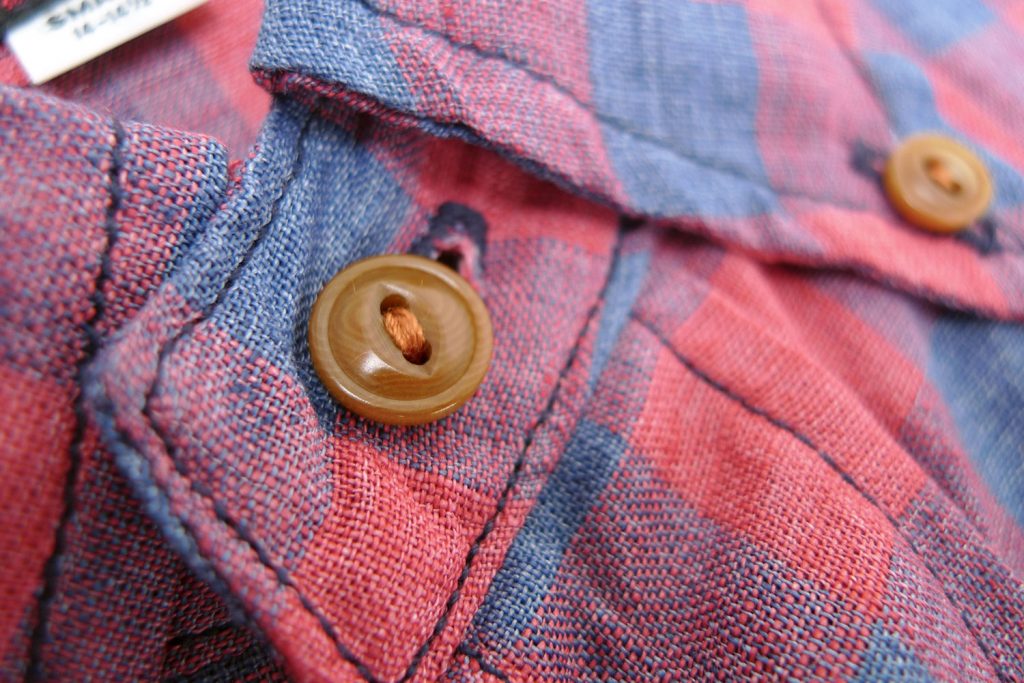 Mister Freedom® "BERKELEY" Pull-over Shirt.
New Old Stock Italian linen.
SS2019 mfsc "The SPORTSMAN" catalog.
Made in USA.
The MF® "Berkeley" is a no-frills, pull-over type shirt with a vintage preppy vibe, a nod to 1960's American campuses attire, California old-school collegial wear and casual Ivy-League style. The moniker is a reference to UC Berkeley, and its rich history.
Introduced during Spring 2018 and initially released in two "bleeding madras" options, the MF® "BERKELEY" shirt pattern is part of our on-going production of all made-in-USA originals, regrouped under the Mister Freedom® "Sportsman" catalog. A long-sleeve version was subsequently made available in an indigo/white hickory stripe twill and a brown "Cacao" chambray.
The NOS fabrics of this SS2019 release are quite contemporary but boast a fancy old-school pedigree. They were produced by the Italian mills of the renown ALBINI Group, purveyor of fine tailoring textiles since 1876. We were lucky to score some yardage of two distinct yarn-dyed plain weave linen Albini fabrics in a Los Angeles warehouse, and jumped on the opportunity to take the Berkeley on an escapade to Lombardy, for a touch of classic Italian elegance.
These two summer fabrics are light weight and breezy, featuring a subtle sheer, a crispy dry hand, and the typical wrinkled look and classic drape of 100% linen woven cloth.
The long-sleeve white/blue stripe Berkeley shirt has a bit of a maritime vibe due to the vertical stripe pattern. The short-sleeve blue/red check version carries more of a typical 1960's casual summer shirt vibe. Both are easy-to-wear garments. Each fabric option is only available in one sleeve length, as released.
The MF® BERKELEY shirt is designed and made in California by Mister Freedom® in collaboration with Sugar Cane Co, from New Old Stock fabrics.
SPECS:
FABRICS:
a) White & blue woven stripe: 100% linen, light weight, breezy, milled in Italy.
b) Red & blue woven checks: 100% linen, light weight, breezy, milled in Italy.
DETAILS:
* An original MF® shirt pattern inspired by vintage 1960's Ivy League style and American campuses attire.
* Pull-over type.
* Button-down collar.
* Amber brown corozo wood "Cat-Eyes" buttons.
* Two inverted-pleat chest pockets.
* Side gussets.
* Tailored-style sleeve setting.
* Chain-stitch construction.
* MF® woven "Sportsman" rayon label.
* Designed and made in USA from New Old Stock fabrics.
SIZING/FIT:
Both linen options of the Mister Freedom® SS2019 BERKELEY shirt come raw/unwashed and will shrink to the same tagged size after an initial 30mn cold soak, spin dry and line dry.
I wear a Medium (15-15½) in most mfsc button-down shirts and I opted for a comfortable Medium for the white/blue stripe (same size choice I had made for the madras versions), and a snug Small for the red/blue checks.
For a relaxed fit, we recommend getting your usual mfsc shirt size.
Please refer to sizing chart for approximate raw/soaked measurements. Soaked = 30mn cold soak, spin dry and line dry.
CARE:
Due to the delicate nature of the fine-woven linen fabric, consider and handle the SS2019 BERKELEY as a fragile garment. Hand washing is preferable, but the shirts can be machine-washed on delicate/gentle cycle, cold water, minimal eco-friendly detergent. Line dry.
Un-button the shirt before washing (collar and front.) Do not launder with clothing containing sharp hardware (metal buttons, metal zippers, hooks,…) to avoid snagging and overall damage to the shirt.
Available RAW (unwashed).
Two options: L/S white & blue stripes and S/S red & blue checks.
Sizes
Small (14-14½)
Medium (15-15½)
Large (16-16½)
X-Large (17-17½)
XX-Large (18-18½)
Available from www.misterfreedom.com, our Los Angeles brick & mortar store, and fine retailers around the World.
Email sales@misterfreedom.com or call 323-653-2014 with any questions unanswered above.
Thank you for your support.
Christophe Loiron
Mister Freedom®
©2019