Mister Freedom® mfsc FW2019 "Mécano" Jacket, indigo-dyed HBT model.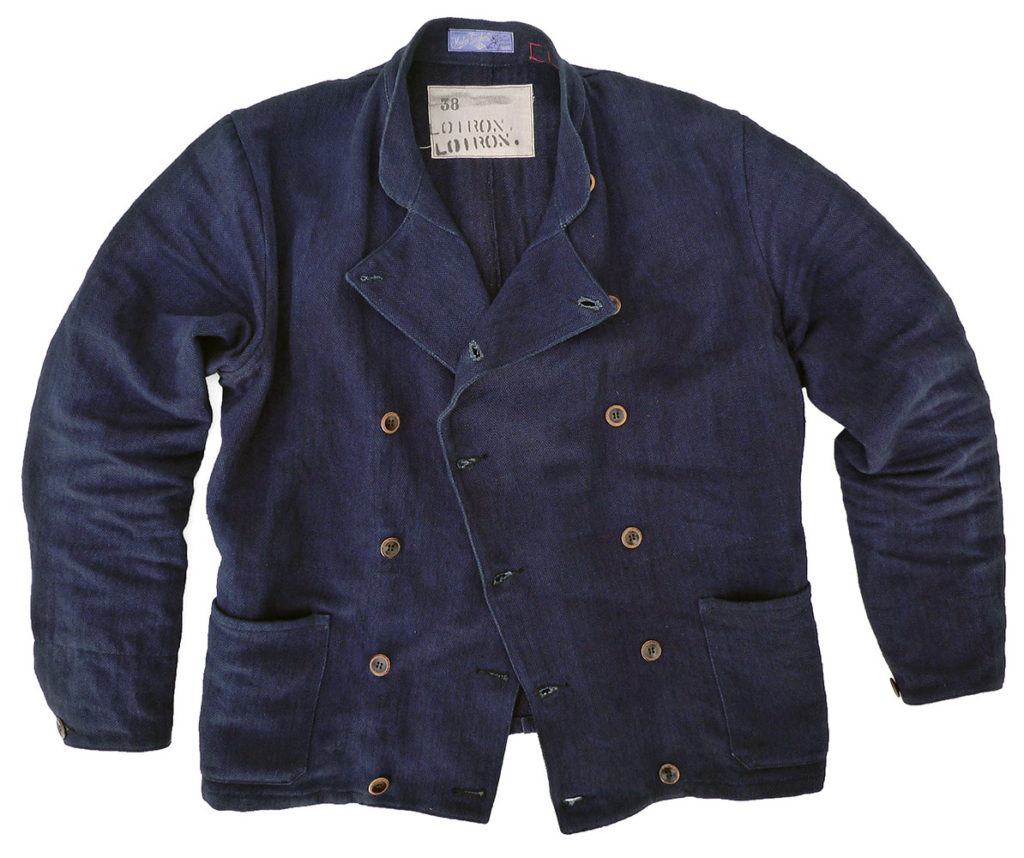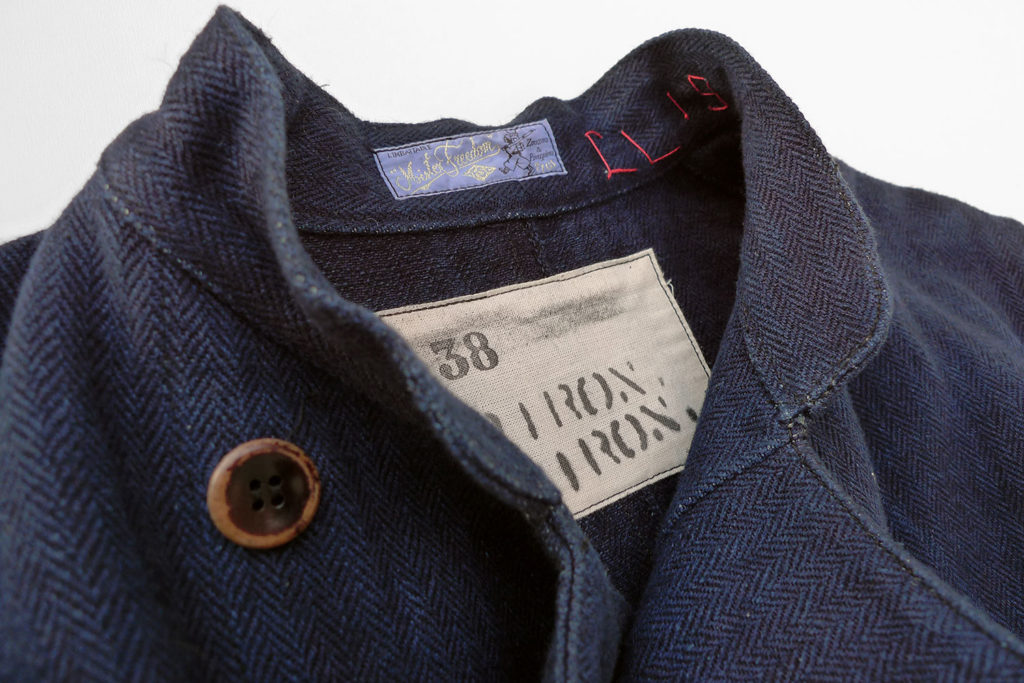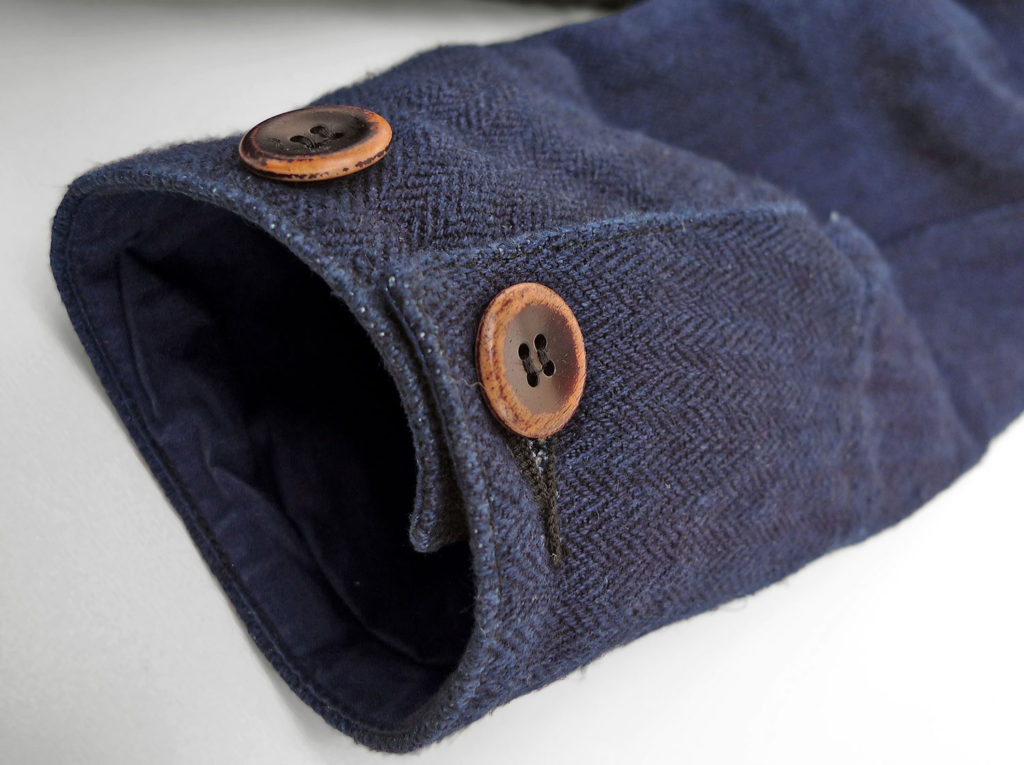 Mister Freedom® mfsc FW2019 "Mécano" Jacket, 14 Oz. SC401 'Hawaii' denim model.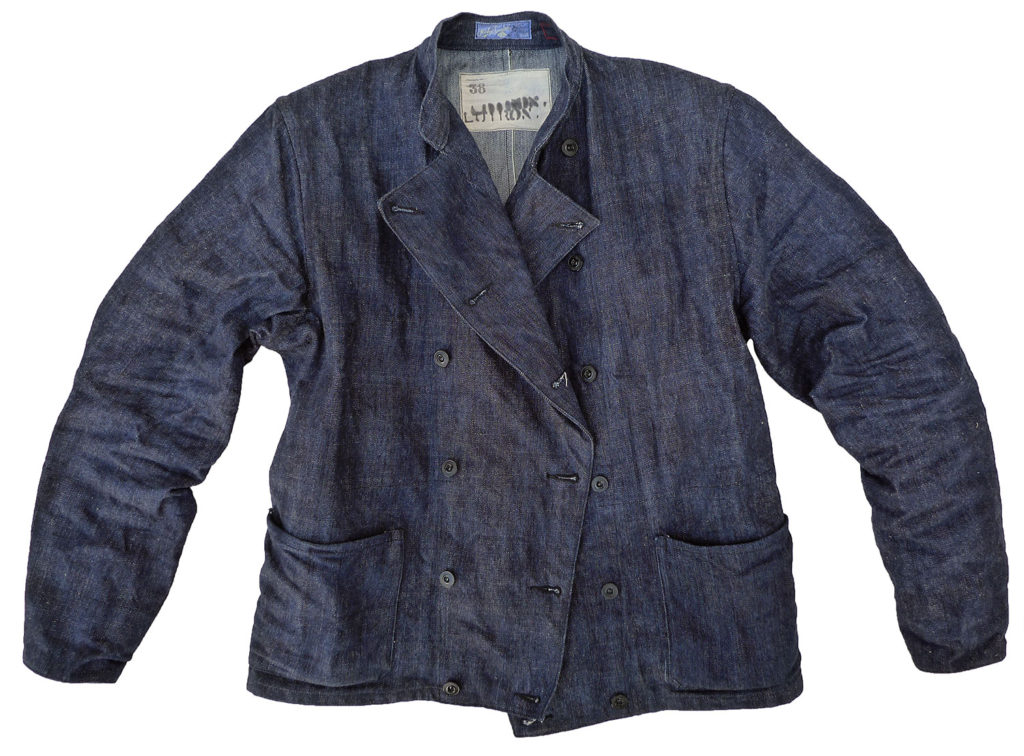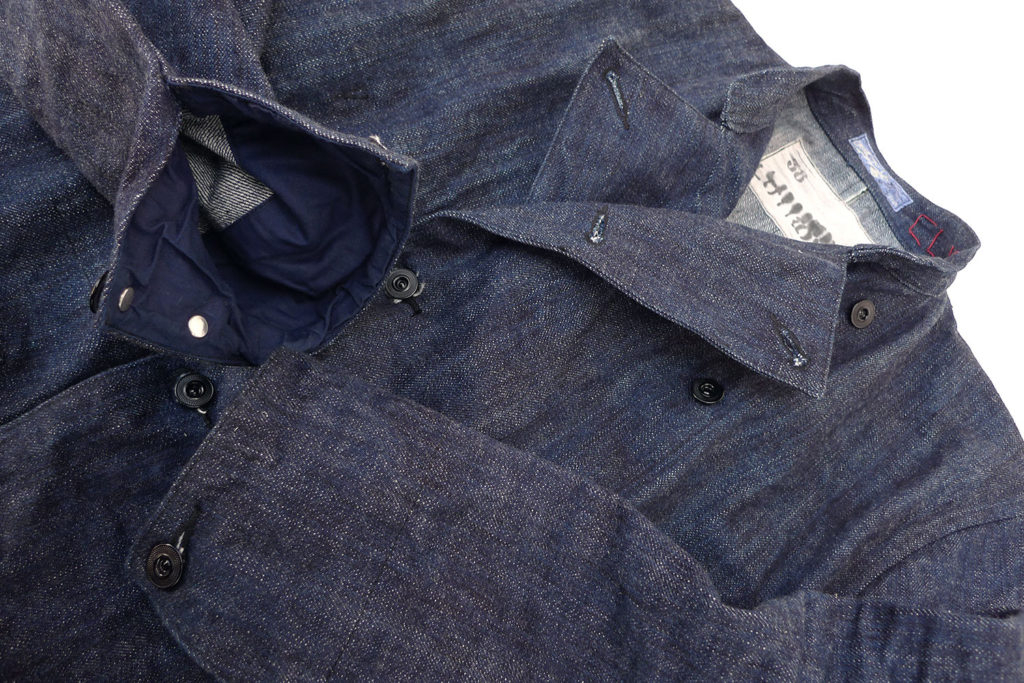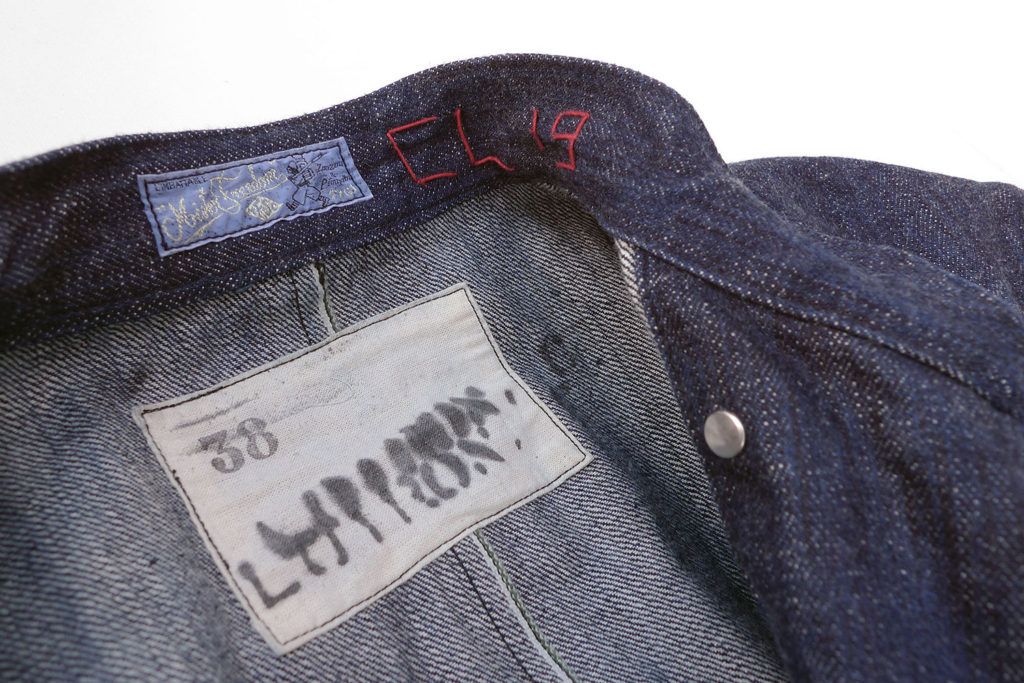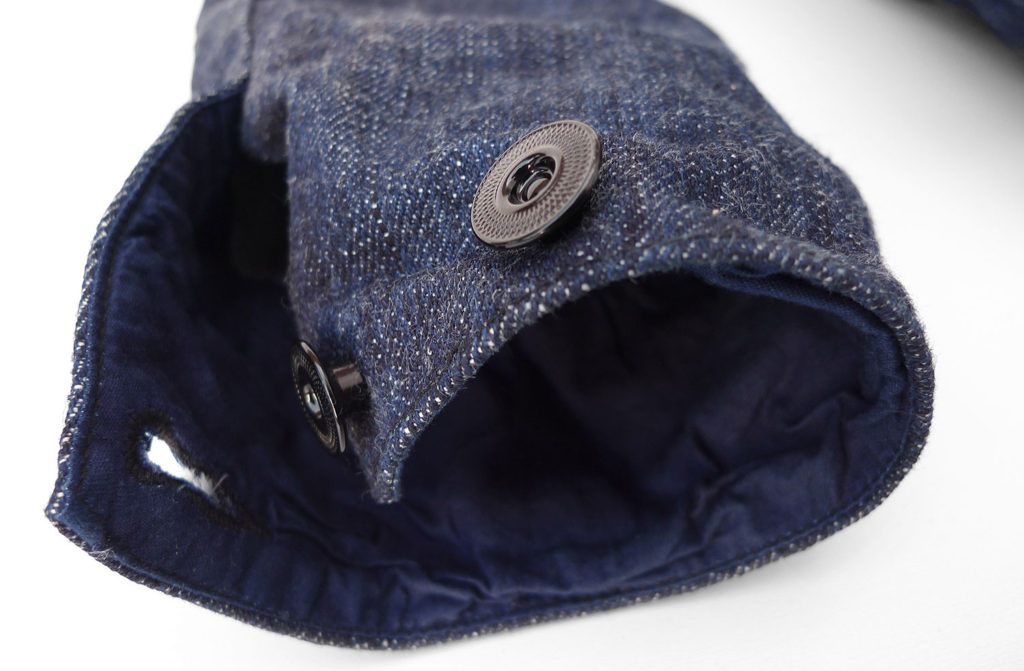 Mister Freedom® x Sugar Cane Co "MÉCANO" Jacket.
FW2019 mfsc "PIOUPIOU" Collection.
Made in Japan.
This Mécano Jacket release officially launches our FW2019 mfsc "PIOUPIOU" capsule collection.
Etymologically, the word pioupiou – as a reference to a young conscript – first appeared in "Le Pioupiou ou la gloire et l'amour", a 1838 play by vaudevillian Antoine-Francois Varner.
What's a pioupiou? The obsolete term, pronounced pew-pew, was a happy-go-lucky nickname given to French soldiers heading out to the frontlines on the onset of WW1. The typical French grunt in 1914 was proudly sporting the flamboyant Model 1877 field uniform: Prussian blue wool capote (long coat), red kepi with matching flashy red trousers, the infamous pantalon garance. This stylish combo soon revealed to be quite ideal as enemy target practice in the field, and was soon replaced by the Bleu Horizon field uniform commonly associated with the French Army on the Western Front during the 1914-1918 conflict.
As that "Great War" dragged on, and trenches of the Western Front disclosed their terrifying reality via letters from the front (although censored), homecomings of Gueules Cassées, and Mort pour la France announcements, the cutesy pioupiou sobriquet quickly changed to "POILU" (literally 'hairy'), 'tough guy' or badass in period jargon… Despite the initial motivational efforts of the press, the concept of chair à canon soon started challenging the patriotic enthusiasm of the early days, and the 'glamor' of the War To End All Wars quickly faded.
By November 11, 1918 casualties in the French Army (impacting about 71% of those who fought in her ranks) reached 1.4M killed, and 4.2M wounded. Within the Allied Forces, France's KIA numbers ranked second, topped by Russia's 1.7M and followed by the British Empire's, a bit shy of 1M. For reference, after joining the conflict in 1917, the loss of lives in the US Army would amount to about 116,000 by the end of 1918.
Last year, 2018, marked the centennial of WW1, with memorials and ceremonies abundantly relayed by the media. In 2013 had begun a collective effort encouraging French citizens to submit letters, photos, artifacts and original documents to be digitized and regrouped as public data. This Devoir de Mémoire (Obligation of Remembrance) made many a-French families dig-up personal archives. Some of the submitted WW1-related documents are regrouped here. Some stunning colorized photos can be found here.
The Mister Freedom® FW2019 mfsc "PIOUPIOU" collection is not an apology of war, nor an effort to romanticize it, but follows a belief in the importance of not forgetting our Past, in an attempt to stop repeating History and its inexorable "Only the dead have seen the end of war" lament ad vitam aeternam.
On a much lighter note, the FW2019 line-up we will gradually be releasing this season is loosely inspired by French military-issued garb of the 1910's to the 1930's. It blends period utility uniforms and revisited vintage civilian attire into contemporary wearables, following the usual MF® "might have been" design approach.
The MF® rag du jour is the Mécano Jacket.
If you are after one of the latest holy grail of vintage EU militaria, a Model 1923 double-breasted indigo bourgeron issued to French Army tankmen (tankists) in the interwar period, about as easy to find as a black cat in a coal mine, reach out to our friends and expert vintage hunters Jérome aka le Zouave, Damien from Le Magasin, Arnaud "French Cancan" Beauville, Tom Gruat, …
Not sure if replicas already exist of the M23 bourgeron, but the Mister Freedom® "Mécano" is our non-verbatim interpretation of this early French military chore jacket classic. We started our R&D journey with the pattern of a white cotton twill specimen dated 1916 from our archives (merci Damien.) If we kept the killer curvature of the front double-breasted panels, we tweaked the fit (sure needed it!), changed the cuff pattern and other details. After a dip in the mfsc secret sauce, our project had morphed into a cool wearable.
The Mécano comes in two distinct fabric options. The first is a deep indigo-dyed linen/cotton herringbone twill (HBT), an old mfsc favorite with very rewarding patina potential. This linen-cotton blend fabric we developed a few years ago was inspired by late 1880's French Firemen uniforms. It has been previously featured on the Valseur, Veste Belleville and Gilet Gadjo  of the 2017 mfsc Gypsy Blues collection.
We also thought an "Americanized" version would be an interesting hybrid, so we are also offering the Mécano in a sturdy 14 Oz. "401 Hawaii" selvedge dark indigo-dyed denim twill. This blend of 50% cotton and 50% recycled sugarcane fibers is milled in Japan exclusively for Sugar Cane Co. The "401" will be familiar to MF® OGs, as it was featured on the right leg of the original mfsc UFO, aka "7161" Utility Trousers released in 2006. This is the first time in 13 years that we are using this beautiful fabric again, with its characteristic subtle indigo shade variations in the yarns, its interesting denim nep, and slub. This Mécano option is complimented by early workwear-style metal tack buttons with black painted finish, while the HBT model features genuine bone buttons.
Finally, our original FW2019 "Pioupiou" woven label design features a hardy and mighty Zouave (zouzou in military jargon of the period), and is a reference to La Coloniale and its often eluded 590,000 man-strong participation in the Allied victory of WW1. The specific grayish blue color of the label is a reference to the classic 1915 "Bleu Horizon" afore mentioned.
The MF® Mécano Jacket is designed in California by Mister Freedom® and manufactured in Japan by Sugar Cane Co.
SPECS:
PATTERN:
An original mfsc pattern inspired by vintage French military chore jackets aka bourgerons, specifically the early M23 version issued to tankmen and armored vehicle mechanics.
FABRICS:
Two distinct options:
a) Dark indigo-dyed 15 Oz. blend of 80% linen and 20% cotton herringbone twill (HBT), selvedge, milled in Japan.
b) Sturdy 14 Oz. "401 Hawaii" dark indigo-dyed denim twill, a blend of 50% cotton and 50% recycled sugarcane fibers. White w/ green line selvedge ID. Milled in Japan exclusively for Sugar Cane Co.
DETAILS:
Double-breasted pattern with attractive front panel curvature.

Late 1800's uniform back panel tailoring.

Stand collar pattern.

Double button cuffs with indigo-dyed popeline facing.

Two front bottom pockets.

Two concealed chest pockets, passport and phone size, mfsc striped ticking fabric.

Buttons:
a) Genuine bone with attractive finish for the indigo HBT Mécano.
b) 1930's style metal tack buttons with black painted finish for the denim Mécano.
Fabric selvedge featured in the rear panel center splicing seam.

Original mfsc "Pioupiou" woven rayon label.
SIZING/FIT
Both versions of the Mécano come raw/un-rinsed.
We recommend the usual protocol before wearing:
Cold soak for about 30-40mn, with occasional hand agitation.

Spin dry and line dry.

Wear briefly before fully-dry to set creases, then hang until fully dry.
Both versions will fit approximately the same following the above procedure, although the denim Mécano feels roomier because our mfsc shrink tests are done with heat-dried garments. There is therefore more shrinkage to be expected for the denim version with subsequent washing, or if a heat dryer is used. We don't recommend heat drying as this tends to soften garments, 'break' the fabric starch, and result in unsightly fold creases or marbling marks. Garment stiffness after a soak/line dry will subside rapidly with normal wear.
Both Mécano Jackets are considered true-to-size, and we recommend wearing your usual mfsc jacket size. I am usually a medium/38 in mfsc jackets, and I opted for a comfortable 38 in the indigo HBT and denim Mécano. Please note that the drape on both fabrics is very different, resulting in a subtle difference of silhouette.
Please refer to sizing chart for measurements, reflecting a 30-40mn cold soak/spin dry/line dry process, resulting in minimal shrinkage.
The raw measurements are given for reference only, as the numbers that actually matter are post soak. We do believe that, according to frequency of use, washable garments should be laundered when needed, and not kept 'raw'.
CARE:
Launder when needed.
We recommend turning indigo blue/denim garments inside out to avoid marbling during laundering. Machine wash, cold water, gentle cycle, eco-friendly mild detergent and line dry.
Potential attractive patina will develop according to activities and frequency of wear.
Please note that dark indigo might cause color transfer, and potentially "bleed" on light-colored garments, furniture, and skin.
Available Sizes:
34 (X-Small)
36 (Small)
38 (Medium)
40 (Large)
42 (XLarge)
44 (XXLarge)
Available from www.misterfreedom.com, our Los Angeles brick & mortar store, and fine retailers around the World.
Email sales@misterfreedom.com or call 323-653-2014 with any questions unanswered above.
Thank you for your support.
Christophe Loiron
Mister Freedom®
©2019