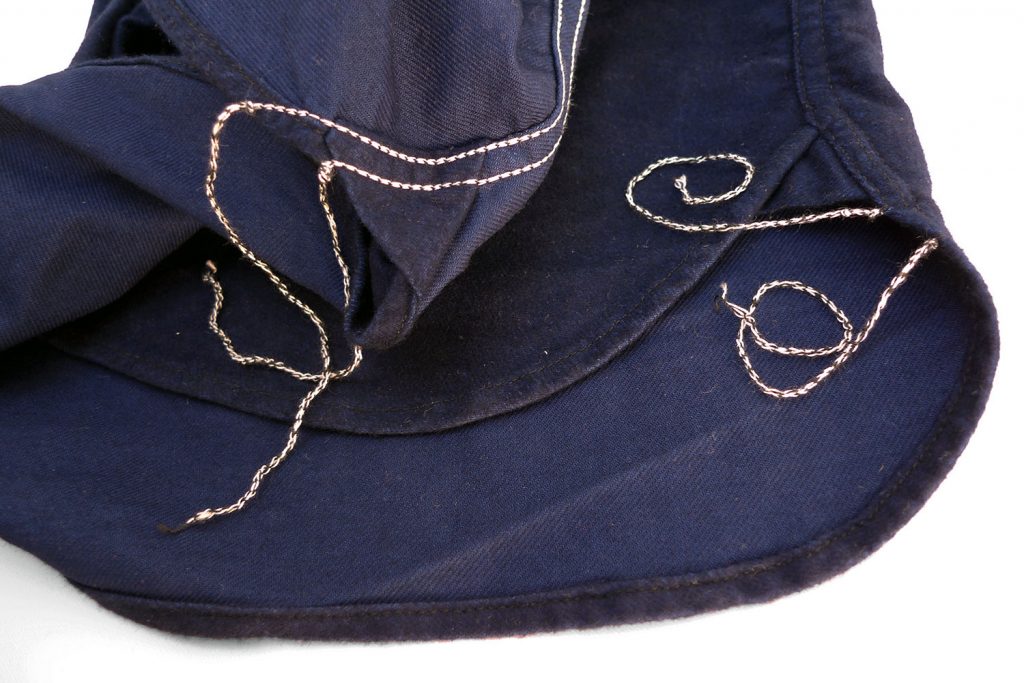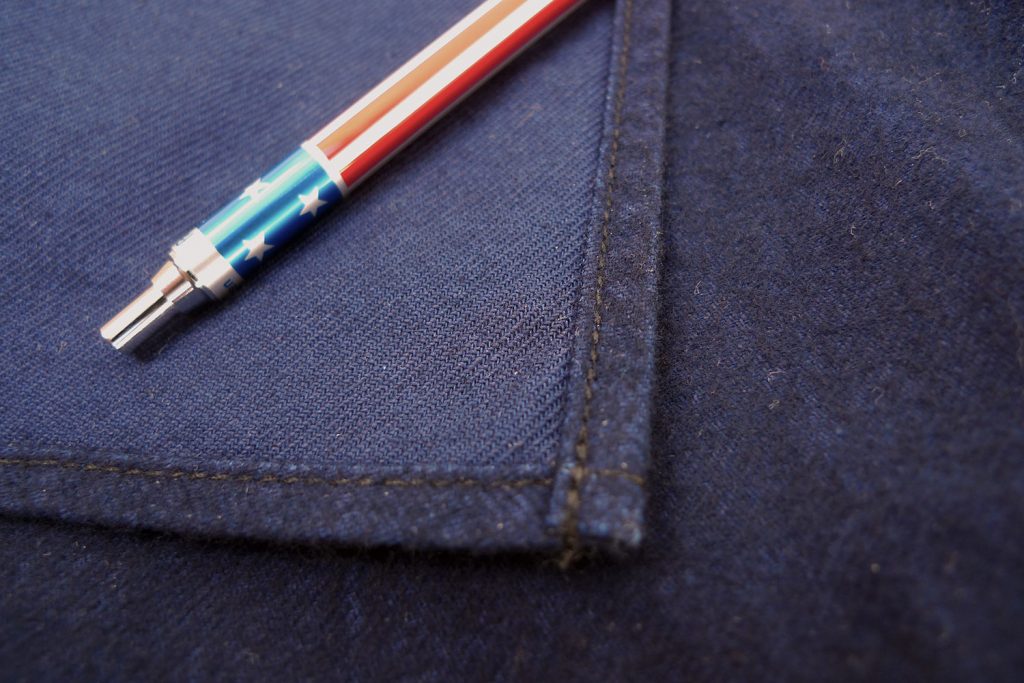 Mister Freedom® Garrison Shirt, indigo-dyed flannelette.
Fall 2016 mfsc Anniversary Collection
Made in Japan.
This season, we are bringing back the pattern of our popular Garrison Shirt, first introduced during our 2015 Saigon Cowboy venture.
Originally issued in an indigo 12.4 Oz. 'Midnight' twill and an olive 12.4 Oz. 'GB' denim twill, we are releasing this Fall 2016 10 year mfsc Anniversary edition in fancy indigo flannelette. Flannelette is a brushed cotton flannel textile, with a funny name.
This handsome 7.3 Oz. fabric features a nappy brushed warp (the face), contrasting with the twill pattern visible on the weft side (the reverse). This type of fabric is reminiscent of vintage brushed cotton camp shirts made of Canton flannel (another exotic word for it), solid or printed (as we did on our MF® Camp Shirt), a popular garment for the outdoorsman in the 1940's-50's. The textile feels warm, very soft and comfortable to the touch, in contrast with the stern military uniform character and pattern of the MF® Garrison Shirt.
The MF® Garrison Shirt, indigo-dyed brushed flannelette, is designed in California, USA, by Mister Freedom® and manufactured in Japan by Sugar Cane Co.
SPECS:
FABRIC:
Soft 100% cotton brushed twill aka flannelette, indigo-dyed, dark shade, 7.3 Oz., milled in Japan.
DETAILS:
* An original mfsc pattern, inspired by vintage military EU and US uniform shirts and tailor-made garments.
* Intricate button placket construction.
* Double chest pockets, arcuate flaps, one cut away pocket with pen compartment.
* White 'Cat Eyes' corrozo wood buttons (not plastic).
* Elbow reinforcement patches.
* Black 100% cotton twill collar facing.
* Side gussets.
* 100% cotton stitching, black on face, white on inside.
* Flat felled seam construction, inside contrast chainstitch.
* Original MF® rayon woven label.
* Designed in USA, Made in Japan, Worn Internationally.
SIZING/FIT:
The indigo flannelette Garrison Shirt comes raw/unwashed. We recommend an initial 30-40mn cold soak, spin dry and hang dry.
The tagged size reflects sizing after undergoing this initial process. I wear a comfortable Medium in this Garrison Shirt indigo flannel issue, my usual size in mfsc shirting.
I am expecting a bit more width shrinkage in the shirt worn in the fit pic, once it goes through normal washing cycles.
Please refer to the sizing chart for post-soak measurements. Soaked in cold water, hung dry.
CARE:
Machine wash on delicate, turn the shirt inside-out to avoid marbling, use cold water and minimal eco-friendly detergent. Hang dry.
Please note that minimal color crocking is to be expected, as it is the nature of indigo to rub off.
Available RAW (unwashed)
Sizes:
Small
Medium
Large
X-Large
XX-Large
Retail $389.95
Available from www.misterfreedom.com, and our Los Angeles brick & mortar store.
Email sales@misterfreedom.com or call 323-653-2014 with any questions unanswered above.
Thank you for your support.
Christophe Loiron
Mister Freedom®
©2016