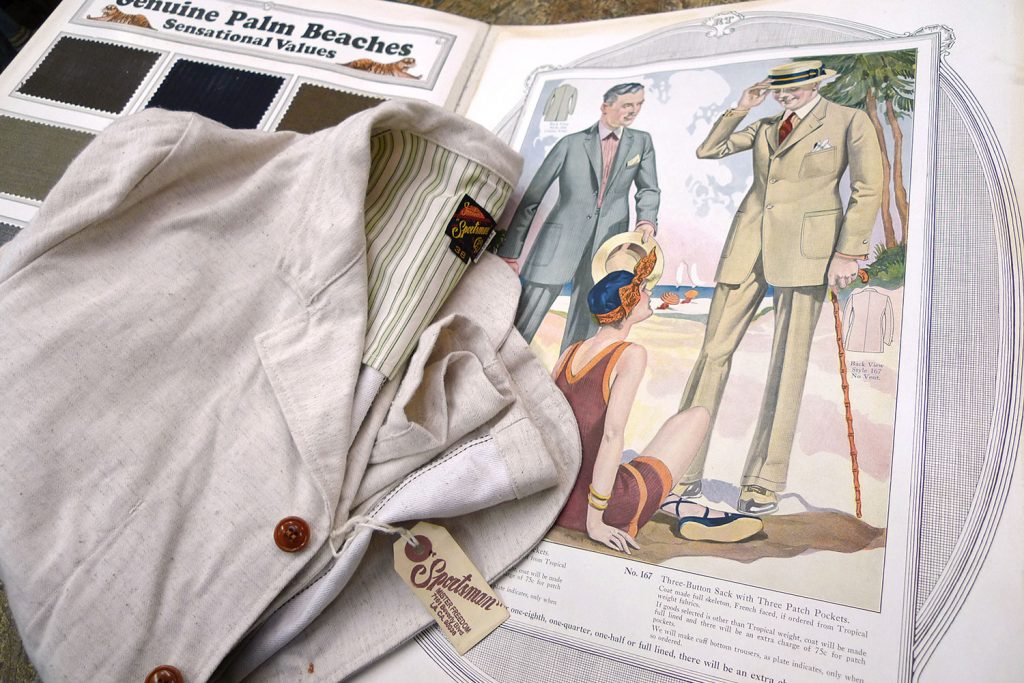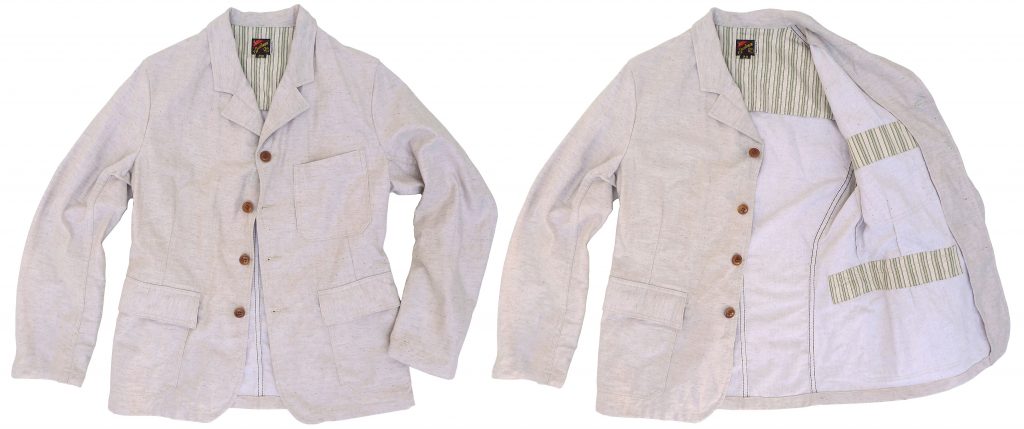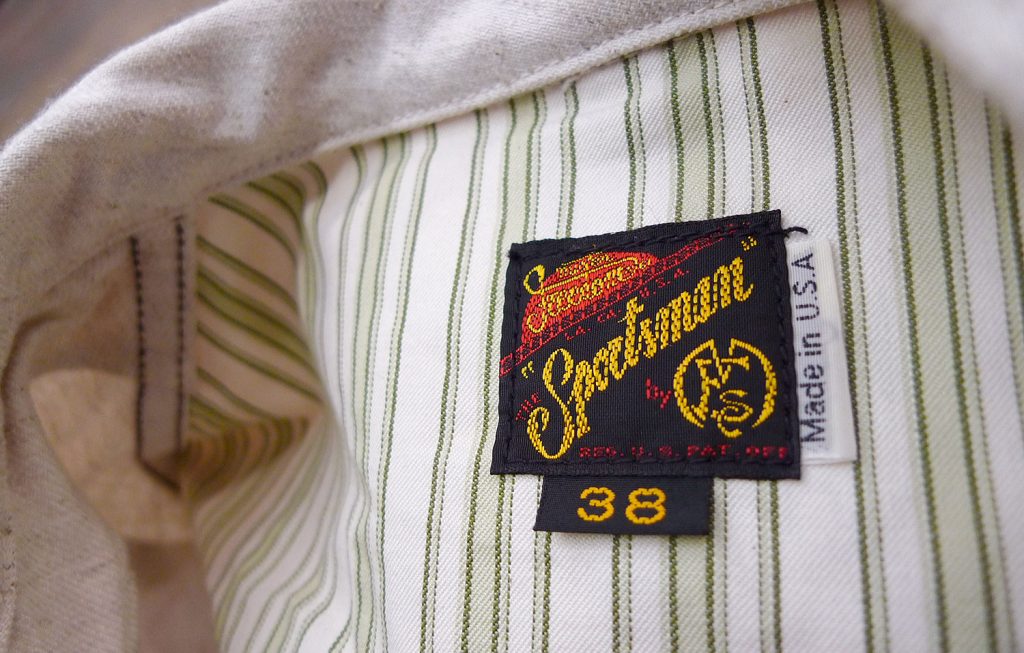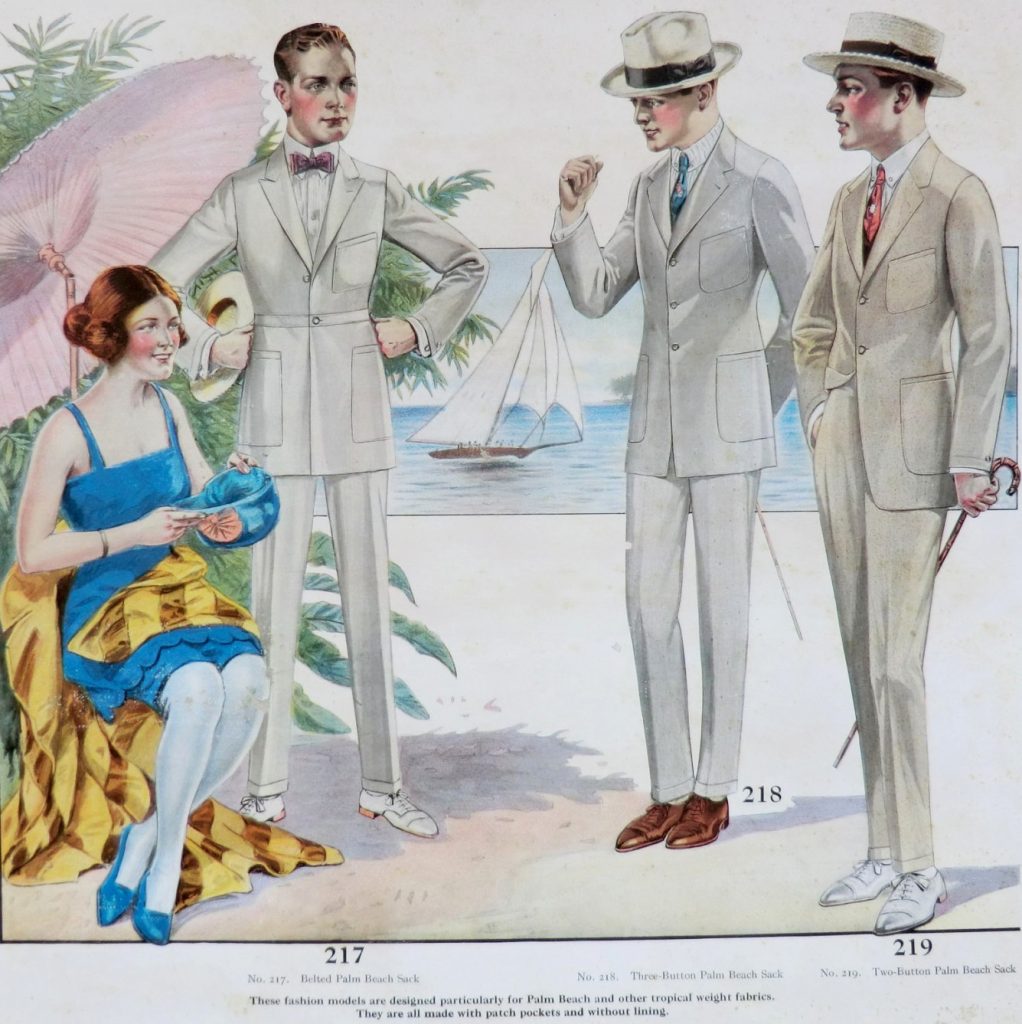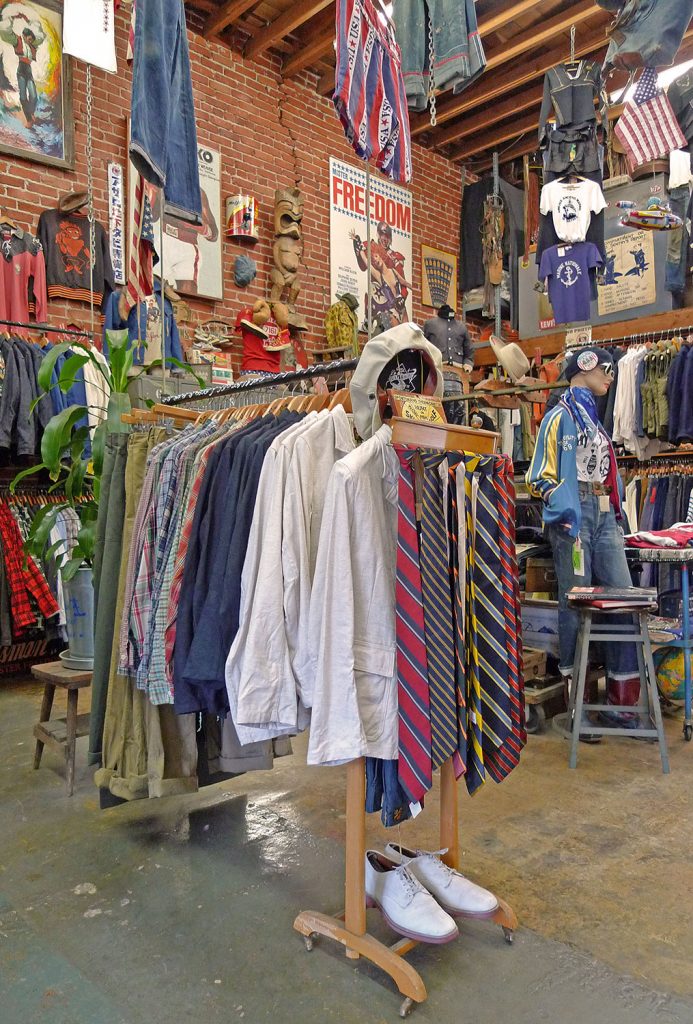 Mister Freedom® Continental Sportcoat, NOS "Congo Gabardine".
mfsc Sportsman catalog, Spring 2018
Made in USA
To ease into this new year in style, let's introduce a new member of the Mister Freedom® Continental Sportcoat family, the first Spring 2018 addition to our all-made-in-USA Sportsman catalog.
This classic and versatile unstructured blazer pattern is already available in an array of fine NOS fabrics, an indigo crosshatch twill, two grey cotton-linen twills, and a light indigo "Player" denim. It now gets an elegant tropical twist with the New Old Stock fabric we recently scored, an 8.85 Oz. blend of 86% cotton and 14% linen, an elegant natural white twill with a subtly-contrasting heather oatmeal warp and white weft. The face of this denim-like fabric displays unbleached slubby flecks of natural fibers, while the reverse shows a whiter cotton yarn.
Our (technically inaccurate) choice of term "Congo Gabardine" is a nod to "Congo Cloth", a now-defunct rayon fabric typical of vintage tropical attire. Off-white suiting fabrics of the the 1920's-40's, such as "Congo Cloth", or the illustrious Palm Beach Cloth (a cotton/mohair blend fabric milled by the Goodall Worsted Company, and cut into classic "Palm Beach" lightweight suits), certainly convey a bygone tropical elegance often eluding contemporary men's summer fashion.
The Mister Freedom® Continental Sportcoat "Congo" features a half-shoulder 'floating' lining cut from yet-another fancy NOS fabric, a white sateen twill with a woven green stripe pattern, probably milled in Italy. Our sportcoat's classic, sixties-style, four-button closure highlights an attractive set of amber brown corozo buttons, adding somewhat of an 'earthy' touch while complimenting the tropical theme.
This off-white summer coat can be paired with jeans or khakis for a casual vibe, dressed-up with waistcoat and slacks, styled with neckties or open collars… or rocked full-on Miami Vice.
The Continental Sportcoat is designed in California by Mister Freedom® and manufactured in California, USA, by Mister Freedom® in collaboration with Sugar Cane Co.
SPECS:
PATERN:
An original mfsc pattern, inspired by vintage cotton work coats and other unstructured blazers, notably a 1950's French postal uniform jacket.
FABRIC:
New Old Stock ivory-colored twill, 8.85 Oz., blend of 86% cotton and 14% linen, off-white heather warp with slubby oatmeal flecks x white weft, milled origin unknown.
Lining: NOS 100% cotton woven stripe sateen twill, white and green, probable European origin.
DETAILS:
* Unstructured silhouette.
* Lightweight and soft, perfect traveling companion.
* High four-button front closure.
* Amber brown corozo wood butons.
* Half shoulder floating lining, 100% cotton NOS fancy woven stripe twill.
* Form-fitting back, ventless.
* Three patch pockets, with flaps on hip pockets.
* Concealed 'passport' chest pocket.
* Pocket openings reinforced on the inside with lining facing.
* Tonal 100% cotton stitching, clean caballo flat-felled seam construction, chainstitch on the inside, no open edges or overlock.
* Made in USA.
SIZING/FIT:
This explains how we size our garments.
The Continental Sportcoat "Congo" comes raw/unwashed. We recommend our usual initial 30mn cold soak/occasional hand agitation/spin dry/hang dry process. The tagged size reflects the size of the garment after going through this process. The subtle variation of shrinkage between body fabric/lining fabric/cotton thread will result in puckering and roping, slightly altering the fit and drape.
I personally opted for a Size 38 in the Continental sportcoat "Congo", consistant with all of its other iterations in various fabrics.
Please refer to sizing chart for approximate raw/soaked measurements. Soaked = 30mn cold soak, spin dry and line dry.
Full wash cycle and heat dryer are not recommended.
CARE:
Hand wash or machine wash unbuttoned on delicate, cold water with minimal environmentally friendly detergent. Do not use bleach. Line dry.
NOTE: Full washing cycle and heat dryer might result in excessive shrinkage and/or damage, to be experimented at owner's risk.
Available Raw/unwashed
SIZES:
Small (36)
Medium (38)
Large (40)
X-Large (42)
XX-Large (44)
Retail $329.95
Available from www.misterfreedom.com, our Los Angeles brick & mortar store, and fine retailers around the World.
Email sales@misterfreedom.com or call 323-653-2014 with any questions unanswered above.
Thank you for your support,
Christophe Loiron
Mister Freedom® 2018