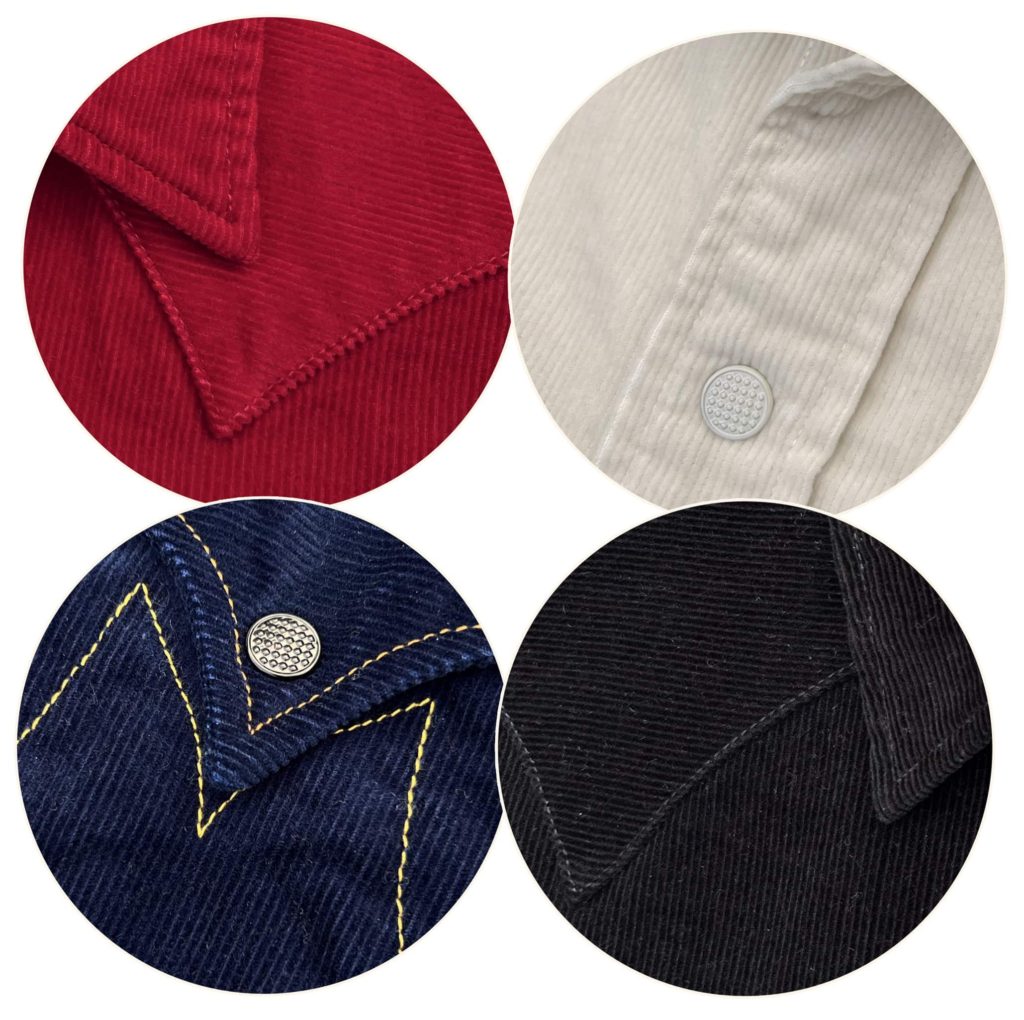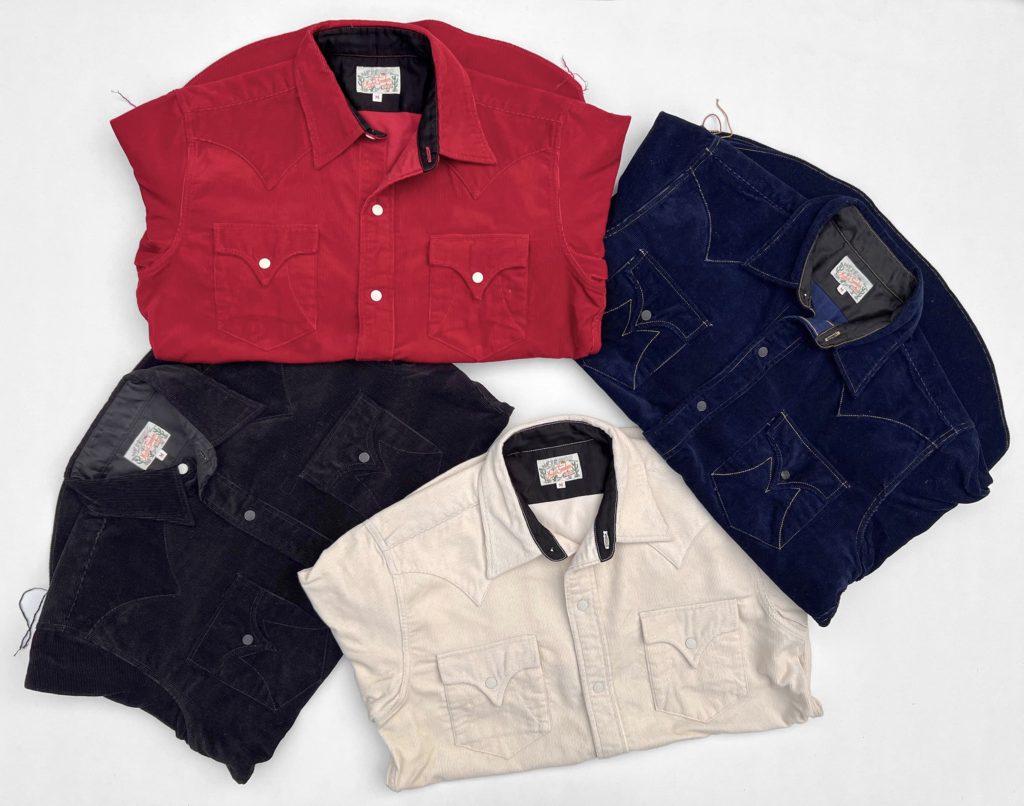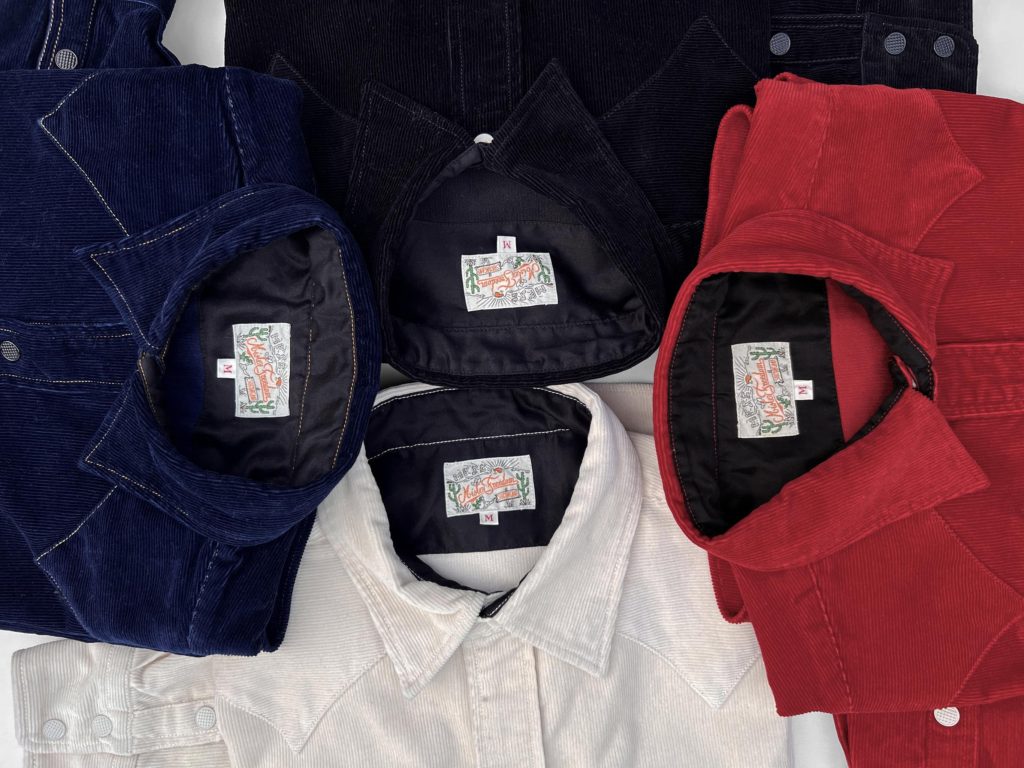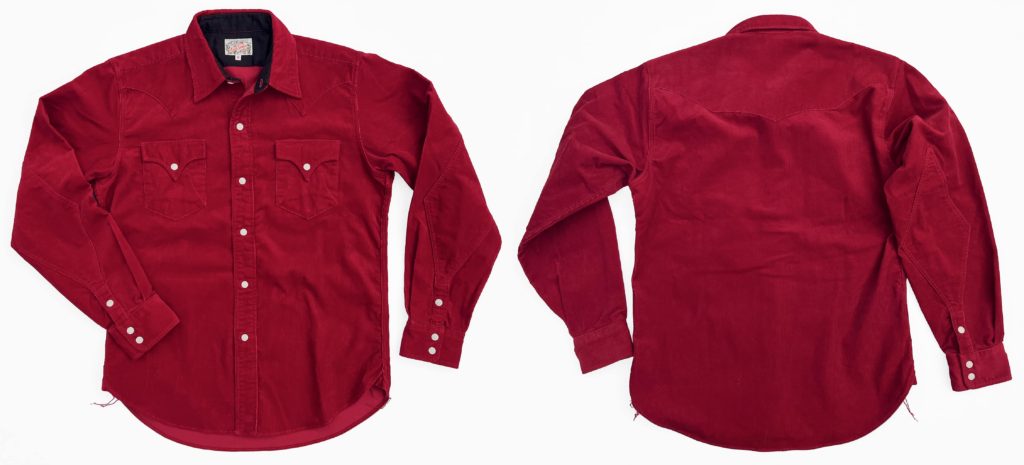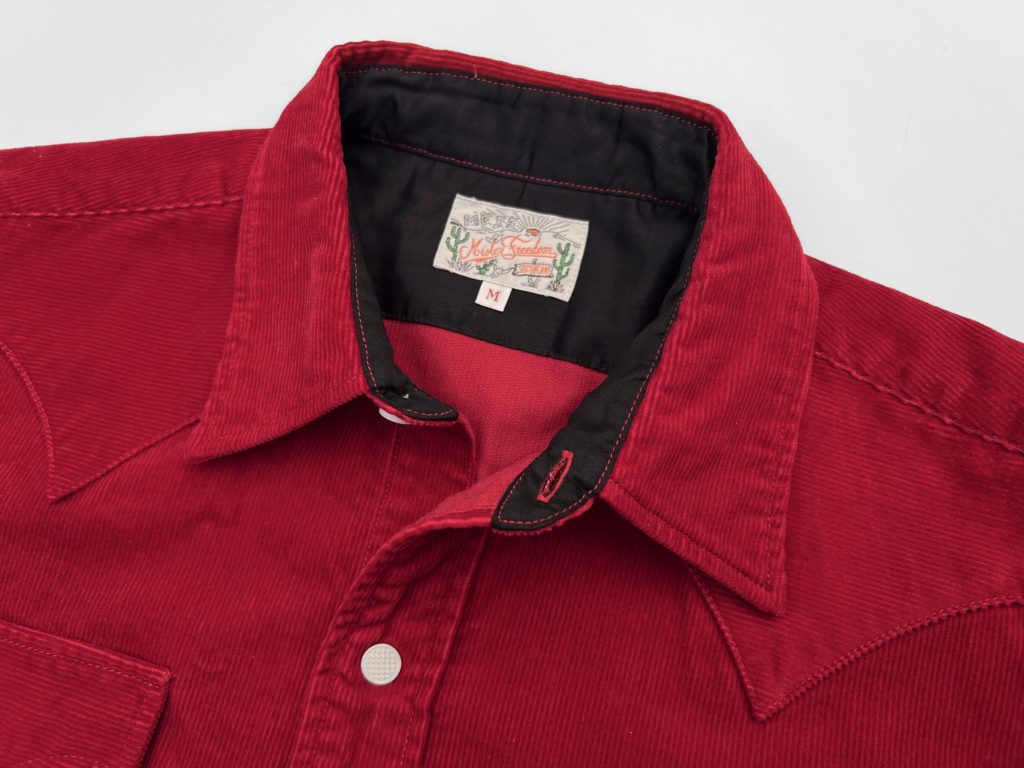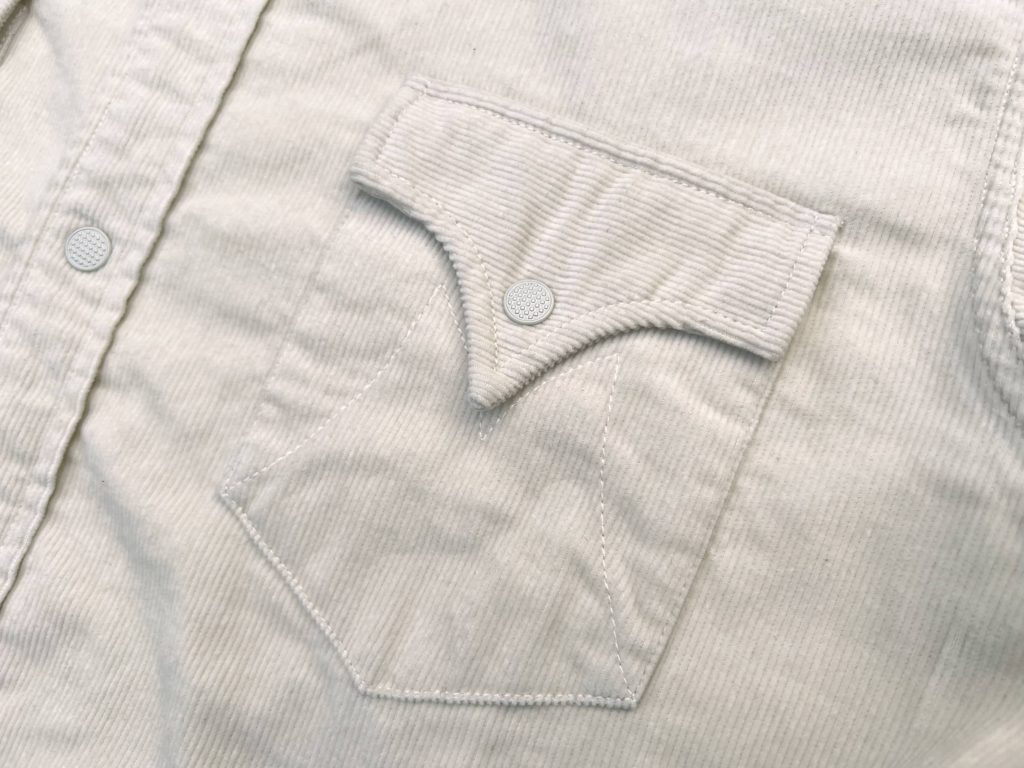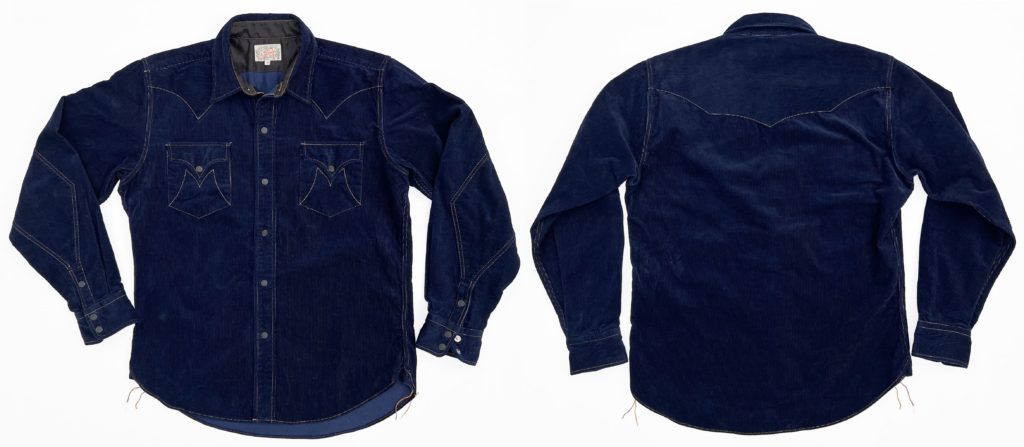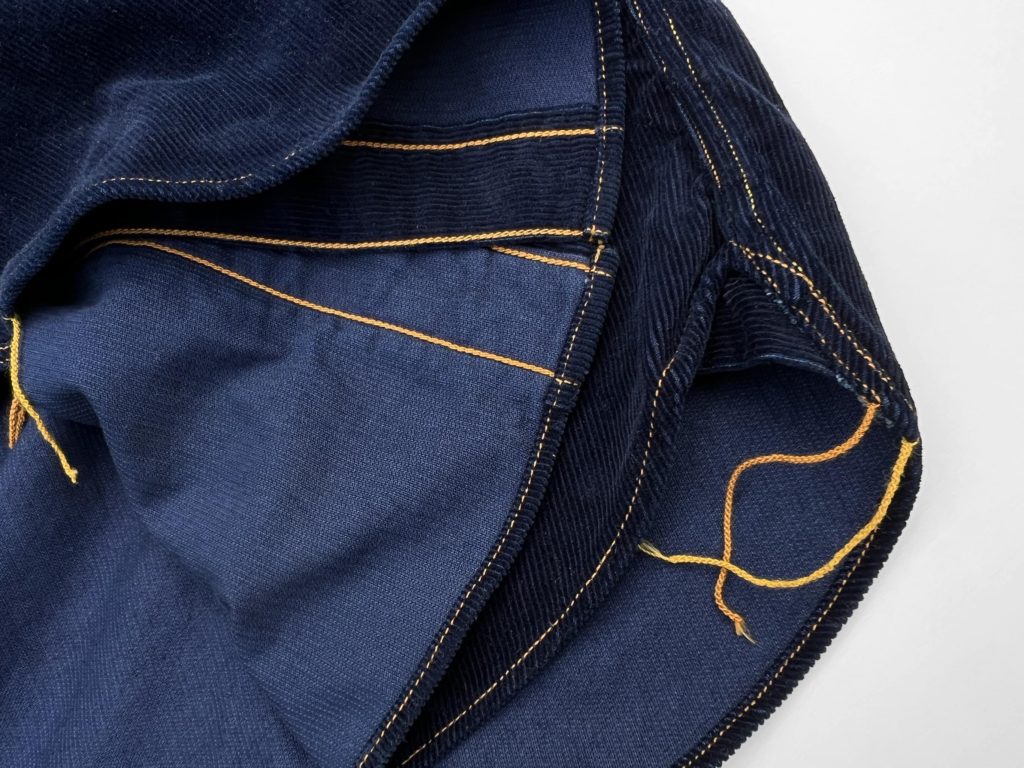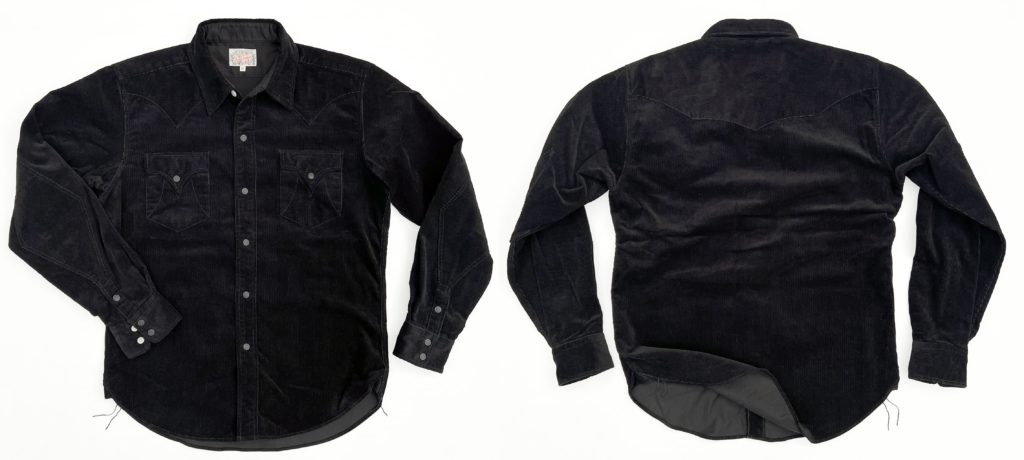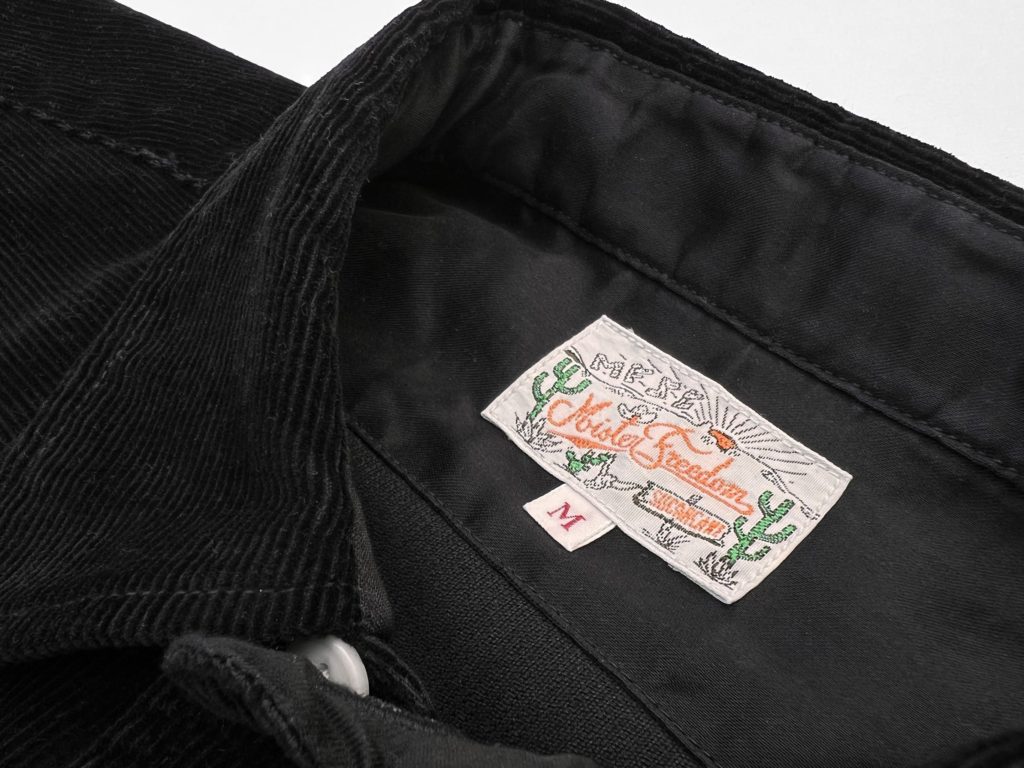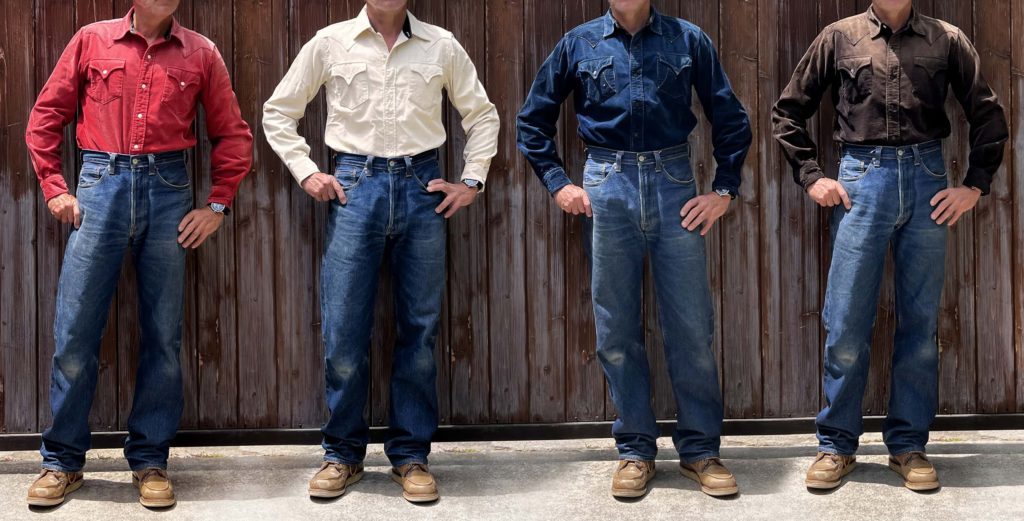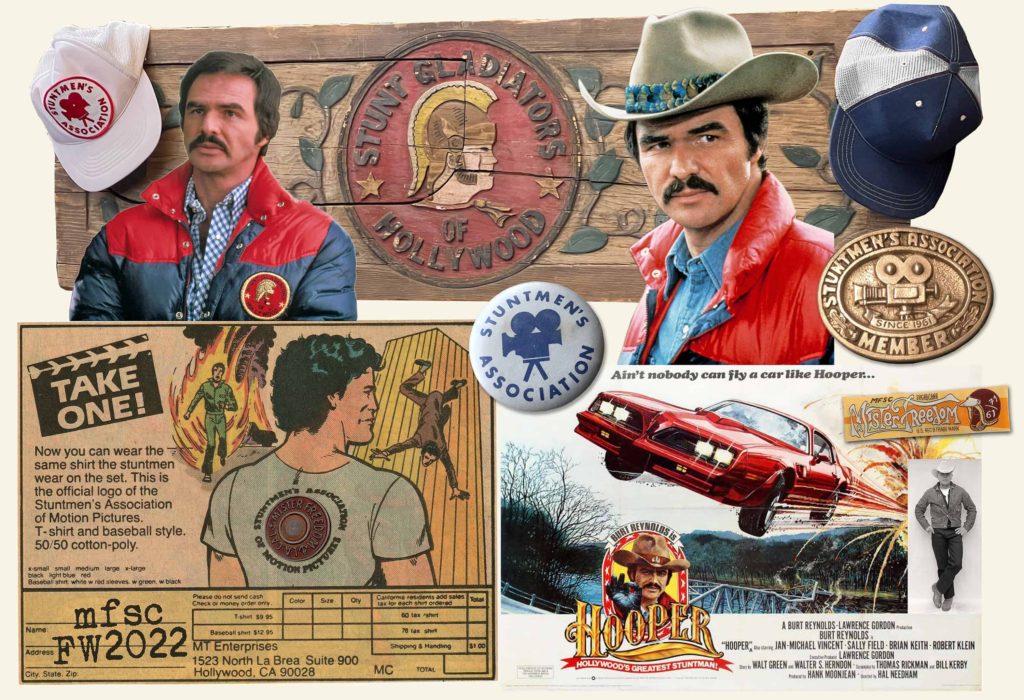 Mister Freedom® DUDE RANCHER Western Snap Shirt, corduroy edition.
FW2022 mfsc HOOPER Collection.
Made in Japan.
The Mister Freedom® APPALOOSA introduced during Fall 2013 and released in a variety of denim-related fabrics was our first traditional "Western snap" shirt.
Its much fancier successor, the all-original MF® "DUDE RANCHER", is our second spin on a western-style shirt pattern. The pattern is inspired by a selection of vintage "cowboy" shirts from our archives, each with specific variations of a style pioneered by Rockmount Ranch Wear legendary CEO Jack Weil starting circa 1946. "Papa Jack", as he was called, is credited as the father of the modern Western shirt, and the first "designer" to opt for snap button closure, vs. the earlier 1930s shank button styles.
Our DUDE RANCHER pattern was of course twisted MF® style and has become a Mister Freedom® staple since its 2019 poplin debut in our catalog. It definitely became popular in Italy… It is today available in a wide range of old school fabrics.
The MF® DUDE RANCHER features the expected western-style front and back curved yokes, but we decided on arcuate panels subtle-enough to keep the shirt not too "costumey". The playful "M" branding on the chest pockets is disguised as decorative stitching. The tricked-out forearm pattern and intricate one-piece elbow/cuff reinforcement diamond-shaped placket is quite a garment construction tour de force, for anyone who knows his/her way around a sewing machine.
Another distinctive design choice are the painted metal snaps, reminiscent of sought-after vintage 1950s Ranchcraft or Blue Bell western shirts, as previously featured on the MF® Sportsman printed flannel Camp Shirts. If pearl snap buttons are more-commonly associated with traditional Western shirts, these metal snaps are a bit more subdued and utilitarian.
The fabric choice for this "HOOPER" edition is inspired by a mid 1950s vintage dressy corduroy shirt from our archives, bearing the famous Texas-made defunct "Tem-Tex" label. Corduroy western-cut shirts are quite unusual, so the fabric became a good candidate for us. We sourced out a Japan-milled fancy all-cotton 14W grade (14 wales per inch), similar to the Tem-Tex original, in a rich Ruby Red, Ivory White, genuine Indigo Blue, and Black options.
Our choice of black rayon fabric as the collar band facing is also a reference to the fancy Tem-Tex specimen.
We went for tonal stitching on three of the color options, but decided to jazz-up the indigo version with an attractive contrast yellow/gold thread combo. Finer than frog hair if you ask me.
To experiment with color fastness, and because chemically-distress garments are against our religion, we submitted three samples to the California sun for about a month. The body of the shirts were stuffed with paper and set on mannequins fully exposed to the elements, moved around occasionally, same process as our Sunshine Edition Ts & jackets. These experimental prototypes are photographed here for potential "evo" reference only, not available for purchase.
The MF® DUDE RANCHER Western snap shirt is designed in California by Mister Freedom® and manufactured in Japan by Sugar Cane Co.
FABRIC:
Fancy 100% cotton 14W corduroy, milled in Japan.
Four color options: Ruby Red, Ivory White, Indigo Blue (genuine indigo), and Black.
SPECS:
* An original mfsc pattern, inspired by traditional 1950's Western-style shirts.
* Original Western-wear arcuate front and back yokes combo.
* Attractive pointy pocket flaps, complementing the yoke pattern.
* 1950's-style painted metal snaps (paint will chip with age.)
* Tonal stitching. (Indigo version features fancy yellow/orange combo contrast stitching)
* Original curvy "M" decorative stitching on pockets.
* Intricate diamond-shaped cuff/elbow reinforcement patch.
* Vintage style side gussets.
* Rounded shirt tails.
* 100% cotton hi-count stitching.
* Original MF® mfsc "TRUCK STOP" woven label, blending well with our "HOOPER" storyline.
* Made in Japan, slowly produced.
SIZING/FIT:
The corduroy MF® DUDE RANCHER comes RAW/unwashed. This shirt is cut so that the measurements match the labeling after an initial cold soak/line dry. 
We recommend this usual protocol before wearing:
Cold soak for about 30-40mn, with occasional hand agitation.

Spin dry and line dry.

Hang until fully dry.
I opted for a MEDIUM on this corduroy version of the DUDE RANCHER, for a trim, traditional western "cowboy" shirt fit. (I'm 5.7'' approx. 145 Lbs.)
Please note that I sized down on earlier versions, so do refer to sizing chart for approximate soaked measurements to properly dial in your size.
This is how we measure. Please use those guidelines to compare measurements of a garment of a similar style you own (i.e. a shirt), and that fits according to your liking.
When in doubt, reach out to the MF® Team sales@misterfreedom.com with your body measurements and fit expectations  to get educated sizing recommendations.
CARE:
Machine wash on DELICATE, cold water, mild eco-friendly detergent. Hang dry.
Wash with similarly-colored garments.
Do not use the washer's heavy-duty cycle. Heat dryer is also not recommended and may result in excessive shrinkage.
Available from www.misterfreedom.com, our Los Angeles brick & mortar store, and fine retailers around the World.
Email sales@misterfreedom.com or call 323-653-2014 with any questions unanswered above.
Thank you for your support.
Christophe Loiron
Mister Freedom®
©2023