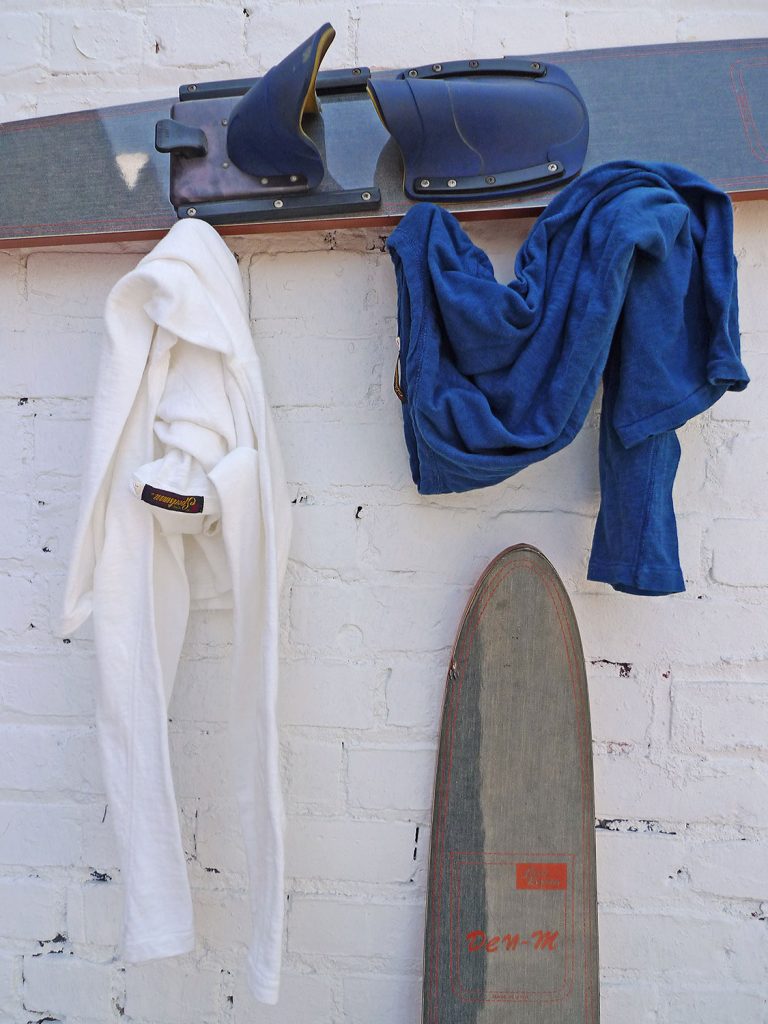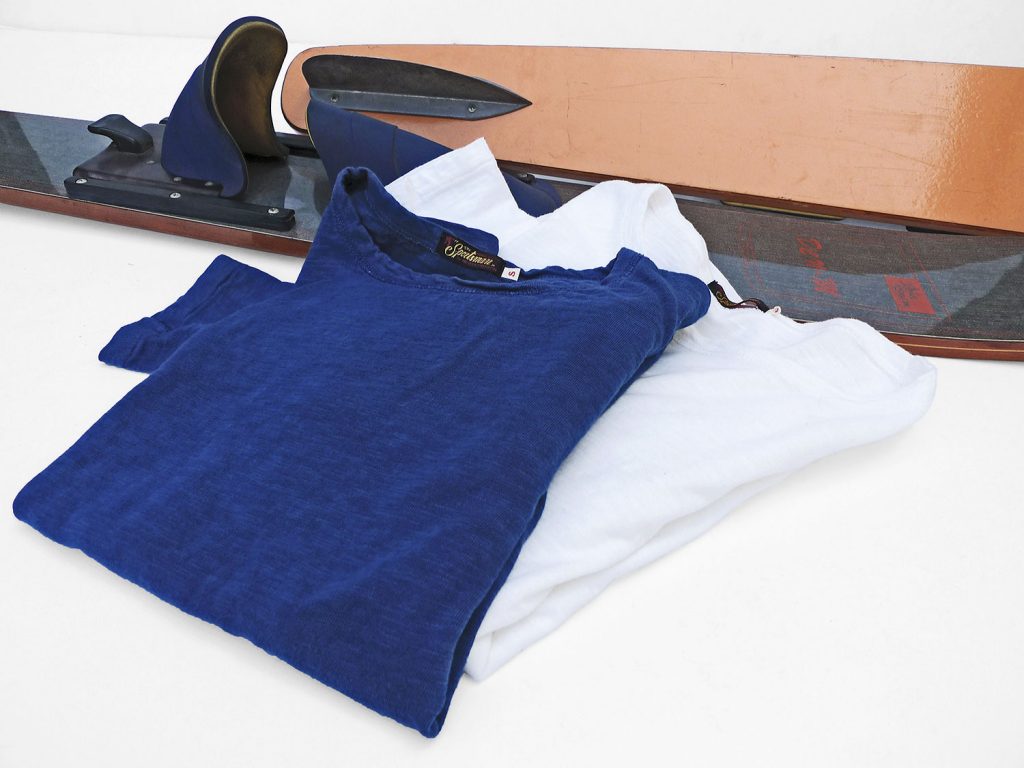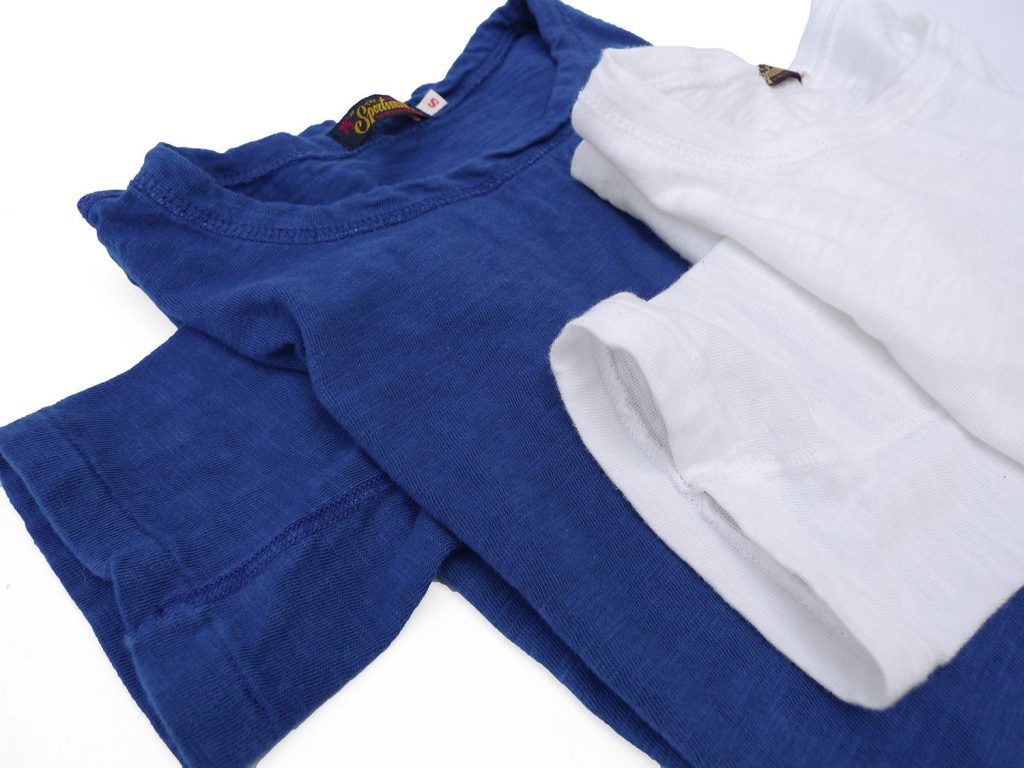 The "Fletcher" T-Shirt, made in USA
Sportsman catalog Spring 2016
We will keep this one brief, so that we can all go back to waterskiing.
The "Fletcher" is a new addition to The Sportsman catalog and is simply a long sleeve version of our popular MF® Stanley T-Shirt. Here is how we originally introduced Stanley, in June 2015:
"… Meet Stanley, Skivvy's little brother.
Both Skivvy and Stanley bodies share the same T-shape design, construction and pattern specs, originally inspired by a vintage 1940's USMC sage green undershirt, as outline when we originally released the Skivvy T-Shirt in 2013. We are still using tubular knit, flatlock seams, roping collar and fitfies-style 1/4 sleeves. And still making it in the USA.
For the Stanley T-Shirt however, I wanted a lighter gauge fabric. Our inspiration this time was more 'old souvenir shop' or vintage 'PX merchandise' than Mil-Specs. We were lucky to score a very special slubby and light-weight 100% cotton jersey, milled in the USA. Those partial to modern, oversized, heavy-weight T-Shirts might consider our Stanley fabric a bit 'cheap' and thin… But that's exactly what we wanted, there's plenty of the Beefy-T kind around.
Those familiar with vintage clothing, will notice that this specific fabric is quite reminiscent of 1960's-70's tourist T's and rock T's (often imports from Pakistan at that time). For the collector, that family of vintage T's stands out for its loosely knitted stretchy jersey, heavy twist and distortion of the fabric, and dreadful shrinkage that often turned tourists shirts into unwearable cropped tops after the first hot wash.
We decided to get smart and conducted extensive shrink tests to make our Stanley T-Shirt actually fit after laundry. The Stanley fits pretty much like our Skivvy, although featuring much more mechanical stretch due to the looser weave. The Stanley all-cotton jersey has a 'memory' and reverts to its intended fit after stretch. As was the case with the Skivvy however, it is normal for a T-Shirt to feel snugger when first slipped on in the morning than at the end of the day…"
Now, our Fletcher fella. If the name reference can be found on the HMS Bounty's roster, the style doesn't need much pitching. We just… extended the sleeve length. The sleeves fall just on or above the wrist. This relatively shorter length detail is lifted from military and workwear-type undershirts. It prevents the undershirt from sticking out of the top garment, and guarantees that no extra fabric gets snagged in machinery/gear. Specs and fit are otherwise the same as the Stanley's.
The "Fletcher" does not really have a utilitarian/military vibe however, and is intended as a practical and comfortable piece for layering. It can be worn oyaji-style (ie tucked-in), or untucked. We also opted for simple folded cuffs for the sleeves, as opposed to the traditional tighter ribbed knit type cuffs. This gives the Fletcher T-Shirt its casual vibe.
Due to the specific lightweight slubby cotton knit jersey, the garment stretches with wear, as much as the Stanley does.
About the color options…
In between waterski runs on the LA river, we figured we'd indigo dye a few Fletcher T-Shirts. The availability of the indigo version will be very limited, but we will try to do a batch once in a while. Our expertise in indigo dyeing is in par with our competence in brain surgery and quantum mechanics, so results will vary, both in color intensity and uniformity (without of course falling into the dreaded tie-dye family).
At MF®, we tend to take wabi-sabi to the next level ?, so in general, for professionally and evenly-dyed indigo fashion garments, Japan is the ticket.
Having said that, I'm happily endorsing our in-house Mickey Mouse indigo operation. I've been fully comfortable wearing the indigo dyed garments coming out of our back lot for years, from one-of-a-kind vintage pieces to the Campus Cardigan… We have now been experimenting with our vats for a some time, and the results are quite satisfying. Just don't ask our team of rocket surgeons how they pull it off!
Also, one of the target colors, the lighter "pastel" indigo blue featured on one of the photos, has proved very challenging to duplicate in significant quantities past the sample-making stage, so we'll put that one on the back burner for now. Email sales@misterfreedom.com for status on the pastel indigo. At this time, we are only offering the medium dark indigo shade range featured on the photos.
Please note that our purdy MF® "The Sportsman" woven labels are painstakingly sewn in after the dyeing process, to avoid the quite unappealing and 'cheap' over-dyed-garment look, a personal preference.
The Stanley T-Shirt is designed in California by Mister Freedom® and manufactured in the USA.
SPECS:
FABRIC:
100% cotton light-weight slubby tubular jersey knit, milled in the USA. This fabric twists and torques. This natural yarn distortion is expected and is not a default.
COLORS:
* White
* Indigo blue, medium dark.
DETAILS:
* Original Mister Freedom® T-Shirt pattern, inspired by vintage 1940′s-50′s cotton T-shaped undershirts.
* Long sleeve, wrist or just above wrist length.
* Folded wrist cuff, no rib knit cuffs.
* Tubular knit (no side seams)
* Cover stitch self-fabric neckband.
* Normal mechanical stretch and fabric memory.
* Combination of flatlock and cover stitch construction, inspired by 1940′s USMC Government issued undershirts.
* 100% cotton thread, for natural roping on seams.
* Original MF® "The Sportsman" black woven rayon label on neck band.
* Made in USA.
SIZING/FIT:
The white Fletcher T-Shirt comes unwashed and will shrink to the desired tagged size after an initial wash/dry cycle. The indigo version has already shrunk to the desired size.
The Fletcher fits like the Stanley does. Remember that, due to the nature of the stretchy jersey, the Fletcher/Stanley might feel looser at first than its Skivvy predecessor.
I wear Medium (38) on most MFSC garments, but sized down to a Small for all of our MF® T-Shirt styles (Fletcher, Stanley and Skivvy), just personal taste. According to your built and silhouette preference, get your normal size or size down for a slimmer/shorter old school fit.
Refer to sizing chart below for washed/machine dried approximate measurements (measured flat, without pulling/stretching). Please note that my shirts on the fit picture were just freshly laundered and machine dried, ie. at their tightest/shortest, which accounts for the Nureyev vibe ?.
CARE:
Low-maintenance as a T-Shirt should be, just throw your Stanley in the washer/dryer, cold or hot water, delicate cycle. No bleach. Keep colors separate to avoid potential color transfer when doing laundry.
SIZES:
Small
Medium
Large
XLarge
RETAIL:
White Fletcher: $69.95
Indigo Fletcher: $129.95
Available from www.misterfreedom.com, our Los Angeles brick & mortar store, and fine retailers around the World.
Email sales@misterfreedom.com or call 323-653-2014 with any questions unanswered above.
Thank you for your support,
Christophe Loiron
Mister Freedom® 2016