Mister Freedom® "NAVAL CLOTHING TAILOR" (NCT) CHINOS, 12Oz "301 Okinawa" SC denim.
FW2020 mfsc "Waterfront Surplus" catalog.
Made in JAPAN.
This pattern was part of the original line-up of the small grouping that somewhat managed to put us on the fashion map sometime in 2008, i.e. the Mister Freedom® x Sugar Cane Co "MFSC Naval Clothing Tailor" (NCT) capsule collection.
For the nostalgics, we still unearth remnants from our ship's stowage occasionally, a misplaced stack here, mislabeled box there, and we update inventory with New Old Stock (NOS).
A reissue of the original chino twill model was released for our 2016 mfsc ten-year anniversary, and we have issued several iterations of that pattern through the years.
Our NCT Chinos are inspired by 1940's US Army chino trousers, a pattern plausibly revisited by a Naval Base tailor at some point, featuring a mix of period Mil-Specs and fancy civvy custom tailoring. The cut is fairly representative of our early days, featuring a slimmer leg and lower rise than military originals. We were at the time morphing the high-waisted and baggy cuts of 1930s-40s utilitarian designs with European tailored silhouettes. Most of our bottoms today feature a higher rise than our NCT Chinos.
For Fall 2020, we are introducing a denim model of the NCT Chinos pattern, cut from an old mfsc favorite, a 12Oz. "301 Okinawa" selvedge denim exclusively developed and trademarked by Sugar Cane Co in Japan. That special Left Hand Twill (LHT) denim has been milled in several fabric weights by SC through the years, but consistently consists of a blend of 20% Okinawan recycled sugar cane fibers and 80% cotton. The sugar cane fibers, a by-product of the sugar cane industry, are responsible for the slubby and "hairy" quality of the twill, and, full disclaimer, we have heard stories about customers plucking out prickly fibers in the weave with tweezers!
One of the more desirable characteristics of this premium denim is the combination of both a dark indigo warp and rapid fading ability. MF® OG denimheads will attest to the rewarding patina potential of the Okinawa denim family.
The pocket bags are cut from an old mfsc classic fabric, a fancy striped ticking twill inspired by antique French textiles. For a subdued demeanor, we kept the stitching tonal and opted for black-painted metal donut-type tack buttons for the fly and waistband.
The decorative arcuate stitch on the slash and welt pocket openings is a detail borrowed from early European tailoring. The leg construction uses flat-felled seams and the Okinawa selvedge is displayed in each pocket facing.
The Mister Freedom® NCT Chinos "Okinawa" denim edition, are designed in California by Mister Freedom® and manufactured in collaboration with Sugar Cane Co in Japan.
FABRIC:
"Okinawa 301" denim, 12 Oz. left-hand twill indigo denim, "hairy" and slubby, solid white selvedge ID. Milled in Japan on narrow shuttle looms, from a blend of 20% Okinawan recycled sugar cane fibers and 80% cotton.
SPECS:
* Pattern inspired by vintage 1940's US Army chino trousers, custom-made military garments and early European tailoring.
* Stripe ticking 100% cotton pocketing and waistband facing.
* Button fly, black-painted metal donut-type tack buttons.
* Thin trousers-style belt-loops.
* Arcuate decorative stitching on front slash pockets and back welt pockets, with concealed selvedge ID on pocket facing.
* Watch pocket, with concealed selvedge ID.
* Flat-felled leg seams.
* Tonal 100% cotton hi-count stitching.
* Woven mfsc "Waterfront Surplus" rayon label on inside waistband.
* Designed in USA.
* Made in JAPAN.
SIZING/FIT:
The Mister Freedom® NCT Chinos in "Okinawa" denim come RAW/unwashed. The garment is cut so that the measurements match the labeling after an initial cold soak/line dry. The denim will shrink to tagged size after an initial cold soak.
We recommend this usual protocol before wear:
Cold soak for about 30-40mn with occasional hand agitation.

Washing machine spin dry.

Line dry. (No heat dryer)
I opted for a W32 for a comfortable fit. I hemmed my pair to my preferred length with a traditional 1¾ fold. I am 5.7'' approx. 150 Lbs.
Please refer to sizing chart for approximate raw/soaked measurements.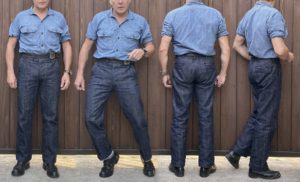 CARE:
Wash when necessary, using appropriate methods pertaining to premium denim.
We recommend turning garment inside-out to avoid potential marbling of the denim fabric. Wash separately from light-colored garments.
Machine wash with cold water, gentle cycle, eco-friendly mild detergent and line dry. Using a heat dryer may result in excessive and irreversible shrinkage.
As with all indigo-dyed denim, temporary croaking (color bleeding) is to be expected, as the indigo color could potentially rub on light color garments and furniture. Indigo rubs can easily be spot cleaned using a small amount of laundry detergent on a clean damp cloth.
Available RAW (unwashed)
Waist 28, 30, 32, 34, 36 and 38.
Available from www.misterfreedom.com, our Los Angeles brick & mortar store, and fine retailers around the World.
Email sales@misterfreedom.com or call 323-653-2014 with any questions unanswered above.
Thank you for your support.
Christophe Loiron
Mister Freedom®
©2020