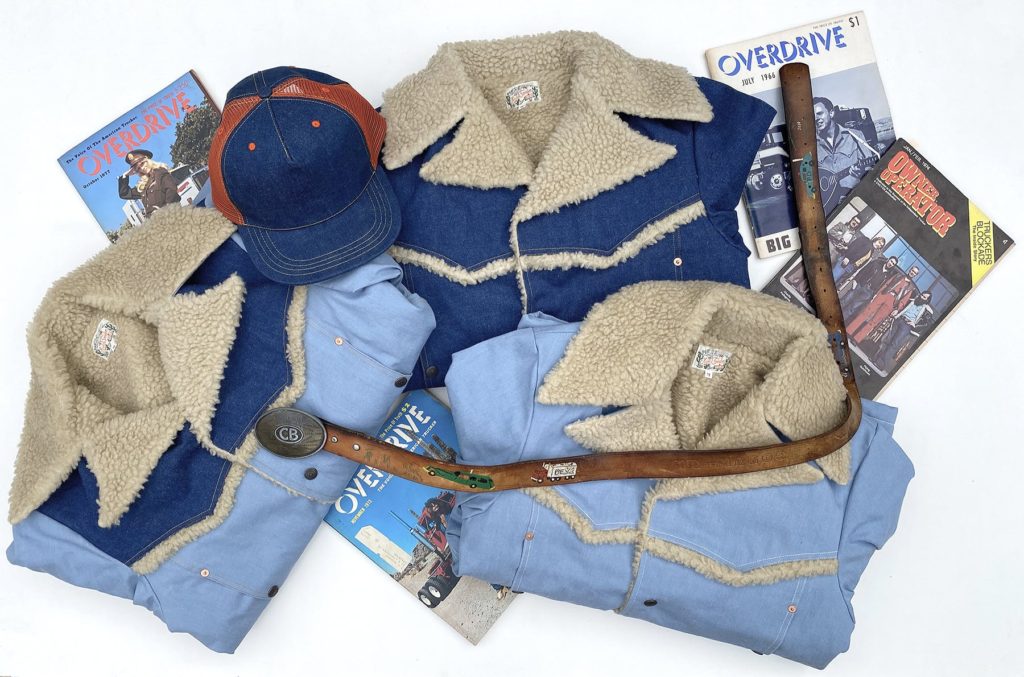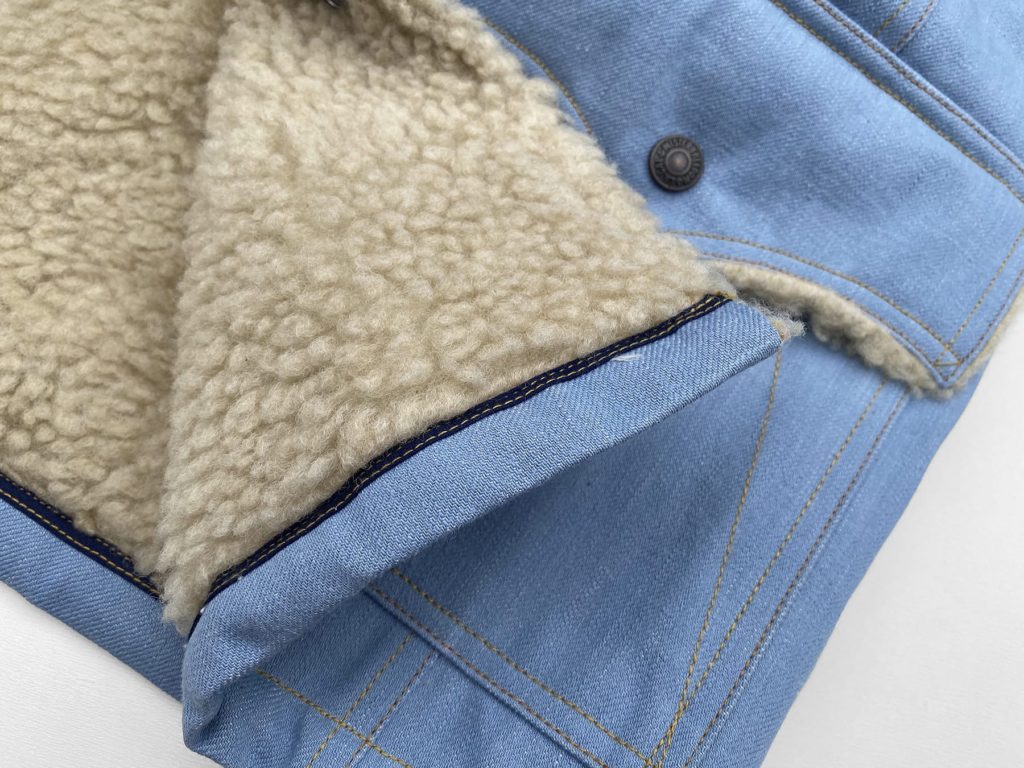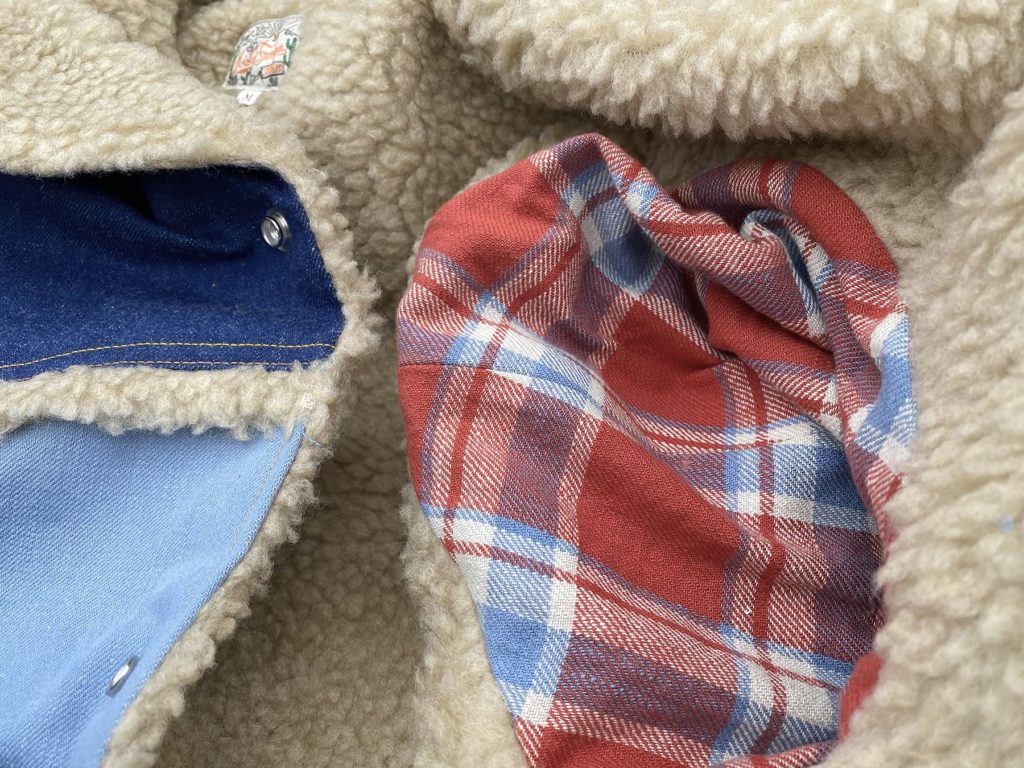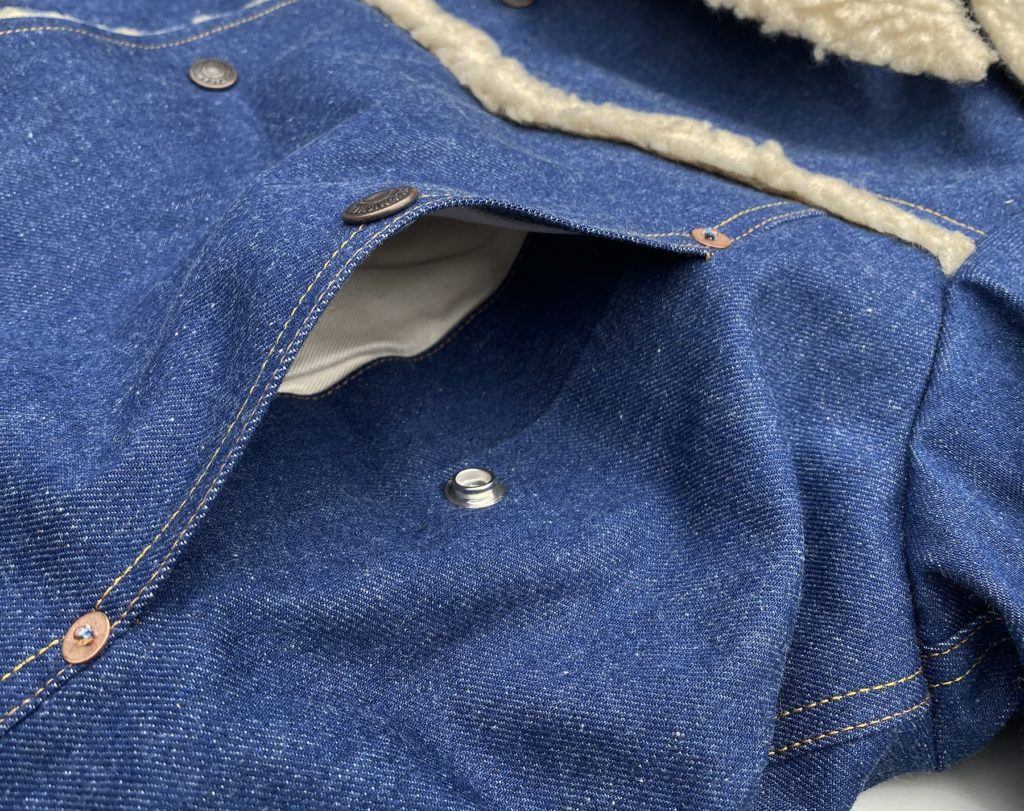 Mister Freedom® MAVERICK Jacket, Faux Shearling lining, Ice-Blu & Malibu selvedge denim edition.
FW2020 mfsc TRUCK STOP collection.
Made in Japan.
Textile fur (aka faux fur) seems to have appeared in fashion sometime the 1910's, when fabric mills equipped with imposing double needle bar Raschel warp-knitting machines started recreating the feel and looks of animal fur, using concepts previously used to mill corduroy, velvet, carpets. The resulting pile fabric made of looping yarns could be made plush and fluffy, and its appeal rapidly grew. See this brief Smithsonian Mag article.
During WW2, starting in 1943, wool (alpaca) pile linings were commonly used in US military cold weather uniforms.
Synthetic fibers such as Orlon® were introduced starting in 1948, and by the late 1950s, all kinds of imitation fur textures were made available to fashionistas.
Acrylic faux shearling (imitating sheep skin) seems to have become a popular lining option for western-style garments in the late 1960s, still sharing the stage with traditional wool blanket-lined insulation for some time. By the following decade, acrylic pile linings were definitely a staple in casual and outdoor fashion.
Sometimes referred to as sherpa lining, a term subject to endless online arguments in the keyboard cowboy community, the familiar off-white pile has been paired with all kinds of shell materials through its existence, corduroy, rough-out leather, velvet, nylon, … and of course denim.
Vintage specimen of old 1960s-70s Towncraft® jackets (JC Penney's house brand), Roebucks® (Sears' western-wear division), and other "x-bar-x" labeled coats (H bar C, J bar C, J bar T…) featuring the fluffy liner abound.
In the 1980s, Levi's introduced its iconic four-pocket trucker lined with faux shearling, definitely making a dent in fashion history with the follow-up release of dreadful "acid-wash" specimen dear to 1990s style revivalists today.
Confusingly, the polyester fleece commonly associated with hi-tek mountaineering gear today, initially developed in 1979 by Aaron Feuerstein's Malden Mills, and subsequently put to good use by pioneer outdoor clothing visionary Yvon Chouinard and others, is also referred-to as sherpa by many. That fabric actually belongs to the polar fleece family, and is quite a departure from faux shearling.
Design-wise, our MAVERICK jacket is inspired by 1960s-70s fashion ranch coats with textile fur pile linings, and other sherpa-style outdoor togs.
The body pattern draws its inspiration from a 1970s Roebucks® western denim jacket from our archives. These vintage coats are not rare and hardly desirable for collectors, as they were always cut from cheap poly-cotton denim at the time. So we thought of combining the style with premium selvedge denim, spicing-up the original utilitarian design with a plethora of details á la MF® for good measure.
For the occasion, we reached out to our friends at Toyo Enterprise to develop an original MF® 1950s-style snap brass button, a respectful reference to vintage Levi's rough-out leather jackets front closure.
Like in the original Roebuck® jacket design, the hand-warmer pockets are cleverly incorporated in the vertical panel seam, but we added a snap closure and two copper rivets pocket stops.
The bottom patch pockets feature our familiar arched "M" stitch, fully visible when lifting the fluffy flaps.
We tricked-out the arm/cuff pattern, blending-in the intricate construction of older railroad type denim work coats, a sleeve style previously featured on our 2012 Faro Sack Coat and 2013 Hacendado Sack Coat.
For ease of movement, the arms are partially lined in vintage-inspired woven plaid cotton flannel fabric, red dominant and brown dominant, both yardage remnants from the Sugar Cane catalog.
The large notch lapel flashing the pile lining gives the MAVERICK its 1970s ranch-wear vibe, and the arcuate top block allowed us to play with classic western yoke contrast. There are three options for our FW2020 MAVERICK Jacket, because we could not bring ourselves to pick only two favorite children: solid Malibu, solid Ice-Blu, and Ice-Blu/Malibu combo.
The two denims are old mfsc favorites. First is the 13 Oz. "Malibu Sea" denim introduced in 2015 with our Speedways, 2016 Cowboy Jacket, and 2017 Conductor Jacket with matching slacks. Second is the smashing 12 Oz. "ICE-BLU" denim unveiled this glorious 2020 year, in both the Ranch Blouse and Californian Lot.674 patterns.
We opted for contrast stitching, combining yellow and orange thread for two models, and solid ivory white for the solid ICE-BLU version.
The MAVERICK Jacket, Ice-Blu and Malibu denim edition, is designed in California by Mister Freedom® and manufactured in Japan by Sugar Cane Co.
Fabric:
Two distinct fabrics:
* Original mfsc "ICE-BLU" denim twill, 12 Oz. twill, light indigo blue warp x ecru weft, solid white selvedge ID, milled in Japan.
* Original mfsc "MALIBU SEA" denim twill, 13 Oz., medium indigo-dyed warp x ecru weft, solid white selvedge ID. Milled in Japan.
Three options:
1) Solid ICE-BLU.
2) Solid MALIBU.
3) ICE-BLU x MALIBU combo.
SPECS
* An original mfsc pattern, inspired by vintage 1960s-70s Ranch coats and western denim jackets.
* ¾ length.
* Faux shearling fur body lining, 100% acrylic pile fabric, aka "sherpa".
* Woven plaid cotton flannel fabric arm lining.
* Wide notch lapel, arcuate panels, pocket flaps and cuffs shearling accents.
* Hand warming slash pockets incorporated in vertical panel seam.
* Copper rivet pocket stops.
* "M" stitch on hip pockets with flaps.
* Original vintage-style MF® branded brass snaps closure.
* Contrast stitching (ivory white on Ice-Blu and yellow/orange combo on Malibu/Ice-Blu)
* Intricate adjustable cuff construction.
* Original mfsc "Truck Stop" woven label.
* Made in Japan.
SIZING/FIT:
All three versions of the MF® MAVERICK Jacket come RAW/unwashed. The garment is cut so that the measurements match the labeling after an initial cold soak/line dry. 
We recommend this usual protocol before wear:
Cold soak for about 30-40mn with occasional hand agitation.

Washing machine spin dry.

Line dry. (No heat dryer)
I opted for a 38 Medium in each version, for a snug yet comfortable fit. I am 5.7'' approx. 150 Lbs.
When comparing our chart measurements with those of a similar coat you own that fits you well, do consider the fluffy lining thickness.
Please refer to sizing chart for approximate raw/soaked measurements. Soaked = 30mn cold soak, spin dry and line dry.
CHART
CARE:
This garment is bulky and weighs quite a bit when wet, so we do not recommend using a home washing machine for cleaning. This may cause unattractive marbling of the denim fabric, and may damage both the garment and the machine, even on delicate cycle.
When necessary, we recommend hand-washing, cold water, mild eco-friendly detergent. Hang dry.
Using a heat dryer is also not recommended and may result in excessive and irreversible shrinkage.
Available RAW (unwashed)
Sizes
Small (36)
Medium (38)
Large (40)
X-Large (42)
XX-Large (44)
Available from www.misterfreedom.com, our Los Angeles brick & mortar store, and fine retailers around the World.
Email sales@misterfreedom.com or call 323-653-2014 with any questions unanswered above.
Thank you for your support.
Christophe Loiron
Mister Freedom®
©2020