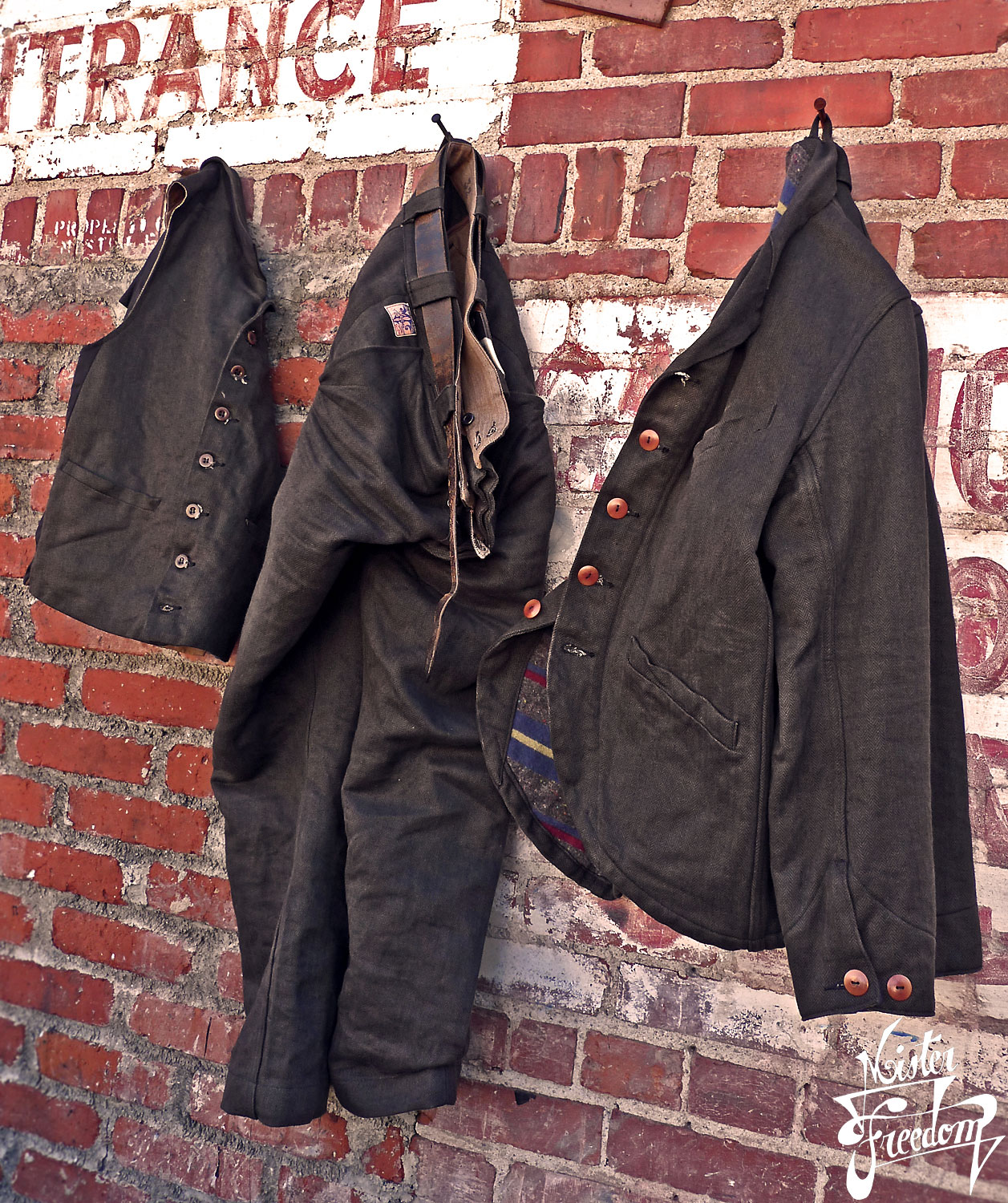 Mister Freedom® MFSC "FARO BRITCHES"
Men of the Frontier Fall 2012
Wrapping up a busy year and, along with it, our Men of the Frontier collection, here is the final Fall chapter: The FARO BRITCHES.
For these trousers, we have combined our original 'Britches Chaparral' pattern with the linen/cotton HBT selvedge fabric from our 'Faro Sack Coat" and 'Faro Waistcoat'.
I have yet to wear the Faro 'three piece suit', 'Ditto Suit' style, but I often mix two matching pieces with a contrasting third. For instance Faro sack coat and waistcoat worn with stripe 'gunslinger' type trousers or just a good pair of jeans. Or HBT Faro Britches and Waistcoat with an old leather jacket or MF® cotton Sack Coat…
But enough shameless self promo, you know what works for you better than I do 😉
Designed in California by Mister Freedom® and crafted by Sugar Cane Co in Japan for MFSC. Limited edition.
SPECS:
PATTERN: An original MFSC pattern, inspired by 1930's-1940's work type trousers and cotton gentleman slacks, borrowing from both the American West and the Old World. Mid/high rise.
FABRIC:
"Gun Powder" black (between field grey and dark laurel green), wide HBT (herringbone twill), selvedge, 20% Cotton/80% Linen blend, 15 Oz. Woven in Japan.
Pocketing and waist Lining: HBT cotton (ochre color), an original MFSC fabric, woven in Japan (same fabric we used for the lining of the Faro Waistcoat)
DETAILS:
* Selvedge outer leg seam.
* Slash type front pockets, with inner selvedge angled stitched fold.
* Gun metal color donut button fly with double button waist.
* Two slash rear pockets, with arrowhead type button flaps.
* Watch pocket
* Trousers tailor-made type pocket bags construction and lining, with 100% cotton original HBT fabric. All biased taped edges.
* Black color 100% cotton thread high-count stitching
* Flat felled seam seat construction.
PACKAGING: For the USA, the Faro Britches comes in an old school cardboard box with original MF® artwork. This sturdy box is not the collapsible cheapo kind, and can be used for storage of small items. Please re-use.
SHRINKAGE/SIZING:
About 2-5% shrinkage on this fabric. If you are usually a 32 waist, get a tagged 32.
We recommend an original cold soak and line dry. Subsequent cleaning should be done with the trousers flipped inside/out (to avoid marbling), gentle cycle, cold water, with minimal environmentally friendly detergent and line dry.
NOTE:  Full washing cycle in warm water and machine dry WILL result in more shrinkage (around 5%) and color loss. NOT recommended.
See chart below for raw and post cold soak/line dry approx. measurements: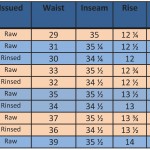 Available RAW/Unwashed
Tagged Sizes (= will shrink to sizes):
W28 × L33
W30 × L33
W32 × L33
W34 × L33
W36 × L34
W38 × L34
RETAIL: $549.95
Call 323-653-2014 or mail sales@misterfreedom.com to get yours while they last. We ship internationally to select Countries. Thank you for the support, friends.