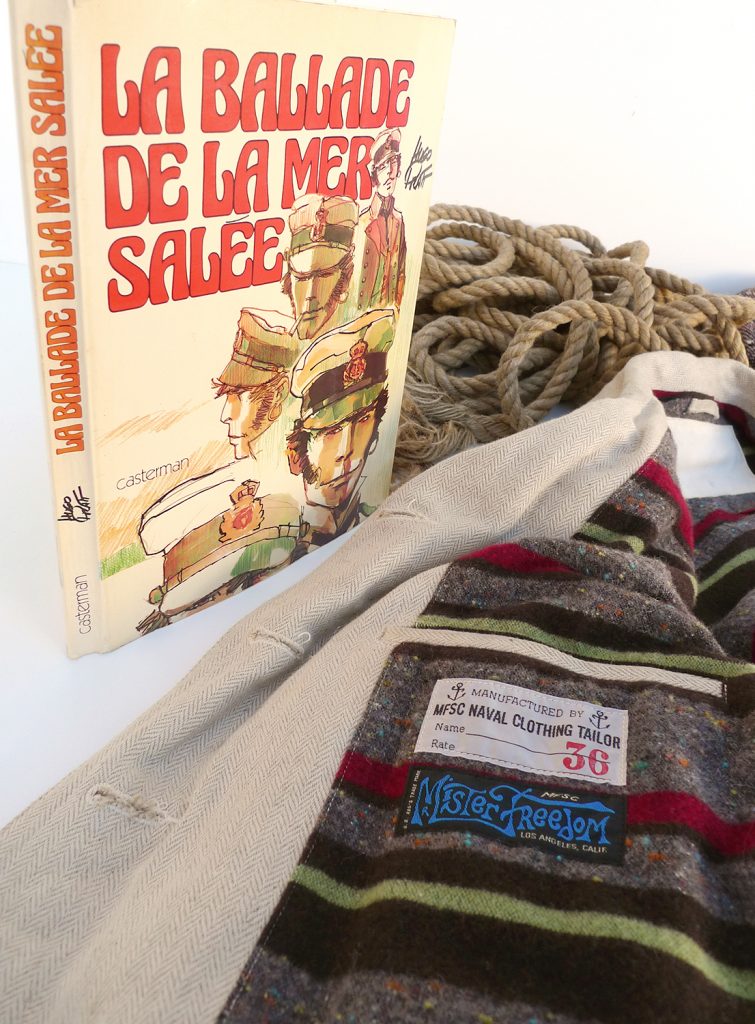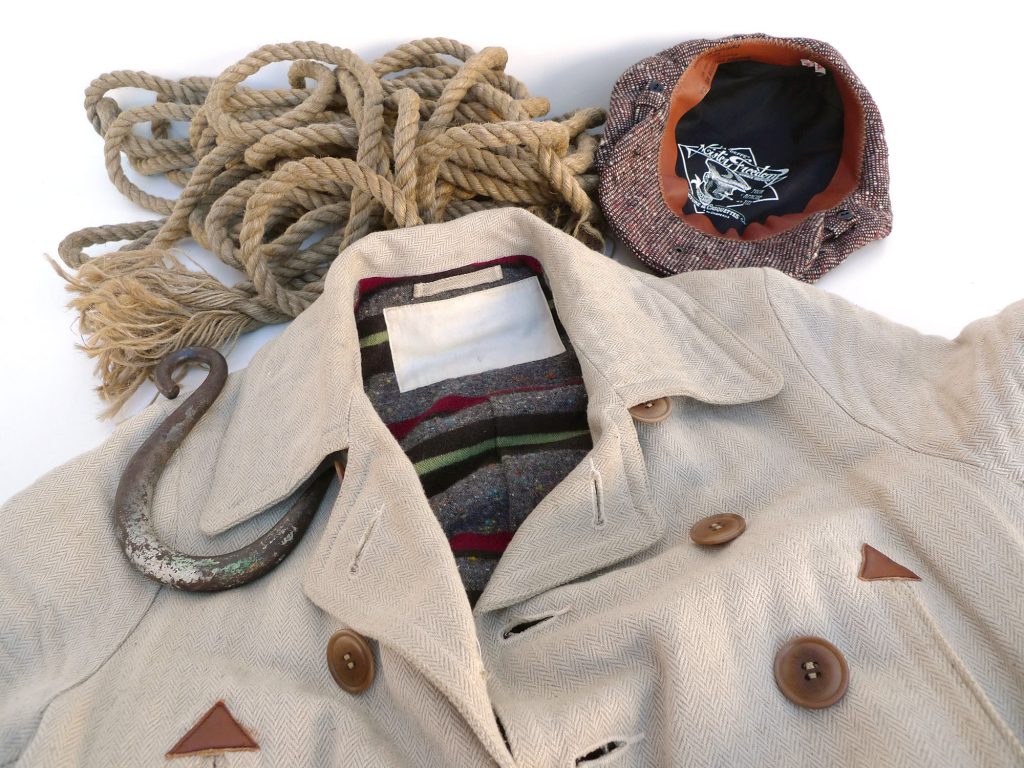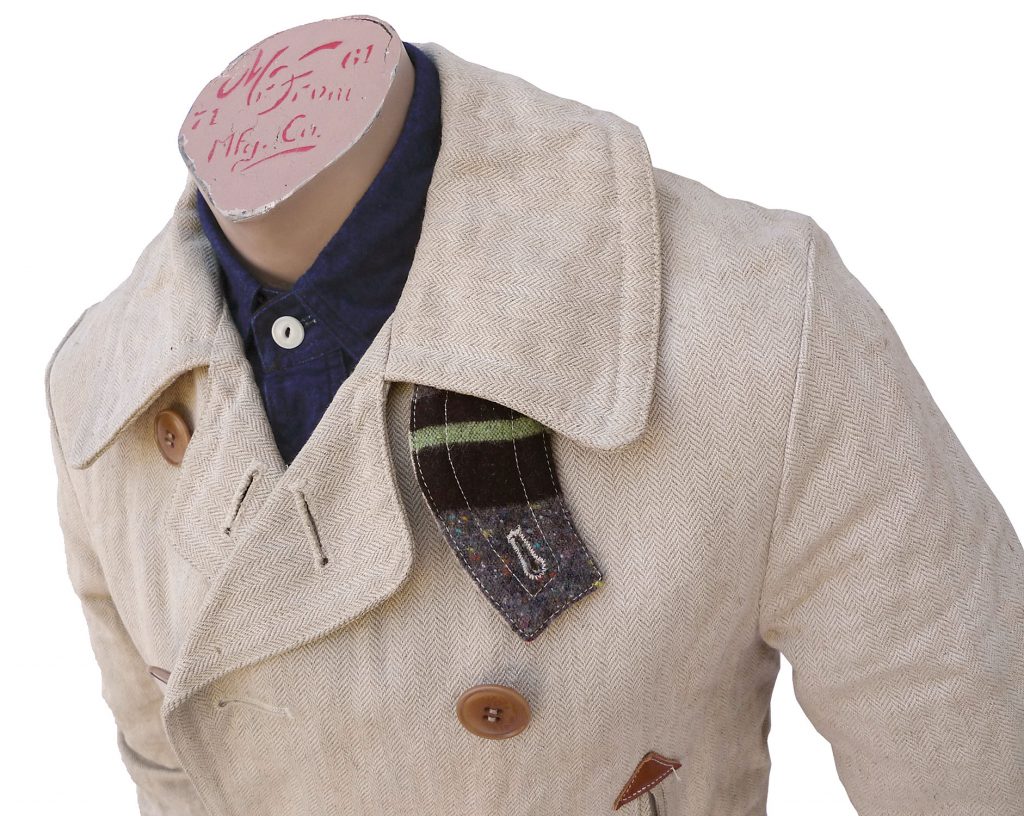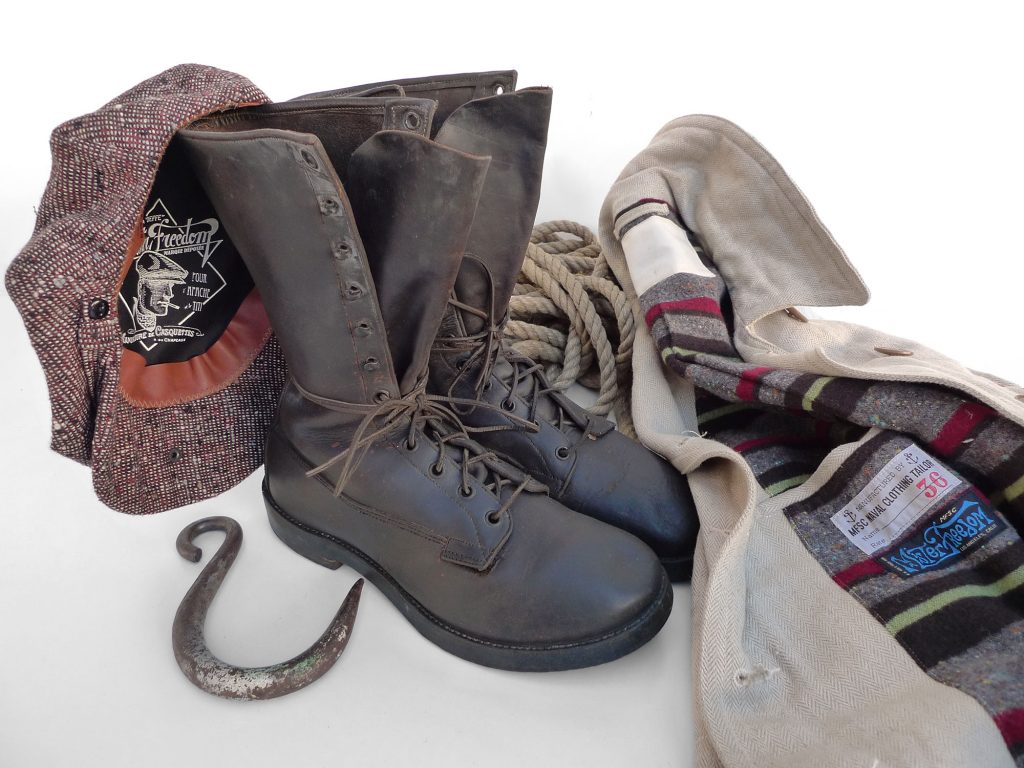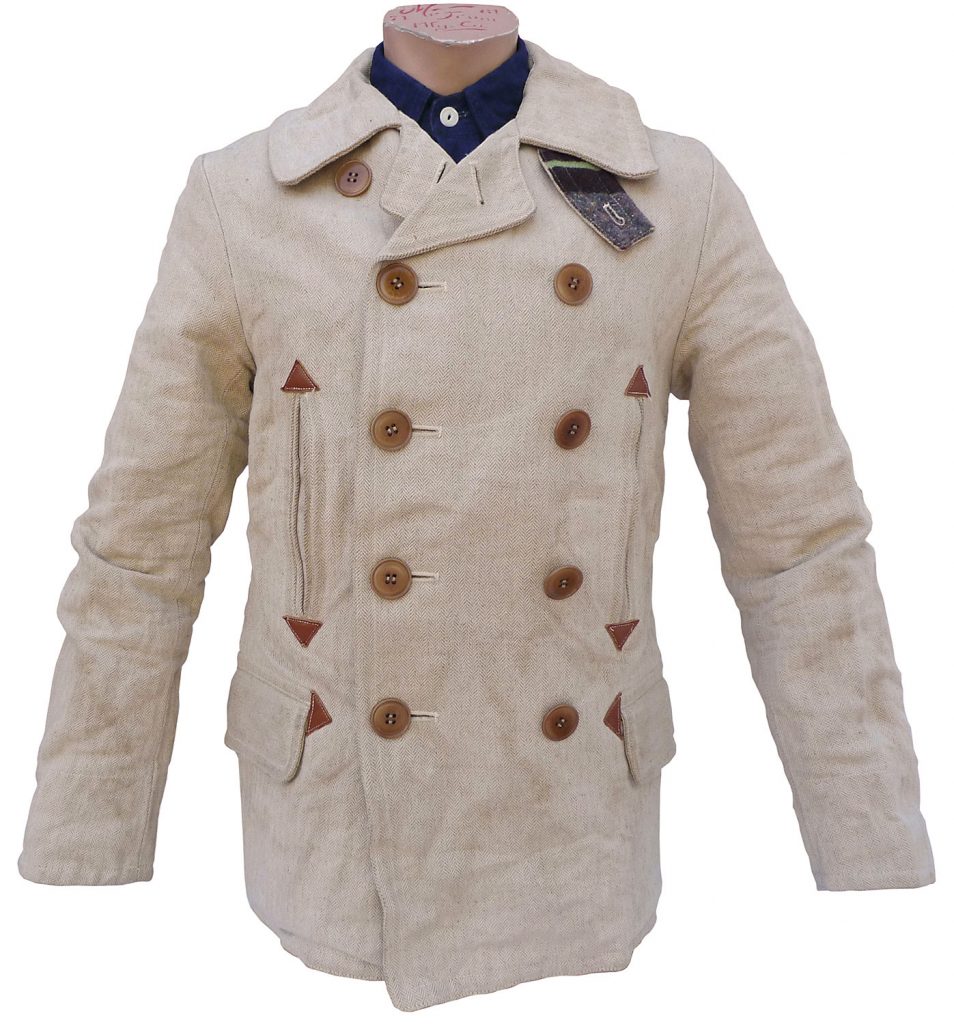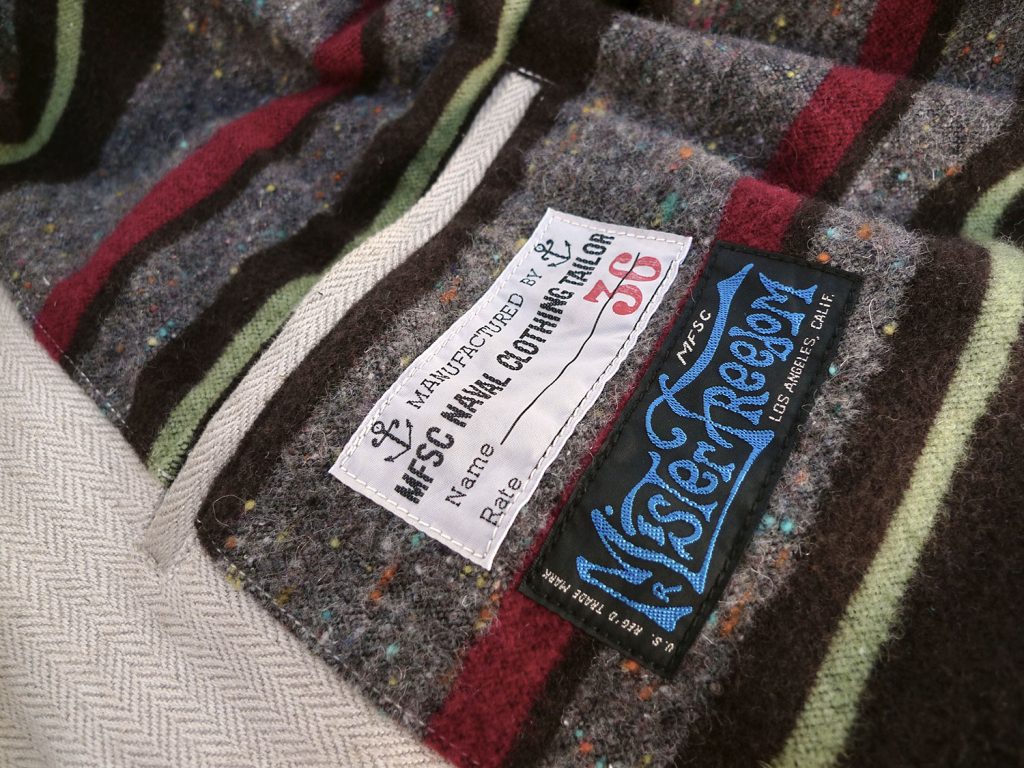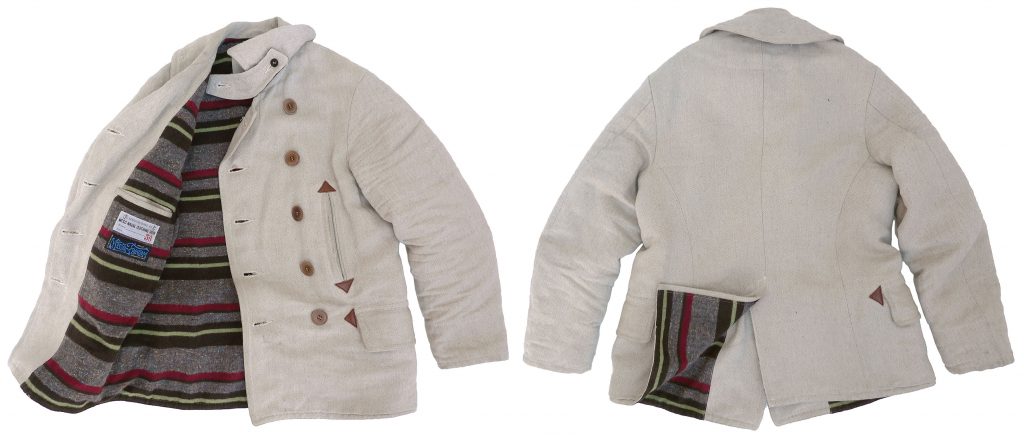 The Waterfront Coat, HBT cotton Linen, Troy Blanket lining.
Fall 2016 mfsc Anniversary Collection
Made in Japan
The final drop in the ocean of goodies issued for Fall 2016 will be the Waterfront Coat.
Not yet a wrap for our mfsc Ten Year Anniversary adventures, merely the last page of its nautical chapter. After two deck jackets, a couple of naval chinos, a blue shirt, and a souvenir jacket, all we needed was …one peacoat!
Anchors aweigh!
The familiar silhouette of the Waterfront Coat is another homage to the early pattern of the classic USN P-Jacket, a.k.a. peacoat.
Sometime in Spring 2008, we released a denim version of that iconic manly garment, part of the "MFSC Naval Clothing Tailor" concept, our first full-fledge collection in collaboration with Sugar Cane Co. If a 10-button peacoat made from selvedge denim didn't necessarily sound like a good idea back then either, it kinda caught on. Some of our jackets even made it to unlikely retail doors, finding their way to Sir Paul Smith's store shelves in swinging London, or on J.Crew's catalog, eventually ending-up on sale partly because, you know, raw denim in 2008 was not exactly the most convincing selling point in menswear…
In case you missed it and enjoy a bit of Costume History at times, a previous blog post, concocted while introducing the MF® indigo twill Caban Peacoat, quickly taps into the history of peacoats, a garment adopted by Navies around the World for over a Century.
For Fall 2016, our design approach was to 'demilitarize' the famed War Department-issued blue jacket, twisting a USN regulation uniform into a civvy garment, morphing the peacoat into a mackinaw coat.
The shell fabric we chose is an old mfsc favorite, a blend of linen and cotton woven in a heavily-textured herringbone twill pattern, milled for us in Japan. Inspired by the fabric of late 1800's/early 1900's Sapeurs Pompiers (french firemen) work uniforms (bourgerons), we originally issued a handsome 'gunpowder black' version of it, as featured on the Faro sack coat, waistcoat, and britches of our 2012 Men of the Frontier Collection.
Recognizing at the time how attractive this HBT fabric looked in its un-dyed, un-bleached state, our design department kept it on the back burner, as a contender for a future project. So here it is, at last, in all its natural beauty!
For the lining, we went with an American vintage classic. Canteen blankets have been a bit overplayed in 'Heritage Fashion' in recent years, cut and sewn into all kinds of improbable garments and accessories, so we opted to keep it fully concealed on the inside.
Troy Blankets come in several colorways, our 2010 "N-1H Tr0y" featured one of them, and we chose a stripe pattern of warm tones that was new to us this time, the flecked brown-dominant version.
Replacing the classic foul anchor black buttons with natural brown corrozo wood buttons contributed to the 'maritime to workwear' make-over.
If the resulting jacket looks quite different from previous MF® iterations of the classic USN peacoat, it still fits our eclectic vintage aesthetics, this time Corto Maltese meets Terry Malloy and his docker comrades.
Photo credits:
* Corto Maltese watercolor courtesy of Cong SA. Official website here.
* On set of "On The Waterfront" (1954), courtesy of Getty Images.
The "Waterfront Coat" is designed in California by Mister Freedom®, and manufactured in Japan by Sugar Cane Co.
SPECS:
PATTERN:
An original MFSC pattern, freely inspired by early 1910's -1930's USN and US Coast Guard sailor wool peacoats, and 1930's-40's vintage mackinaw-type outdoor coats.
FABRIC:
Shell: A fancy 80% linen and 20% cotton blend fabric, HBT pattern, selvedge, milled in Japan.
Lining: Soft-hand "Troy Blanket" wool blend fabric, 60% re-used wool, 28% cotton, 12% rayon). Brown dominant stripe. Woven in Japan.
NOTE: The combination and specifics of these two fabrics make the Waterfront Coat quite unfit for foul weather and extreme cold temperatures, but quite appropriate for moderately chilly days, and in-between seasons under temperate climates.
DETAILS:
* Early USN peacoat pattern.
* Canteen-type "Troy Blanket" wool blend stripe lining, brown dominant.
* 10-button front closure.
* Brown corrozo wood buttons.
* Four outside pockets, two 'hand warmer' slash pockets and two flap closure pockets. All lined with golden brown cotton-wool blend corduroy.
* Inside chest pocket and traditional 'cigarette' pocket.
* Leather arrowhead reinforcement on pocket edges.
* Fabric selvedge conspicuously displayed inside pockets and on back vent.
* Removable chin strap (displaying either fabric if left dangling, or concealed if buttoned under the collar.)
* Traditional Zig-Zag pattern under-collar reinforcement stitching.
* Double labeling, original MF® and mfsc woven labels.
* 100% cotton stitching, tonal.
* Made in Japan.
SIZING/FIT:
The Waterfront Coat comes raw/unwashed/loomstate.
Although this garment can be worn as-is (raw), for a clean, pressed look, the pattern was adjusted to match a specific silhouette after an initial cold soak/hang dry process. Aside from fabric shrinkage, the HBT linen-cotton material takes on a 'new life' after this process. Linen fibers expand, the high-count stitching causes 'roping' and subtle twisting, the lining pulls the seams up a bit… and the garment looks about 50 years older, without the use of obnoxious chemical 'vintage washes' dear to our industry.
We suggest soaking the garment in cold water for about 3omn, occasional hand agitation, spin dry and hang dry. Please note that unless you live in the Atacama Desert, the Waterfront Coat might take about three days to fully dry. We do not recommend using a heat dryer. We do not recommend boiling this garment either, as the leather trims and lining will probably get ruined.
Please refer to the sizing chart to see if this garment's proportions work for you. We suggest sizing down on the Waterfront Coat. I usually wear a Medium (38) in mfsc jackets, but opted for a Small (36). After the initial soak/hang dry procedure, I still had enough room to layer a mid-weight shirt and a close-fitting Cowboy denim jacket.
Do take in consideration that the Troy Blanket lining adds a bit of 'puffiness' compared to a thin cotton twill lining.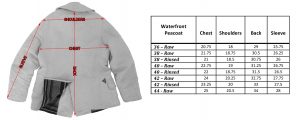 CARE:
After the initial cold soak, we recommend taking the Waterfront Coat to your local eco-friendly dry cleaner for cleaning. Do not use a home washing machine to launder, as the coat is quite heavy and stiff when wet. Spot cleaning can be performed by using a damp cloth and common sense.
Available raw/unwashed.
Sizes
36 Small
38 Medium
40 Large
42 X-Large
44 XX-Large
Retail $799.95
Available from www.misterfreedom.com, and our Los Angeles brick & mortar store.
Email sales@misterfreedom.com or call 323-653-2014 with any questions unanswered above.
Thank you for your support.
Christophe Loiron
Mister Freedom®
©2016