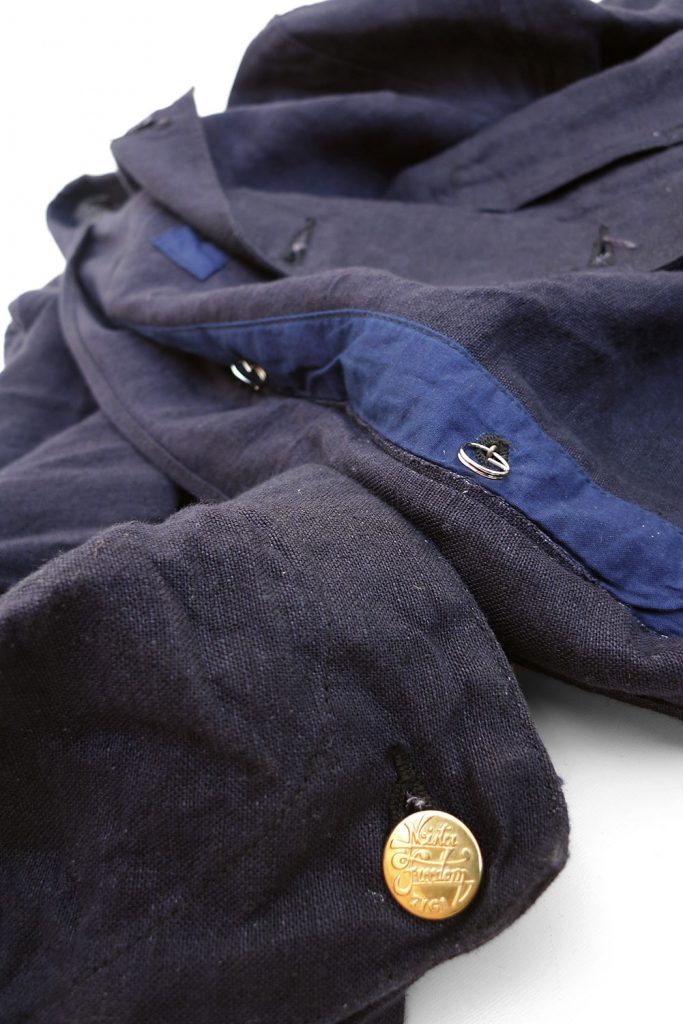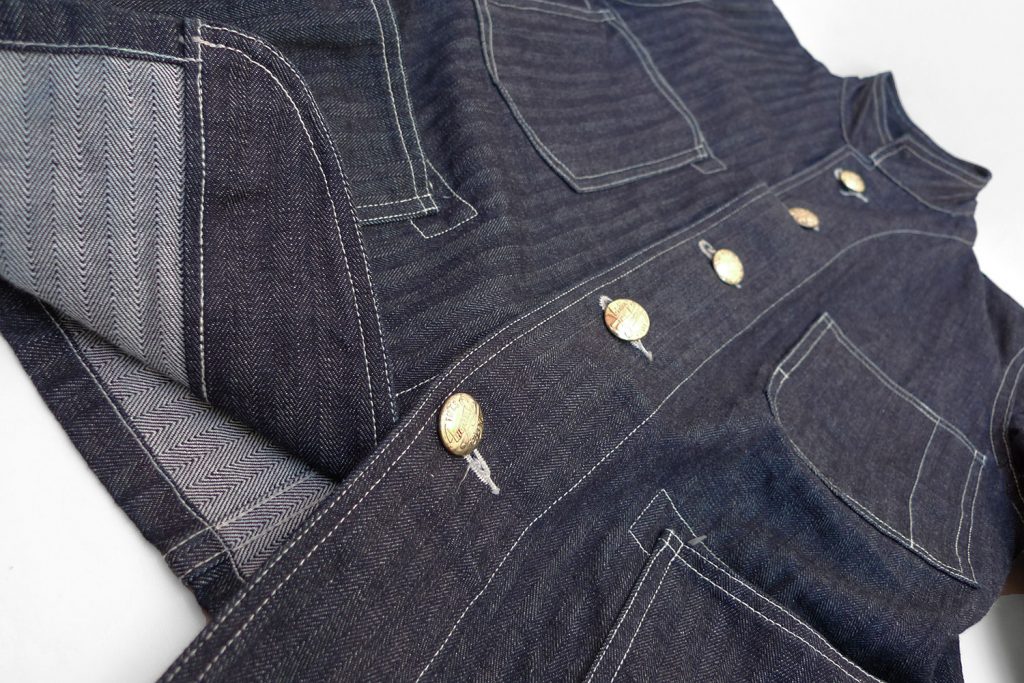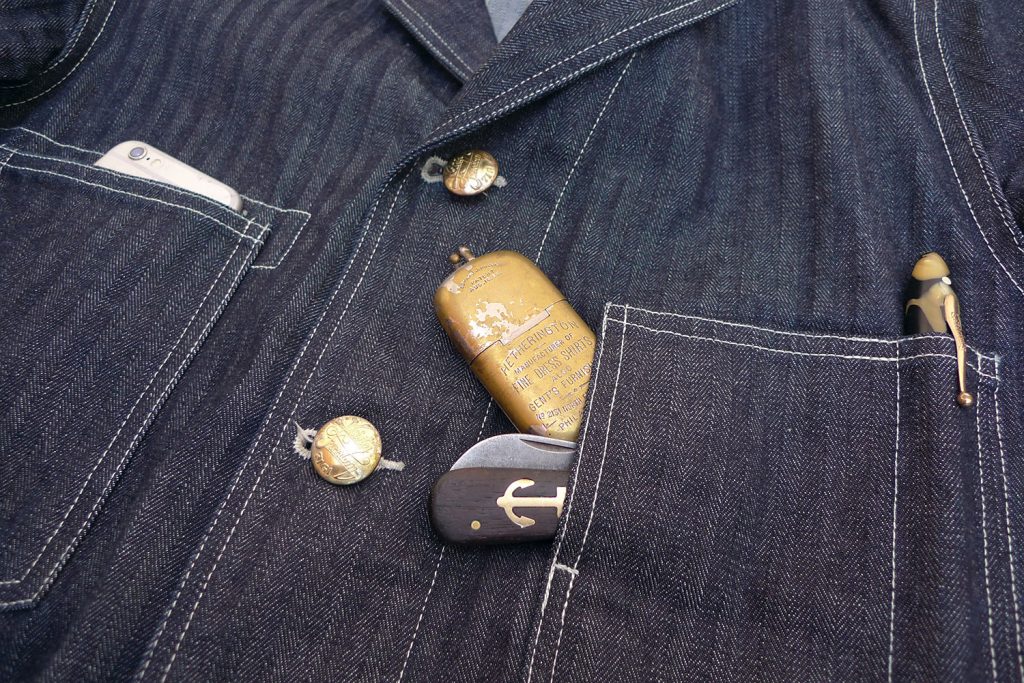 Mister Freedom® "McKARSTEN" Jacket, indigo métis & HBT denim.
SS2019 mfsc SURPLUS catalog.
Made in Japan.
The latest "might-have-been" we are adding to the Mister Freedom® x Sugar Cane Co mfsc Surplus catalog – our on-going collection of made-in Japan classics á la MF® – is the "McKARSTEN" jacket. The moniker is a reference to our beloved Peter Karsten, and workwear label Lakin & McKey's early days (founded in 1908, known today as Key Apparel.)
Our original pattern morphs several ill-fitting period garments into one wearable and  contemporary piece with a vintage turn-of-the-century Old World vibe. The body of the McKarsten was inspired by a 1940's medical field work cotton jacket made by "Nostrand Uniform Co". The pockets were lifted from a 1930's "TEST" chin-strap railroad jacket, aka chore coat or engineer jacket. The McKarsten features front panels with rounded bottom, cut longer than the split-back panel, and four patch pockets.
This hybrid garment mixes utilitarian early workwear and old-fashion uniform tailoring. The removable "ring" buttons (or shank buttons) are characteristic of 1920's-30's uniforms, but also denim railroad jacket styles, much sought-after by vintage hunters today.
We had our version of these shank buttons custom-manufactured by our friends at Sugar Cane Co, using an obsolete pattern registered in 1913, featuring an octogonal-shaped back and a brass shell cap with original MF® branding. Removable buttons, often found on wool military tunics and work uniforms, were un-clipped and detached when the garment required cleaning. For military inspection, the metal buttons could be polished separately.
Besides the complicated construction of the garment button placket itself (look behind that attractive curved single stitch line around the collar, on the button eyelet hole side), the requirement of an eyelet-stitch machine for the manufacturer, buttons or rings would at times get lost. This fastening system proved quite impractical over time and was mostly abandoned by the 1950's. Shank "ring" buttons are today a telltale of a desirable piece of costume history for the vintage clothing aficionado.
For the DIY-inclined, one can be creative, play around with colors and spray-paint our MF® brass buttons. Soaking them overnight in vinegar might hasten aging, but, with a bit of patience and wear, the brass buttons will naturally acquire an attractive patina overtime.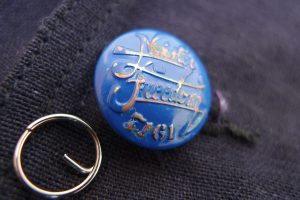 The stand-collar or "cadet collar" pattern allows buttoning the McKarsten all the way up, for the "James Bond villain" meets Jawaharlal Nehru look. For a more relaxed demeanor, the collar can be folded into traditional coat lapels, with a high-button front jacket look.
We are realizing the McKARSTEN in two distinctive fabrics. One is a 10 Oz. HBT indigo denim. This fabric is what happens if you mill traditional indigo-dyed warp yarns and natural color weft yarns, into a woven herringbone twill pattern.
The second fabric option is a 7 Oz. blend of 75% linen and 25% cotton (referred to as métis in French), plain weave, indigo and black yarns, selvedge. This fabric was inspired by a 1920's pair of French work pants, and milled with similar specs. Our version is very "breathy" and not tightly-woven, making it a great summer-weight fabric, with a somewhat see-through quality not uncommon on vintage tropical garb. The fabric drape and dry hand is typical of high-content linen métis.
The mfsc "McKARSTEN" jacket is designed in California by Mister Freedom® and manufactured in Japan by Sugar Cane Co.
FABRIC:
Two distinct fabric options:
a) A sturdy 10 Oz. HBT dark indigo denim, 100% cotton, milled in Japan. (Option featuring contrast stitching.)
b) An elegant 7 Oz. plain weave dark indigo métis, blend of 75% linen and 25% cotton, indigo warp and black weft yarns, solid white selvedge ID, milled in Japan. (Option featuring tonal stitching.)
SPECS:
* An original MF® pattern inspired by vintage early denim work chore coats (aka engineer jackets), early work uniform cotton jackets, and Old World tailoring.
* Stand-collar ("cadet collar") type, foldable into traditional coat lapels, for a high-button jacket look.
* Removable "ring" (shank) buttons, secured by a metal ring through an eyelet.
* Original MF®-branded brass buttons, 1920's style.
* Concealed indigo poplin facing for patch pockets, and for button eyelets panel placket.
* Four front patch pockets, featuring a traditional railroad jacket "pocket watch" compartment and pen slot combo.
* Uniform-style form-fitting rear panel pattern.
* Early tailoring style off-set shoulder yoke.
* Contrast stitching for the HBT denim option, tonal stitching for the indigo métis.
* Original mfsc SURPLUS woven label.
* Made in Japan.
SIZING/FIT:
Both options come raw/unwashed.
We recommend the usual initial 30mn cold soak/occasional hand agitation/spin dry/hang dry process. The tagged size reflects the size of the garment after going through this process. The subtle variation of shrinkage between body fabric/indigo poplin facing/cotton thread will result in puckering and roping, slightly altering the fit and drape.
The indigo métis version appears to be cut more generously than the HBT denim option, due to the lighter-weight fabric and totally different drape. Additionally, the métis loosely-woven fabric tends to naturally stretch back after the initial shrinkage.
I personally opted for a Size 38 in the HBT denim version, my usual size in mfsc jackets. The fit is quite comfortable, giving room for further potential shrinkage, when the garment will have to be fully laundered, and to minimal layering.
I went for a Size 36 in the indigo métis, as the 38 felt too roomy for my preference, especially after the mechanical stretch following a bit of wear. The arm opening of the 36 is snug but not uncomfortable when worn with a light shirt underneath.
When considering the length of the McKarsten, please note that the front panels are cut longer than the back panel, a characteristic of this early workwear jacket pattern. 
Please refer to chart for approximate raw/soaked measurements. This explains how we size our garments.
Soaked = 30mn cold soak, spin dry and line dry.
CARE:
We recommend removing the front brass buttons before cleaning (not the tack buttons of the sleeves!), to avoid potential snagging. When needed, machine wash the MF® McKARSTEN on DELICATE, cold water, mild eco-friendly detergent. Hang dry.
Wash separately to avoid color transfer to light-color garments. Turn the McKARSTEN jacket inside-out to avoid potential marbling of the indigo fabric.
Full wash cycle and heat dryer are not recommended and could damage the garment.
Sizes:
Small (36)
Medium (38)
Large (40)
X-Large (42)
XX-Large (44)
Available from www.misterfreedom.com, our Los Angeles brick & mortar store, and fine retailers around the World.
Email sales@misterfreedom.com or call 323-653-2014 with any questions unanswered above.
Thank you for your support.
Christophe Loiron
Mister Freedom®
©2019