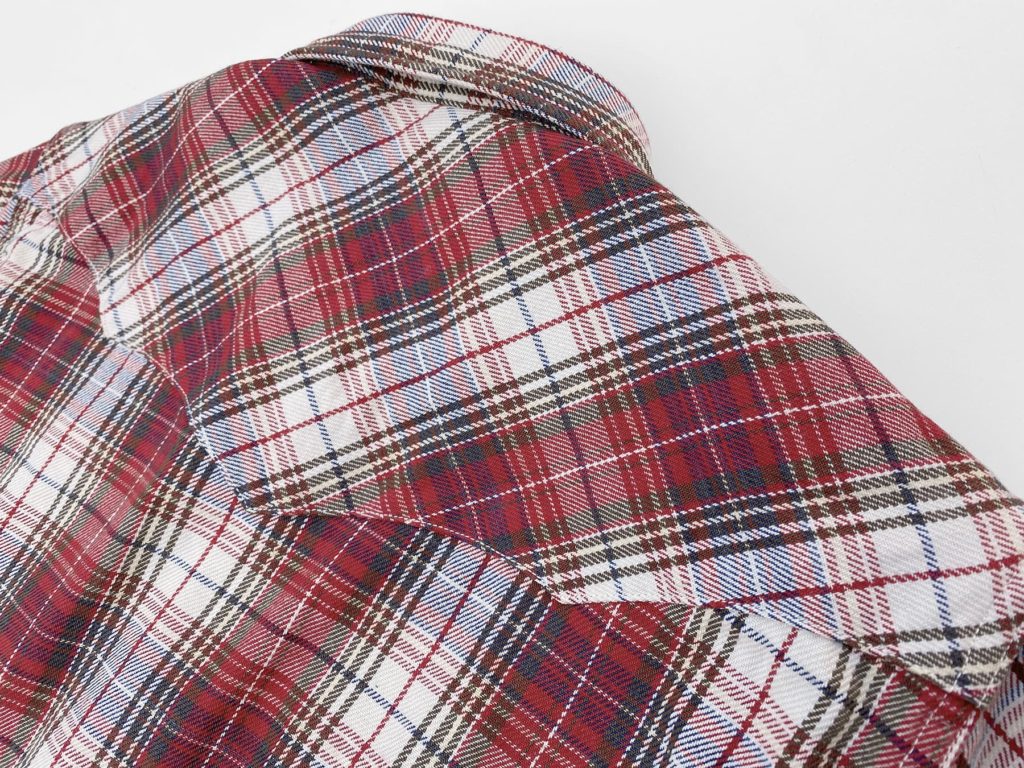 Mister Freedom® DUDE RANCHER Snap Shirt, "Joan" plaid flannel edition.
FW2020 mfsc TRUCK STOP collection.
Made in Japan.
Head over to Sesame Street, and get your ears on, Bubba! Imagine this CB convo:
A: "Breaker one-nine this here's the Rubber Duck for that WATER HOLE capsule out of Shaky City. Put an eyeball on it good buddy! You gotta copy on me, C'mon?"
B: "That's a 10-4 Rubber Duck, affirmative. Mercy sakes alive she's a looker!
Well, looks like I got Evel Knievel on my donkey now, so i'll back off the hammer. You too lil' brother, stick to the double nickel, word is Kojak with a Kodak was spotted around your 20… Don't feed the bears!"
A: "10-4 Bubba. Threes and eights. Keep the shiny side up. Over out."
As a Four-Wheeler (a non-trucker) you probably missed a bit of the above exchange… But we've all watched Convoy and had the soundtrack as an ear worm at some point, and maybe made a few attempts at going full-on Rachet Jaw at karaoke? To brush-up on your 1970s Citizens Band (CB) radio lingo, here are a few clues to decode that convo:
Sesame Street: Channel 19, the "trucker channel" on CB radio.
Breaker One-Nine: prepping line when interrupting an ongoing convo on channel 19.
Rubber Duck: head vehicule of a convoy.
Water Hole: period slanguage for a highway Truck Stop.
Shaky City: Los Angeles.
10-4: copy that.
Double Nickel: 55 mph lane, speed limits fluctuate.
Evel Knievel on my donkey: motorcycle cop behind me.
10-20: one's location
Bears: law enforcement in general.
Threes and eights: good luck/take care.
Keep the shiny side up: Safe driving, and keep the greasy side down.
Got a copy, good buddy?
Check out the "Over The Road" podcast and particularly this episode about the Trucking Industry history in the US, its place in American life, clarifying the concept of Wildcatters (aka independent trucker, owner operator, "gypsy", scale-dodging outlaws with CB handles like "Bandit", "Lone Ranger" etc) vs. Teamsters (Union drivers, more likely to be wearing company uniforms than western duds). The world of truckers – drivers as they refer to themselves, considered by some as the last of the cowboys – has also greatly contributed to American pop culture through the years, blessing us with no less than three volumes of Smokey and the Bandit, and other silver screen gems.
The 1979 documentary "On the Boulevard" gives a rare real-life glimpse of that industry at the time. The costume history-inclined can also find colorful period fashion statements in vintage Overdrive Magazine issues.
Now, about our shirt…
This iteration of our Dude Rancher shirt pattern leads the convoy (see what I did there) and introduces the Mister Freedom® x Sugar Cane Fall 2020 mfsc "TRUCK STOP" collection. This capsule draws inspiration from the colorful world of the American independent trucker, with Mid-West style influences spanning 1950s to 1970s. 
The DUDE RANCHER pattern is our spin on the traditional "western snap" shirt. It features the expected western-style front and back curved yokes and arcuate panels. The playful "M" branding on the chest pockets is disguised as decorative stitching. The tricked-out forearm pattern and intricate one-piece elbow/cuff reinforcement diamond-shaped placket is quite a garment construction tour de force, for anyone who knows his/her way around a sewing machine.
Our shirt features painted metal snaps, reminiscent of 50's Ranchcraft or Blue Bell shirts, initially featured on the 2013 MF® Sportsman printed flannel Camp Shirts. If pearl snap buttons are more-commonly associated with traditional western shirts, these metal snaps are a bit more subdued and utilitarian.
The MF® Dude Rancher is already available in fine black and white broadcloth (cotton poplin), in a vibrant printed shadow plaid, and a light indigo vat-dye chambray.
We are introducing a new fabric this fall, an original plaid milled exclusively for us in Japan, and inspired by a beautiful 1950s Levi's longhorn western shirt, belonging to a "Joan Saxe", obviously a woman with exquisite tastes.
Our interpretation of that vintage textile is a selvedge 8.25 Oz. woven plaid cotton flannel, with red and white dominant tones, and featuring actual indigo-dyed yarns in the weave. Our fabric, quite heavy and with a crisp dry hand, will over time fade to the tones of the vintage specimen.
The DUDE RANCHER western snap shirt "Joan" plaid flannel is designed in California by Mister Freedom® and manufactured in Japan by Sugar Cane Co.
FABRIC:
Original 100% cotton woven plaid flannel, 8.25 Oz., selvedge, white and red dominant with indigo yarn highlights, milled in Japan exclusively for mfsc.
SPECS:
* An original mfsc pattern, inspired by traditional western-style shirts.
* Traditional western-wear arcuate front and back yokes.
* Attractive pointy pocket flaps, complementing the yoke pattern.
* 1950's-style painted metal snaps (the paint will chip with age.)
* Tonal stitching.
* Original curvy "M" decorative stitching on pockets.
* Fancy diamond-shaped cuff/elbow reinforcement patch.
* Vintage style selvedge side gussets.
* Rounded shirt tails.
* 100% cotton hi-count stitching.
* Original MF® mfsc "TRUCK STOP" woven label.
* Made in Japan.
SIZING/FIT:
The "Joan" Plaid DUDE RANCHER comes RAW/unwashed. This shirt is cut so that the measurements match the labeling after an initial cold soak/line dry. 
We recommend this usual protocol before wearing:
Cold soak for about 30-40mn, with occasional hand agitation.

Spin dry and line dry.

Hang until fully dry.
I opted for a SMALL, for a trim, traditional western "cowboy" shirt fit (5.7'' approx. 150 Lbs), sizing down from my usual Medium in mfsc shirting.
Please refer to sizing chart for approximate raw/soaked measurements. Soaked = 30mn cold soak, spin dry and line dry.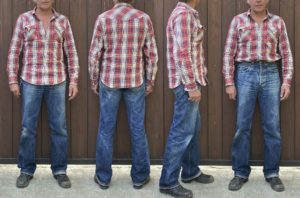 CARE:
Machine wash on DELICATE, cold water, mild eco-friendly detergent. Hang dry.
Wash with similarly-colored garments.
Do not use the washer's heavy-duty cycle. Heat dryer is also not recommended and may result in excessive shrinkage.
Available RAW (unwashed)
Sizes
X-Small
Small
Medium
Large
X-Large
XX-Large
Available from www.misterfreedom.com, our Los Angeles brick & mortar store, and fine retailers around the World.
Email sales@misterfreedom.com or call 323-653-2014 with any questions unanswered above.
Thank you for your support.
Christophe Loiron
Mister Freedom®
©2020