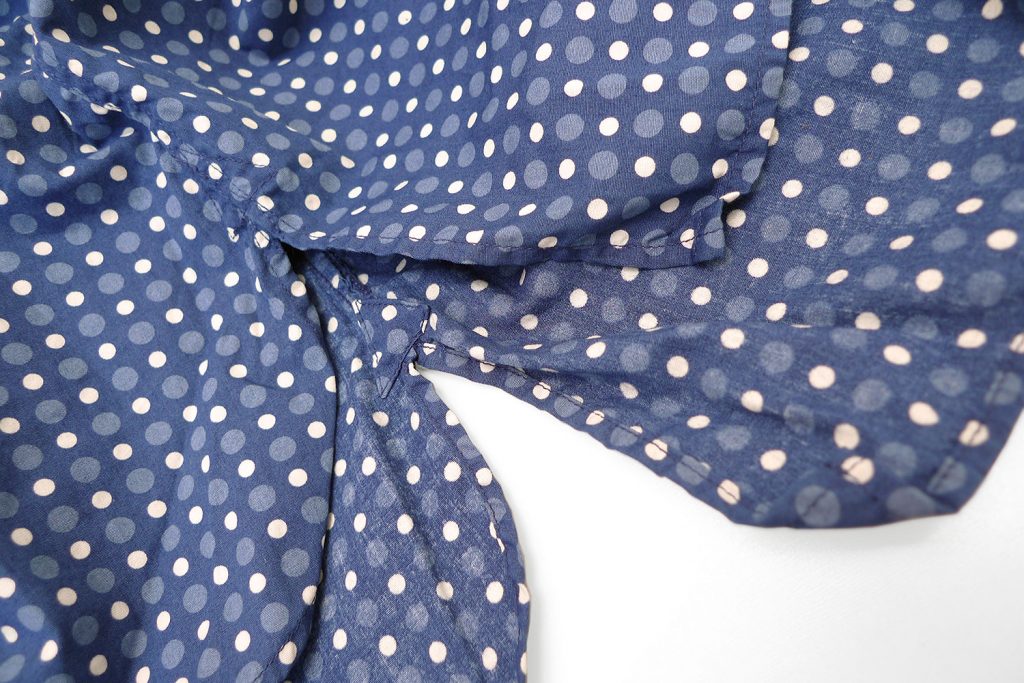 Mister Freedom® "Liquette Manouche", printed cotton poplin.
GYPSY BLUES mfsc collection Spring 2017.
Made in Japan.
For our GYPSY BLUES collection we are releasing two specific mens shirt designs, both with somewhat of a bohemian vibe.
First number up in our string swing venture is the Liquette Manouche, a shirt pattern inspired by a vintage 1930's-40's French pull-over garment from the MF® archives, introduced in two color options.
This model features a col requin (shark-fin-shaped open collar, later to be associated with casual 1950's European sportswear style shirting), a two-button front half placket, shirred back yoke, and classic early EU tailoring arrowhead-shaped side gussets, precursor of the now-common 'heritage' workwear design gimmick.
Liquette is old French argot (slang) term simply designating a man's shirt. A Manouche is a person of Western European Romani ancestry. Belgium-born Django Reinhardt, mastermind of the world-renowned musical style Jazz Manouche in the 1930's, is one of the most illustrious French Manouche.
The base fabric we opted for is a fancy tightly-woven 100% cotton poplin. With a crisp hand, it features a polka-dot pattern printed with a bleed-through technique. We could not find any better dots than the Polka variety to give our Liquette Manouche its Bohemian vibe.
Polka, with its humble folk origin in early 1830's Czechoslovakia, might not be a predominant influence for burgeoning artists performing on their Youtube channel today, but it predates Justin Bieber's impact on popular music, and will likely outlast him. Granted, Polka music is an acquired taste. So is yodeling.
Back on Gypsy style. Along with their 2000-year-old traditions and lifestyle rooted in India, West-bound Romani groups also hauled their indiennes flamboyant garb on the nomadic journey they started in the 14th century.
In popular culture today, close to reality or not, a repeat of small 'flowery' motifs often carries that 'Bohemian' style vibe.
Anecdotally, authentic India-designed prints could be considered as precursors of the quintessentially-British Liberty London style, as they were originally available from Arthur Liberty's first retail venture in London (England), a bazar he had appropriately named 'East India House' in 1875, specializing in imported Oriental goods. He went on to opt for local production and designs, with great success.
The MF® Liquette Manouche is designed in California by Mister Freedom®, and manufactured in Japan by Sugar cane Co.
SPECS:
FABRIC:
Fine 4 Oz. printed 100% cotton poplin, bleed-through technique, in two color options.
Milled and printed in Japan.
DETAILS:
* Inspired by 1930's French shirting and vintage bohemian style.
* Pull-over style, two button placket.
* 'Col Requin' style open collar.
* Amber color corrozzo wood buttons.
* Shirred back yoke and cuffs.
* Early-type arrowhead side gussets.
* Contrasting front/back shirt tail.
* Original mfsc Gypsy Blues woven rayon label.
* Made in Japan.
SIZING/FIT:
The MF® Liquette Manouche comes raw/unwashed.
Follow the usual initial method before wearing: cold soak for 30mn, spin dry and line dry.
This shirt is true-to-size and we recommend getting your normal mfsc size. I often wear a Medium in mfsc shirts and i opted for a comfortable Medium in the Liquette Manouche.
Please refer to chart to figure which size works for you. If still confused, email sales@misterfreedom.com
CARE:
Low maintenance. Machine wash on delicate when needed, cold water, eco-friendly detergent. Hang dry.
Available raw/unwashed.
Sizes
Small
Medium
Large
X-Large
XX-Large
Retail:
Blue poplin or Red poplin: $349.95
Now available from www.misterfreedom.com, our Los Angeles brick & mortar store, and fine retailers around the World.
Email sales@misterfreedom.com or call 323-653-2014 with any questions unanswered above.
Thank you for your support.
Christophe Loiron
Mister Freedom®
©2017