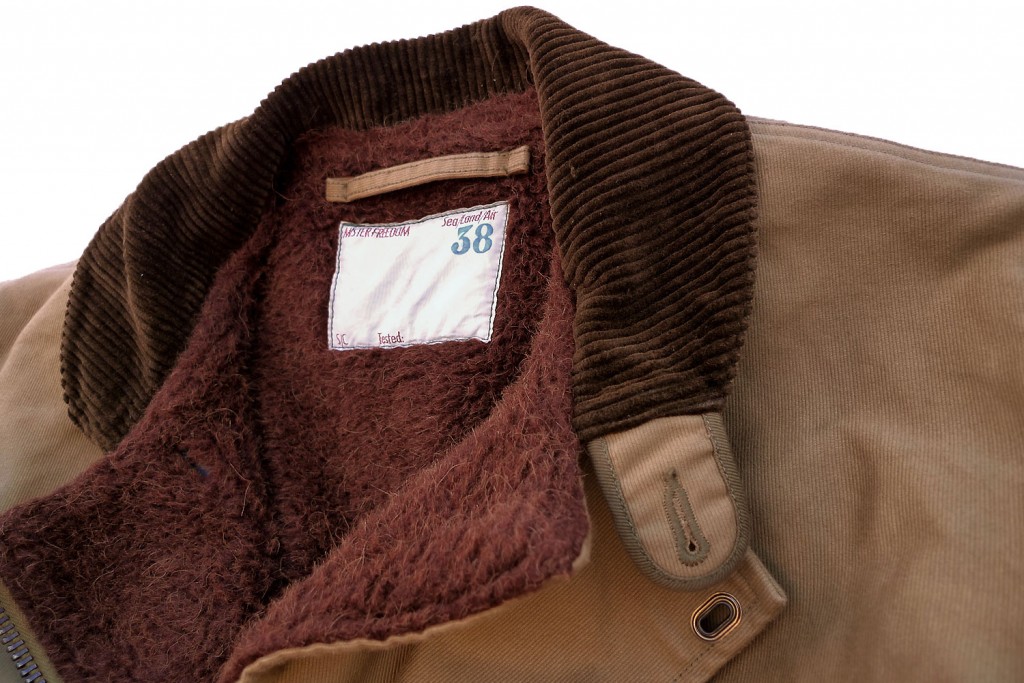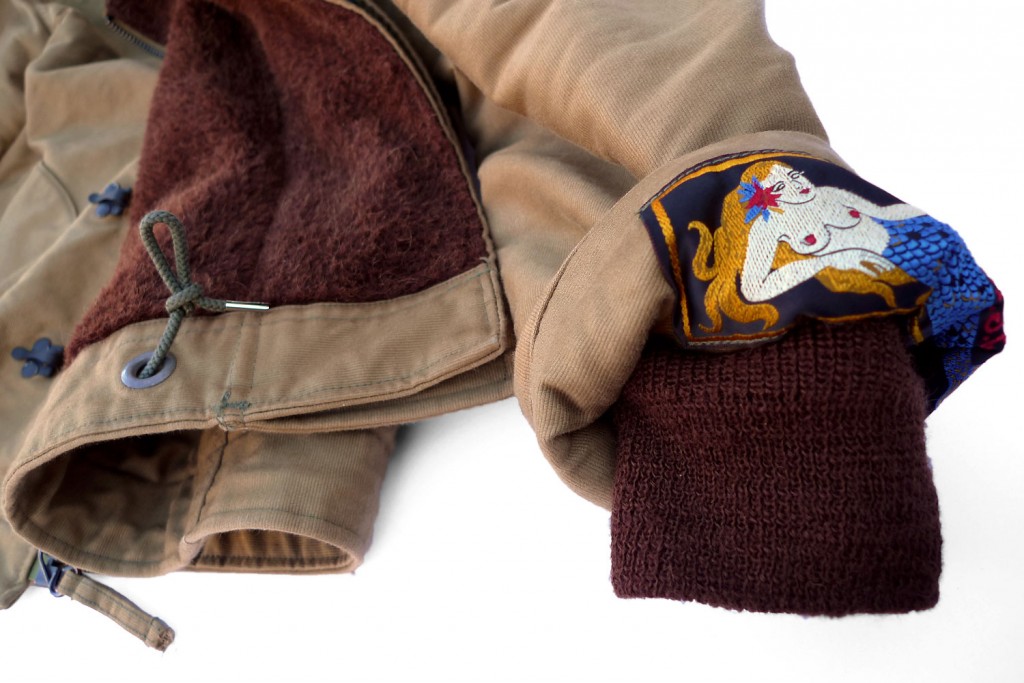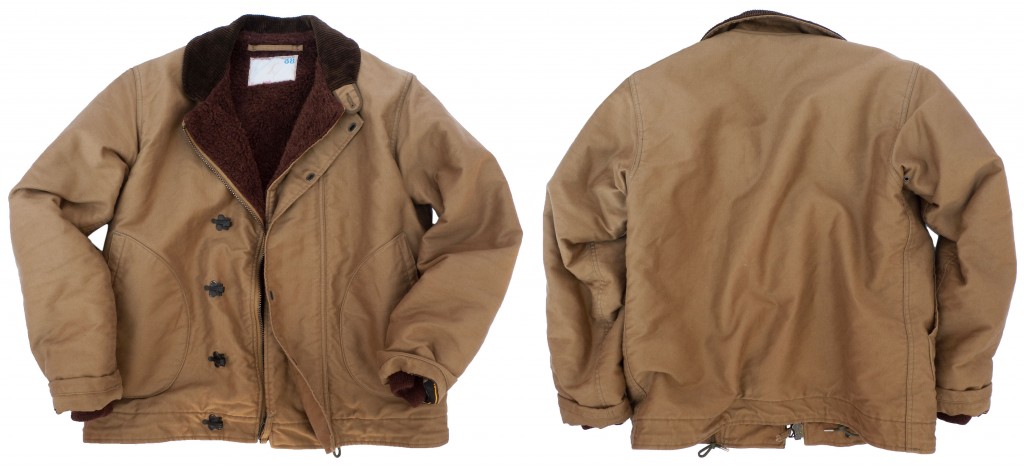 "Blouson de Quart", Khaki Jungle Cloth edition
'Sea Hunt' mfsc Collection, Fall 2014
You are by now aware of our inclination for dressing up an occasional MF® piece in obscure foreign words. The reason for this is dual. It makes our conversations around the copy machine colorful, and give us a chance to appear educated.
So here we go again with this "Blouson de Quart".
Some of the MF® old timers might remember the mfsc N-1H jacket ("H" was for hook), released sometime in 2008. It combined the design/color of several early USN deck jackets into a never-existed-but-could-have hybrid curiosity. Some today believe it did exist…
Because the garment industry has now flooded the Seas with reiterations of naval deck jackets, timing seemed perfect for not adding another drop to that ocean. And when timing is wrong, you can expect Mister Freedom® to barge in.
To everyone's delight, we have tapped quite a bit into the "Marine Nationale" (the French Navy) for inspiration on our "Sea Hunt" adventures. Since the introduction of the Spring chapter in March 2014, fabrics and anecdotes have been freely adapted and borrowed from the world of the cols bleus. Encouragement, mostly in the form of emails to sales@misterfreedom.com starting with "If i never hear about his stint again, it'll be too soon", have kept us going.
So it won't come as a surprise that the term "Blouson de Quart" refers to the winter jacket seafaring French sailors wore while on watch, as they assumed their ¼-workday duty.
Sometime in the 1960's, the French Navy issued a  jacket very much lifted from the US Navy type N-1 deck jacket, the probable result of joined operations when a specific piece of uniform seen in action would appeal to the men of one fleet, creating a demand the Commissariat de la marine eventually addressed.
Scholars will correct me.
Also known as "Veste de pont", both deck jackets shared a similar 'jungle cloth' type fabric, the French boasting its hydrofuge quality on the label (a dubious water and oil repellent claim). Although the shell was olive green in color, the Marine Nationale's version adopted the chocolate brown 'dog-hair' lining of the later alpaca-lined American N-1.
Photos of an additional French vintage veste de pont can be seen on this blog., featuring a hooded version flanked by the traditional "MN" anchor chest stencil.
Above vintage photos credits:
* Commandant Charcot 1949 photo Courtesy of  Georges Gadioux.
* On watch on the 'USS Pumper' Courtesy of Serge Tilly
* Foul weather on 'Escorteur Rapide Vendeen' Courtesy of Claude Hennard (1977)

UPDATES:
Artist and friend Patrick Segui hooked us up with some amazing photos of these jackets in action. Thanks Captain.
(All credits to the men who served, original owners of these photos, who hopefully won't mind the respectful exposure.)
If our naval-inspired and aptly-named jacket shares its overall pattern with our "Naval Clothing Tailor" days N-1H, this Fall 2014 "Blouson de Quart" is its own beast, not a mere reissue of an out-of-stock jacket.
Back in 2008, navy blue jungle cloth fabric was quite a rare bird in the vintage world, which made it a perfect candidate for a mfsc jacket shell at the time. The vintage khaki version of that fabric had always been a more common flea market find, a bit 'less special' for us rag hounds.
But the coolness of original 1940's USN-issued khaki deck jackets is undeniable. We've all seen those famous Newman or Dean shots. Old photos of 1950's/60's dock-working gangs are rarely not featuring one or two in the crowd.
I've had an old beat-up N-1 in my closet for years, and figured that a khaki jungle cloth coat was looong overdue in the MF® line-up of cold weather offerings.
So.
There it is.
Ze blouson de quart.
As mentioned, this is not a replica, and you'll notice we spared you the indelible anchor chest stencil, or any kind of outer military markings for that matter. As much as I appreciate finding authentic vintage pieces with original custom unit stencils and original Armed Forces markings, I've always been a bit skeptical regarding USN/USMC/USAAF/… or any type of official military 'tagging' on civvy clothing, legit replica or fashion fling. But that's just me.
Another touch of mfsc nostalgia applying to this jacket is the addition of "Liberty Cuffs" everyone is familiar with today. There was a 'Liberty-issue' denim Peacoat we made a while back, and we're using that same good ol' story for our "Blouson de Quart".
"Liberty cuffs" were often a feature on custom-made crackerjacks American sailors ordered from local tailors, mostly while on tour in exotic Far-East locations. Concealed during duty, the cuffs were rolled while on liberty, ie. time off-base or off-ship. They showed how salty one was. Embroidered dragons, octopus, mermaids, eagles and other patriotic or humorous patches, matched with all kinds of colorful custom stitching of the garment's lining, made for a good opening line while trying to convince bar ladies to join for a tour of the local museums…
Our "Sea Hunt" team member went with a classy sea D-cup creature. Please note that our mermaid patches are only sewn on three sides, in case you want to stick an emergency sawbuck or c-note in there.
For those interested in learning more about this specific naval tradition, the 2010 soft-cover book  "U.S. Navy Tailor-Made Dress Blues, Liberty Cuffs and Sailor Folk-Art" by SCPO Daniel D. Smith sheds light on what is fully spelled out in its title.
Back on shore.
Speaking of exotic destinations, our 'Blouson de Quart' will not exactly be the attire of choice for the atoll of Tetiaroa. This thing is W.A.R.M., and means business, Jack! The thick wool alpaca lining will do better under temperate climates than coconut trees.
As soft as this wool pile lining is, it is still wool and i'm allergic.  So we've opted to line the collar with 100% cotton corduroy, instead of the traditional N-1 dog skin that would keep me from wearing the jacket with a simple skivvy underneath.
If you're into manufacturing anecdotes, this is one's for you. If not, scroll down to the bad news, 9 c-notes.
If you're still here, let's mention that for our made-for-US batch, we opted to incorporate vintage 1930's French NOS selvedge corduroy fabric (technically "Velour D'Amiens", a now defunct very high quality wide wade corduroy used for work-wear and hunting coats). We had found some dusty yardage a while back, just enough to make a very limited batch of jackets with it. This didn't make production easier for the factory, as the made-for-Japan jackets featured a different type of lighter corduroy, both in weight and color. But we got what we wanted, thanks to our hard-working friends at Toyo Enterprises.
For the front closure, we combined the black-painted metal clip-hooks of the second type USN deck jackets with the solid TALON zipper of M-51 type field jackets. This heavy-duty black oxidized mil-specs zipper matches that three pounder of a coat (3.2 Lbs for a Medium!)
Both jacket and zipper should last a few cross-Atlantic cruises.
The mfsc "Blouson de Quart" is designed in California by Mister Freedom®, and manufactured in Japan by Sugar Cane Co.
SPECS
FABRIC:
* Shell: Sturdy 14 Oz. all cotton "Jungle Cloth", khaki color.
Please note that this fabric is a slightly heavier than the jungle cloth we originally used for both issues of our N-1H Deck Jacket.
* Lining: A warm soft-touch wool pile full lining, chocolate brown.
* Collar: 100% cotton corduroy.
DETAILS
* Freely inspired by vintage USN and Marine Nationale deck jackets, worn by 1940's-1960's sailors in foul weather conditions.
* Double front closure featuring 1940's-type clip hooks and 1950's-type mil-specs TALON zipper.
* Chin strap collar, 100% cotton corduroy lining, no-pain-in-the-neck guaranteed.
* Concealed chill-protectant wool knit cuffs.
* Liberty cuffed with mfsc mermaid patches.
* Synch-waist adjustment.
* MF® teardrop hand-warmer pockets, corduroy lined.
* Olive color rot-proof poly-thread stitching.
* Made in Japan.
SIZING/CARE:
This is highly unusual for us but we had these coats factory rinsed. NOT distressed, mind you, just professionally rinsed and gently tumble-dried. That way, the headache of the shrinkage guessing game doesn't apply. Our Blouson de Quart is true to size. I wear a 38 in this coat, with room for a denim jacket or wool sweater underneath. Really skinny body types considering sizing down might have an issue with a tight arm opening. As with most non-bespoke garments, this jacket will not work on all body types, all body proportions and everyone's personal aesthetics.
If you think it works for you however, do NOT wash this jacket in a home washing machine. You'll first ruin said washing machine, risk getting the metal hooks snagged, get marbling marks on the fabric… at which point you'll realize this is enough fun for a day, and you still need photos for eBay.
Your activities and frequency of wear will dictate when cleaning is needed. Please use common sense with spot cleaning or take the jacket to a professional eco-friendly cleaner.
We have measured the jacket to the best of our abilities. Refer to our sizing chart and remember that measurements are from the outside of the fabric. The lining is about ¼ inch thick, which reduces the inside room by that much.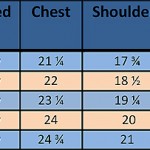 Available delicately rinsed.
Sizes
36 Small
38 Medium
40 Large
42 X-Large
44 XX-Large
Retail $899.95
Available from www.misterfreedom.com
Email sales@misterfreedom.com or call 323-653-2014 with any questions unanswered above.
Thank you for your support.