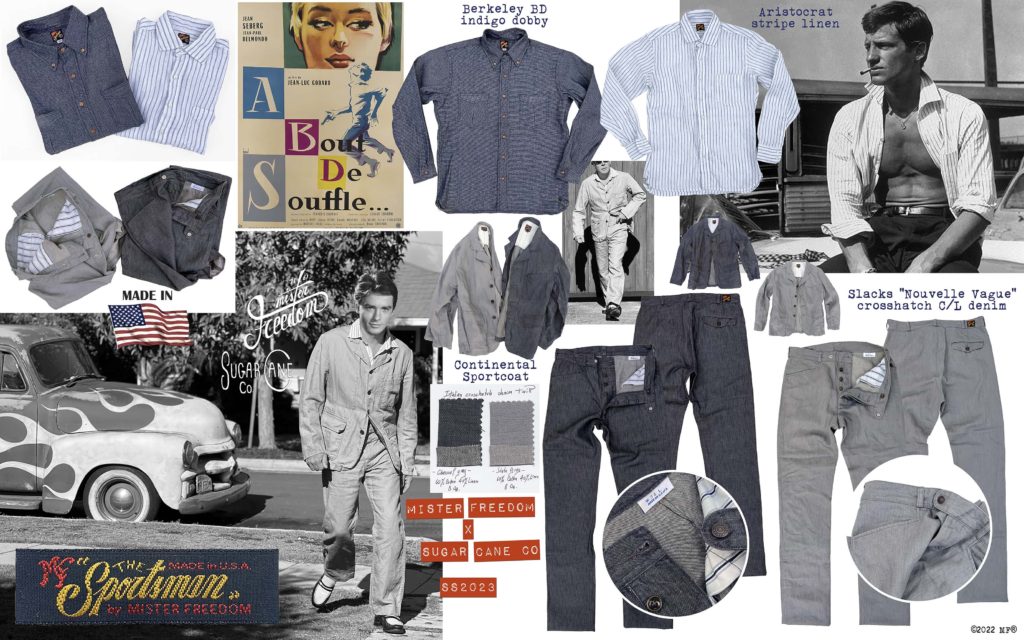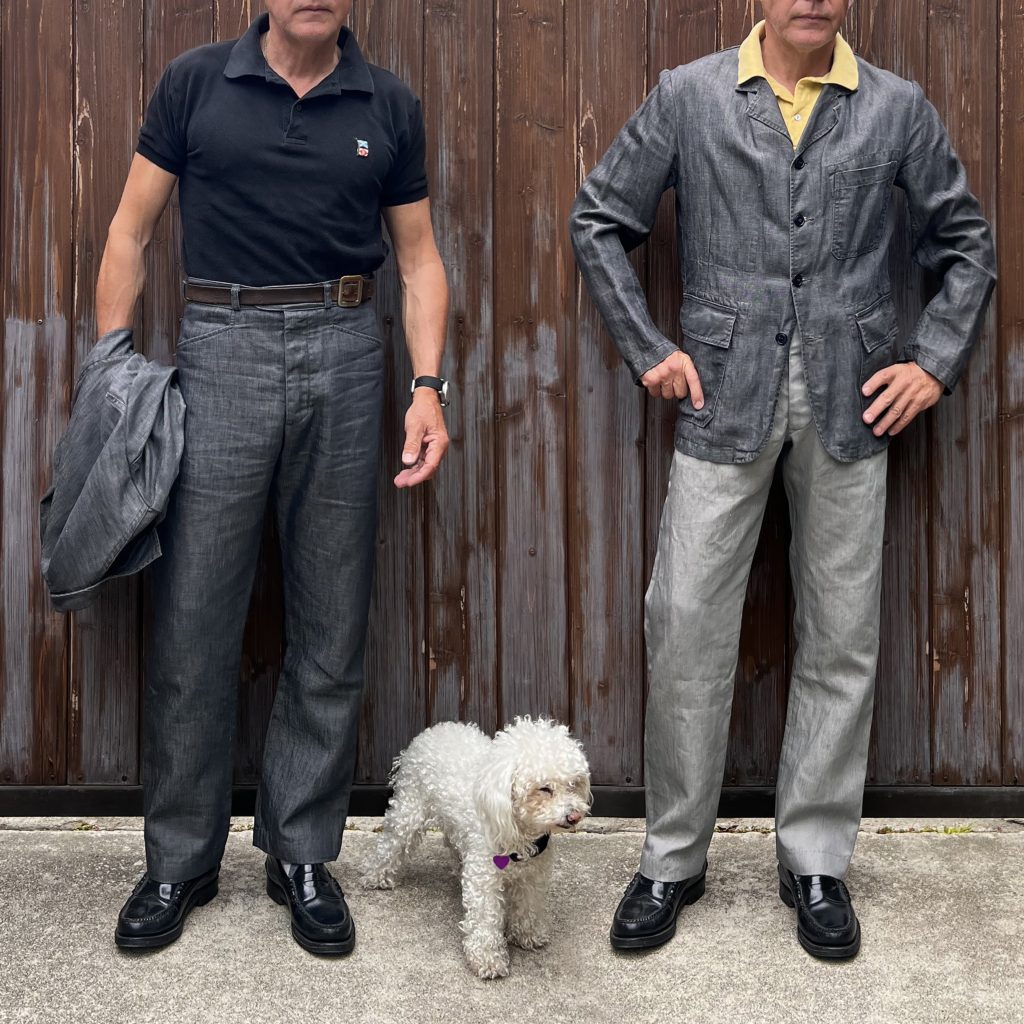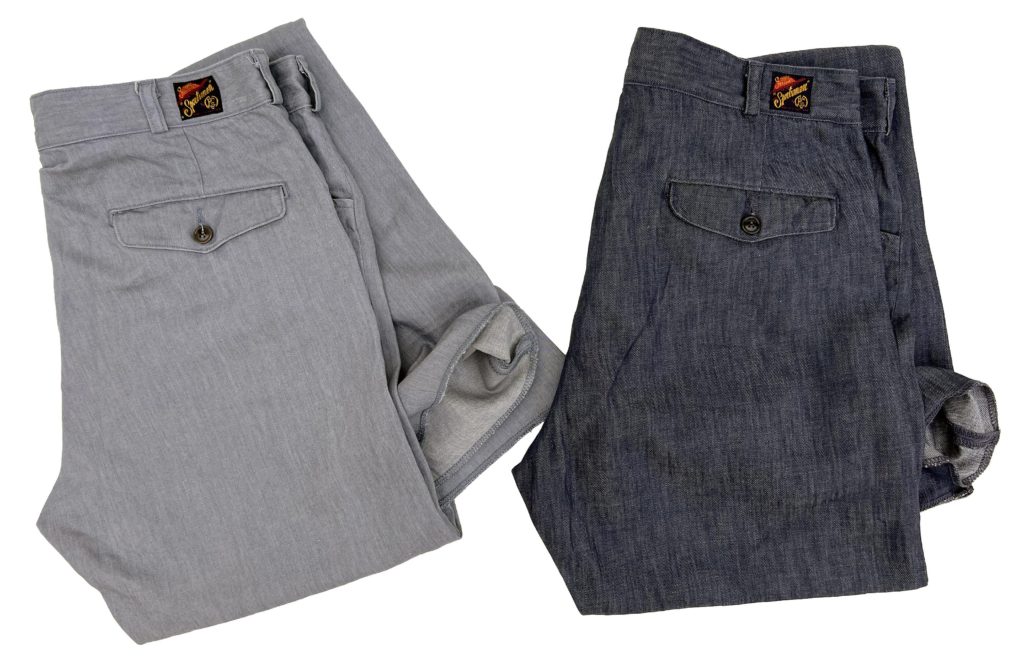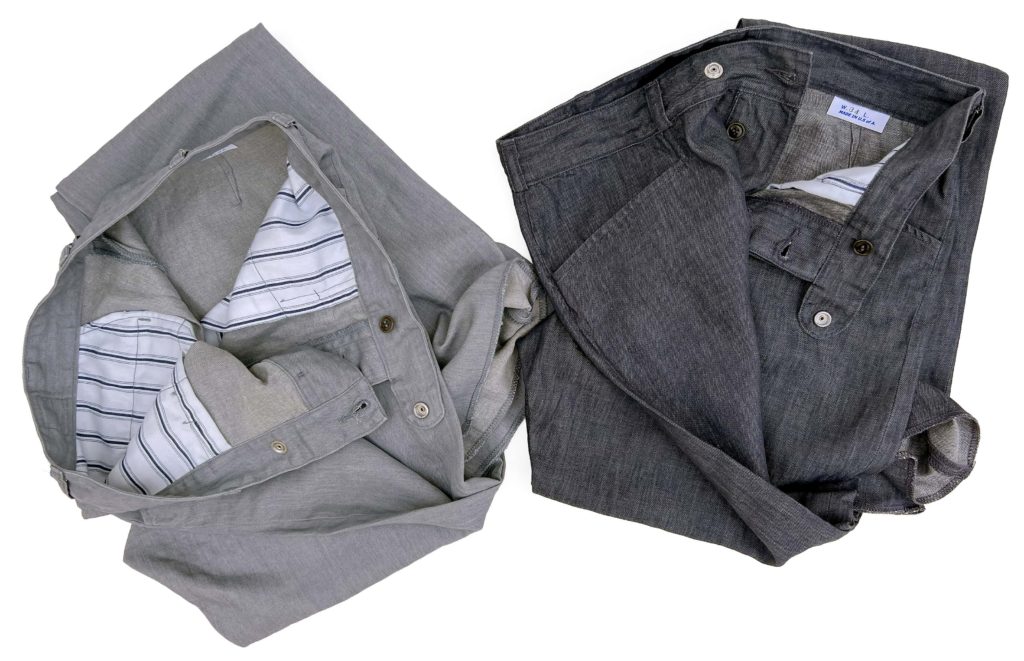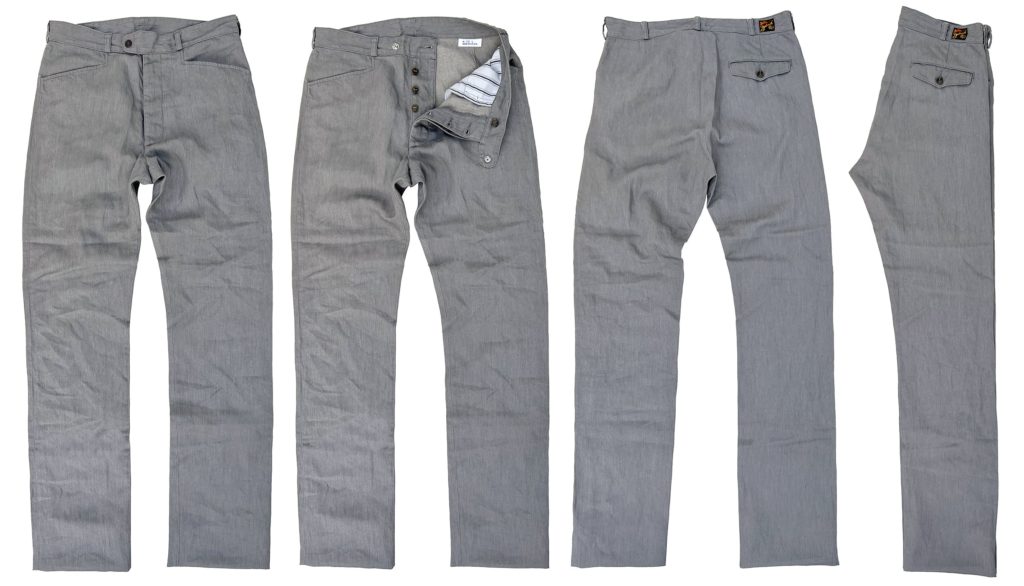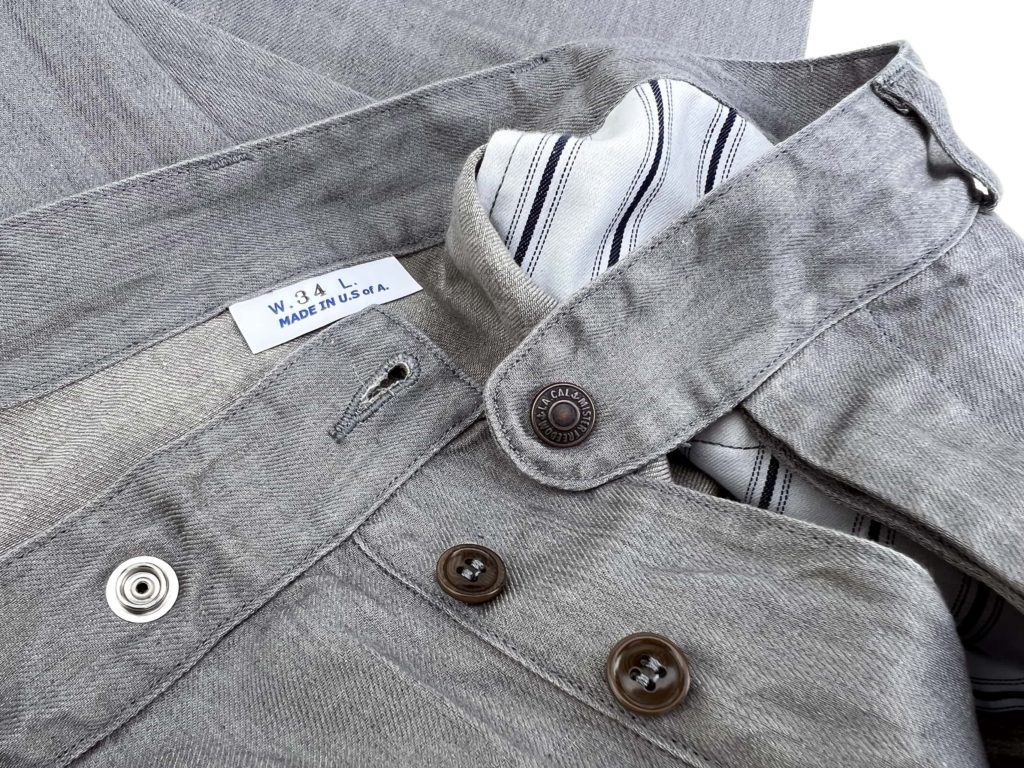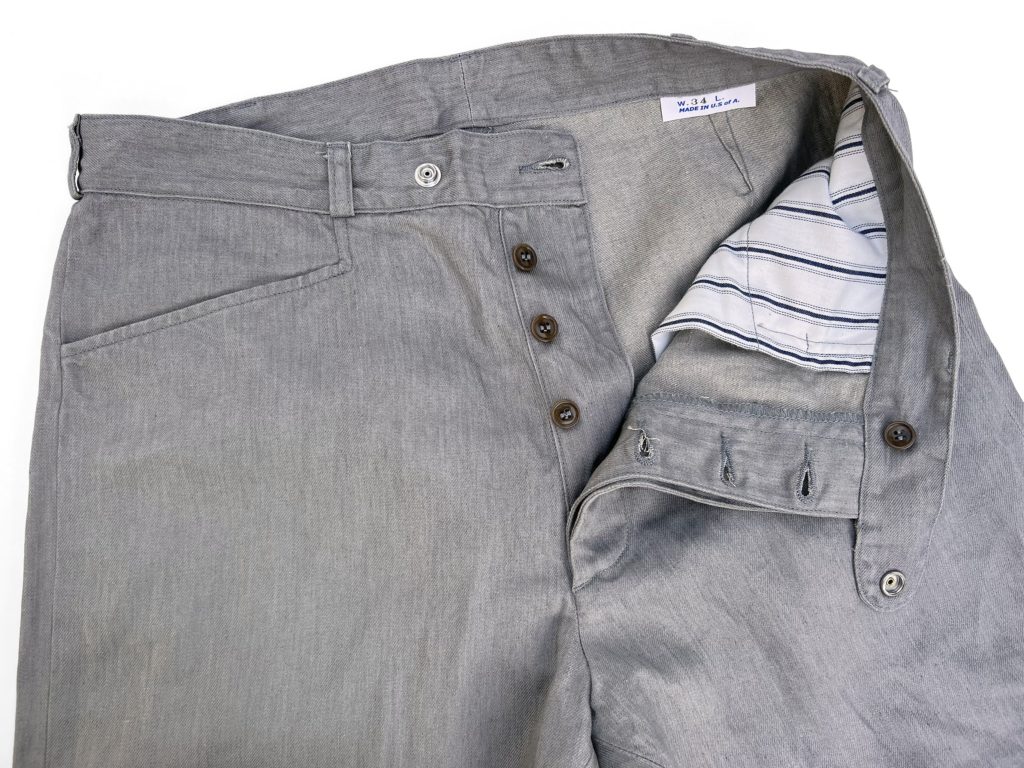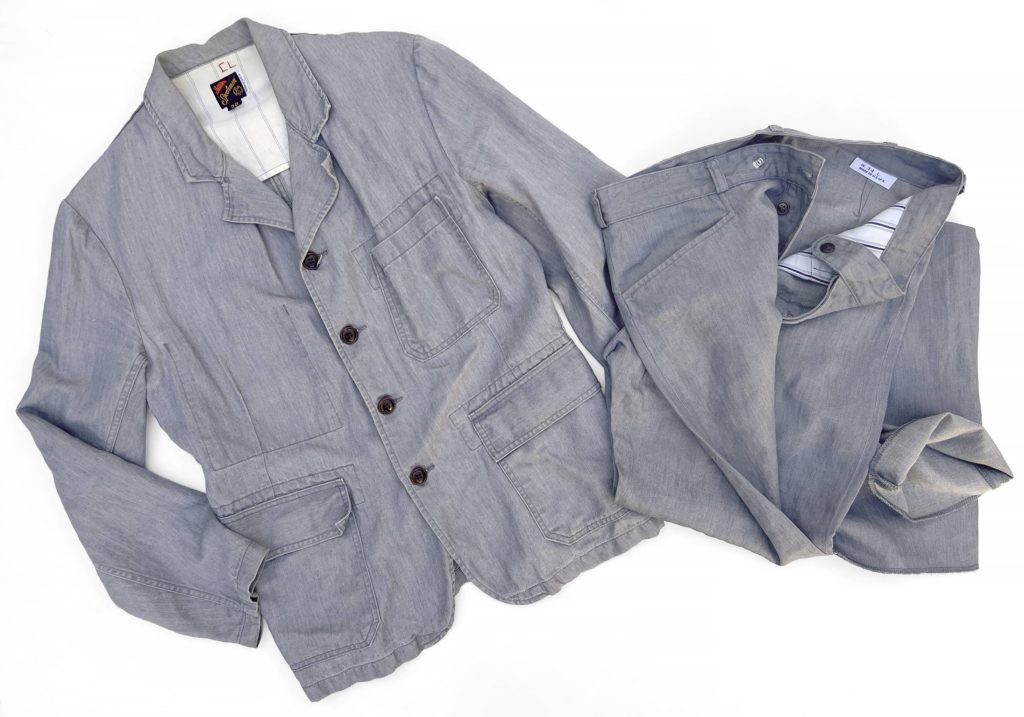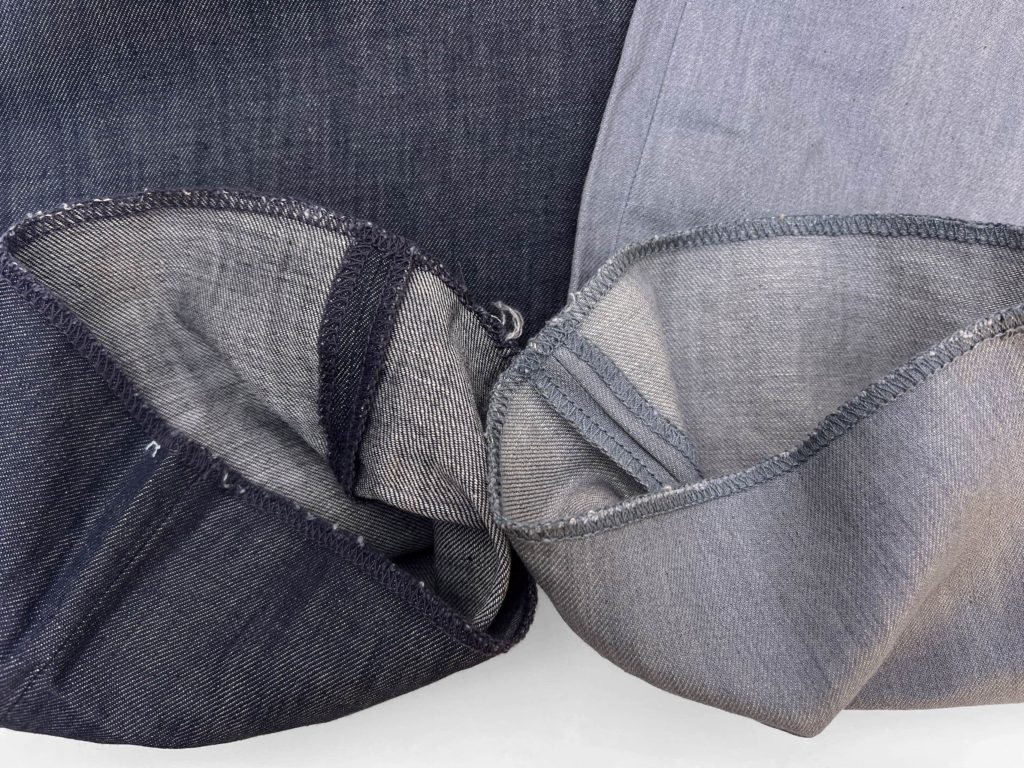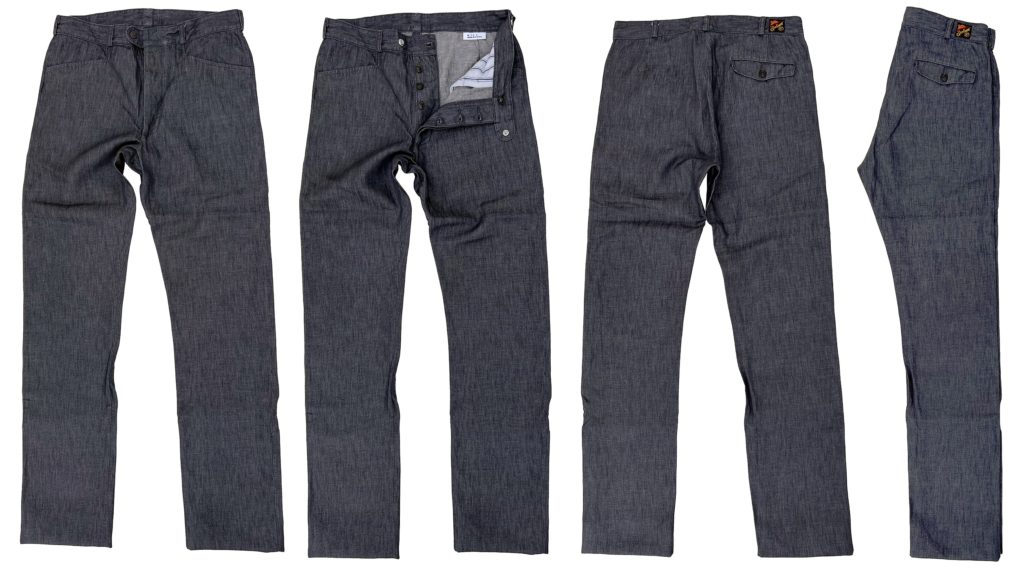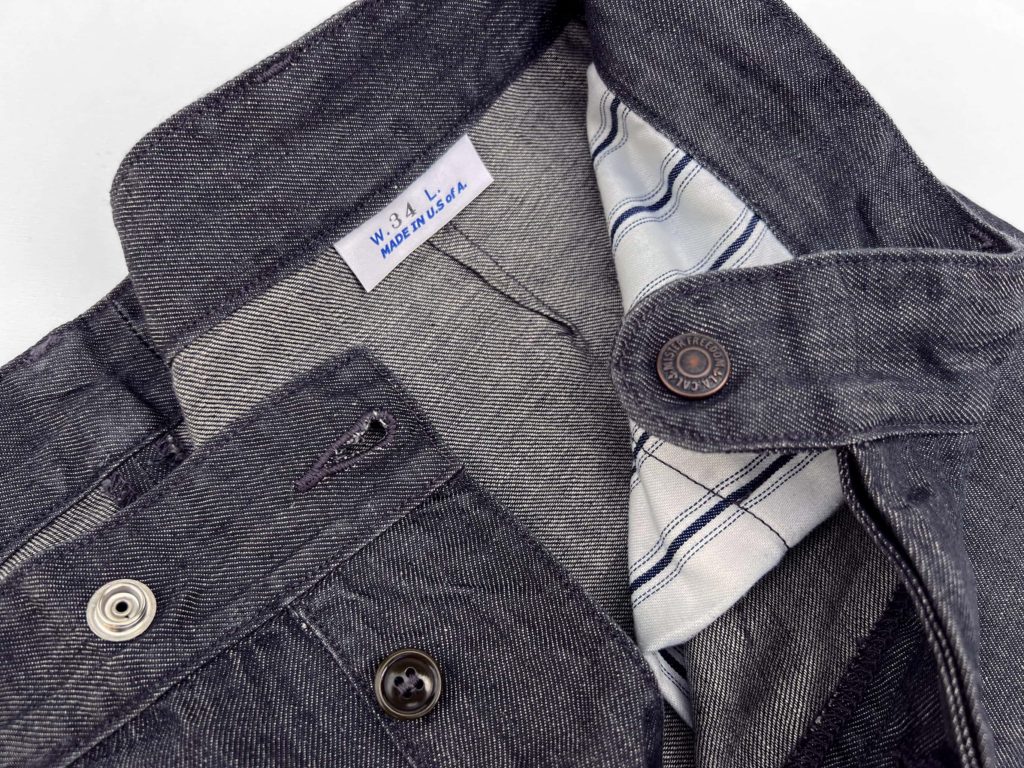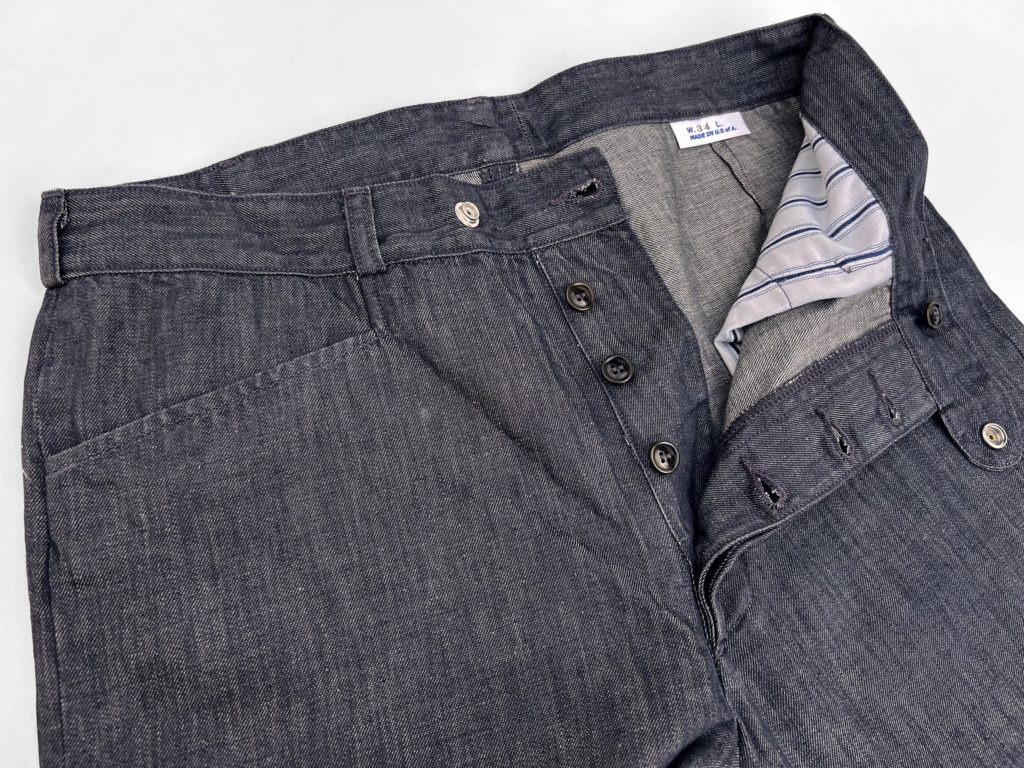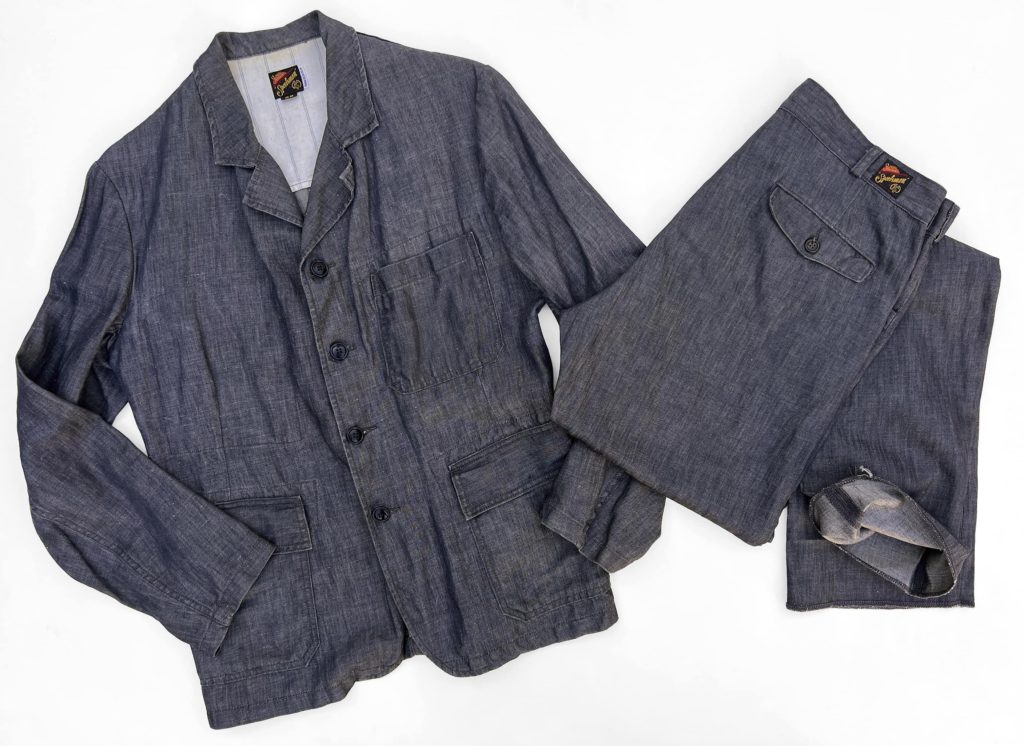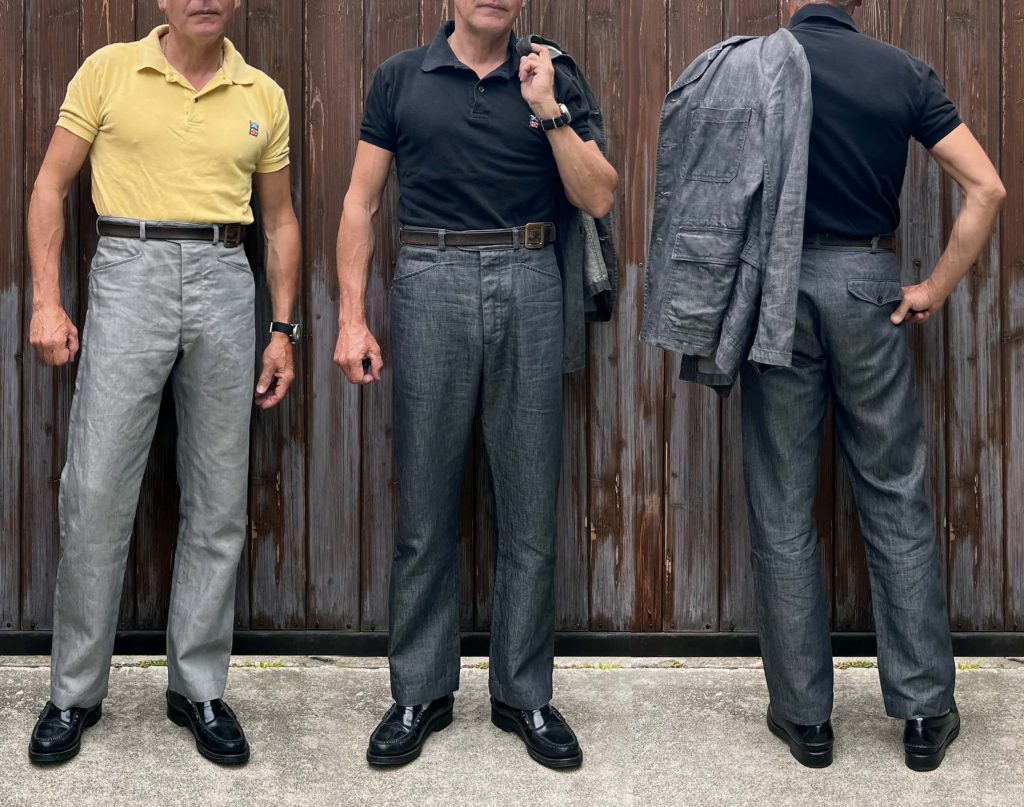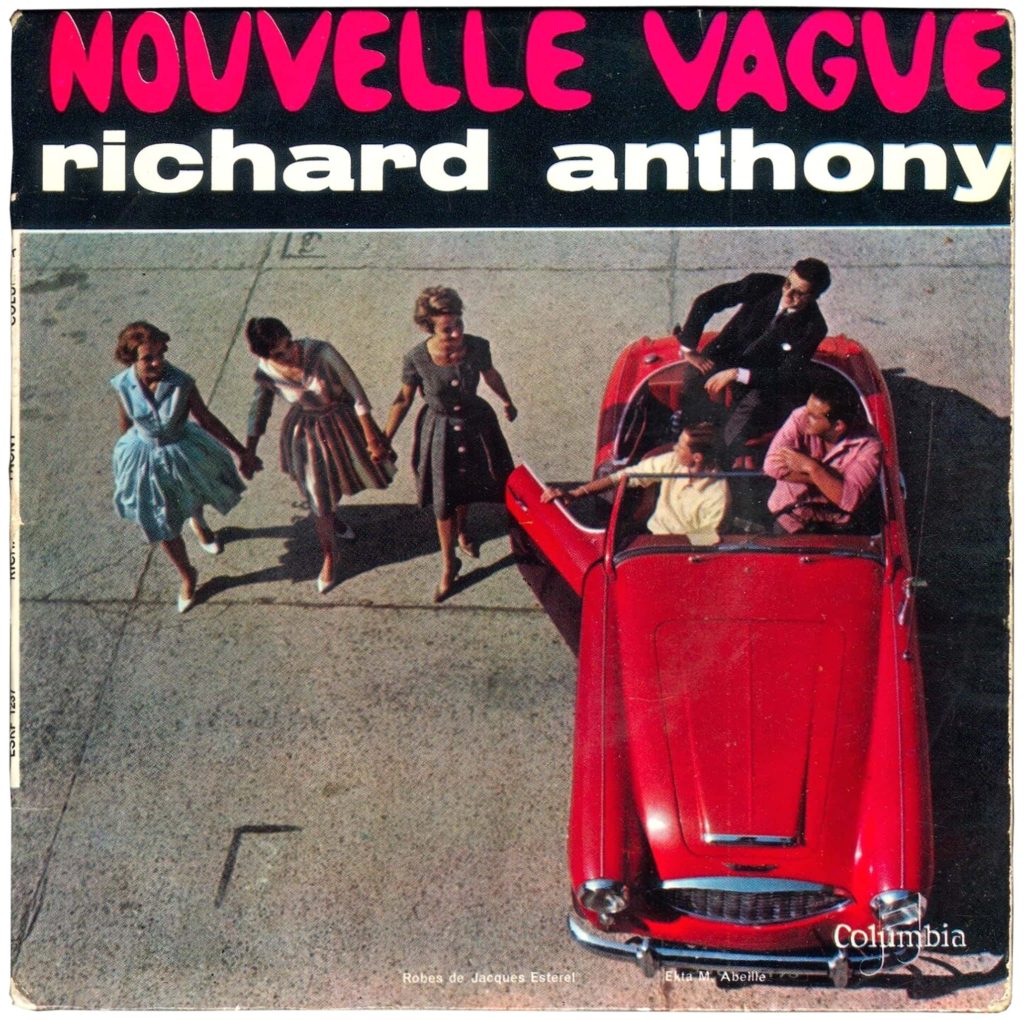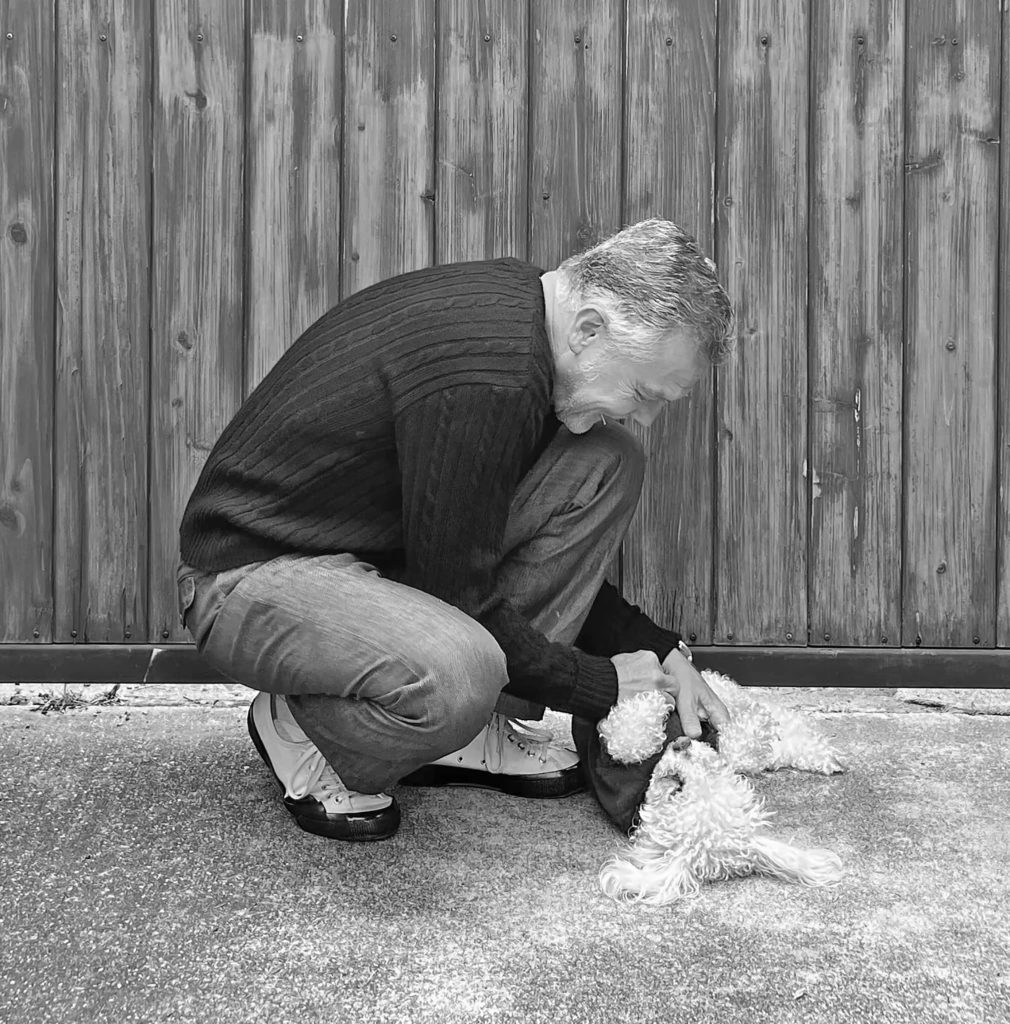 Mister Freedom® "NOUVELLE VAGUE" Slacks, NOS cotton-linen crosshatch denim.
mfsc SS2023 "Sportsman" catalog.
Made in USA.
We are introducing a new trouser pattern with these swinging Mister Freedom® "NOUVELLE VAGUE" slacks.
Inspired by an unusual pair of vintage late 50s/early 60s French casual cotton twill pants from our archives – probably tailor-made according to the simple seam construction, and the fact that they bore no branding – we revisited the design to merge the vibes of dressy slacks and denim jeans.
The frogmouth front pockets, single rear flap pocket, extended tab waistband with snap closure, narrow belt loops, choice of fabrics and unpretentious suiting vibe all blend together to give the trousers a "French Riviera" casual 1950s-60s fashion flair.
We kept the overlock inseam/outseam/seat construction of the vintage custom-made original, for easy fit alterations with a single-needle machine. See the original twill pants below, with a bit of the R&D process.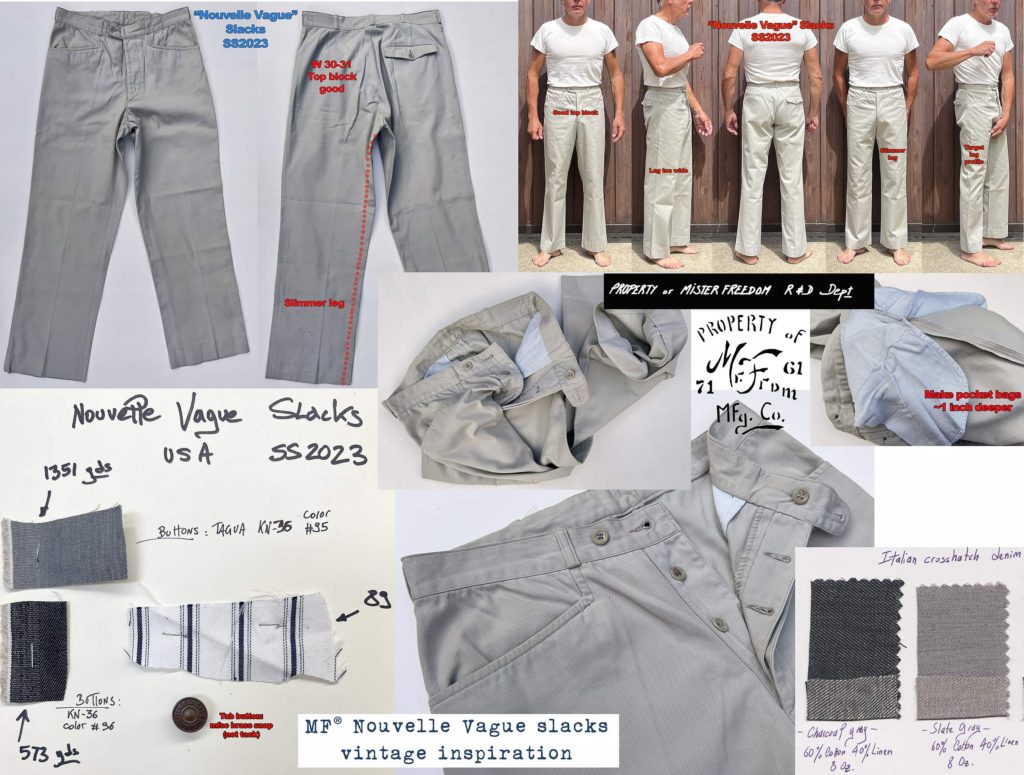 The term "Nouvelle Vague" (French for "new wave") is a reference to avant-garde French art cinema popular at the time. Not for everyone, but it had a worldwide impact on film-making and acting.
"Nouvelle Vague" is also the title of a cool 1959 French pop song, a cover of the Coasters' "Three Cool Cats". Dig it!
The style of our NV slacks is a nod to classic early 60s looks sported by the likes of Jean-Paul Belmondo in "A Bout De Souffle" (1960), or – the original silver screen Tom Ripley – Alain Delon in "Plein Soleil" (1960), etc…
For this initial release, the trousers are cut from an old mfsc fabric favorite, the elegant NOS crosshatch denim twill (cotton-linen blend 60/40, 8 Oz., milled in Italy) we had scored a while back in two distinct shades of grey, charcoal and slate.
"Crosshatch" refers to the slubby grey warp & natural weft yarns of this twill, which will tend to develop a more pronounced crisscross fading pattern than other denims.

The slacks are quite versatile and can easily handle from a simple T all the way to a fancy shirt.
For a casual suiting vibe, consider pairing them with their matching Continental Sportcoats, slate grey and charcoal grey twills. A matching vest is even available for the Thomas Crown in you, and mis-matching always a cool option.
Side note, the slim belt loops will accommodate 1¼ wide belts, and we are working on a Mister Freedom® x VEB Leather collab!
The MF® Nouvelle Vague slacks, NOS crosshatch denim twill edition, are designed and manufactured in California by Mister Freedom®, in collaboration with Sugar Cane Co.
SPECS:
PATTERN:
Inspired by 1950s-60s French casual trousers fashion, merging aesthetics of dressy slacks and denim jeans.
FABRIC:
New Old Stock (NOS) crosshatch denim twill, 60% cotton – 40% linen blend, 8 Oz., milled in Italy.
Available in two color options, slate grey and charcoal grey.
Pocketing: Lightweight NOS woven stripe fabric, navy stripes on white background.
DETAILS:
* Vintage French 1950s-60s fashion, casual yet elegant sportswear vibe.
* Straight leg period silhouette.
* "Frogmouth" front pockets.
* Button fly, corrozo wood buttons.
* Extended tab waistband with snap waist closure, with original MF® branded brass snap button.
* Single rear welt pocket with buttoned flap.
* Slim belt loops, will accommodate 1¼ wide belts.
* Fancy woven stripe pocketing.
* Flat front & darted rear panel for an attractive top block profile.
* Overlock inseam/outseam/seat construction.
* Tonal stitching.
* Tailor shop-style unfinished overlocked leg bottom, to suit your cuffing preferences.
* Original "The SPORTSMAN" woven rayon label on rear waistband, concealed when wearing your VEB belt.
* Made in USA.
SIZING/FIT:
The MF® Nouvelle Vague slacks come UN-WASHED and are cut so that actual measurements match the labeling AFTER an initial cold soak/line dry.
We recommend this usual protocol before wearing the garment:
Cold soak for about 30-40mn, with occasional hand agitation.

Machine spin dry cycle, and line dry.
These trousers are considered true-to-size, with somewhat of a generous waist.
A tagged W32 will most-likely be the right size for an individual with an approximate measured waist of +/- 32 inches, and with average body proportions. Note that your natural waist is a bit bellow belly button level, not bellow the hips.
At 5'7 ~145 Lbs, I opted for a W31 in the Nouvelle Vague, for a very comfortable straight leg silhouette and somewhat fitted top block.
The size that will work best for you depends on how you like your pants to fit. Please refer to our size chart and our way of measuring pants.
For the leg bottom, I went with a DIY blind (hand) stitch 1¼ inch hem.
Make sure you fully rinse the garment before you commit to cropping the leg to your cuffing preference. Style-wise, we recommend hemming and not "roll-up" cuffing.
CARE:
Machine wash on DELICATE when needed, cold water, mild eco-friendly detergent. Hang dry.
Refrain from using the "heavy-duty" cycle setting on your home washer. Using a heat dryer is also not recommended and may result in excessive and irreversible shrinkage.
Available from www.misterfreedom.com, our Los Angeles brick & mortar store, and fine retailers around the World.
Email sales@misterfreedom.com or call 323-653-2014 with any questions unanswered above.
Thank you for your support.
Christophe Loiron
Mister Freedom®
©2023