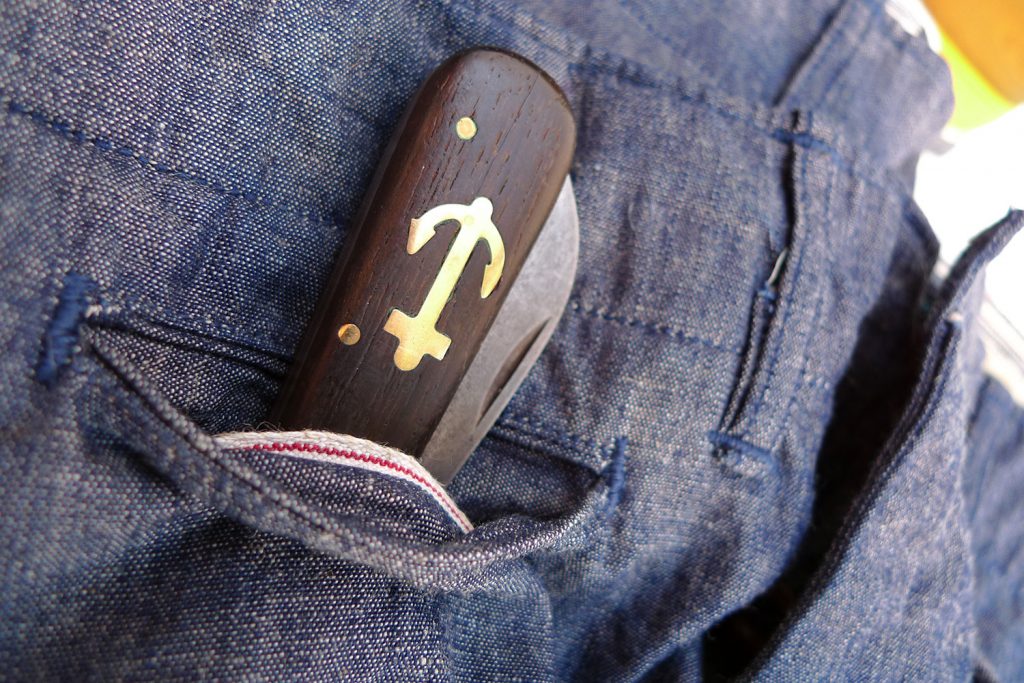 Mister Freedom® mfsc Naval Chinos, Type No.266ic, cotton/linen indigo chambray issue.
Spring 2018 mfsc "SURPLUS" catalog.
Made in Japan
Our popular "mfsc Naval Chinos" are back this Spring!
These classic trousers are a nod to the "MFSC Naval Clothing Tailor" capsule collection of 2008, dating back to the earliest collaboration with our Japanese friends from Sugar Cane Co. With a pattern inspired by 1940's US Army chino trousers, we initially issued them in a combination of subtly contrasting mil-specs khaki chino twills under the "Naval Chinos Type No.266" moniker. An edited version called Type II was released in 2010.
For our smashing 2016 Ten Year Anniversary, two new models were cut, one in a dark indigo canvas and the other in a khaki chino twill, both under "Naval Chinos Type No.266ac".
We are releasing a very distinct version for Spring 2018, and are excited to introduce a luxurious vintage-inspired fabric new to our catalog. This fine indigo selvedge chambray, a slubby tightly-woven and crispy blend of 85% cotton and 15% linen, was exclusively milled for mfsc in Japan. Quite reminiscent of the 1950's French Marine Nationale utility uniform fabric that had inspired our Sea Hunt Spring 2014 Crew Pants (see original blog post here), this 2018 textile features a darker and more of a reddish indigo hue, a denser weave, and a selvedge with white/red stripe ID.
The leg construction is a flat-felled seam type, same as vintage army chinos, so we played with the fabric selvedge by displaying it in the facing of the five pockets (front slash, rear welt and watch pocket.)
Our mfsc Naval Chinos feature a vintage silhouette, mid rise, with somewhat of a classic leg, neither slim nor baggy. The light-weight crisp chambray fabric makes them a stylish addition to one's summer wardrobe, easy to pair with solid Skivvies, stripeys, Saint-Malo, …, or plain button down shirts. The indigo chambray will age gracefully with repeat wear/wash cycles, and we look forward seeing some outstanding worn specimen down the line!
The MF® "Type No.266ac" mfsc Naval Chinos, cotton/linen indigo chambray, are designed in California by Mister Freedom® and manufactured in Japan by Sugar Cane Co.
SPECS:
FABRIC:
A fine, tightly-woven and crispy blend of 85% cotton and 15% linen indigo chambray, slubby texture, white/red stripe selvedge ID, milled Japan.
Pocket bags and waist band are made from 100% cotton woven stripe ticking, milled in Japan.
DETAILS:
* Pattern inspired by vintage 1940's US Army chino trousers.
* Stripe ticking 100% cotton pocketing and waistband facing.
* Button fly, featuring brown corozo wood buttons.
* Thin trousers-style belt-loops.
* Arcuate decorative stitching on front slash pockets and back welt pockets, with concealed selvedge ID on pocket facing.
* Watch pocket, with concealed selvedge ID.
* Flat-felled leg seams.
* Tonal 100% cotton hi-count stitching.
* Woven mfsc "Surplus" rayon label on inside waistband.
* Made in Japan, designed in USA.
SIZING/FIT:
The Type 266ic Naval Chinos, indigo chambray, come raw/unwashed, and will shrink to tagged size after an initial soak. We recommend a 30-40mn cold soak with occasional hand agitation, spin dry, hang dry. These are true-to-size, and I wear a comfortable Waist 32, my usual size in mfsc trousers.
Please refer to chart for soaked/line dry measurements, reflecting above method.
CARE:
Wash when needed. We recommend washing on delicate cycle/cold water/eco-friendly detergent. Turning the trousers inside out will help avoid marbling. Line dry.
Available RAW (unwashed)
Waist: 28, 30, 32, 34, 36 and 38.
Retail: $349.95
Available from www.misterfreedom.com, our Los Angeles HQ, and fine retailers around the World.
Email sales@misterfreedom.com or call 323-653-2014 with any questions unanswered above.
Thank you for your support.
Christophe Loiron
Mister Freedom®
©2018