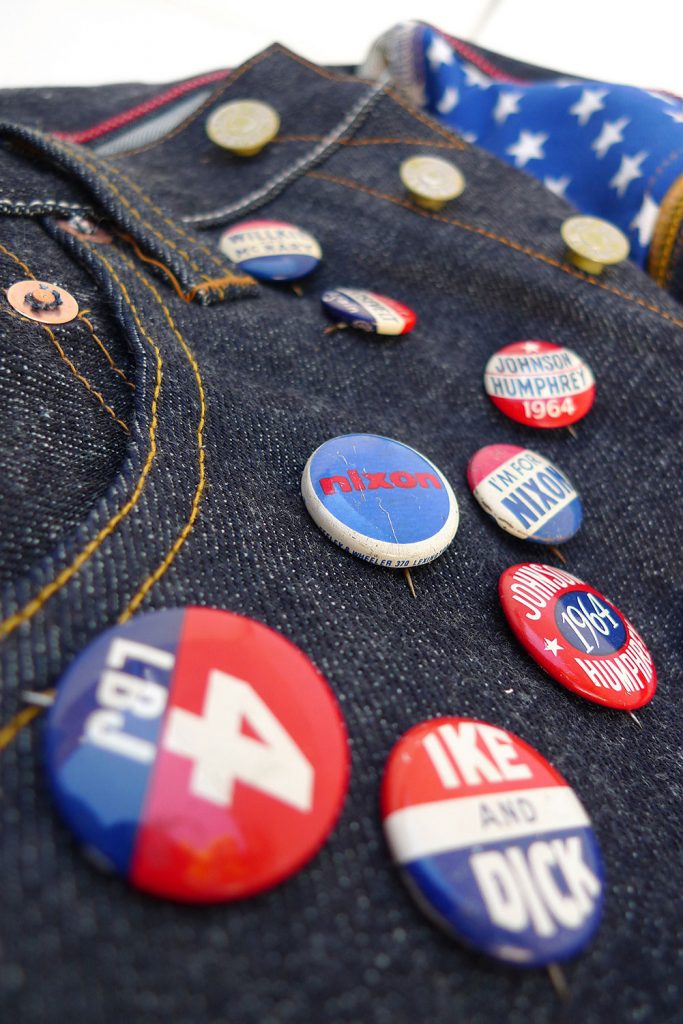 Mister Freedom® CALIFORNIA Blue Jeans, Lot.64 ??
Special 2016 ELECTION Edition, NOS Cone selvedge 16.5 Oz denim
Made in USA, Fall 2016.
Our popular five pocket Californian Lot.64 pattern gets a special Presidential treatment this Fall 2016!
To mark the upcoming 2016 United States Presidential Election, we decided to issue a limited edition Lot.64 "Election" model.

Same fit and cut than its Lot.64 predecessors (the original 13 3/4 Oz. edition, the Uncle Sam issue, the Okinawa "Advisor' issue, and the Lot.654 hybrid) but a new tough 16.5 Oz. skin, and a few apropos patriotic cosmetic bells and whistles.
The denim we hunted down for the project is our heaviest ounce to date in the Mister Freedom® five-pocket jeans Sportsman department. This limited batch of sturdy indigo denim twill features a white selvedge ID with a red line. It is New Old Stock, milled by Cone Mills in the USA. Beware, this one is a real bleeder…
The pocket bags are cut from limited yardages of 100% cotton New Old Stock vintage canvas, some printed with stars, some with stripes. The limited exclusive run of Californian Lot.64 "Election" we saved for our MF® Los Angeles HQ features pocket bags using both fabrics, a nice colorful patriotic combo of stars and stripes. Now you too can strip in public with confidence.
Our classic orange & yellow stitching combo features red & white thread accents, noticeably in the waist and bottom hems. For the occasion, the usual MF® leather patch is left unbranded and blank. DIY branding touch for those into displaying their political inclination, pet name or favorite band. The untreated natural leather patch is originally pinkish but will tan to a warmer color and get patina overtime.
The fit is our classic Lot.64 silhouette, a straight, slightly tapered leg with a mid to high rise.
In order to generate hate mail (bring it on at sales@misterfreedom.com) we opted for a shorter inseam on this batch, as we had done years ago with the original Californian Lot.54. A deal breaker for many taller individuals, it is also bound to aggravate the BRMC crowd.
We decided to limit the length of our Lot.64 "Election" to keep the 'spirit' of old hand-me-down blue jeans, often seen worn (and now found) on the short side, a vintage vibe that 'repro' jeans rarely convey.
With five pocket jeans these days, opting for no cuffs or a subtle one-inch turn-up in a descent leg length is quite the refreshing touch. A 'solid leg' silhouette might also be more suitable for grown-ups not into the contemporary trend of hipster denim stacking and unnecessary roll-up flashing. But, like political opinions, to each his own!
Well, friends, keep it civil this election season… and may the best candidate for America and its Allies win ✌?
?? ¡Go USA! ??
The Californian LOT.64 "Election" blue jeans are designed and manufactured in California by Mister Freedom®, in collaboration with Sugar Cane Co.
SPECS:
PATTERN:
Inspired by traditional 1950′s-1960's era blue jeans, traditional fit, slightly tapered leg.
FABRIC:
Heavy weight NOS Cone Mills blue denim, 16.5 Oz., white/red line selvedge ID, sanforized. Milled in the USA.
Pocket bags: Contrasting NOS heavy 100% canvas, printed with patriotic stars and stripes.
Note: This denim croaks (bleeds) quite extensively, and will leave indigo blue stains on other pieces of clothing, furniture, car seats etc… This is temporary yet real.

DETAILS:
* Vintage five-pocket pattern.
* Button fly.
* Selvedge leg outseams.
* Heavy canvas pocket bags, each bag featuring a patriotic print pattern of stars or stripes.
* MF® original white "M" stitch design on rear pockets.
* Unbranded natural cowhide leather MF® patch on rear pocket.
* Twelve types of 100% cotton threads (gauge and color combination) used for construction. Main colors are yellow and orange, with special 2016 Election red and white accents.
* Contrasting and un-matching red and white bottom hem chainstitch.
* Coin pocket with concealed selvedge.
* Selvedge button hole placket.
* Hidden back pocket reinforcement rivets, with top pocket reinforcement zig-zag stitching.
* Unlined rear pockets.
* Original silver-color 'oxidized' MF® metal cast waist/fly buttons.
* Unmarked copper riveting for reinforcement.
* Original patriotic MF® paper pocket flasher.
* Made in USA
SIZING/FIT:
The Californian Lot.64 "Election" comes UN-WASHED.
We recommend our usual method of an original cold soak (30mn to 2 hours), occasional hand agitation, spin dry and hang dry. For the gritty, and for an extremely pleasant experience, wear the jeans while still slightly damp, walk around a bit to get them to shape, crease, and adapt to your body. Don't sit in the white sofa or rub the walls. Hang to fully dry. They will be hard as a rock the next day, and, for yet another pleasant experience, try to put them on and walk… Good luck.
The 16.5 Oz. denim is pretty much sanforized, meaning it hardly noticeably shrinks. These Lot.64 "Election" jeans are true-to-size, meaning that if you are an actual measured waist 32 (wrap a cloth measuring tape around your waistline), you should get a size 32. For a slimmer seat, I went for a W31 on these, as opposed to my usual W32 in the Californian series.
Please refer to sizing chart for approximate raw/soaked measurements. Soaked = 30mn cold soak, spin dry and line dry (i.e. minimal shrinkage). If these measurements do not work for you, things won't get better by boiling or hard-washing the jeans… You will just ruin your washing machine and aggravate your wife.
CARE:
Wash your jeans when hygiene dictates and common sense prevails.
Machine wash inside out to avoid marbling. Due to the weight and stiffness of the 16.5Oz. denim, be very careful when laundering using a small home washing machine.
Cold water, gentle cycle, eco-friendly mild detergent and line dry. This denim crocks (bleeds) quite extensively, and will leave indigo blue stains on other pieces of clothing, furniture, car seats etc…
Patina will develop according to activities and frequency of wear.
Available RAW (sanforized)
Sizes
W28 x L31
W29 x L31
W30 x L31
W31 x L31
W32 x L33
W33 x L33
W34 x L33
W36 x L33
W38 x L33
Retail $329.95
Soon available from www.misterfreedom.com, and our Los Angeles brick & mortar store.
Email sales@misterfreedom.com or call 323-653-2014 with any questions unanswered above.
Thank you for your support.
Christophe Loiron
Mister Freedom®
©2016