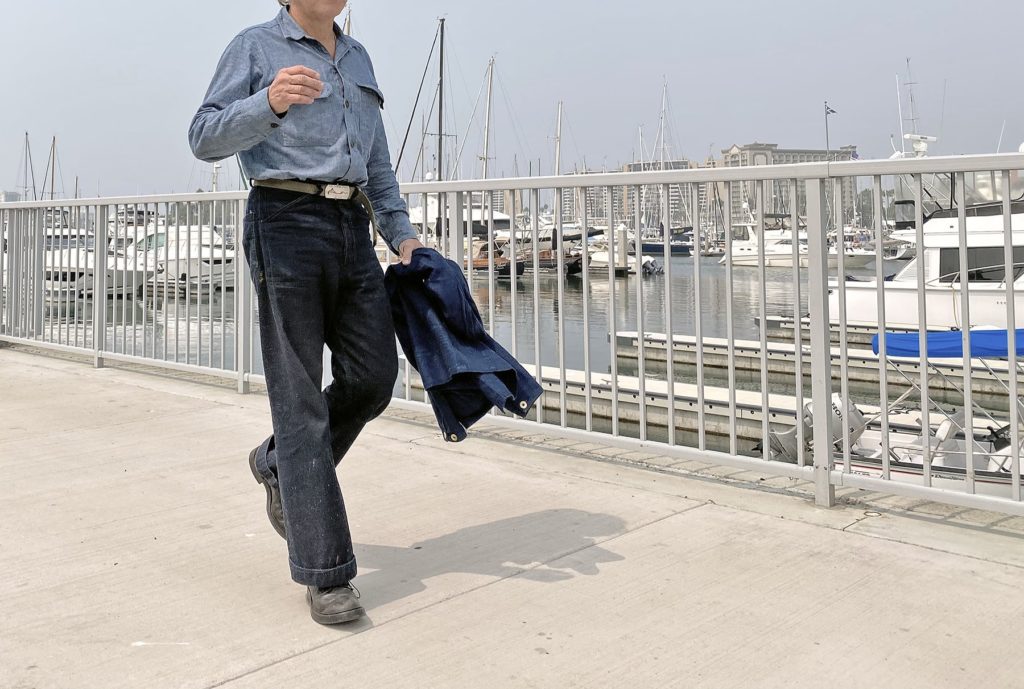 Mister Freedom "SNIPES" Shirt, "BR" indigo blue 5 Oz. selvedge chambray.
FW 2020 mfsc "Waterfront Surplus" Collection.
Made in Japan.
The pattern of the MF® SNIPES is inspired by the earliest model of US Gov-issued full button front uniform shirt.
Identified as Specs "No. 8-26C Shirt, Flannel, Olive-Drab, Coat Style" by the Quartermaster Corps, it was introduced sometime in 1933 and issued to US Army and Air Corps personnel and FDR's CCC enrollees alike. This new uniform shirt pattern was deemed "Coat Style", marking a practical departure from its predecessor, the mustard color pullover wool shirt commonly associated with WW1 Doughboys. The overall design was borrowed from civilian workwear, back when utilitarian garment-making skills bordered on fancy tailoring prowess. This is definitely an intricate pattern by today's workwear clothing standards.
Besides the full six-button front placket improvement, the characteristics of the early 8-26C shirt included a one-piece unstructured collar (no collar band), a singular style of elbow reinforcement patch, and two large functional chest pockets, each with a pen compartment.
The Mister Freedom® SNIPES Shirt retains all of that military design DNA, but we opted for an indigo blue chambray fabric treatment instead of the original US Army OD wool blend release. The slubby indigo chambray is complimented by the olive green contrast stitching and button facing poplin placket, with a touch of red on the side bartacks.
That premium selvedge chambray fabric is a favorite of ours. Developed by Buzz Rickson's for their vintage US Navy utility shirts repros, it has become a staple of the mfsc shirting catalog for some time. See the Continental, Tonkinoise and Patrol Shirt, all released in that exact same fabric. Some of the product photos above feature a well-worn BR chambray Patrol Shirt from 2014, for fabric evo ref.
Blending 1930s US Army uniform shirt design with 1940-50s US Navy period mil-specs fabric, this original MF® shirt needed a new moniker. Because of the strong vintage naval utility chambray work shirt vibe, we went for SNIPES. The term refers to US Navy enlisted personnel working in the engine room, the "sailors that sail below", also known as "Black Gang" for their grease-covered blues and dixie cup covers. See Machinist's Mate Jake Holman's dungarees for a Hollywood rendition.
The MF® SNIPES Shirt is designed in California by Mister Freedom® and manufactured in Japan by Sugar Cane Co.
FABRIC: Period mil-specs USN "Buzz Rickson's" indigo blue chambray, slubby 5 Oz. fabric, white with blue line selvedge ID, milled in Japan.
SPECS:
* Pattern inspired by a vintage 1930's US Army wool uniform classic.
* Full 6 button front opening.
* Rounded tails.
* Olive corozzo wood buttons.
* Two large utilitarian chest pockets with pen compartments.
* Unstructured one-piece collar.
* Elbow reinforcement patches.
* Olive poplin button placket facing.
* Chainstitch construction with narrow folder.
* All cotton olive color contrast stitching.
* Red bartack in lieu of side gussets.
* Original mfsc "Waterfront Surplus" woven rayon label.
* Made in Japan.
SIZING/FIT:
The BR chambray SNIPES Shirt comes RAW/unwashed. It is cut so that the measurements match the labeling after an initial cold soak/line dry. 
We recommend this usual protocol before wearing:
Cold soak for about 30-40mn, with occasional hand agitation.

Spin dry and line dry.

Hang until fully dry.
I personally opted for a MEDIUM for a comfortable fit. I am 5.7'' approx. 150 Lbs., and although the SMALL did fit with more of a trim uniform silhouette, it was a bit too tight in the chest.
Please refer to sizing chart for approximate raw/soaked measurements. Soaked = 30mn cold soak, spin dry and line dry.
CHART
CARE:
Machine wash on DELICATE, cold water, mild eco-friendly detergent. Hang dry.
Wash with similarly-colored garments.
Do not use the washer's heavy-duty cycle. Heat dryer is also not recommended and may result in excessive shrinkage.
Available RAW (unwashed)
Sizes
X-Small
Small
Medium
Large
X-Large
XX-Large
Available from www.misterfreedom.com, our Los Angeles brick & mortar store, and fine retailers around the World.
Email sales@misterfreedom.com or call 323-653-2014 with any questions unanswered above.
Thank you for your support.
Christophe Loiron
Mister Freedom®
©2020