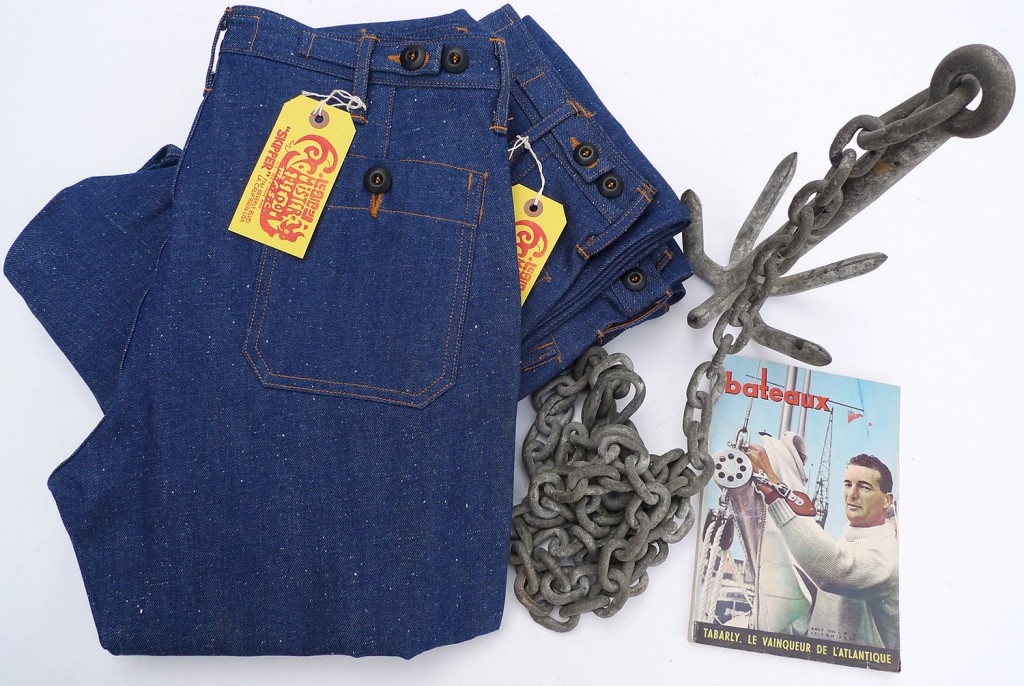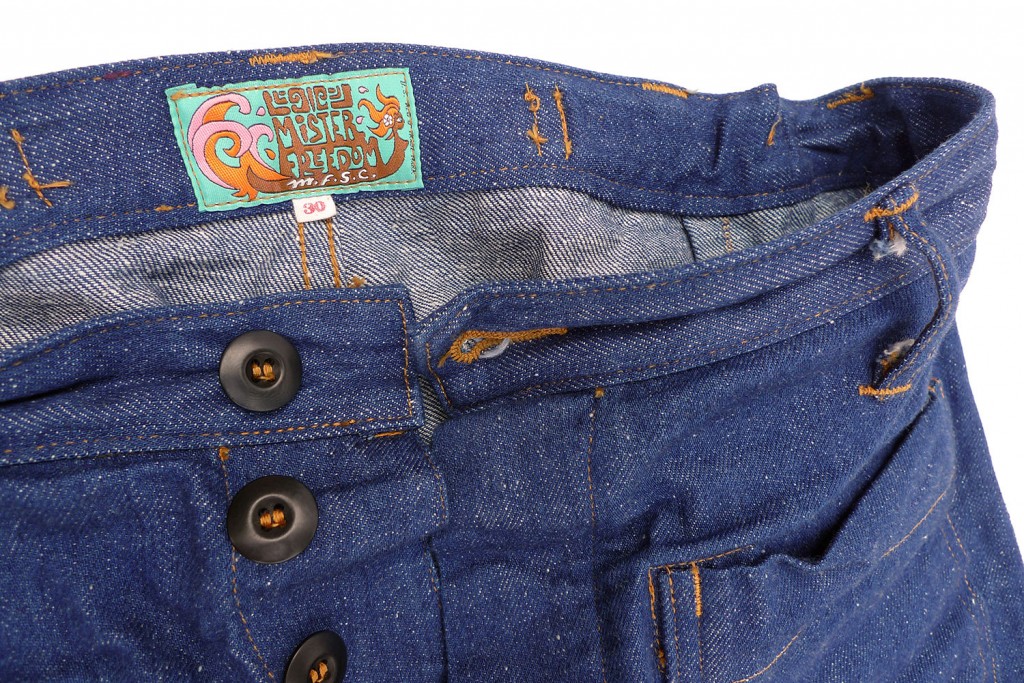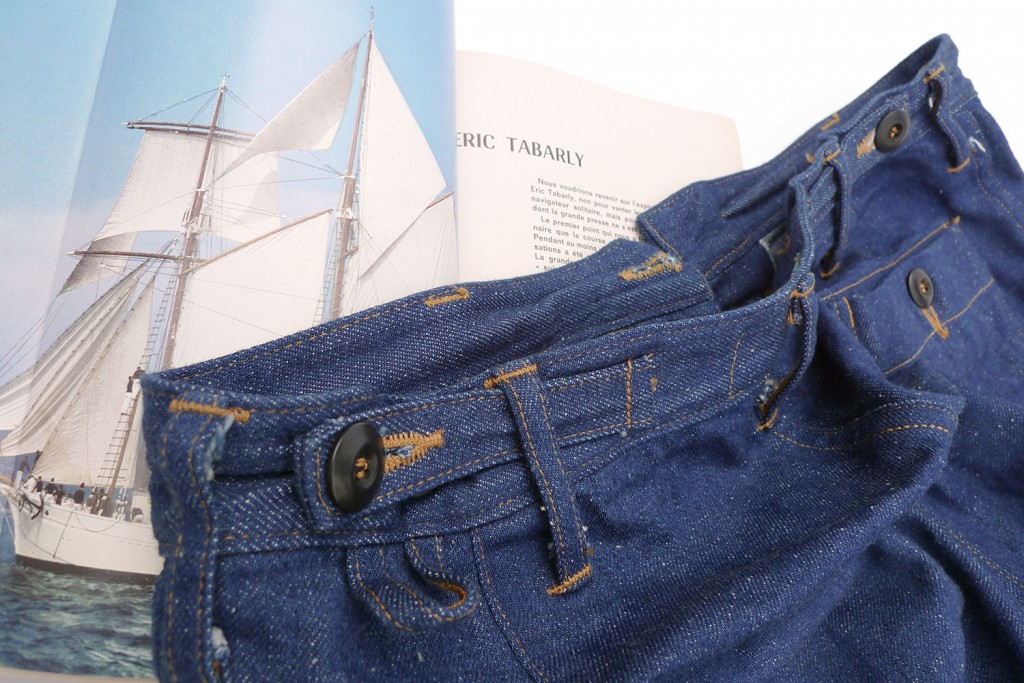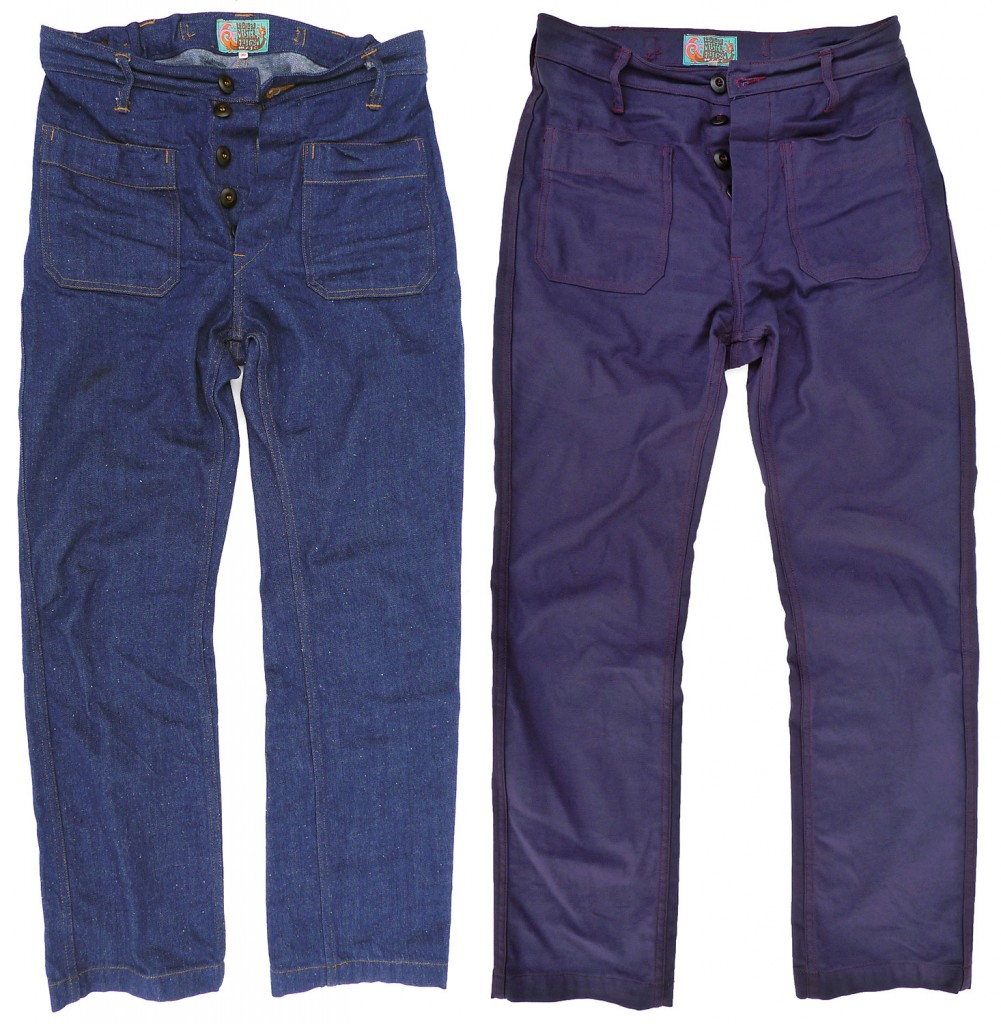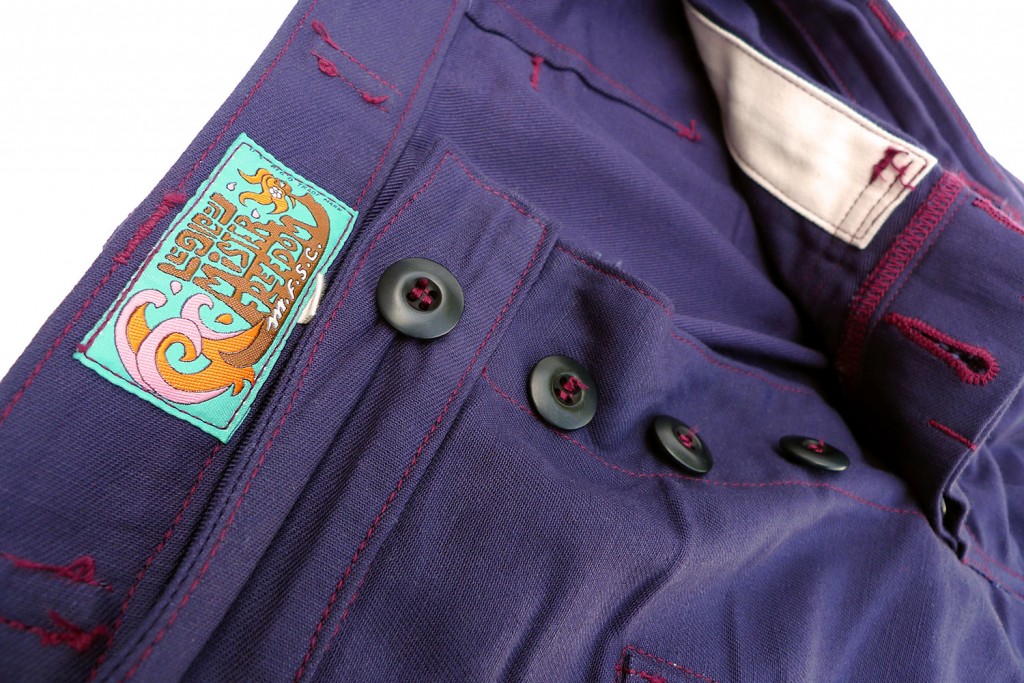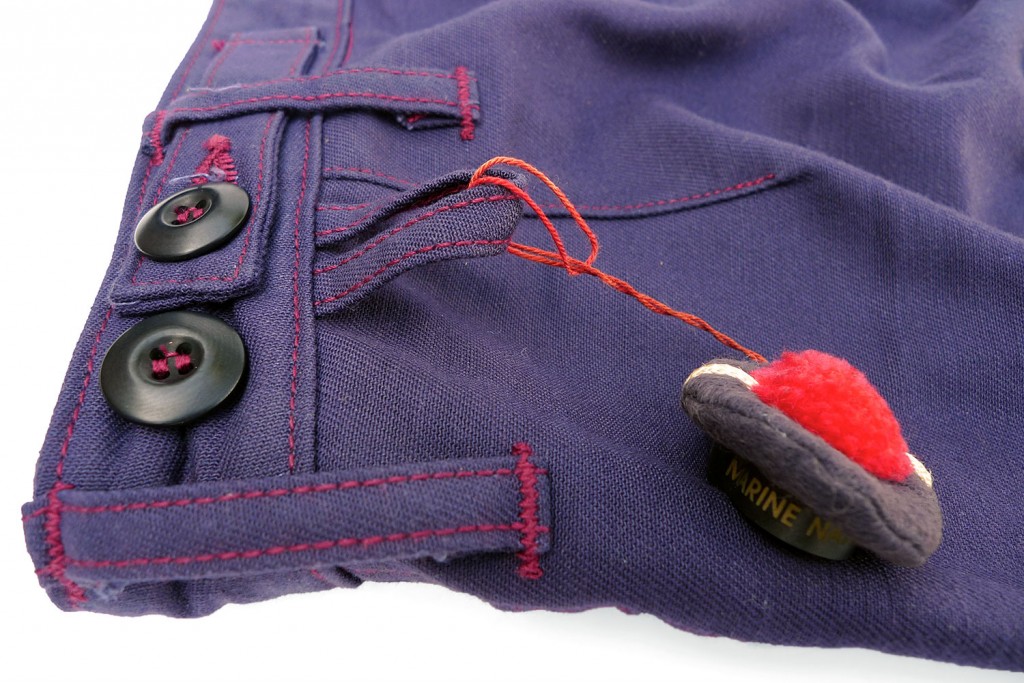 Bosco Pants
Hydrone Blue and Nep Denim
Skipper Spring 2016
In its French maritime acception, the term bosco refers to a seamanship speciality. I don't exactly recall what those we called bosco did on board… but definitely more than I did. Technically there is only one bosco on board in the Marine Nationale, but I remember the name being applied to a few people, all of them at their busiest during the ship maneuvers. In English, the 'top' bosco might translate to boatswain, senior crewman, a 'buffer' between sailors and the Captain. Anyways, I'm no Patrick O'Brian, you're better off referring to a Bluejacket's manual.
In our case, the term bosco is a stretched-out reference to mighty navigator Eric Tabarly…
With a stint in Indochine in 1954 and a subsequent career as a French Naval Officer, Tabarly won instant fame by showing-up unexpectedly early at the finish line of the 1964 edition of the Single-Handed Trans-Atlantic Race. Aboard his custom built wooden ketch Pen-Duick II, a game-changing revolutionary vessel in the world of yacht racing, he had crossed the Atlantic in 27 days, 3 hours and 56 minutes. The victory of this 32 year-old unknown sailor astounded a previously mildly-interested French audience, giving Tabarly hero status and providing the French with a new 'favorite' national sport overnight.
For those interested to know about this larger than life character, I recommend this documentary.
If the taciturn navigator probably had men's fashion as the last of his concerns or interests, in par with his notorious reluctance to grant interviews due to incompetent questioning, several old photos show him denimed-out, often sporting patch-pocket Seafarer-style denim work pants.
This type of dungarees had been favored by deck hands for generations, apparently since an Italian fella by the name of Tony 'Seagoing' Anzalone came up with the famous bell-bottom design one fine day of 1896… Tony started supplying his trademark denim bells to local workers and sailors frequenting his custom tailor shop by the Brooklyn Navy Yard.
The legend of Seafarers® was born.
The style was to become a 1970's fashion staple, with mass-produced stocks of bell-shape legged jeans with patch pockets eventually filling-up Army-Navy surplus stores around the world.
Well a-played a-Tony.
Our Bosco pants are inspired by several naval trousers, and feature a combination of details revisited from vintage naval dungarees and military-issued whites (70's German Navy, I believe).
If we opted-out of the de rigueur traditional navy flared bottoms for our Bosco, and stayed away from the skin-tight top block Tom Jones fit, there is nothing wrong in my book with 70's menswear fashion… We all know there is way more to that decade than tie-dyed hippies, double-knit acrylic jersey jump suits, and the invention of roller-disco.
In classic 1970's men's fashion, I have spotted at times more elegance, more manliness, more badassness, more individuality, more timelessness, more humor with less self-conscienceless than most of today's street styles hope to be remembered for.
Just flip through vintage 60's-70's Playboy® or Esquire mags. Don't light up that Lark but check out those ads… If anything, you'll get a good laugh.
As always, our suggestion is not to take everything literally and look today like a dated caricature, although that's a subjective notion. We just believe it's not a bad idea to mix it all up, keeping it fun. Whatever your vintage era of predilection, moderation in the mullet-of-the-day seems to always work better a posteriori.
The bosco is offered in two fabric options, introduced recently via our smashing Gabier jacket. No flamer this time, just Hydrone Blue and Nep denim.
a) "Hydrone Blue": Hydrones are a type of vat-dye colorants, a 'competitor' to indigo in the usual workwear fabric family. Hydrone blues are known for their colorfastness and are very commun in European workwear. "Bleus de chauffe" or "Bleus de Travail" (work blues) are typically associated with blue-collar workers in France, and largely still in use today, although polycotton has taken over 100% cotton. Faded and patched-up specimen have been in high demand by fashionistas for some years.
For our version of this Hydrone Blue, we have sent a vintage French jacket to our expert friends at Toyo Enterprises. They picked apart and studied the fabric under microscopes and milled a handsome 9 oz. selvedge blue twill with 'reddish eggplant' hues which should reward the wearer with a nice patina overtime.
The keen eye will notice that we are using the reverse side as the face of the fabric, leaving the more 'stripey' twill side on the inside. This gives the Hydrone Blue bosco pants more of a 'moleskine' than a twill appearance, reminiscent of 1960's USN N-4(?) popeline deck jackets and work trousers.
b) "Nep Denim": A denim in the style of our "Malibu" denim, a lighter hue indigo-dyed selvedge 12 oz. "neppy" denim, milled in Japan.
The Bosco pants are designed in California by Mister Freedom® and manufactured in Japan in collaboration with Sugar Cane Co.
SPECS:
An mfsc original, inspired by classic naval trousers, blues and whites, and 1970's seafarer-type jeans.
FABRIC OPTIONS:
a) Hydrone Blue: Hydrone blue vat-dyed twill, 9 oz., selvedge, milled in Japan.
b) Nep Denim: a lighter hue indigo-dyed selvedge 12 oz. "neppy" denim, milled in Japan.
DETAILS:
* Patch pockets Seafarer-style
* Single rear pocket.
* Inside reinforcement patches for pocket opening strength.
* Thin belt loops.
* Rear adjustment tabs, button cinch.
* Full flat-felled seams construction, chainstitch.
* Button fly, corrozo wood buttons.
* Selvedge ID displayed in button fly placket.
* Contrast 100% cotton stitching.
* Designed in USA.
* Made in Japan.
SIZING/FIT:
The Mister Freedom® Bosco Pants come raw/unwashed. We recommend the usual initial 30mn cold soak/occasional hand agitation/spin dry/hang dry process.
Both fabrics are supposed to shrink to similar measurements, but the Nep Denim version ended-up roomier than its Hydrone Blue companion.
We recommend sizing down on both, as the waist is pretty generous. I sized down to a Waist 30, from my usual Waist 32 in mfsc trousers and jeans. Please note that we have tested rinsing the Nep Denim in hot water + tumble dry, without much noticeable extra shrinkage.
Please refer to sizing chart for approximate raw/soaked measurements to see what works for you. Soaked = 30mn cold soak, spin dry and line dry.
CARE:
Subsequent cleaning should be done with the trousers flipped inside/out (to avoid marbling), gentle cycle, cold water, with minimal environmentally friendly detergent and line dry. Natural fading of both Nep Denim and Hydrone Blue fabrics is to be expected with normal repeat wash/wear cycles.
Available Raw/unwashed
Sizes (W stands for Waist)
W 28
W 29
W 30
W 31
W 32
W 33
W 34
W 36
W 38
Retail $299.95
Available from www.misterfreedom.com, and our Los Angeles brick & mortar store.
Email sales@misterfreedom.com or call 323-653-2014 with any questions unanswered above.
Thank you for your support,
Christophe Loiron
Mister Freedom® 2016