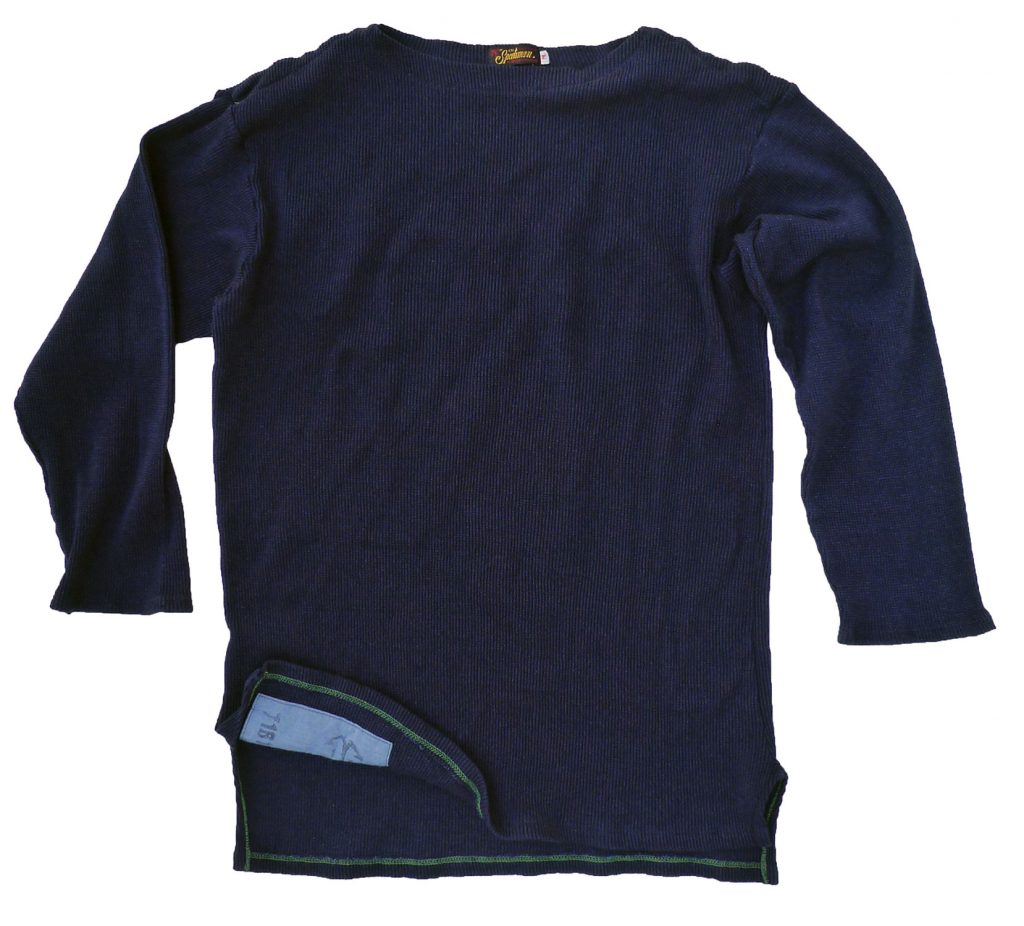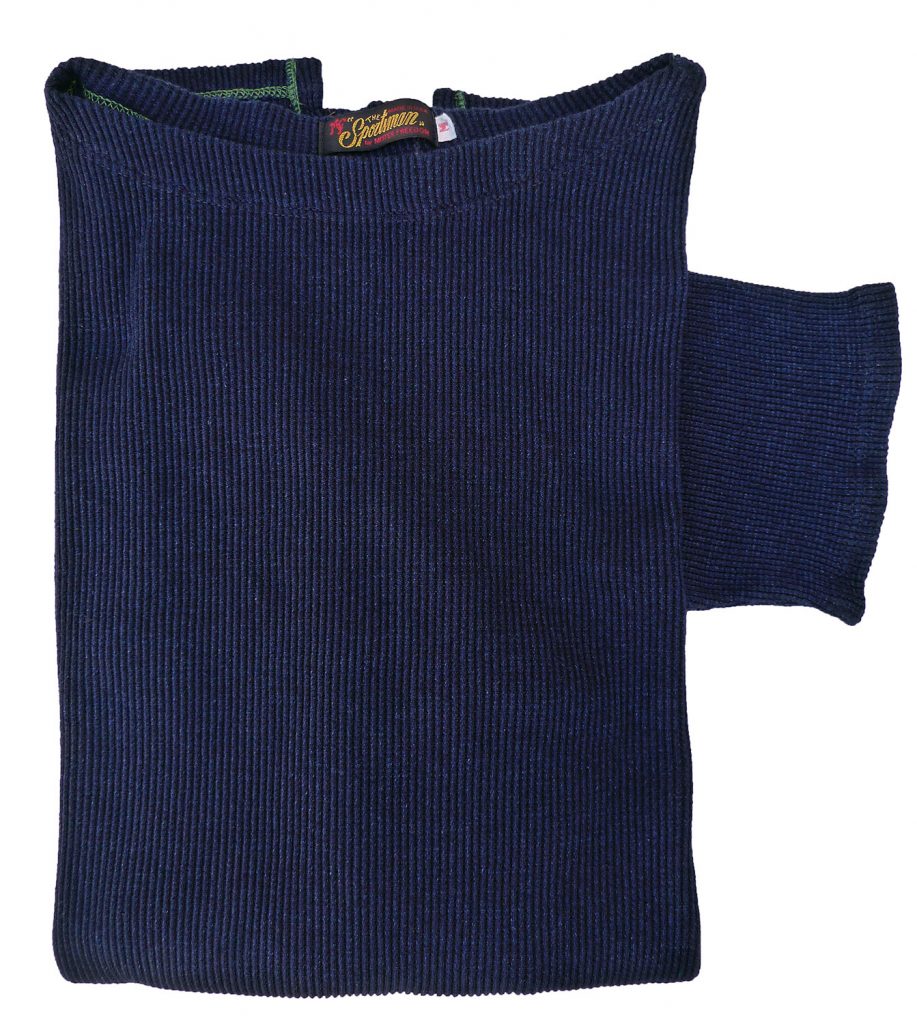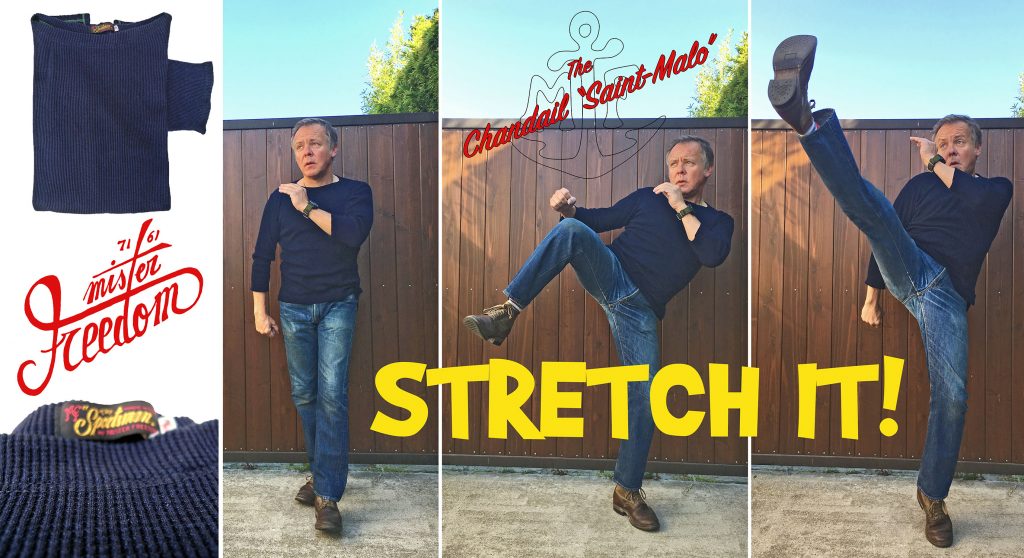 Mister Freedom® Chandail "Saint-Malo", NOS indigo cotton Fisherman's rib stitch jersey knit.
"Sportsman" catalog, Spring 2017.
Made in USA

Hissez-haut matelots!
Some new nautical adventures and sea shanties from MF® this Spring 2017…
The small iconic harbor of Saint-Malo, was the home town of renown mariner Jacques Cartier, responsible for Céline Dion's entertaining accent when she speaks French. The port city later became notorious as anchorage for 17th and 18th century corsairs and pirates, guaranteeing the French crown handsome revenues, and local taverns a steady flow of parrot-shouldered flamboyant return customers.
Manufactured nowhere close to Bretagne but right here in sunny California, the Mister Freedom® indigo chandail is no less Seven-Seas-ready.
After scoring a loot of NOS indigo cotton jersey last year, we decided to turn the fancy fabric into boat-neck seafaring-inspired shirts. For the pattern, we adapted an old favorite, the MF® Boating Jersey. The technical term "Fisherman's rib stitch" refers to the fabric's specific weave, displaying a vertical pattern of fine ribs, with somewhat of a 'waffle' aspect reminiscent of vintage thermal shirts.
The specific horizontal mechanical stretch combined with fabric shrinkage made manufacturing this garment a tour de force. It took nearly one year of challenging sample-making and pattern-adjusting to get the fit and proportions right. Today, we are quite ecstatic to finally add this little guy to our ever-growing Sportsman catalog.
The MF® Chandail Saint-Malo is quite versatile and can be worn as a single-layer nautical shirt, as a thermal-type undershirt, as a light sweater over a summer-weight button shirt, like a chambray Tonkinoise or Ranger Shirt for instance.
As always with Mister Freedom® garments, this shirt is not available factory distressed. The subtle and attractive heather quality of the deep dark indigo will intensify as the garment fades with normal wear/wash cycles. Check out the photo featuring a rinsed shirt next to a worn/sun-exposed early prototype, for an idea of fading evo.
The MF® Chandail Saint-Malo is designed in California by Mister Freedom®, and manufactured in USA, from American NOS fabric.
FABRIC:
New Old Stock 100% cotton "Fisherman's rib stitch" jersey knit, deep dark indigo blue yarn-dyed, milled in USA.
Note: It is the nature of indigo-dyed garments to transfer some of the indigo color to other surfaces, from abrasion. Be aware of potential color crocking when pairing the Chandail Saint-Malo with light color garments.
SPECS:
* An original MF® pattern inspired by vintage nautical shirts and traditional French naval jerseys.
* Slim-fitting at first, relaxed fit after mechanical stretch.
* ¾ length sleeves.
* Side slits.
* Extended back tail.
* Concealed ID patch for custom markings, cut from vintage selvedge chambray fabric.
* Contrasting "Sportsman" green inside stitching.
* Made in USA
SIZING/FIT:
After an initial cold rinse and heat dry cycle, the MF® Chandail Saint-Malo will fit pretty much like our popular Stanley T-Shirt, but with much more 'elasticity'. If you are familiar with our Skivvy and Stanley T-Shirts, the Tricot Marin fits like a Skivvy, while the Saint-Malo feels more like the Stanley, due to similar fabric stretch properties.
I wear a Small in Stanley and Skivvy, and usually Medium in mfsc button shirts. I opted for a size Small in the Saint-Malo, with a snug initial fit that loosened-up gradually and rapidly while wearing the shirt. After a day of normal wear, the body expands a few inches in width, minimally in length. If the pattern has been specifically adjusted to avoid an unattractive "boxy" silhouette, a Small in the AM feels somewhat like a Medium in the PM.
This garment is meant to be laundered following each wear. It will shrink to a tighter fit after wash/heat dry, and expand again with wear.
Bottom line, if in-between sizes, or worried about the gradually overly-relaxed fit, we definitely recommend sizing down on the Saint-Malo.
As always, which size will work for you depends on your own aesthetics, body type, preference for 'vintage' silhouette or contemporary fit.
Refer to sizing chart for measurements, taken with the item laying flat and not stretched. Do keep in mind the mechanical stretch aforementioned. Think of it as a tube sock without Lycra or Spandex.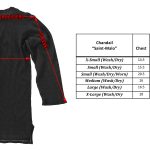 CARE:
When laundering, we recommend cold wash with eco-friendly detergent, heat dryer. Wash and dry separately to avoid color transfer to light color garments.
Available raw (un-washed)
Sizes
X-Small
Small
Medium
Large
X-Large
Retail: $149.95
Available from www.misterfreedom.com, our Los Angeles brick & mortar store, and fine retailers around the World.
Email sales@misterfreedom.com or call 323-653-2014 with any questions unanswered above.
Thank you for your support.
Christophe Loiron
Mister Freedom®
©2017