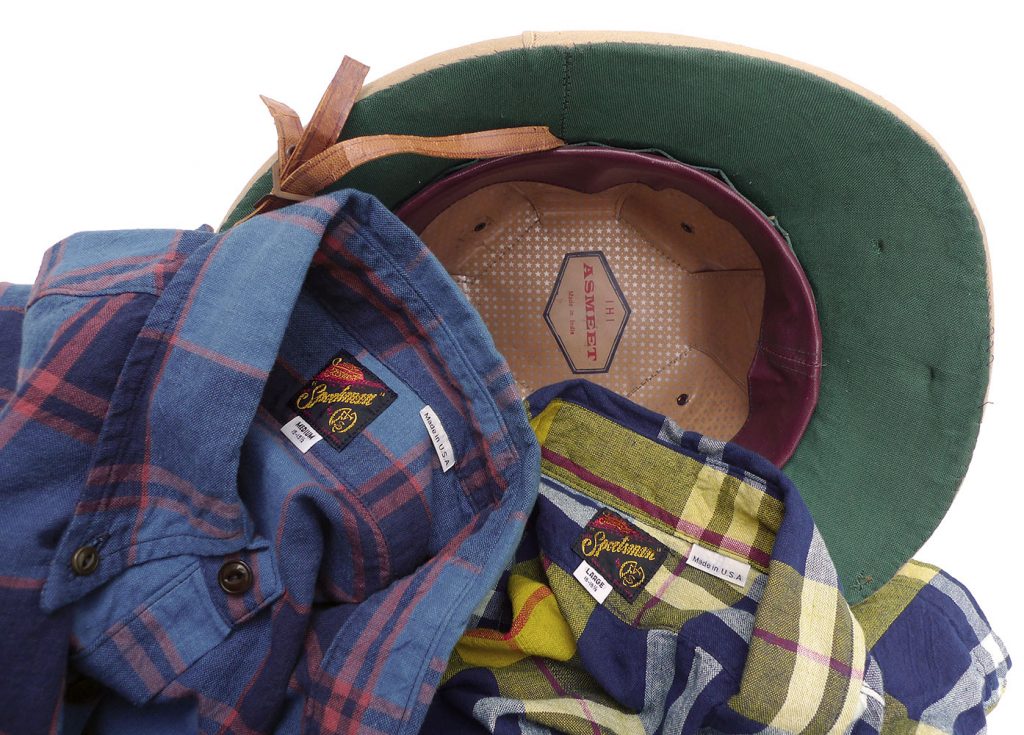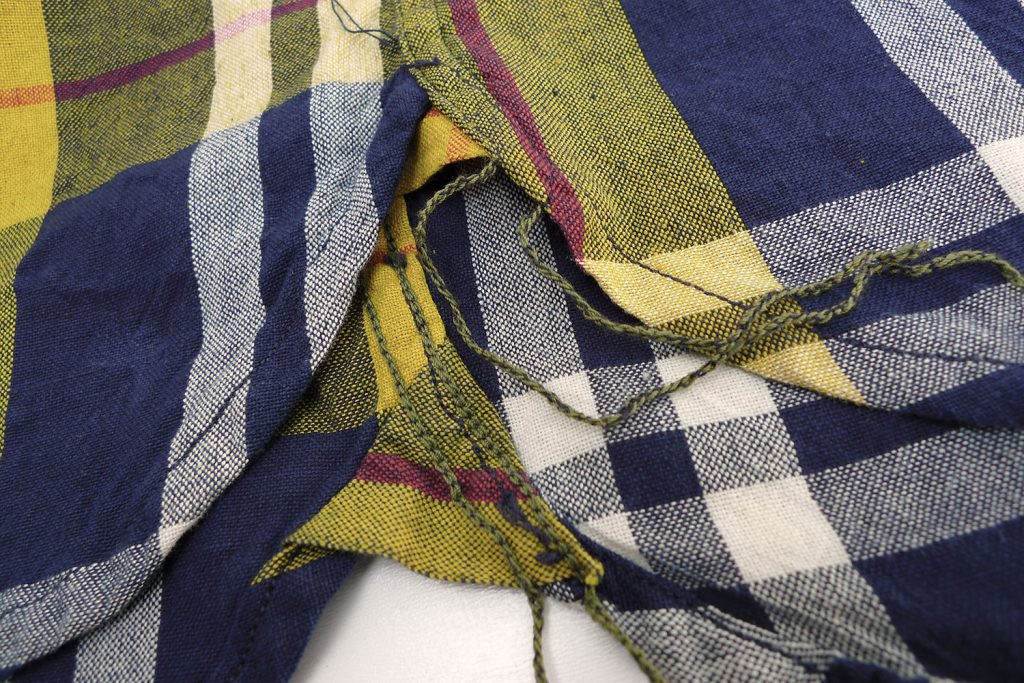 Mister Freedom® "BERKELEY" Pull-over Shirt, indigo 'bleeding' madras plaids.
Spring 2018 mfsc "The SPORTSMAN" catalog.
Made in USA.
For Spring 2018, we are adding a new shirt pattern to our on-going production of all made-in-USA originals, regrouped under the Mister Freedom® "Sportsman" catalog.
We were aiming for a vintage preppy vibe for this shirt, so we put together a no-frills pull-over type, button-down collar and short sleeves, a nod to 1960's American campuses attire. The moniker is an obvious reference to UC Berkeley, and its rich history.
To complete the reference to old-school collegial wear and casual Ivy-League style, we opted for madras plaids to introduce our BERKELEY shirt Birdie Num Num-style…
But to make things a bit more challenging, and instead of replicating one of the hundreds of traditional madras plaid patterns (for a taste of variety, read the saga of the limited edition MF® RANGER Shirts released in 2016, all cut from a lucky score of assorted vintage New Old Stock madras fabrics), we tapped into our in-store archives of antique Japanese textiles for inspiration. After heartbreaking deliberations, we selected two 1920's~1940's plaid specimen (see our Boro Shorties for a range of these end-of-Taishō/early-Showa beautiful shuttle-loom Japanese fabrics turned into neckwear.) We then had limited yardage milled in India on old-school shuttle powerlooms, all that under the supervision of our friends and textile experts of Toyo Enterprises. The weaving process on antiquated machines contributed to the characteristic slub and charming 'imperfections' typical of authentic madras fabrics.
Because our vintage Japanese swatches involved indigo-dyed yarns, it took some convincing to have the Indian mill use actual indigo, a reluctance probably dating back to woven madras plaids' early days on the international scene… Besides its novelty popularity as resort garb for lucky travelers to the West Indies, the debut of madras garments in the American casual wear market got a cold shoulder, as 1940's US consumers were not ready for unstable colors in their wardrobe. Savvy buyers had yet to be convinced to embrace the factory-distressed look, so it took a clever marketing stunt to start a non-colorfast madras fabric craze, allegedly involving an American textile importer , Brooks Bros, and Seventeen Magazine ! That interesting advertising story is related here, and if anyone managed to locate a copy of the original magazine article, we'd love to see it!
Anyways, after the 1960's heydays of "bleeding madras" loomed in India, traditional indigo blue and vegetable dyes were to be gradually replaced by colorfast chemical dyes, and, today, fabric fading is somewhat a thing of the past for thriving Chennai textile mills.
The Mister Freedom® BERKELEY shirt will subtly "bleed" and naturally age and fade with repeat wear and wash, like vintage madras garments did, to the delight of the fashionable boys and girls of American campuses in the 60's!
The MF® BERKELEY shirt is designed and made in California by Mister Freedom® in collaboration with Sugar Cane Co, from fabric milled in India inspired by antique Japanese textiles.
SPECS:
FABRICS:
Two distinctive selvedge woven plaids inspired by antique Japanese indigo textiles and vintage madras fabrics, 100% cotton, milled on shuttle powerlooms in India.
DETAILS:
* An original MF® shirt pattern inspired by vintage 1960's Ivy League style and American campuses attire.
* Pull-over type.
* Short sleeve.
* Button-down collar.
* Corrozo wood "Cat-Eyes" buttons.
* Two inverted-pleat chest pockets.
* Selvedge side gussets.
* Tailored-style sleeve setting.
* Chain-stitch construction, featuring "Sportsman" green thread accent on inside.
* MF® woven "Sportsman" rayon label.
* Designed and made in USA from madras fabric milled in India.
SIZING/FIT:
Both options of the Mister Freedom® BERKELEY shirt come raw/unwashed and will shrink to the same tagged size after an initial 30mn cold soak, spin dry and line dry.
I wear a Medium (15-15½) in most mfsc button-down shirts and I opted for a comfortable yet trim Medium in the BERKELEY shirt.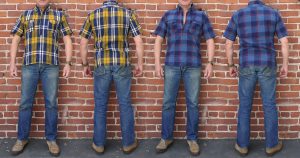 Please refer to sizing chart for approximate raw/soaked measurements. Soaked = 30mn cold soak, spin dry and lightly heat-dried for 5mn.
CARE:
The BERKELEY shirt can be machine-washed on delicate cycle, cold water, minimal eco-friendly detergent. Line dry. Wash separately to avoid color transfer of the indigo.
Available raw/unwashed.
Sizes
Small (14-14½)
Medium (15-15½)
Large (16-16½)
X-Large (17-17½)
XX-Large (18-18½)
Retail: $249.95
Available from www.misterfreedom.com, our Los Angeles brick & mortar store, and fine retailers around the World.
Email sales@misterfreedom.com or call 323-653-2014 with any questions unanswered above.
Thank you for your support.
Christophe Loiron
Mister Freedom®
©2018