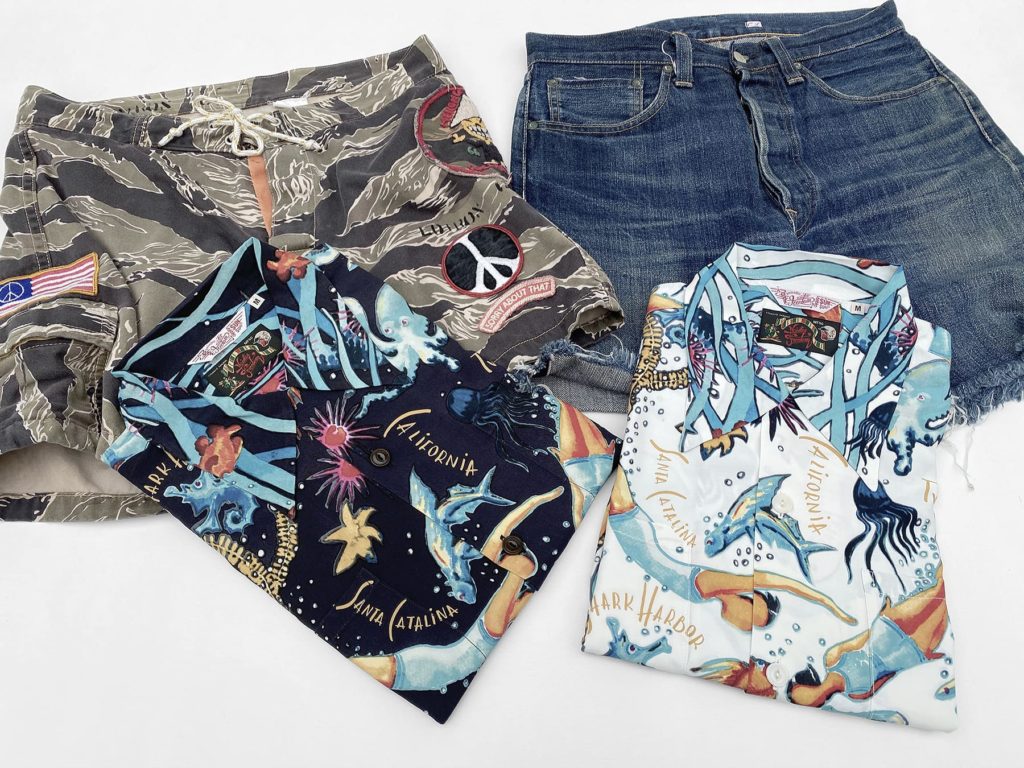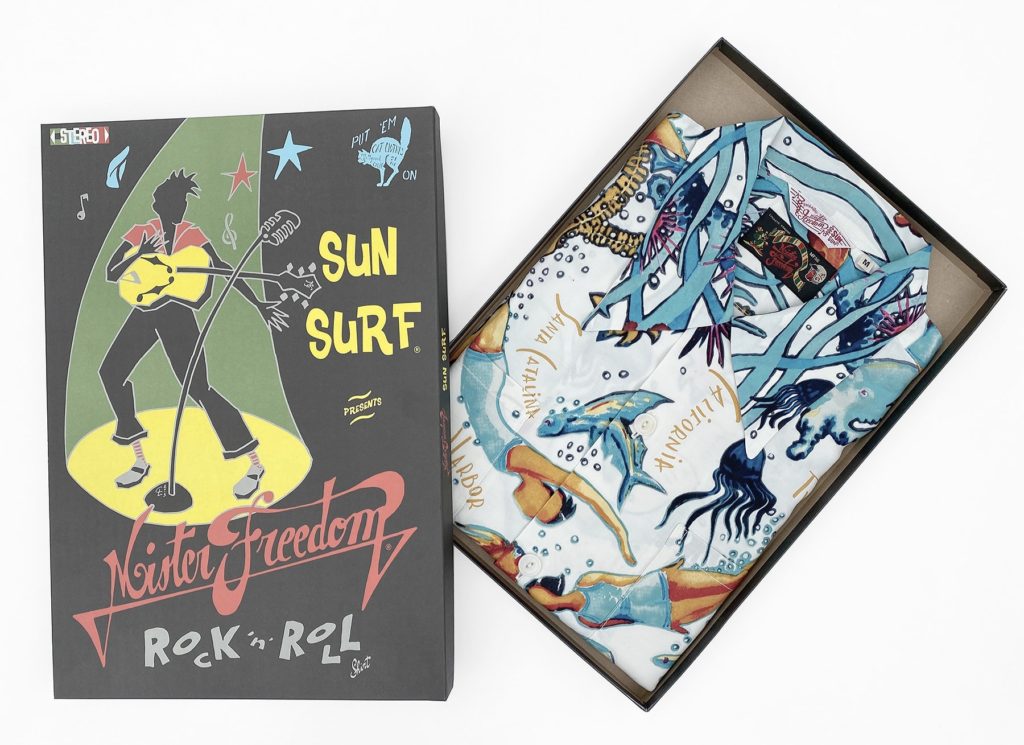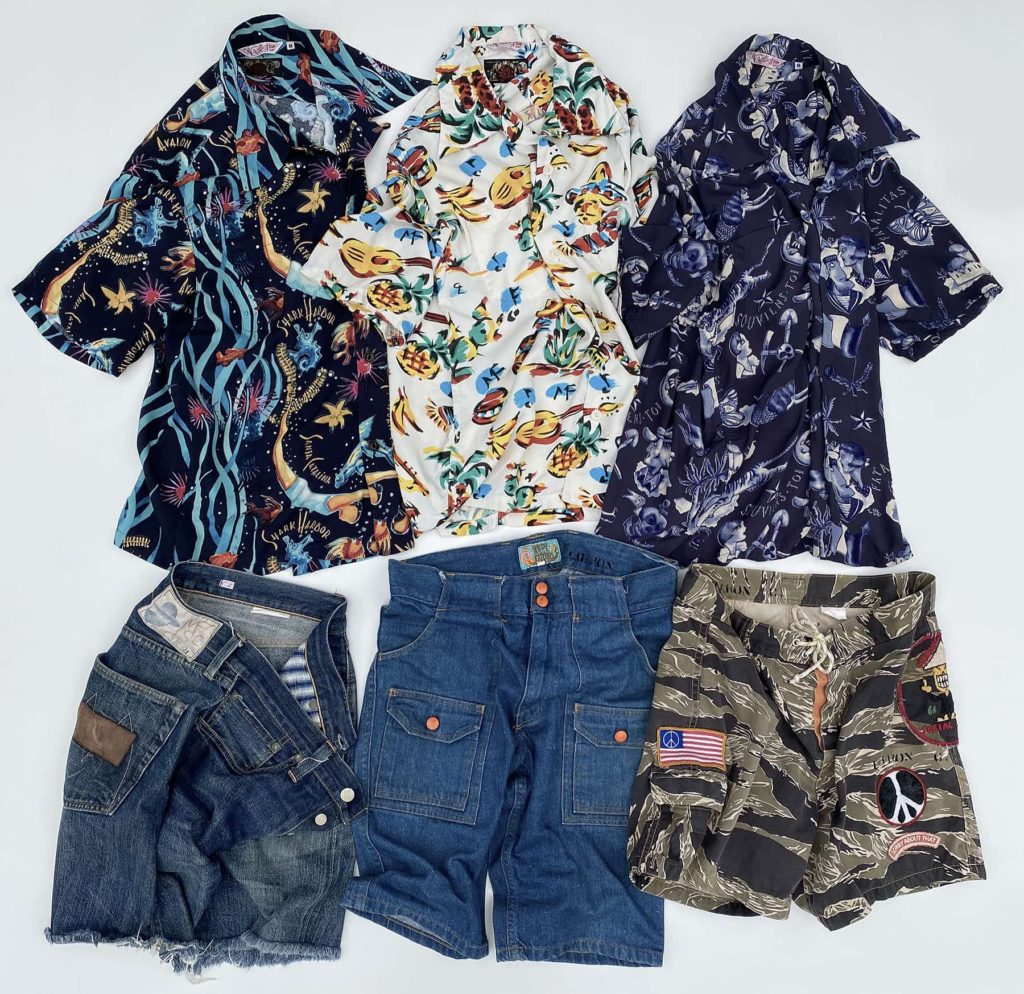 Mister Freedom® x Sun Surf "Rock & Roll" shirt, "CATALINA" Edition.
mfsc SS 2020.
Made in Japan.
This splashy little number is our latest collaboration with the legendary Sun Surf® label, a branch of Toyo Enterprise known around the fashion world for its authentic and expertly-crafted Aloha shirts.
The family-owned Japanese company's CEO, Mr. Ryoichi Kobayashi, is an avid collector of vintage Hawaiiana. His rare shirt collection has been featured in museum exhibits and in several books. Kobayashi San's knowledge, demanding standards, and team of textile and tailoring experts, all contribute to well-curated collections of replica 1930's to 1950's rayon and silk tropical shirts every year. Check them out for all your "From Here to Eternity" urges, and refer to the "Land Of Aloha" book for the history behind the SUN SURF label, previously mentioned here.
We started our collaboration with SUN SURF back in 2015, kicking it off with the first of our "Rock & Roll" shirt, the "Action Packed" model, released in a white, red and black blend of rayon-cotton. Followed the boppin' "Rocket 88" edition released during Spring 2016, available in all-cotton ivory, dark navy blue and mint green, a tribute to Rock & Roll's early fifties roots. Randomly venturing to the burning Sahara sands, destination the French penal colonies of North Africa and their inked-up inmates, we then released the BIRIBI edition during Spring 2018.
To compliment our SS2019 mfsc "YUCATÁN" collection (story here), we then designed the "Yucatán Fiesta", released in black and white printed rayon fabric options.
This year's Mister Freedom® x Sun Surf collaboration owes its inspiration to the hospitality and kindness of a fine group of good humans (Allynn, Jillian, John USMC VEB, Dave…) connected to a quiet place some 26 miles off the port of San Pedro in Southern California… There, about an hour ferryboat ride away, lays the island of Catalina, also known as Santa Catalina.
If you live in LA, chances are you are familiar with this small resorty island, with its notorious roaming buffalos, colorful local-made ceramic tiles heritage, and 25-year long waiting list to own a car. For Angelenos, the place is an exotic yet-affordable quick island getaway. It is quite an international tourist destination as well.
Tina and I had visited Avalon (Catalina's main harbor) many years ago, but spending a few R&R days around Fourth of July there last year, courtesy of afore-mentioned kind-hearted and generous friends, sure put a new spin on the place. Perfect company definitely made for a much richer experience of Catalina, and not just because of the fabulous annual tricked-out golf cart parade!
Thanks to Allynn and family, her house guests at the time, including a few very knowledgeable Catalina Island Conservancy locals, we discovered new hidden facets of the popular California destination. One of the guests at the time, mid-century pop culture connoisseur Charles Phoenix turned informal island guide for the occasion. Charles lead us through an improvised city walk highlighting Avalon's still-standing iconic structures, while providing fascinating background snippets of Catalina's modern history.
In a nut shell, the island was purchased by chewing-gum magnate William WRIGLEY in 1919, with the goal of living there and developing it for tourism. He hired the graphic design power couple Dorothy and Otis Shepard to lead the Wrigley's product advertising department, promoting Catalina island via attractive billboards and pamphlets. (This is the part relevant to our shirt, as the Shepard's Art Deco style would prove quite inspirational for me later.)
By the 1930s, the place had become a getaway for wealthy Californians, a playground for many in the Hollywood entertainment industry in its Golden Age (Charlie Chaplin, Clark Gable,…), a natural movie set for western movies, and an exotic venue for live popular music as countless big bands played the famous local Casino (not a gambling hall, but a ballroom with a 6,000 dancers floor capacity) in the 30's-40's.
After the traumatic 1941 attack on Pearl Harbor, the island was deserted by most of its inhabitants fearing a Japanese invasion, and turned into a Top-Secret US Army military base…
Today, with its mid-century architecture legacy, Art Deco heritage, iconic tiles accents, Mediterranean Revival charm, and bygone vintage California laid-back style, the island is well-worth the ferry ride to escape from the busy city life and crowded freeways for a few days.
Anyways, after good old times were had, came the dreaded wake-up call that a printed fabric design needed to be submitted to our Sun Surf friends like… yesterday! With a head full of happy memories, I figured that Catalina's famous harbors, classic history and iconic fauna (the orange Garibaldi fish, iconic flying fish,…) would be a perfect theme for the original artwork of our 2020 "Rock 'n' Roll" shirt. I started doodling, very limited by my own abilities but very inspired by the genius Art Deco works of the Sheppards, Catalina island period travel advertising, and the amazing tiled underwater scenes and Art-Deco meets Art Nouveau murals of the Catalina Casino designed by John Gabriel Beckman. The shirt's two "Deco" divers are a reference to the 1927 "Wrigley Ocean Marathon".
After a lot of back and forth with the Sun Surf textile experts regarding graphic repeats, artwork cut-outs, characters positioning, color combinations, etc…, from the amount of air bubbles to the size of the divers, one version was finally selected as an Aloha-vibe fabric print, and released in two distinct classic body color options.
And there goes the saga of the SS2020 MF® x Sun Surf CATALINA Rock'n'Roll shirt!
The Mister Freedom® "CATALINA" Rock & Roll shirt is designed in California by Mister Freedom® and manufactured in Japan by Sun Surf® and Sugar Cane Co, both divisions of Toyo Enterprise.
SPECS:
FABRIC:
100% rayon fabric, woven and printed in Japan with traditional fabric printing techniques.
Two color options, white or black.
DETAILS:
* Limited edition collaboration with the Sun Surf® label.
* Body pattern inspired by classic vintage 1940's-50's Aloha shirts.
* All original MF® fabric print inspired by slices of Catalina Island 20th Century history, and a few good humans.
* 1940's-style open 'loop' collar.
* Matching-pattern chest pockets.
* Tonal corozo wood buttons.
* MF® x Sun Surf® "Rock & Roll" woven rayon label and "Yucatán" double labeling.
* Packaged is a fancy re-usable Sun Surf cardboard shirting box, featuring original MF® artwork inspired by vintage LP covers.
* Made in Japan.
SIZING/FIT:
Both white and black "Rock & Roll" CATALINA shirts come ready-to-wear out of the box. No need to soak.
We adopted the time-tested sizing of Sun Surf®'s Aloha shirts for this garment. I wear a Medium in most mfsc shirting, and opted for a very comfortable Medium in the CATALINA. True to size, not intended to be worn tight, or tucked-in, unless you're very daring and hip.
See sizing chart for approximate measurements, measured straight out of the packaging box.
CARE:
Professional DRY CLEAN ONLY, in your local eco-friendly facility.
When traveling, a quick fix to remove rayon fabric wrinkles is to hang the shirt in the bathroom while showering (not in the shower), and let the steam do its thing.
Available raw/unwashed.
Sizes
Small (14-14½)
Medium (15-15½)
Large (16-16½)
X-Large (17-17½)
XX-Large (18-18½)
Available from www.misterfreedom.com and fine retailers around the World for now, and locally from our Los Angeles brick & mortar store whenever we are allowed to re-open.
Email sales@misterfreedom.com with any questions unanswered above.
Thank you for your support.
Christophe Loiron
Mister Freedom®
©2020