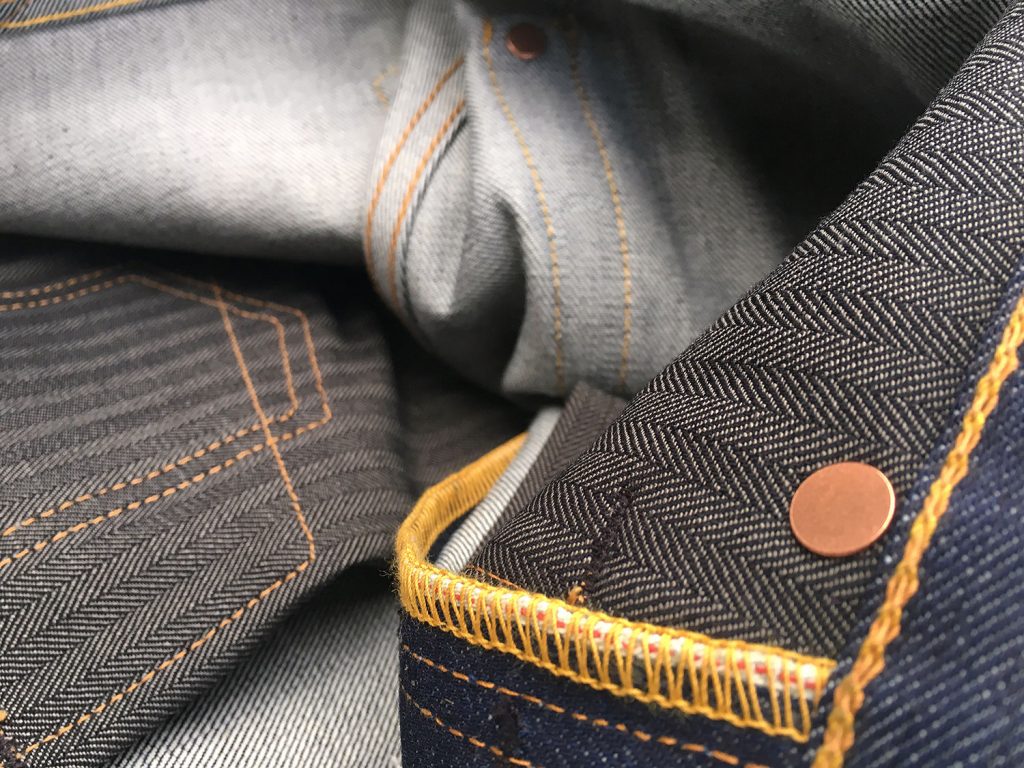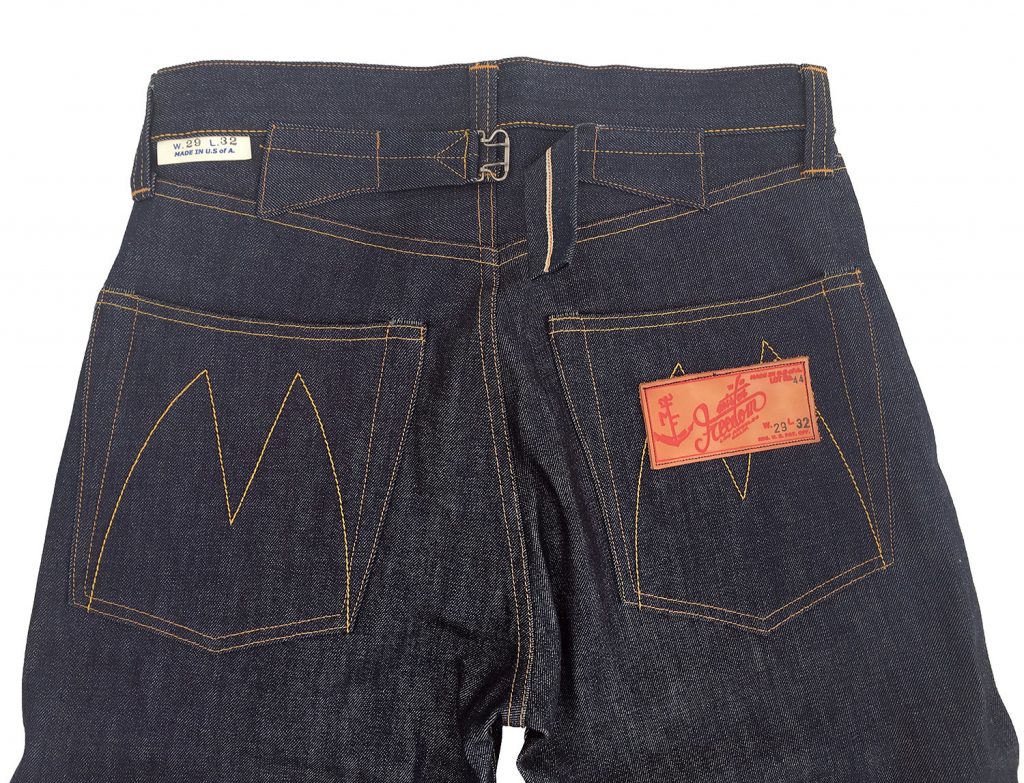 Mister Freedom® Californian indigo blue jeans Lot.44R (reissue)
13 Oz. selvedge denim twill, NOS Cone Mills.
mfsc Sportsman catalog.
Made in USA.
The Californian LOT.44 Blue Jean is our classic 1940's-50's silhouette, the widest fit of our straight leg five-pocket denim family.
This special run revives the original popular pattern of the the LOT.44, with its old-school buckle back, higher rise and full leg. The "R" stands for "reissue", as the LOT.44R are cut in one type of NOS denim, not a mixed bag of 37 twills as initially released back in 2011.
The New Old Stock fabric of the LOT.44R was milled by famed and now-defunct Cone Mills of Greensboro, N.C., USA. This handsome indigo denim twill is sanforized (will not shrink), and its selvedge ID is white with a red stripe .
The Californian LOT.44R were manufactured around 2016, and were, by oversight, never documented on the MF® blog, nor made available online. The webstore's Californian section has now been updated with limited sizing of the LOT.44R..
The Mister Freedom® Lot.44R are designed and manufactured in California by Mister Freedom®, in collaboration with Sugar Cane Co.
Note: This release does not include the original MF® cardboard box packaging.
SPECS:
FABRIC:
New Old Stock Cone Mills (Greensboro, N.C., USA) 13 Oz. indigo twill denim, white with red stripe selvedge ID.
Pocket Bags: A fancy NOS 100% cotton herringbone twill, gunpowder grey color.
DETAILS:
* Classic vintage five-pocket pattern.
* Button fly.
* Original silver-color 'oxidized' MF® metal cast waist/fly buttons.
* Selvedge leg outseam.
* Buckle-back, aka cinch-back.
* New Old Stock fancy HBT cotton fabric pocket bags.
* MF® original yellow "M" stitch design on rear pockets.
* Hand-debossed natural veg-tan cowhide leather MF® patch on rear pocket.
* Twelve types of 100% cotton threads (gauge and color combination) used for construction. Main colors are yellow and orange, with white accents.
* Coin pocket.
* Selvedge button hole fly placket.
* Hidden back pocket reinforcement rivets, with top pocket reinforcement zig-zag stitching.
* Lined rear pockets (NOS grey HBT cotton.)
* Unmarked copper riveting for pocket opening reinforcement.
* Packaging-free.
* Made in USA.
SIZING/FIT:
This NOS denim is sanforized, i.e. the LOT.44R Californian will not shrink after the initial recommended 30mn cold soak, spin dry and line dry.
They are true-to size, and a tagged W32 measures approximately 32 inches.
The LOT.44R feature a straight leg with a generous silhouette and a higher rise, with a definite 1940's-50's "period vibe".
NOTE: We measure the waist of our jeans by doing the following:
1) Fasten the top waist button.
2) Pinch both ends of the folded waistband firmly, pulling reasonably so that front rise and back rise align and lay flat.
3) Position the straight folded waistband on a (fixed) wooden measuring stick (cloth tape tends to stretch overtime, giving wrong measurements.)
4) Read the measurement then double it.
Ex: a 16 inches measurement across the waistband becomes a Waist 32.
Refer to our sizing chart for raw/cold soaked measurements.

The Mister Freedom® "CALIFORNIAN" Lot.44 is available RAW/unwashed.
Available tagged Sizes:
W30 × L34
W31 × L36
W32 × L36
W33 × L36
W34 × L36
W36 × L36
W38 × L36
Now available from www.misterfreedom.com, and our Los Angeles brick & mortar store.
Email sales@misterfreedom.com or call 323-653-2014 with any questions unanswered above.
Note: These are not issued with the original MF® cardboard box.
Thank you for your support,
Christophe Loiron
Mister Freedom®
©2019