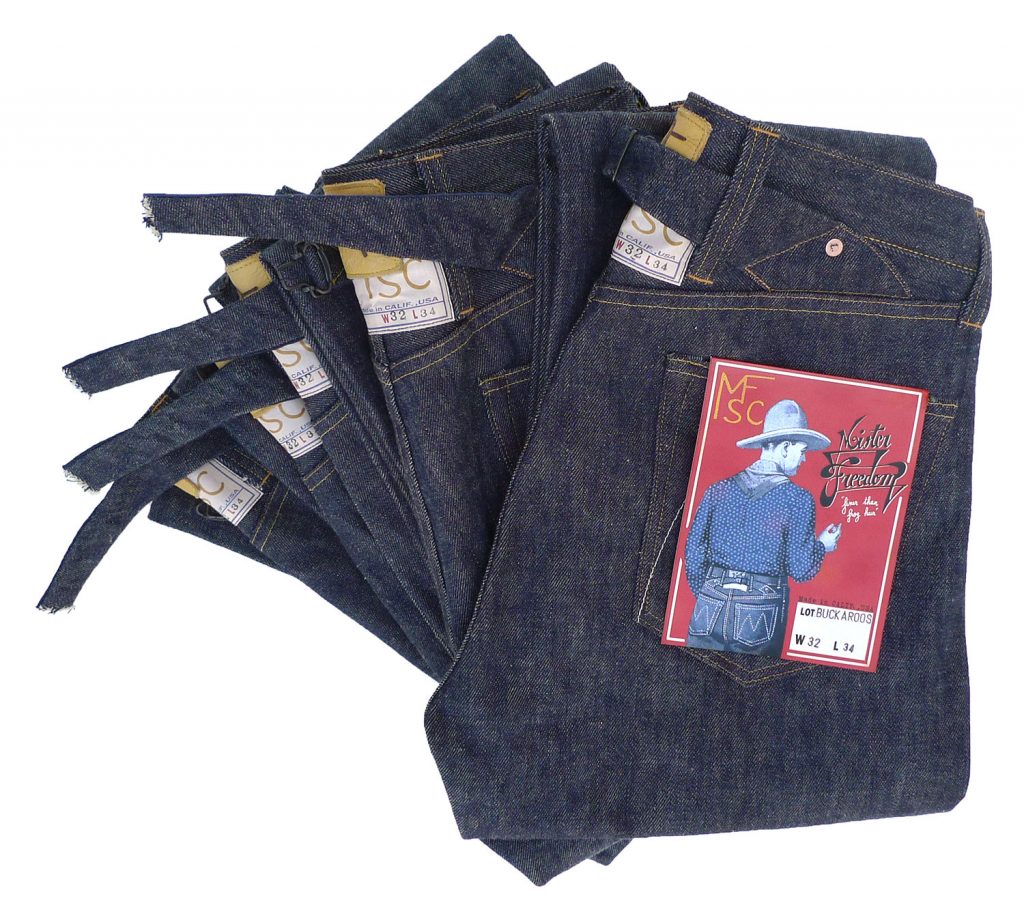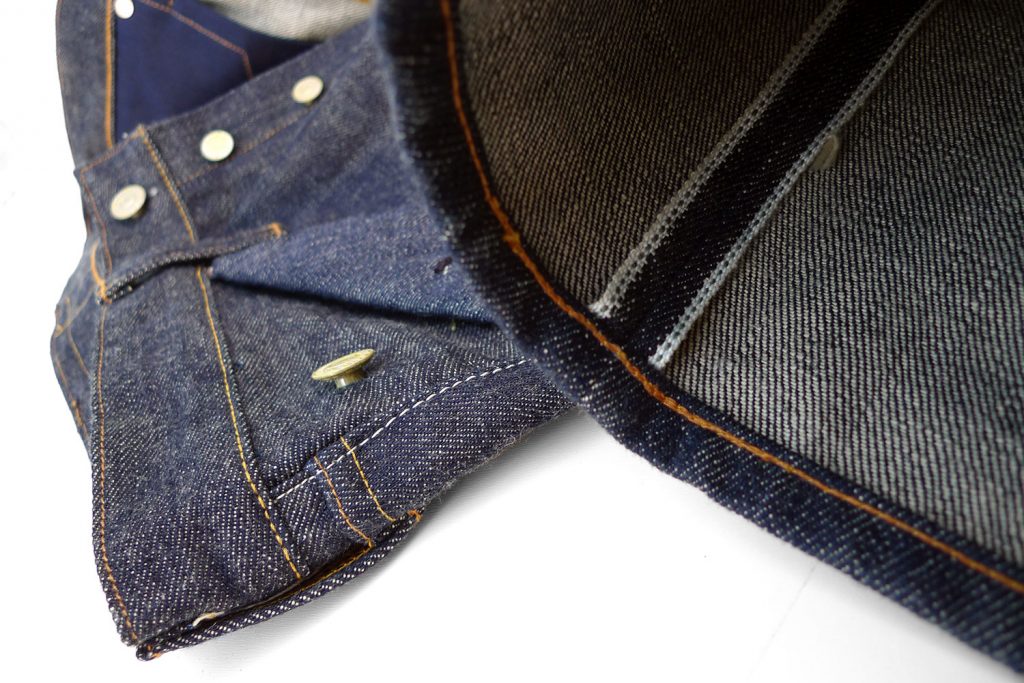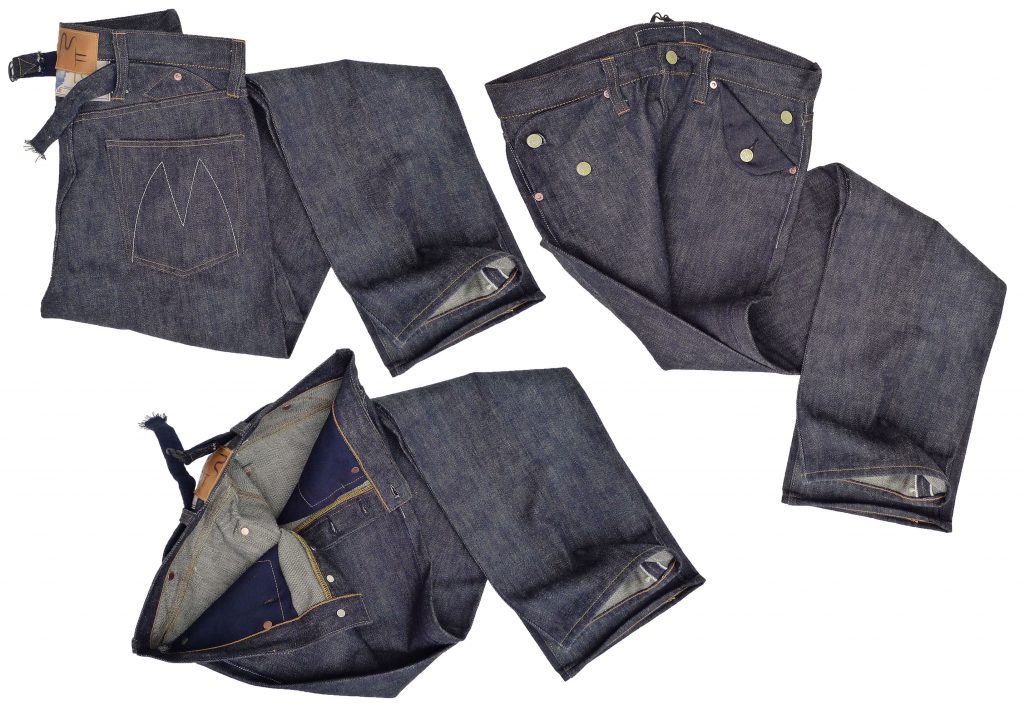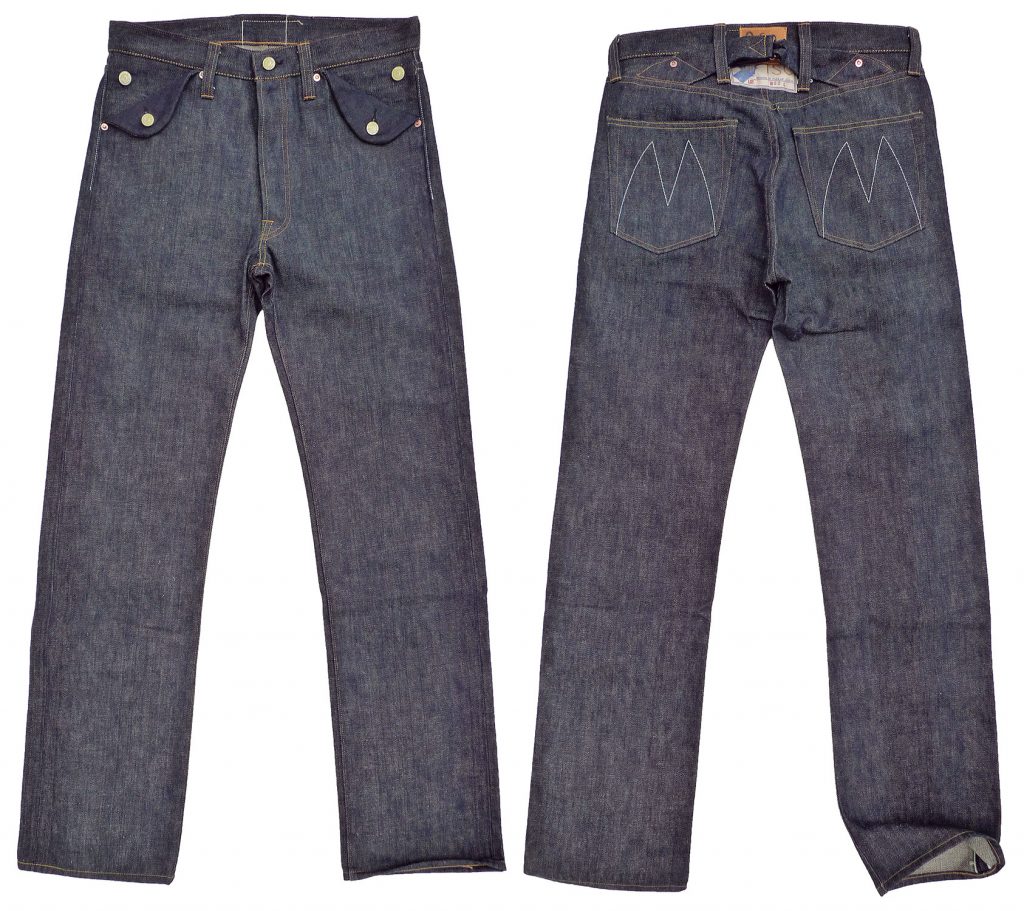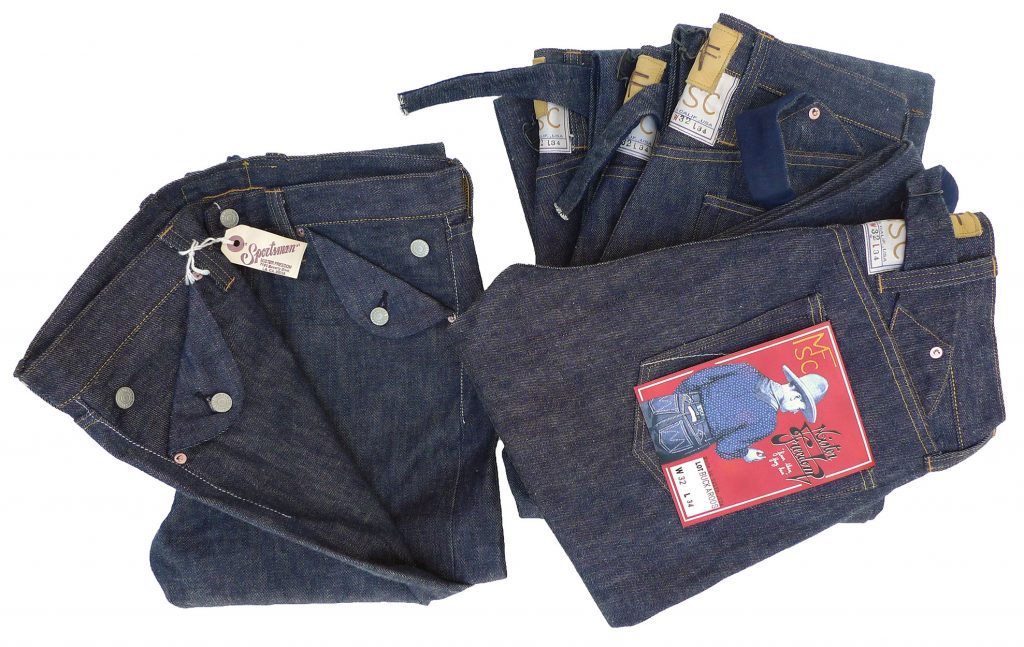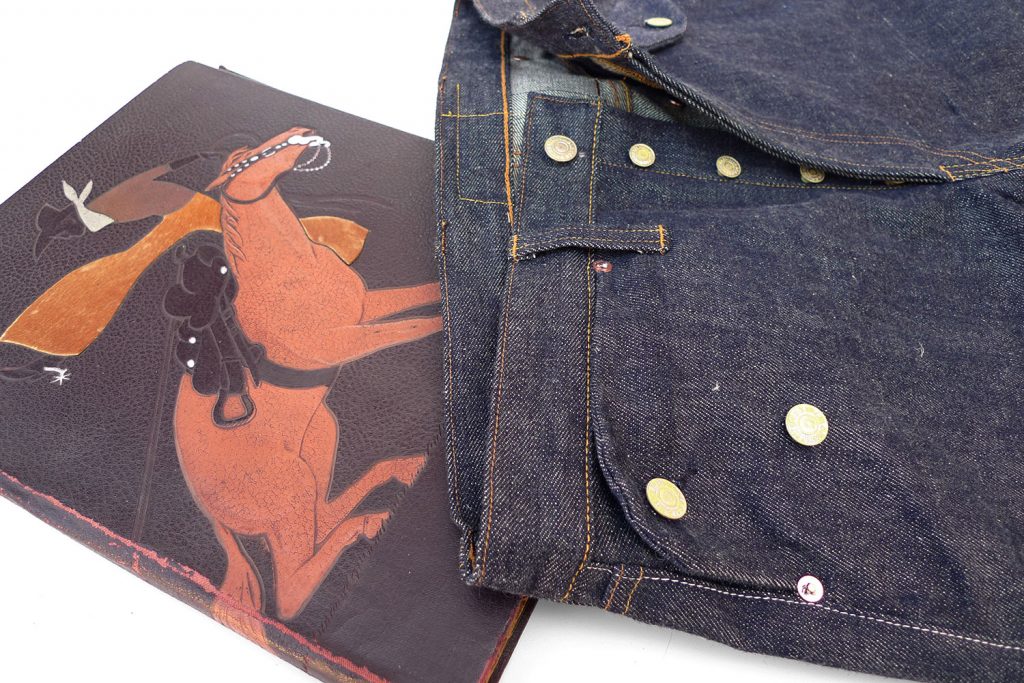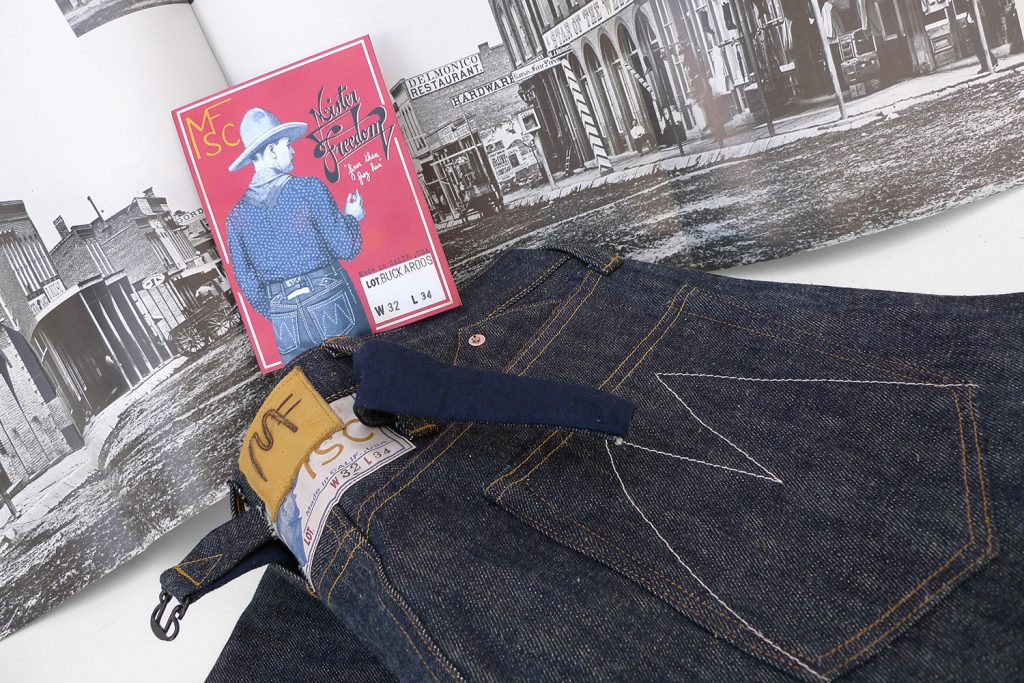 Mister Freedom® mfsc BUCKAROOS Waist Overalls, "Okinawa 301" denim edition.
FW2018 Sportsman Catalog.
Made in USA.
The term 'buckaroo' has its commonly agreed-on origin in the late 1800s days of the American Frontier, when Spanish settlers and bad hombres referred to cowboys and ranch hands as vaqueros, vaca meaning cow in the Spanish language, with the v pronounced close to a b. The anglicized version and phonetic spelling caught on.
Sometime in 2012, we introduced a new blue jeans pattern, the Mister Freedom® x Sugar Cane mfsc "BUCKAROOS" Waist Overalls, initially issued in two distinct NOS denim twills.
These dungarees were a departure from the average five-pocket jeans, and featured an intricate rear cinch strap pattern. This 'buckle-back' style was not lifted from any vintage sample, but came out of the drawing table of our Los Angeles atelier, and trial & error prototype making. (Someone did mention having seen a similar pattern on a vintage catalog that I'm not aware of. That wouldn't be surprising as nihil novi sub sole seems to apply to clothing design.)
We matched our original back yoke/strap construction with a 'western' type front pockets pattern. The folded flap buttons up to the pocket yoke, a feature that could come in handy when horseback riding or sitting on a bouncy old truck bench seat, to prevent the content of pockets from spilling out. There are many examples of this type of front pocket construction on western slacks, although it is uncommon on denim dungarees besides a rare iconic model made by HeadLight in the 30's~40's.
By popular demand, the MF® Bucks' are making a comeback for Fall 2018. We raided Sugar Cane Co's vault of exclusive denim twills, and secured an old mfsc favorite, the mighty "Okinawa 301", a 'hairy' 16.25 Oz. left-hand twill indigo denim, blend of 20% sugarcane fibers and 80% cotton, with a white/green line selvedge ID.
This "Okinawa" denim has enviable fading potential and will progressively develop a desirable patina overtime, with normal wear/wash cycles.
Proud and devoted owners of garments cut from this sugarcane fiber denim family, from the Californian LOT.64 BB, "Okinawa" Ranch Blouse, Top Siders Okinawa, …, to the old elusive "Blue Shirt", can testify.
For more ramblings relating to design tidbits, hot-branding the leather patch and b/w photography, refer to the original buckaroos post, as we're making 'em just the way we used to.
The MF® BUCKAROOS Waist Overalls are designed in California by Mister Freedom®, and manufactured in USA in collaboration with Sugar Cane Co., from selvedge denim fabric milled in Japan.
SPECS:
PATTERN: An original MFSC pattern, inspired by western slacks, vintage denim dungarees and old imagery.
FABRIC:
"Okinawa 301", 16.25 Oz. left-hand twill indigo denim, white with green line selvedge ID.
Milled in Japan on narrow shuttle looms, from a blend of 20% Okinawan recycled sugar cane fibers and 80% cotton. This fabric is exclusive to Toyo Enterprises.
Pocket bags: Vintage NOS cotton twill, navy blue color, sturdy workwear fabric, origin France.
DETAILS:
* 'Old West' silhouette, revisited.
* Original front pocket style with folding buttoned flap. Reinforcement un-marked copper riveting.
* Original MFSC upper curved cinch back strap, sandwiched in the back yoke, riveted.
* Wider rear belt loops (to slide the cinch on top or under the belt loop.)
* Original MF® "Californian" shank metal buttons, 'old stock' silver finish.
* Concealed rivets on back pockets with original "M" stitch and slightly curved opening.
* Original double labeling. One printed cloth label with original artwork mounted during construction, partially superimposed by a leather patch with "MF" hot branding.
* All 100% cotton color thread. We are using an original MFSC combination of 12 types of gauge/color thread per pair. Main colors are Orange/Yellow/White, non colorfast.
* Sturdy 100% cotton vintage New Old Stock navy blue twill pocket bags.
* Made in USA.
SIZING/FIT:
The  "Okinawa" BUCKAROOS come UN-WASHED and are cut so that the measurements match the labeling AFTER an initial cold soak/line dry. A tagged W32 x L34 will shrink to approximately 32 inches x 34 inches after a cold-soak/hang-dry process.
We recommend the usual protocol:
* Cold soak for about one hour, with occasional hand agitation, spin dry.
* Hang dry for a few hours, and wear briefly while still damp to set creases.
* Line dry until fully dry.
* The resulting stiffness of the garment is due to the reactivated starch in the fibers, and will rapidly subside with wear.
The size that will work for you depends on how you like your jeans to fit. The BUCKAROOS are designed with somewhat of a generous vintage silhouette in mind, and not intended to be worn tight. The leg is similar to our old Californian Lot.54 pattern. See the various silhouettes of the MF® Californians referenced in the family photo below.
I usually wear W32 in our Californian blue jeans but decided to go for a W31 in the BUCKAROOS, just personal preference with this particular model. The BUCKAROOS are still considered true-to-size, and whether you size down or go for your usual size is up to your desired silhouette.
As with all denim twills, but even more so with this particular 'Okinawa' sugarcane fiber denim, shrinkage and stretching will occur for a while and will depend on the wearer's body, activities and initial fit.
Please refer to sizing chart for approximate raw/soaked measurements: Soaked = 60mn cold soak, spin dry and line dry (ie. minimal shrinkage.)
Please note that the awkward fit pic features a pair of BUCKAROOS straight-off the soak/dry process, unaltered and briefly worn just for the occasion.

DENIM CARE:
Wash denim jeans when needed. Hand-wash or machine wash inside out to avoid marbling. Cold water, gentle cycle, eco-friendly mild detergent and line dry. Wash separately from light-colored garments.
Patina will develop according to activities and frequency of wear. For a natural patina and attractive indigo contrasts, refrain from over-washing your jeans. Just enjoy the journey and your ethically-made garment will age gracefully!
Available RAW/unwashed ONLY.
Sizes
W28 x L32
W29 x L32
W30 x L32
W31 x L32
W32 x L34
W33 x L34
W34 x L34
W36 x L36
W38 x L36
Available from www.misterfreedom.com, and our Los Angeles brick & mortar store, and fine retailers around the World.
Email sales@misterfreedom.com or call 323-653-2014 with any questions unanswered above.
Thank you for your support,
Christophe Loiron
Mister Freedom®
©2018